Christmas Carols Group Date
Who's ready to rock around the Christmas tree?! We sure are! Let us help you kick that holiday stress to the curb and have some laughs with this seriously fun Christmas Carols Karaoke Party. With a printable planning guide, invitations, Christmas tune lists, and challenge cards, this event is practically done for you and is so totally FUN! Even those that are less than musically inclined will go crazy over this one. Are you ready to check it out? Let's take a look!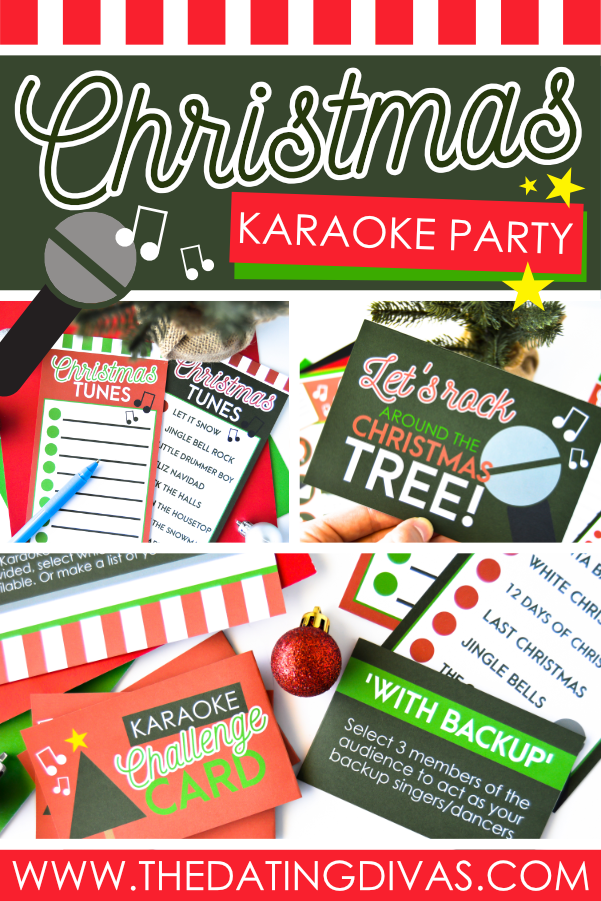 Disclaimer: This post contains affiliate links. To learn more about 'em, click here.
But before we sing it loud and proud, we need to thank our own Diva Elizabeth for designing these musically magical printables for us! She 'rocked' it- literally!
What's Included in Your Christmas Karaoke Kit
Even if party planning isn't your forte, we have TOTALLY got your back. Just take a peek at the included printables below and keep reading to learn how to use them. We promise this will be the easiest event ever!
Planning Guide
Christmas Carols Invitation
Christmas Karaoke Tune List
Challenge Cards
How fun and festive are those?! Keep reading to take a more in-depth look at each item and how to make the most of them.
Christmas Carols Party Planner
Kickoff your Christmas Carols Party planning by looking through the included guide. It walks you through everything from creating a guest list to purchasing the necessary snack and decor items. We've broken the guide into 4 simple steps that are completely foolproof. Done and done!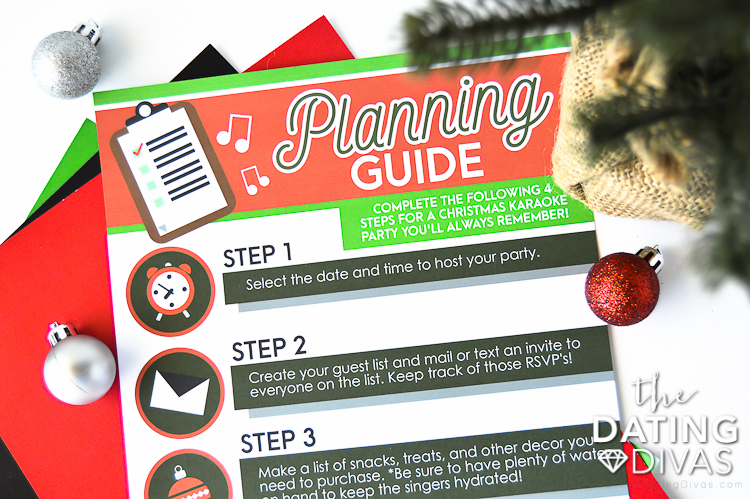 Christmas Carols Invite
Next, let all your guests know about the event with your printable invitation. We guarantee the musical design will put a smile on their face and get them so excited about the fun that's to come.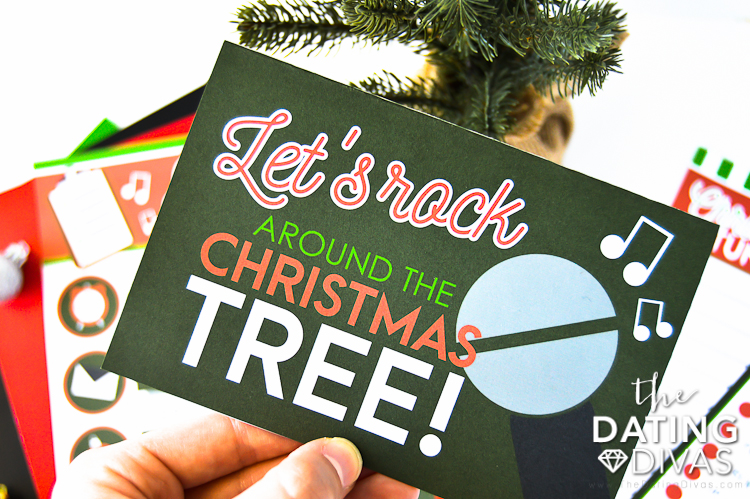 Additionally, the two-sided design makes assembly SUPER simple! Just print, cut, fold and fill in the info. Drop them off or pop them in the mail and keep track of those RSVPs.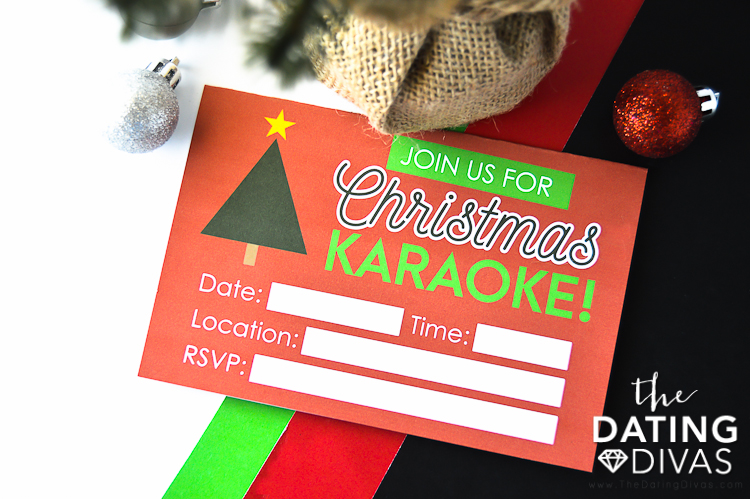 Christmas Carols Lists
Once the guests arrive, it's time to get the party started! Be sure to get your hands on a karaoke machine or mic beforehand and look over the Christmas Tunes List. We've included one that's chock full of Christmas classics as well as a blank version. Use that blank list to come up with additional songs you'd like to include in the lineup. You could also pass it around to your guests and have everyone write down a tune they'd like to hear. Remember, with Karaoke, the peppier, the better!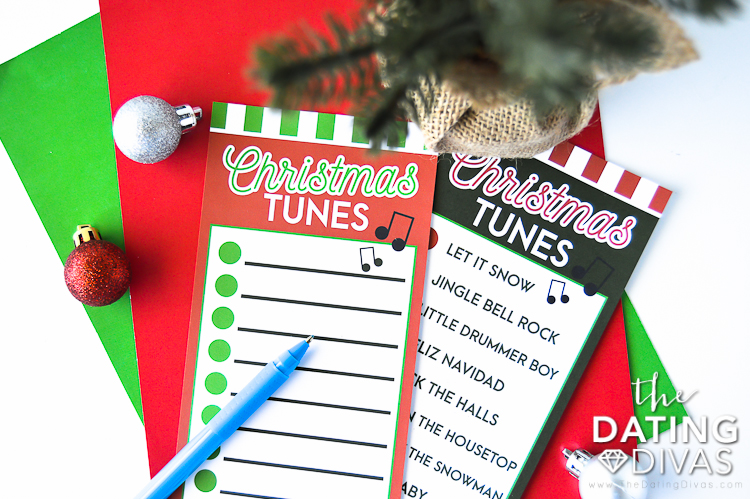 Christmas Karaoke Challenge Cards
Take your Karaoke night up a notch by using the printable Karaoke Challenge Cards. For example, each card has a crazy cool task or challenge that will help everyone unleash their inner rockstar. Some are silly, some are sassy, and some are just plain hilarious! Have each guest select a card at random before stepping up to the mic and tell them they must complete whatever challenge is listed. Things are about to get cuh-razy (which is just how we like it!)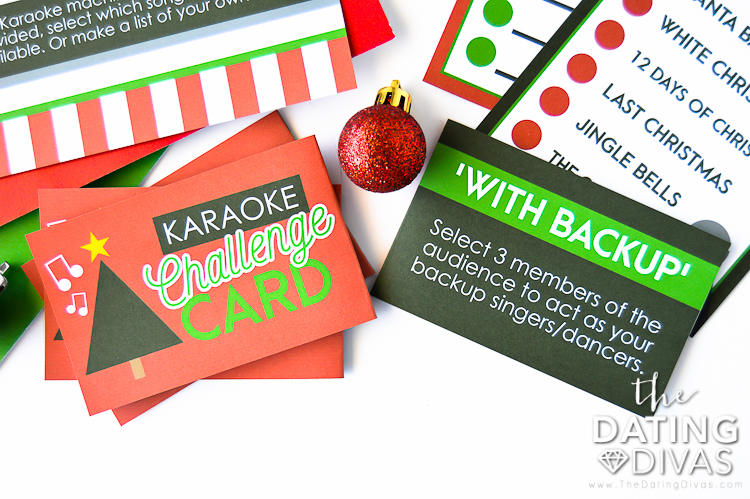 Assembling your Christmas carols challenge cards is super easy. First, print. After that, you'll want to cut and fold them in half. You may want to add some adhesive at this point to ensure both sides stay together. For example, glue dots or double-sided tape would work great. Above all, be sure and keep the cards flipped over so guests can't see the challenges ahead of time! In other words, the more spontaneous, the better.
Christmas Karaoke Group Date
Printables Designed by Elizabeth Edwards Exclusively for The Dating Divas