Christmas Win It In a Minute
Christmas isn't really Christmas without friends and family gathered around enjoying each others' company, kisses under the mistletoe
, giddy children waking up bright and early, cherished traditions, laughter filling the air, and kind deeds of service. One other thing that is a must during Christmas is a game or two, don't you agree??? Of course you do and I am going to help you host the best party ever.
Creating the ULTIMATE Christmas party must include 3 things, an Ugly Sweater Contest, a hilarious White Elephant Gift Exchange, and Win It In A Minute games! Go ahead and take a moment to peek at the Ugly Sweater Party and the 50 Hilarious White Elephant Gift Ideas links before we continue.  It will be soo much fun to include these ideas into one big Christmas gathering!!!
Are you ready to PAR-TAY?!
Disclaimer: This post contains affiliate links. To learn more about 'em, click here.
Throwing the Best Christmas Party Ever
First you must grab Sarina's Ugly Sweater Party invite and the White Elephant Fun invite and send it over to your friends or family for the best Christmas party ever!!!
Pick the items that you want to use from The Ugly Sweater Party, the sweater contest is a must and the cookie decorating
 will fit in nicely with a team challenge.
Take a peek at the Win It In A Minute printables and look over the list of items needed for each game. If you think you can gather all of the items needed by yourself, then go for it. If you're like me, you'd rather share the load. My advice would be to make a list of items you plan on divvying out amongst your guests.
When they RSVP, give them their assignments needed for the games and let them know they need to bring a hilarious white elephant gift. Since you've already peeked at the 50 Hilarious White Elephant Gift Idea post, refer all your guests to the white elephant ideas post, too so they have a fighting chance of competing with your gift!
Before I go any farther I have to tell you about the best white elephant gift ever…Poo Pourri
. Have you heard of this??? The company has a silly video that you should look up, you'll see why this is so funny once you do! We won a bottle of this at Sarina's Ugly Sweater Party. Seriously the funniest gift ever, everyone will fight for it just like our group did!
Prepare a playing area (this might mean cleaning out a room) a munching area, and a sitting area. Having a good playing area is key to many of these games. For the team that isn't playing you might want to have a few chairs out. Munchies can include a hot chocolate bar like Sarina suggests in the Ugly Sweater Party or a few yummy appetizers, make it easier on yourself by assigning food items to your guests too.
End the night with a hilarious white elephant exchange, take a peek at White Elephant Fun for rules of play.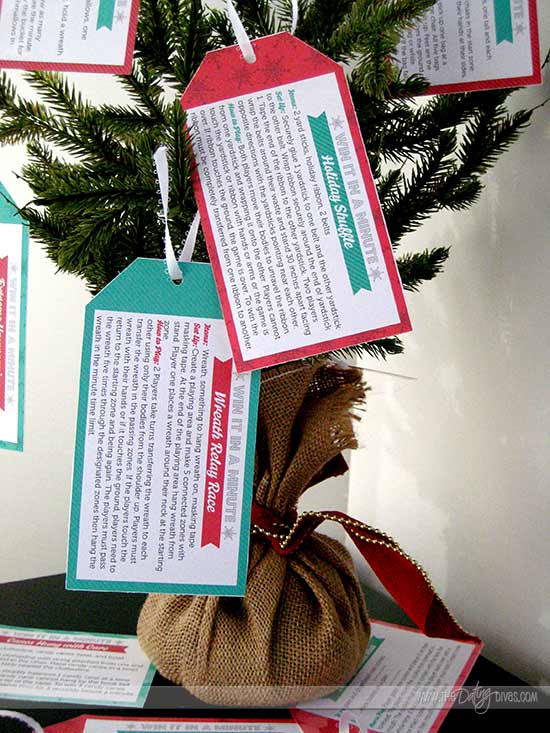 Win It In A Minute is one of my favorite games because it's full of laughs, competition, and silliness! I have collected the best Win It In A Minute Christmas games ever!!!  I guarantee that you won't find a single drab game in this list!!!
 How To Play Win It In A Minute
On the day of the party you have three options: For smaller parties divide your group into two teams, for bigger couples into four teams, or for a group of couples into teams of couples.
Make the game tags hangable by punching a hole in the middle of the top of each tag and tying a ribbon through. Hang all of the game cards from a mini Christmas tree
 to add to your party decorations!
 Lay all of the game items out on a table for easy access and assembly for each game.
The first team picks out a card at random, reads the card out loud, and grabs all the items needed for the game. Quickly prepare the game and get the stopwatch
 ready. At the start of go, the team does their best to complete the task in under one minute without breaking the rules.
The first round of play gets 5 points for completing the tasks under 1 minute. The second round receives 10 points and the third round 15. This will spark some healthy competition, no one wants to lose!!!
Each team gets 3 'lives'. They are allowed to try one task up to 3 times, if they think they can complete it and earn the points.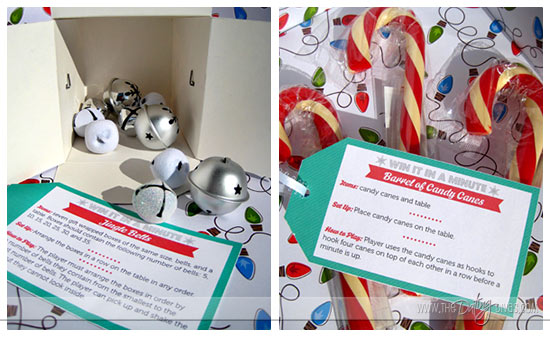 Grab Your Printables
A huge thank you to Strawberry Mommycakes for making such cute printables.  We just love her!!!  Check her out asap!!!
The Win It In A Minute-Christmas Edition printables include: 18 game cards, point cards, and 3 lives for each team. Print your copies off onto white card stock.
As you would have already noticed each game card has as list of items needed to complete the game, how to set up the game, and how to play the game. Become acquainted with the games, because your guests are sure to have questions on how to play.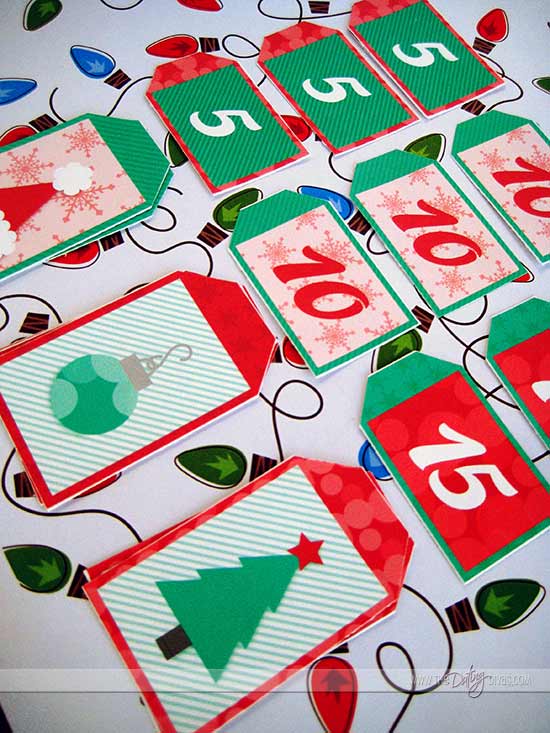 No more stalling, grab your printables and ideas from the Ugly Sweater Party, 50 Hilarious White Elephant Gift Ideas, White Elephant Fun and of course this post!
We hope you have the best Christmas ever so take advantage of our wonderful ideas and enjoy every moment of your Christmas celebrations!!!
Merry Christmas!!!