Heads Up Game 
We are always game for a fun new date night idea that we can play at home. If you love a good game night with your spouse – the Heads Up Game is a fun one that you are not going to want to miss out on. The Heads Up Forehead Game is a hilarious guessing game that requires some serious communication skills as you try to help your spouse guess the card that is on their forehead. With our usual Diva twist – we have taken the game and made the card topics all about your spouse, love and marriage!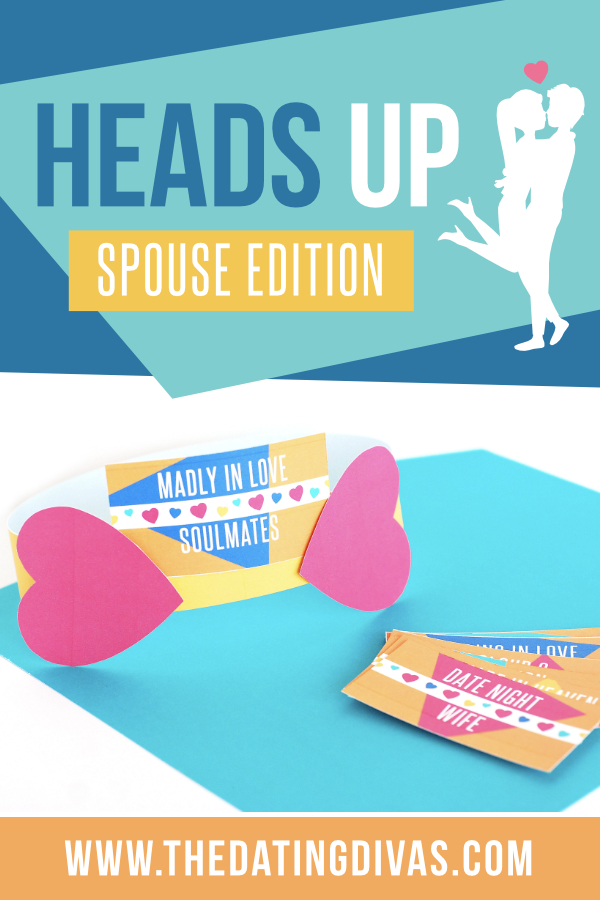 Disclaimer: This post contains affiliate links. To learn more about 'em, click here.
The Heads Up Game is one of the easiest date nights you could do! It is one of those date nights where you can just print and play. Thanks to the talented Carisa from the site Messes to Memories you have everything that you need to play the game including:
Heads Up Game Instructions
3 Sets of Heads Up Game Cards
1 DIY Headband
How to Play Heads Up Game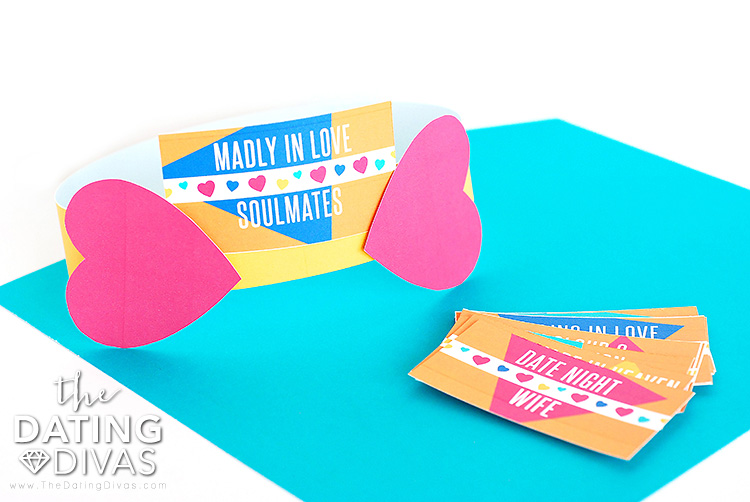 One player places the headband on their head and, without looking at the card, places a card in their headband. Set the timer for 60 seconds. The partner who can see the clue card gives as many clues as they can, without saying any form of the word on the card until their partner can guess what the card says. If they guess correctly, they replace the card with a new one in their headband and continue until the timer runs out. The point is awarded to the guessing player for each word they guess correctly.
Variations to the Heads Up Game
For a more challenging game, you could switch up how your clues are given by trying one of the following:
The person giving the clues can give clues without using words or sounds – similar to charades.

The person guessing the card could ask questions to the other player until they can figure out the word.
Heads Up Game Cards 
The best thing about our spin on this Heads Up Game is that all of the words you and your spouse would be guessing have to do with our favorite topic: LOVE and MARRIAGE! We have three different card categories for you to choose from – depending on your mood. We have:
Lovey Dovey –

all words related to L-O-V-E.

Sexy –

words and phrases relating to the bedroom.

Wedding Day –

All words and phrases related to your special day.
Heads Up Game Printables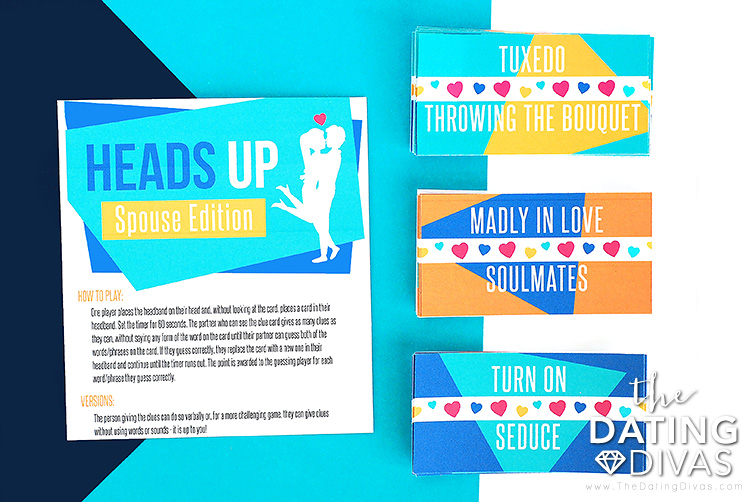 You can get all of the free printables that you need to play your own Heads Up Game. Just click the link below to download and enjoy! To make set up a breeze, don't forget your paper cutter!
SaveSave
Heads Up Game Spouse Edition
Printables Designed by Carisa @ Messes to Memories Exclusively for The Dating Divas