Funny Christmas Sweaters
This is YOUR year. The year you will finally win the Ugly Christmas Sweater contest! If you haven't ever been to an ugly Christmas sweater party, they are fun, hilarious, and a great way to spread some holiday cheer. You can pull out your worst winter attire and have an absolute blast! Not all ugly Christmas sweaters are created equal so we made sure we found the best of the best or should I say worst of the worst?! 😉 We also found some tacky Christmas accessories that will be the perfect finishing touch to your look!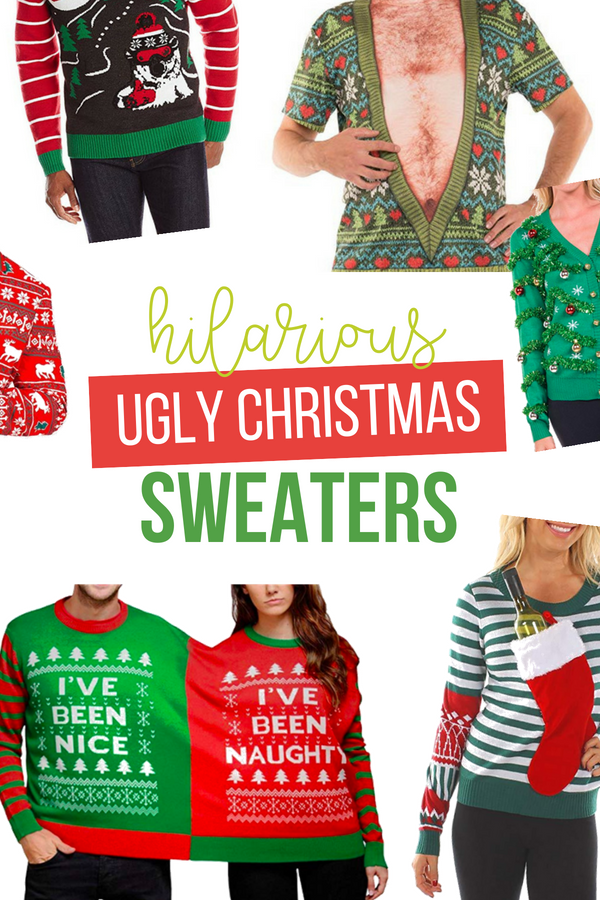 We've got four categories to make it nice and easy for you to find just the ugly sweater you're looking for!
Men's Ugly Christmas Sweaters
These ugly Christmas sweaters for men will get laughs from the whole party!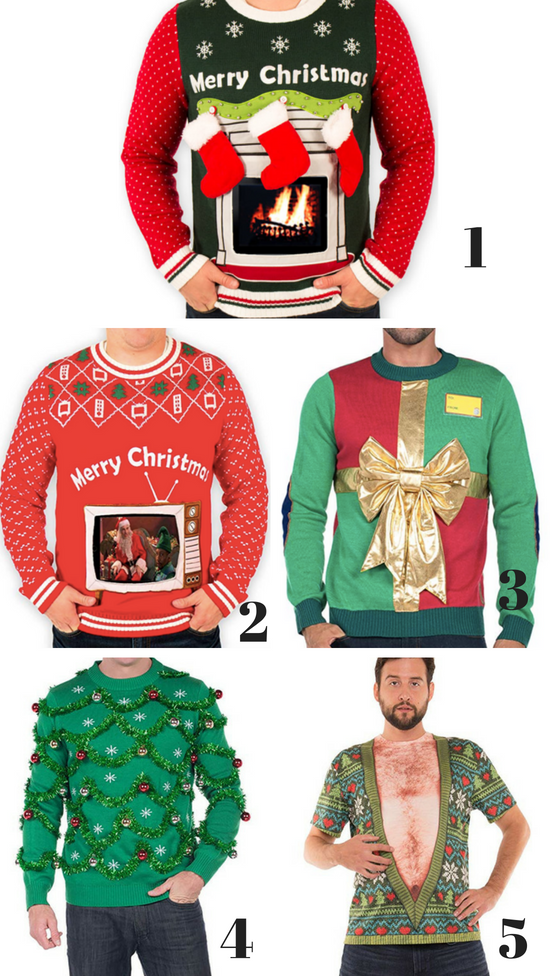 1. Men's iPad/Tablet Fireplace Christmas Sweater – This is hilarious! The crackling fireplace will warm everyone up. 😉

2. Men's Retro TV Sweater – A classic men's sweater where you can have your favorite, classic Christmas movie playing.

3. Men's Christmas Present Sweater – You can match your lady and both be presents!

4. Men's Christmas Sweater with Ornaments – This is so great and such a perfect ugly Christmas sweater with that tinsel and those ornaments!

5. Hairy Chest Hair Christmas Sweater – EWWW! I double dare you to get this for your hubby!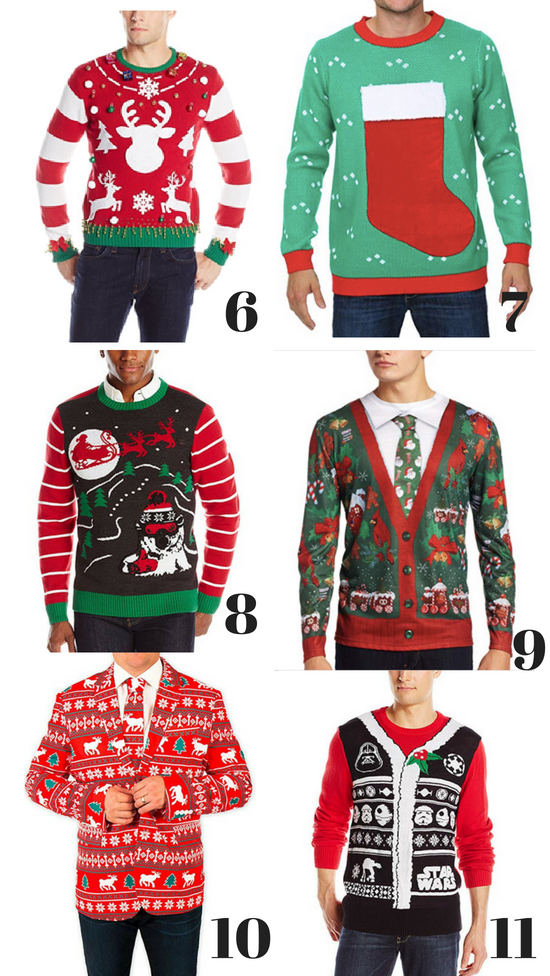 6. Make Your Own Men's Ugly Christmas Sweater – A DIY sweater, complete with everything you could need to make the perfect ugly Christmas sweater!

7. Men's Stocking Sweater – A classy, red stocking so he can also hold his own bottle or maybe he could carry the snacks. 😉

8. Light-Up LED Sweater for Him – This amazing sweater really lights up, how FUN?!

9. Ugly Sweater Shirt for Him – Perfect for when you don't want to wear a full-on sweater cause you are toasty but want to join the partay!

10. Ugly Christmas Suit and Tie – This is hilarious!! Classy and festive, need I say more?!

11. Star Wars Sweater Vest – The force is strong with this one. 😉 Perfect for you Star Wars lovers!

Women's Ugly Christmas Sweaters
Ugly Christmas sweaters for women that are hilarious and tacky! Everything you want for an ugly Christmas sweater party! #winning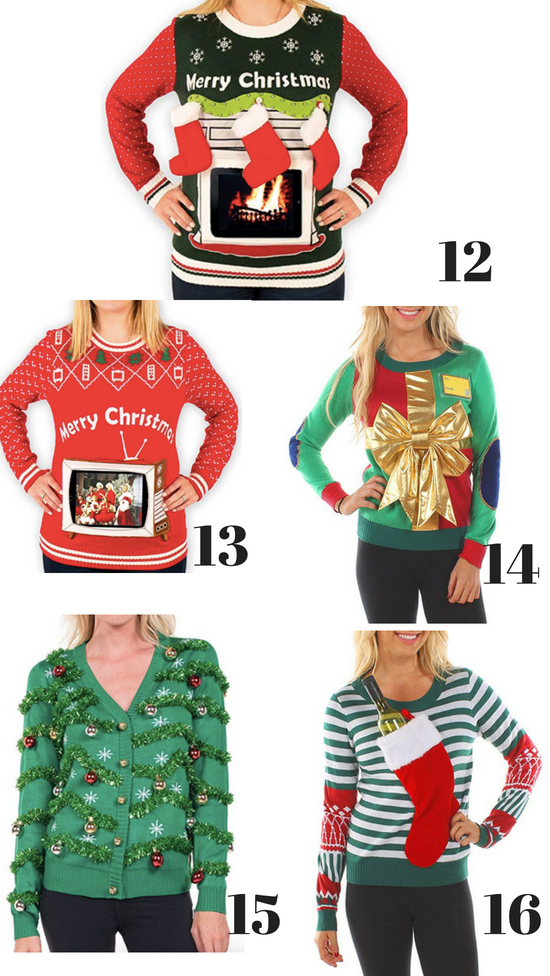 12. Women's iPad/Tablet Fireplace Sweater – Here is a women's version so you can match your babe and relax nest to two fires!

13. Women's Retro TV Ipad/Tablet Sweater – Let everyone enjoy a fave Christmas movie on your retro TV!

14. Women's Christmas Present Sweater – Remind everyone that you yourself are a gift! 😉

15. Women's Sweater with Ornaments – Match your babe because #couplegoals.

16. Women's Stocking Sweater – This is perfect for holding your bottle of wine or sparkling cider!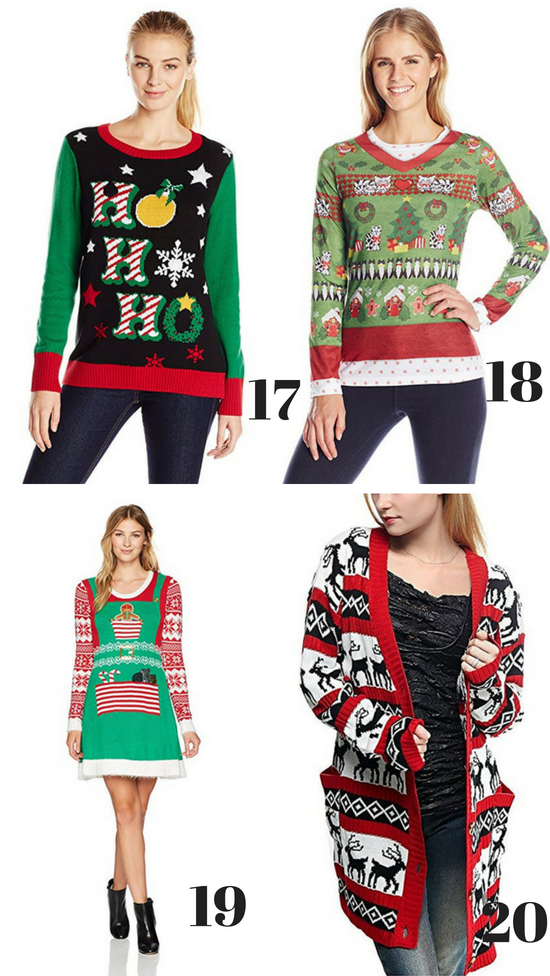 17. Light-Up LED Sweater for Her – You can match your man and light up the whole party!

18. Ugly Sweater Shirt for Her – Not in the mood for a big, warm sweater? This is your solution!

19. Ugly Christmas Sweater Dress – An ugly Christmas sweater that is a dress? I am sold.

20. Oversized Christmas Cardigan – Festive and comfy… I think I have found what I am wearing to my next ugly Christmas sweater party!

Funny Christmas Sweaters
These sweaters are so funny! Everyone will get a kick out of these!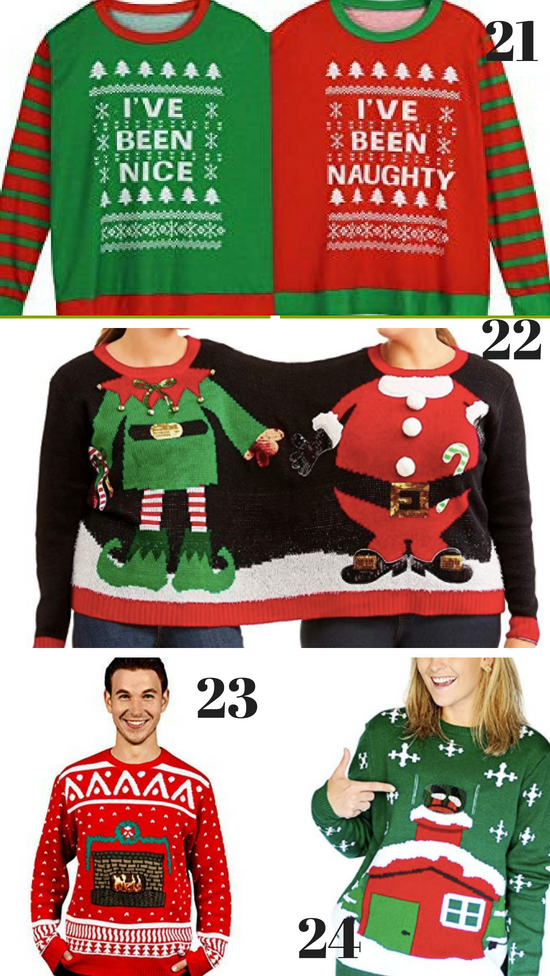 21. Naughty & Nice Siamese Sweater – How great is this?! I would LOVE to walk into a Christmas party in this!

22. Elf & Santa Siamese Sweater – So funny and the perfect pair for the holiday season!

23. Crackling Fireplace Christmas Sweater – Download an app that has audio and visual for a cozy fireplace on your sweater!

24. Santa is Stuck Digital Christmas Sweater – There is a pocket for you to put your phone in and it makes Santa's legs move continually, so funny!

Hilarious Christmas Accessories
These ugly Christmas accessories are the perfect addition and finishing touch to your outfit!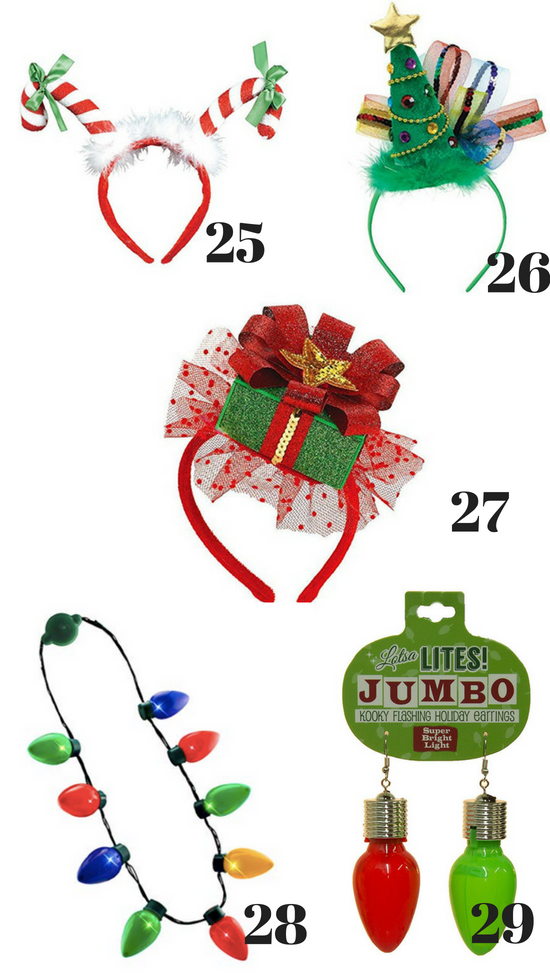 25. Candy Cane Headband – Whatever it takes to win the contest… am I right?!

26. Christmas Tree Headband – The bows, the sequins, the jewels! This one is just over the top and absolutely perfect!

27. Christmas Present Headband – This would go perfectly with the present sweater up above!

28. Light-Up Christmas Light Necklace – Really lights up and is the perfect addition to really any outfit around Christmas time! HA!

29. Flashing Light Bulb Earrings – Let your ears doing the talking with these festive accessories.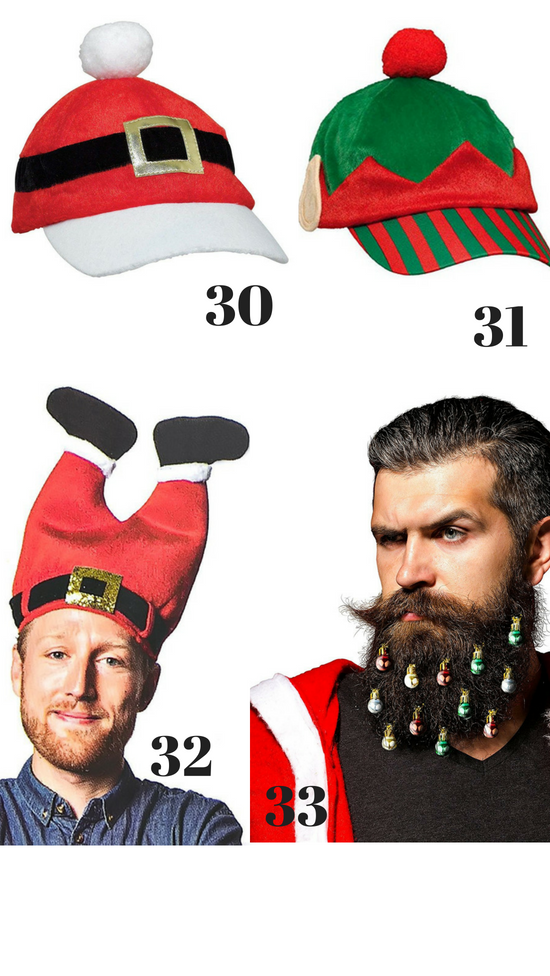 30. Santa Baseball Cap – What a fun twist on the typical Santa hat!

31. Elf Baseball Hat – With those pointy ears, this is absolutely great!

32. Funny Santa Hat – HAHA! I want my hubby to wear this while I wear the digital upside-down Santa sweater from up above!

33. Beardaments – Oh my goodness, YES, please! Decorate that beard for the holiday season!
Aren't these ugly Christmas sweaters hilarious? I cannot wait for our party! Oh, and if you're planning to host your own Ugly Christmas Sweater party (which you totally should!), you NEED to check out these FREE printables. We also recommend this Ugly Christmas Sweater Sugar Cookie Kit and these Ugly Christmas Sweater Award Ribbons!
For other fun Christmas ideas check out our Favorite Christmas Books and our Favorite Christmas Movies!
SaveSave
SaveSave