throw your own christmas trivia game night
Did you know Nutcrackers were originally thought to be good luck charms? Or that the Jack-in-the-box on the Island of Misfit Toys was there because his name was "Charlie"? If you did, or if you're just bursting to show off all your knowledge of random holiday facts, then gather up your spouse, family, or friends, and get ready for a Christmas trivia game night! Free printables below!
Disclaimer: This post contains affiliate links. To learn more about 'em, click here.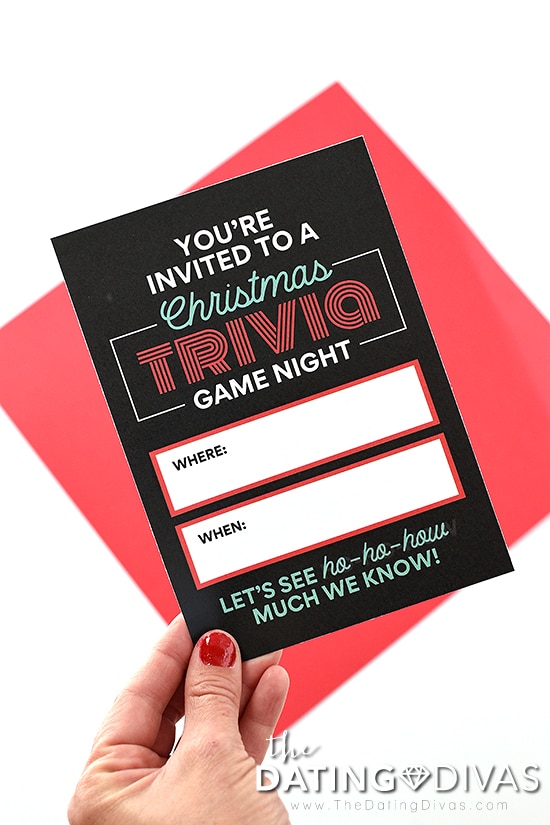 Free Printables for game night
We can't resist adding in adorable printables any time an event is planned. You'll die when you see these festive prints linked up at the end! But as a quick summary, here's what you'll find:
Christmas Trivia Game Night Invite – Simply fill in the details and pass along to your guest list (or just your sweetheart if it's for date night!)
Trivia Game Question & Answer Cards – Easy to cut and pull out when it's game time!
Game Night Score Card – Making it a competition is always fun!
Hilariously Themed Awards Tags – The classic 1st, 2nd, and 3rd place awards, but you have to check out the punny award titles!
a fun, holiday q & A Game
Something about "game night" just screams cozy at Christmastime, doesn't it? It's the perfect excuse to throw an Ugly Sweater party or a holiday cookie swap! The Christmas trivia questions we came up with keep things festive and you're bound to have a memorable night.
For this game, you can form teams if you're having a big party, or cozy up with your spouse and test your holiday knowledge. Use our super-simple printable trivia cards and take turns drawing and reading the question and then revealing the answers. No matter how you do it, we guarantee it will be FUN!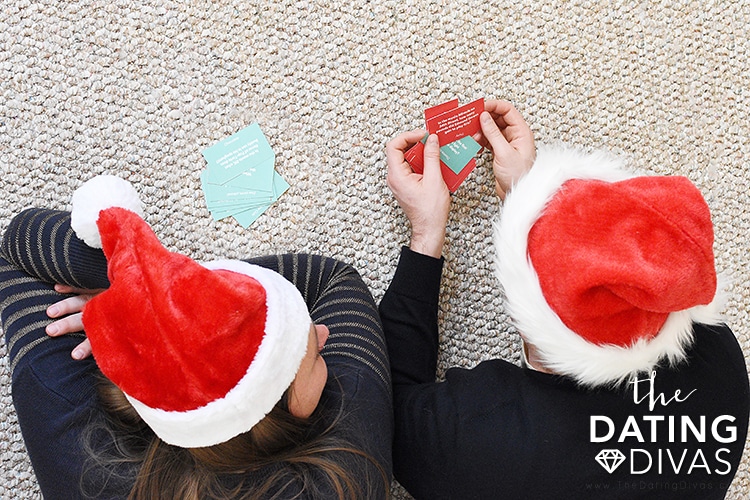 Whether you know all there is to know about Christmas movies, or you've been listening to Christmas music since November 1st, a Christmas trivia game night is the perfect addition to your holiday traditions! Use the provided score card to keep track of who knows the most!
christmas trivia Questions
Our printable cards have 20 fun Christmas trivia questions and answers that are sure to stump you. FYI, you might have to plan a Christmas movie marathon to sharpen your trivia skills! If you just can't get enough of these fun and holiday-themed questions, don't worry- we've got even more ideas for you below!
What is the name of Rudolph's dentist pal in the movie? (Hermey)
In the movie Elf, what flavor of Poptarts does Buddy use in his spaghetti? (Chocolate)
Where does the Grinch live? (Mt. Crumpit)
In the movie The Santa Clause Tim Allen's character goes to a meeting at work to learn about a new toy they are developing. What is the name of that toy? (Total Tank)
In the movie Miracle on 34th Street how many pounds did Edmund Gwenn gain to play Kris? (Thirty)
In A Charlie Brown Christmas how much does Lucy charge for her psychiatric help? (Five cents, please!)
On The Polar Express there is only one rule in regards to hot chocolate. What is it? (Never ever let it cool!)
In It's A Wonderful Life, what topping does George Bailey suggest be put on Mary's ice cream? (Coconut)
What is the first thing Kevin does when he realizes he is Home Alone? (Jumps on the bed eating popcorn)
In National Lampoon's Christmas Vacation what animal does Clark tell his family he saw in order to distract them? (A deer)
True or False: George Washington loved eggnog. (True)
What two things made red and green the most popular Christmas colors? (Holly and Coca Cola)
How many miles per hour would Santa's sleigh have to travel in order to visit all the children in the world in one night? (Six million miles per hour)
____ out of 10 Americans celebrate Christmas. (9)
What is the highest grossing Christmas movie of all time? (Home Alone)
What is the most popular Christmas song of all time? (Silent Night)
What was the poem "The Night Before Christmas" originally titled? (A Visit from St. Nicholas)
What did your true love give you on the 7th day of Christmas? (7 swans a-swimming)
What country did "Silent Night" originate in? (Austria)
Who created the first electric light Christmas display? (Thomas Edison)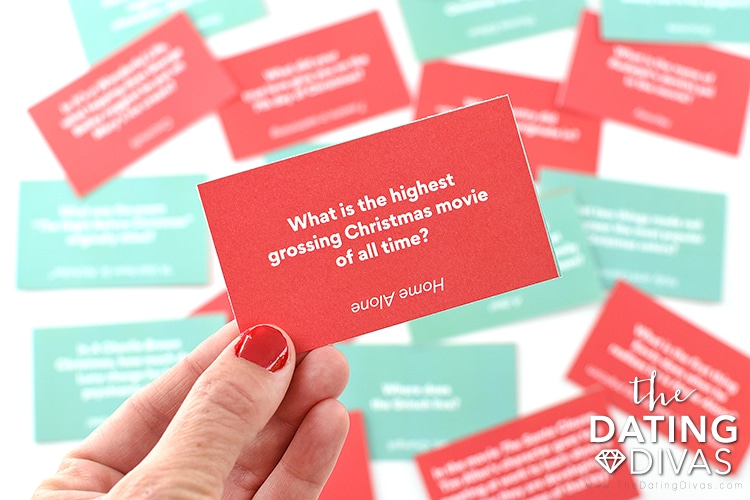 More trivia ideas
Keep the holiday trivia fun going by looking up (or making up!) your own questions. Earn extra points if you can stump each other! You could even search YouTube for a Christmas Song Quiz and test your knowledge of Christmas songs. Trust me; it's harder than you think. (Fair warning: they WILL be stuck in your head for the rest of the season.)
Lastly, you can even add in this awesome set of trivia if you still need more holiday-related questions and answers in your life.
Whatever you do, be sure to keep score and hand out prizes at the end of the night. Our printable award tags are perfect to attach to simple Dollar Store gifts (for example, a box of candy canes, reindeer antlers, or a Christmas light necklace would be perfect!)
That concludes everything you need to throw an unforgettable Christmas trivia game night. Just click the pink download button below and HAVE FUN!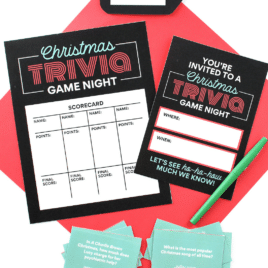 Christmas Trivia Game Night
Printables Designed by Nichelle Exclusively for The Dating Divas
Level your party up with one of these adorable Christmas Party Themes or simply keep the fun going with our awesome Minute to Win It Christmas Games. Best of luck & have a very merry game night!