Intimate
March Madness Game Night
In our household, we have priorities. And let me tell ya, basketball is one of them. Some may feel that sports can be a distraction in marriage, but with this fun and even intimate date, we think we can change your mind! In this case, watching basketball can even be an effective way of strengthening your bond between one another. With the NCAA tournament games coming at you all at once, it can feel a bit overwhelming. This night together will ensure that you both get the most out of an often fun time of year for sports fans. With this Intimate March Madness Game Night, you will have a flirty, fun time with a little harmless competition. These March Madness Games will have you all over each other while watching the NCAA March Madness Games with your man! I promise this date is going to be a SLAM DUNK!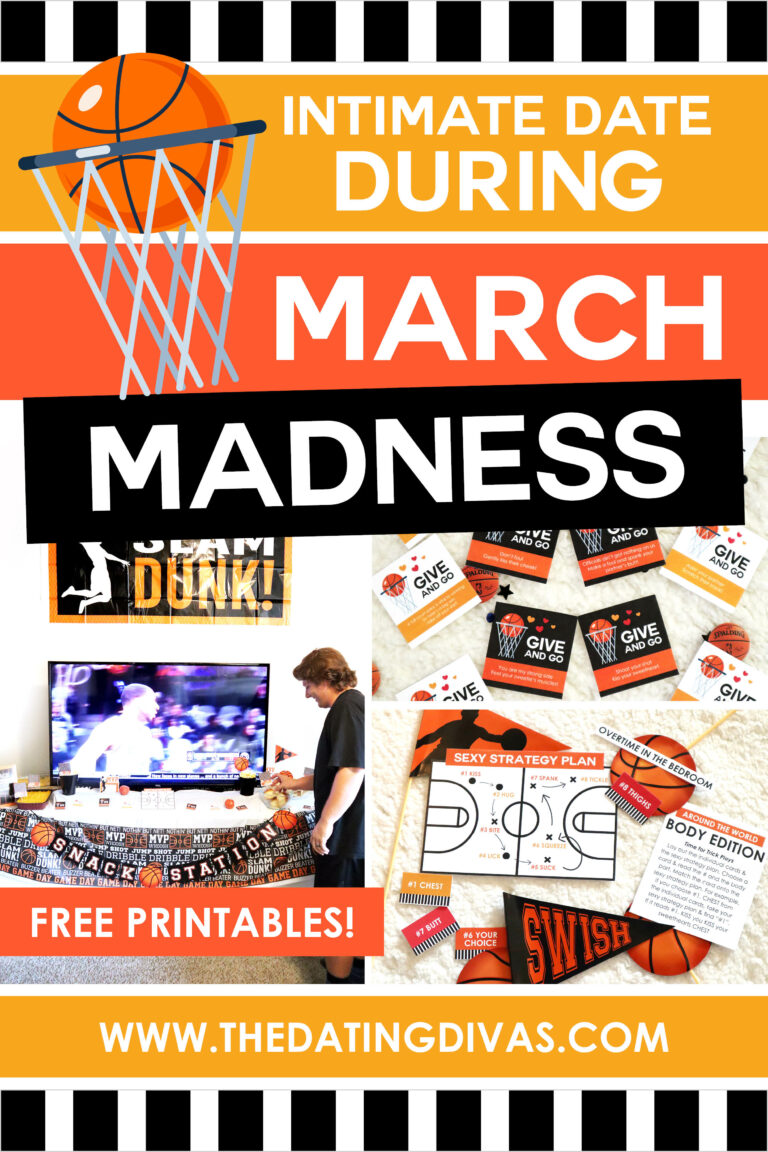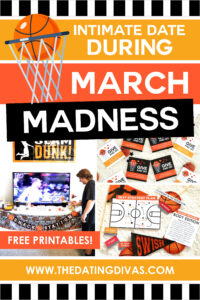 A HUGE shoutout to the beautiful Courtney from Paperelli and The Dating Divas who created the cutest, sporty printables for your Intimate March Madness Game Night!
NCAA March Madness Digital Invite
Excuse me! This is a very important announcement regarding your March Madness Game Date Night! What a pleasant surprise it will be for your sweetie when he receives this invitation. Step one for this date is to send an adorable digital invite right to his phone to let him know it's game on baby! He will get the best of both worlds in this fun and sexy date invitation. He may even break a sweat before the NCAA tournament games begin! Now, you don't have to be a sports fan to enjoy watching the NCAA March Madness Games with your love! Engaging in the game (or at least trying to) is a huge turn-on and an amazing way to bond over something that he enjoys. So what are you waiting for? Let the MADNESS Begin!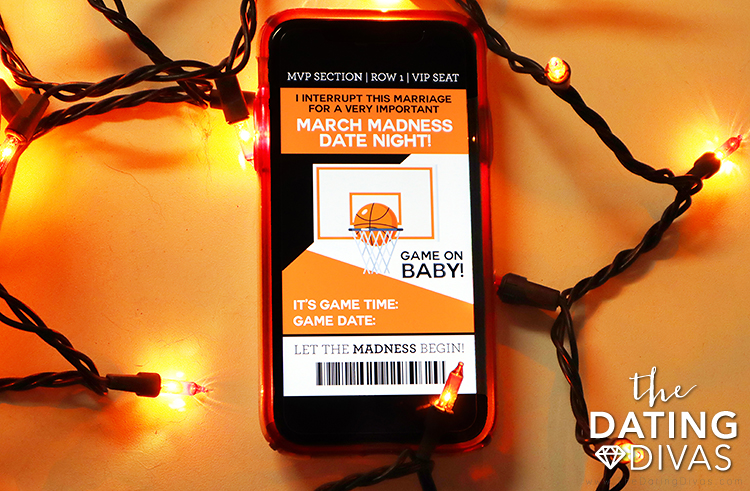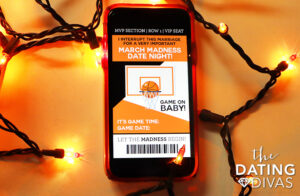 Basketball Themed Snack Station
You can't watch the NCAA tournament games without lots of basketball-themed munchies! With adorable free food flags, you will score some all-star treats when watching the game with your man. After all, decorating for a March Madness Game just got that much easier! So to get your sweetheart excited, The Dating Divas created these NCAA March Madness themed food flags to place on top of your delicious food! Score some major points by adding in affordable basketball decoration to spice up your Intimate March Madness Game Night!
If you need help with ideas on the March Madness Game themed food flags, here is what I thought went well with each individual one!
Water Break – Water.
Dunk It – Carrots with ranch OR Chips with salsa.
Backboard – Chocolate bars.
Pick and Pop – Popcorn.
Pick and Roll – Rolls.
Double Dribble Dip – Seven-layer dip.
Cheesy Three in the Key – Mac n cheese w chicken.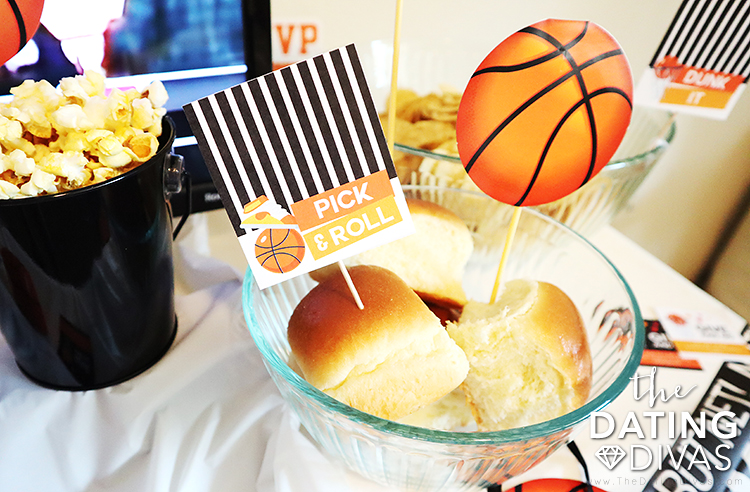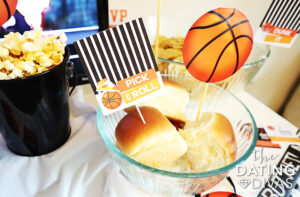 Give and Go Basketball Activity
To keep you interacting with one another throughout the NCAA March Madness Games, you will draw the CUTEST "Give and Go" action cards! Lay the cards facing down so you can't see what it says. Every time your team scores, take turns reading one and completing the action! Basketball moves quickly, so be sure to get on it right away! For example, one of the "Give and Go" cards say "Hoop there it is, bite your sweetie's lip!" After reading, you will grab your hunk, and well… you know the rest! Shoot your shot and get started on this Intimate March Madness Game Night!!!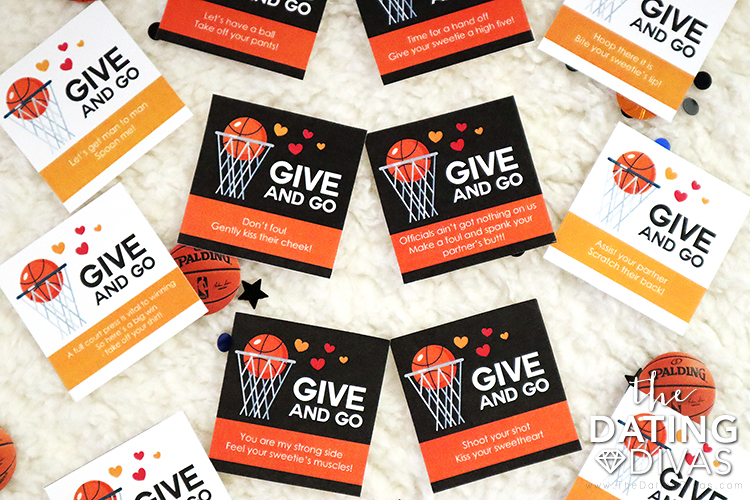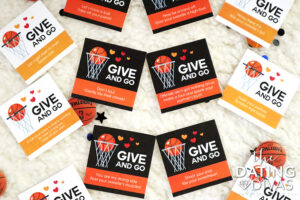 The Ultimate March Madness Word Search
We all know how intense the March Madness Games can be! This half time activity is a perfect way to de-stress! The amazing basketball word search will allow you to get your mind off the game with a little friendly competition with your man! Now there's more on the line with this word search than just bragging rights. Whoever finds the most words in 3 minutes wins a five minute back scratch! So how bad do you want to be the NCAA March Madness word search champion? Ready, set, GO!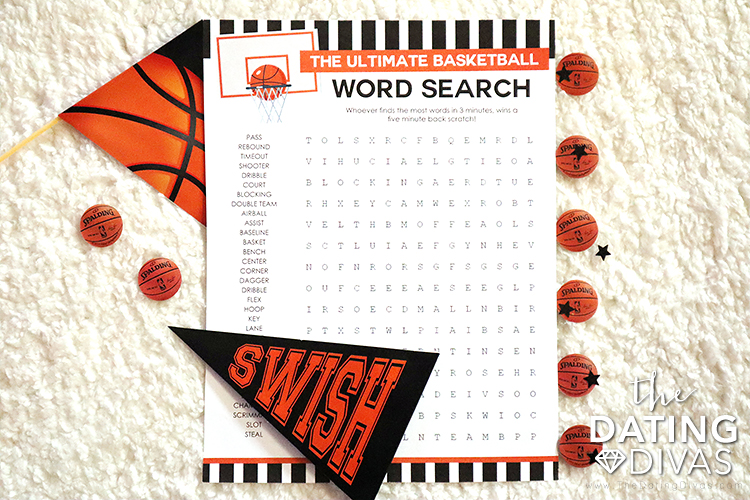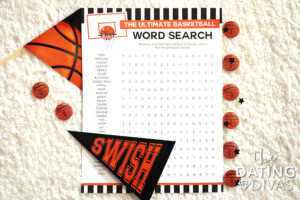 Epic Sports Date Night
The NCAA March Madness Games are some of the most anticipated sporting events of the year. The NCAA March Madness tournament is a single-elimination tournament that features 68 teams to survive three weekends of games to be crowned the ultimate national champions. The two semifinal victors move on to play in the national championship. March Madness can be a bit overwhelming for me. BUT with this Intimate March Madness date, I was able to enjoy the games but also have my hubby's attention as well!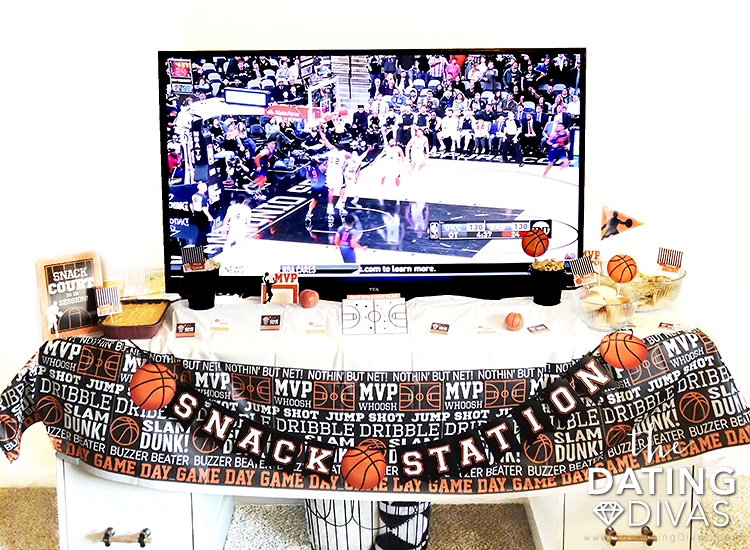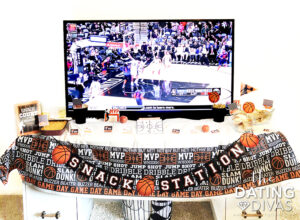 Around the World Sexy Body Edition
Naturally, we take overtime into the bedroom!! To play, lay out the individual cards and the sexy strategy plan. Choose a card & read the number and the body part. Then match the card onto the sexy strategy plan. For example, if you choose #1. CHEEK from the individual cards, take your sexy strategy plan, and find "#1". If it reads #1. KISS, you KISS your sweetheart's CHEEK! With a two-part March Madness Game, you will have to use your Sexy Strategy Plan and Around the World Body Edition cards to create the HEAT in the bedroom! May all your SWISHES come true!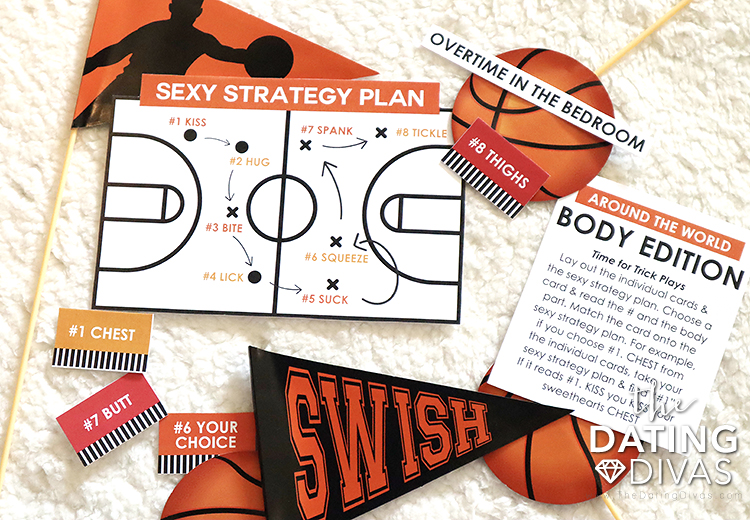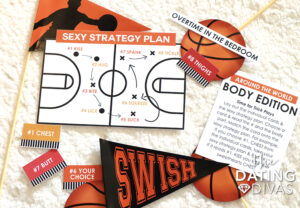 Watching the March Madness Games with your sweetie can be a blast! If you need more food and date ideas for your night, check out the March Madness Treat and Fun March Madness Ideas!
Intimate Date During a March Madness Game Invite
Printables Designed by Elizabeth Exclusively for The Dating Divas
Intimate Date During a March Madness Game
Printables Designed by Elizabeth Exclusively for The Dating Divas