Themed Bedroom Game for Lei Day
Lei Day became an official holiday in 1929 as a way to have a unique Hawaiian holiday. Each year on May 1st, Hawaiians celebrate Lei Day – MayDay is Lei Day! If you've never been to the islands or celebrated Lei Day, this is your year! While the many Hawaiian islands celebrate with pageants and parades, this particular celebration needs to be just between you and your sweetheart. A bedroom game and DIY lei will help make your May Day a very special Lei Day! Islands not needed, alone time required!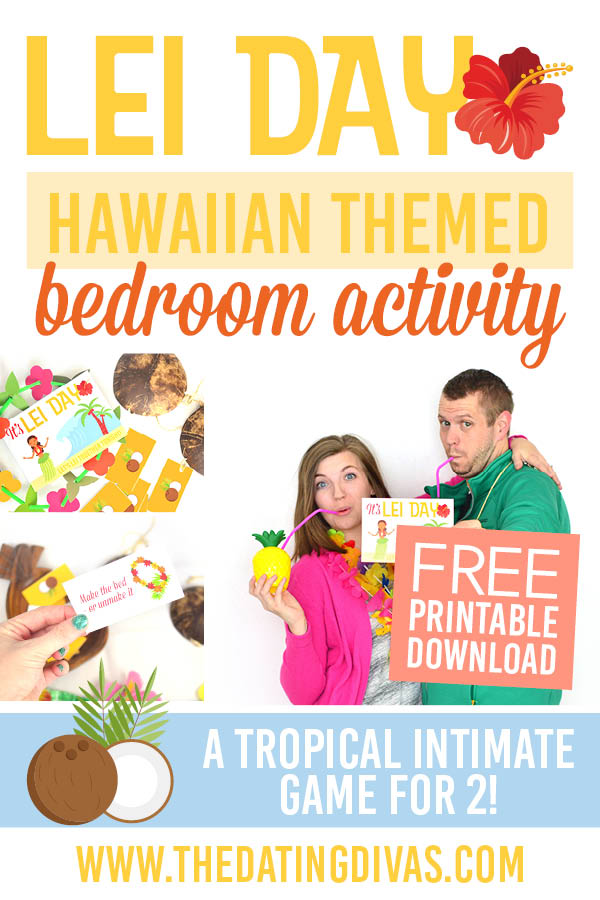 Get ready to celebrate Lei Day just like in Hawaii… ok, not really. But there are a few different things that you can do to make it a special tropical night for both of you. And the best news – they can require as little, or as much, preparation as you want!
May Day is Lei Day
May 1st was traditionally celebrated as a start to Springtime. You'll be using flowers to celebrate your Lei Day as well! Go digging in that old costume box, take a trip to the dollar store, or DIY your own Hawaiian lei to help set the mood. Not only is it fun to "lei" someone and include all those cringe-y but funny jokes, it's a great way to pull your sweetie in for a kiss!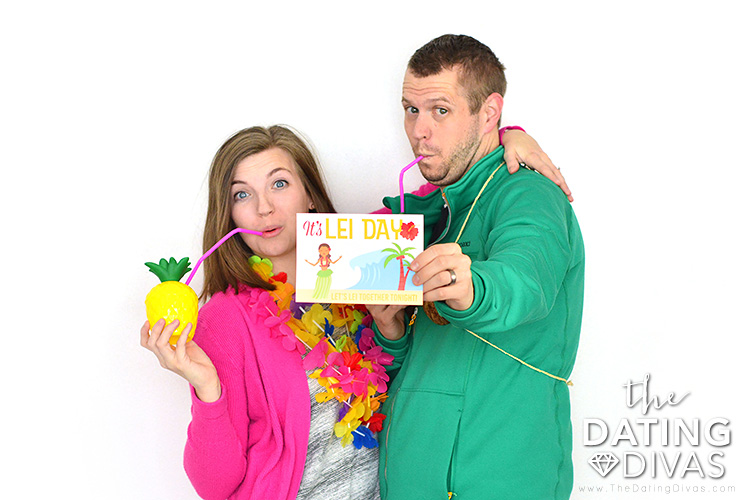 Our DIY lei had both flowers and leaves. You can cut them out, punch a hole in them, then string them onto a ribbon or yarn.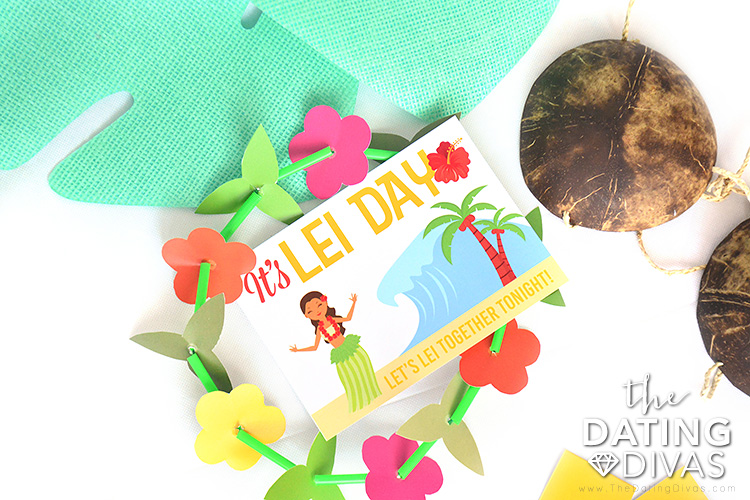 We like the idea of separating the different parts with sections of plastic straws to help separate things a bit. Then it all won't fall to the bottom of the string.
How to Hula Dance
As part of your Lei Day experience, you may want to watcha hula dance video! (Fun fact: hulahula is the word for dance in Hawaiian!) To warm up the bedroom, you may want to learn how to hula dance together! This is a dance style full of grace and tranquillity, but there's a fair amount of sensuality with those hip movements! We gathered a couple of links to our favorite hula dance videos to give you a good start on your dance lessons.
He Mele No Lilo from Lilo and Stitch – she has a full channel on how to hula dance!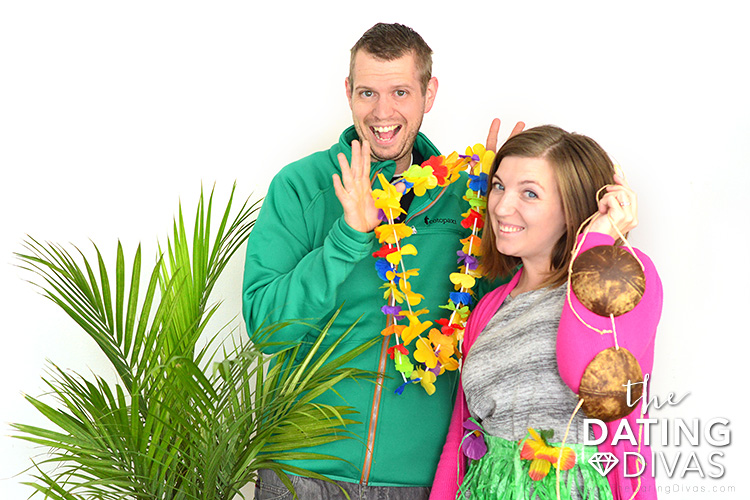 After you've practiced a few steps, find some hula dance videos to enjoy together to gather more ideas. Then, it's all you! Dance for each other, and don't be afraid to let loose!
Hawaiian Inspired Intimacy Invite
How could we not, you guys?! Of course, we had to play into the innuendo of lei and lay! Don't worry, I'm pretty sure that your spouse won't mind that there is definitely a way to score at the end of this date night. 😉 After spending some time enjoying Hawaiian culture, slip this little invite and Lei Day intimate game instructions to your sweetie.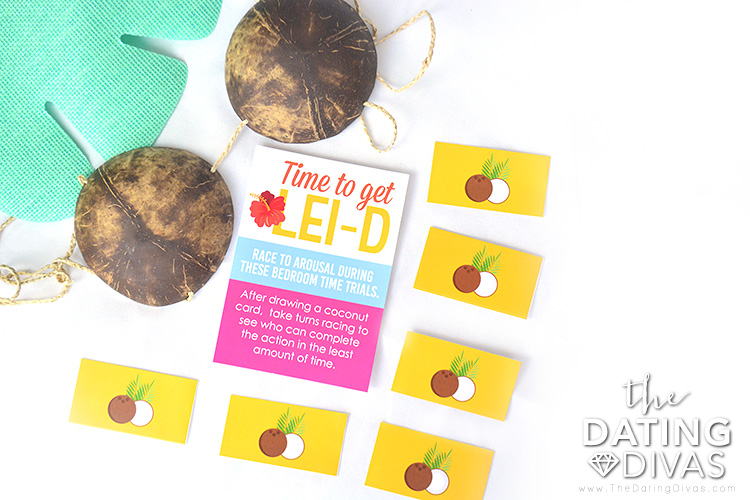 You could also just take a picture and text it to them mid-day! That might guarantee they come straight home after work for your special date night!
Time to Get Lei-d
Ok, now for the main heat on this Lei Day! This is a game that will have you racing to arousal! Grab a stopwatch and the printable cards. (You can prep the cards beforehand by cutting them out, then folding, and finally gluing them together.)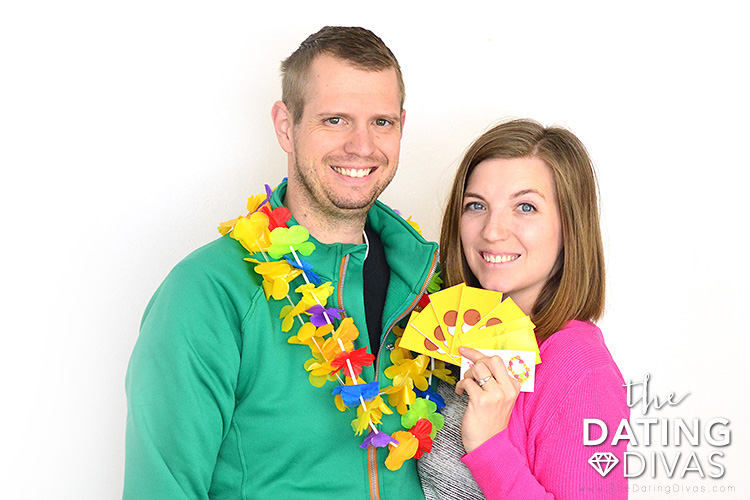 Take turns drawing a coconut card and seeing what your task is. Start a timer and see how long it take you to finish it – then test your spouse!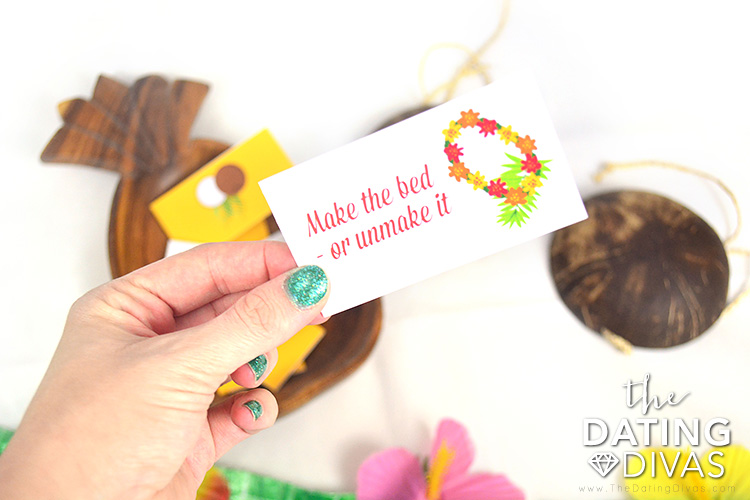 If you want to complete all of the tasks, you will also want to have a little food on hand. One of the activities is to eat 5 pieces of food off of your partner's body – no one wants to rush to the kitchen last-minute! And if you don't make it through all of them before you both win… that's ok too! Wink Wink.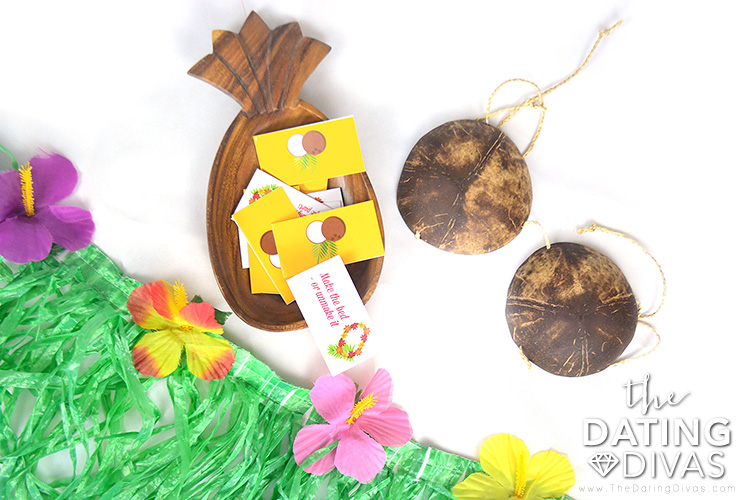 Lei Day is so much fun! For more intimacy games to enjoy together, check out the Game of Love and Love is Sweet!
Lei Day Bedroom Activity
Created Designed by Courtney @ PAPERELLI Exclusively for The Dating Divas