Everybody Cut Footloose!
Does anybody else just love the hit of nostalgia you get when watching an '80s movie? The huge hair, the rockin' clothes, the catchy music–we could go on and on! So many classic teen movies come from the '80s, like Goonies, Ferris Beuller's Day Off, Sixteen Candles, and one of our absolute favorites: Footloose! If you just can't get enough of this memorable decade, then we have the perfect date for you… A Footloose Movie Group Date!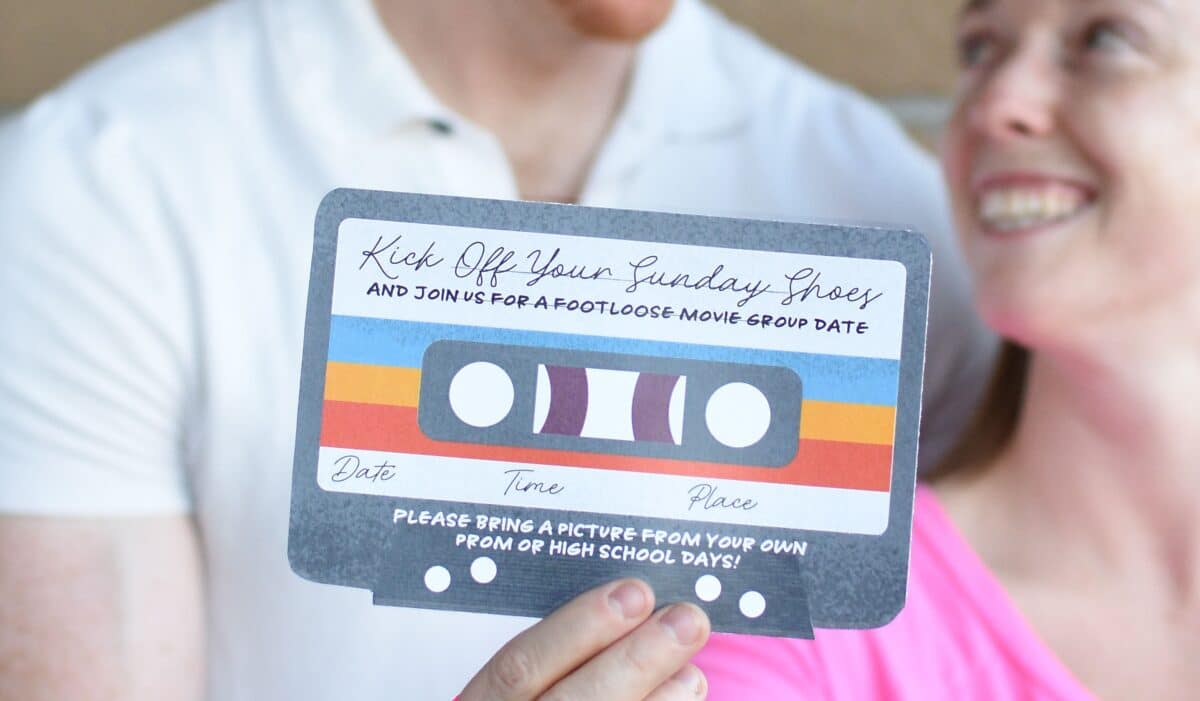 Disclaimer: This post contains affiliate links. To learn more about 'em, click here.
Nobody can resist that opening credit scene: The beat of the theme song begins, and soon the screen is full of feet clad in funky '80s footwear. We doubt even one person could resist singing along to this famous song or any other Footloose songs! So if you are looking for the perfect '80s-themed movie date, then this is it!
Footloose Movie Date Printables
Before jumping into the nitty-gritty details of this date, we want to shout out to the amazingly talented Courtney at Paperelli. She totally captured the '80s Footloose theme and knocked these printables out of the park!
For this Footloose date, we provide all of the FREE printables, links, and resources you'll need to pull off a night full of Footloose fun. Check out what's included in your download!
Footloose Movie Invitation
Picture Awards
'80s Song Titles Game Cards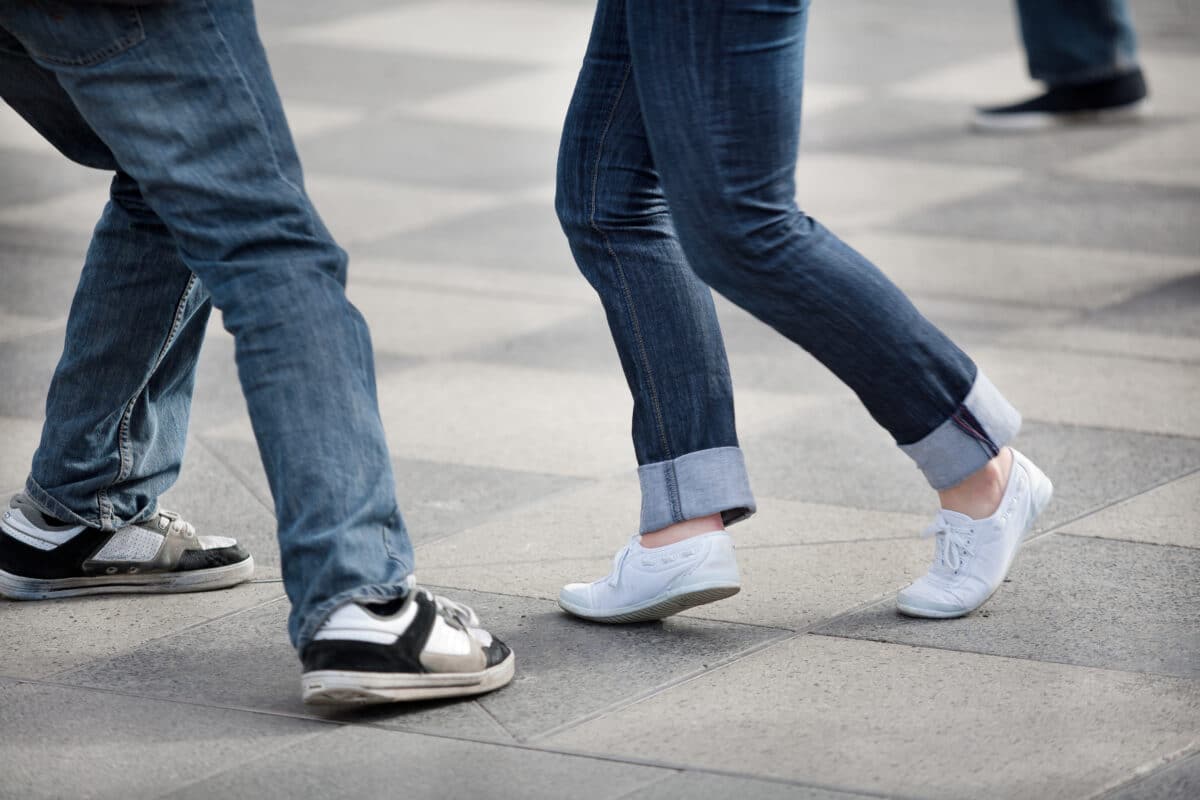 Footloose Movie Invitation
You and your sweetie can invite all of your couple friends to a fantastic Footloose group date with this darling invitation! Did we mention that it looks like an '80s mixed tape?! So cute, right? It looks like we could put the tape straight into our Walkman and rock out to Footloose songs. It reminds us of the scene from the movie when Ren and Willard dance down the school halls with headphones and a Walkman.
The invitation reads, "Kick off your Sunday shoes and join us for a Footloose movie group date!" You can write the "Date," "Time," and "Place" in the spaces provided.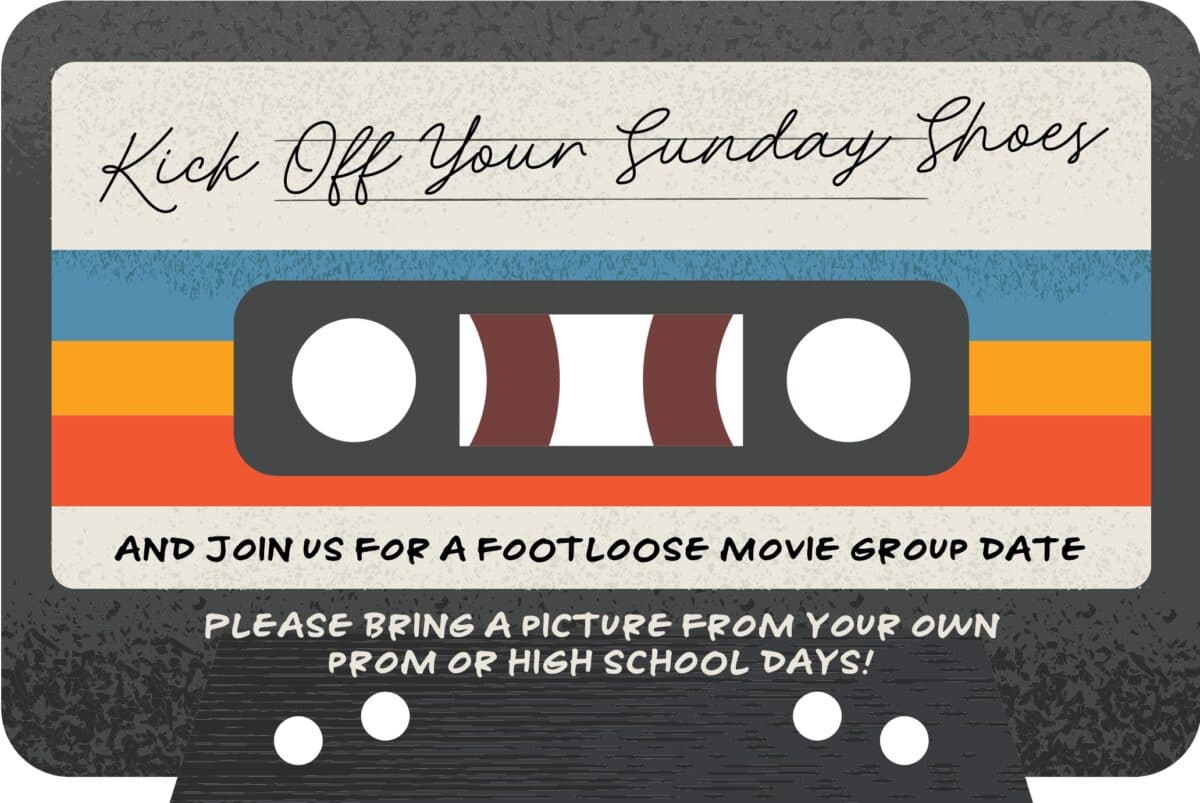 The bottom of the invitation instructs the other couples to "Please bring a picture from your own prom or high school days!" These pictures will be used for another element of your group date. So don't forget to bring your own pictures, too!
Did we mention that a digital invitation is also provided for you? If texting is more your style, we have the same mixed tape style digital invitation provided down below. Simply download the invite and text it out to your couple friends. Easy-peasy! Don't forget to tell them the date, time, and place!
Footloose Picture Awards
Who doesn't love looking at old pictures and scrapbooks? It's so fun (and hilarious!) to see how clothing and hairstyles have changed! So for this part of the date, we thought it would be a blast to reminisce about the past and enjoy everyone's old prom or high school pictures.
What you'll need:
Picture Awards (print and cut these out beforehand)
Small slips of paper
Pencils
Jar or bowl
Area to display photos
At the beginning of the evening, collect your friend's high school or prom pictures and display them. You can use frames, arrange them on a table, or clip them onto a photo string light.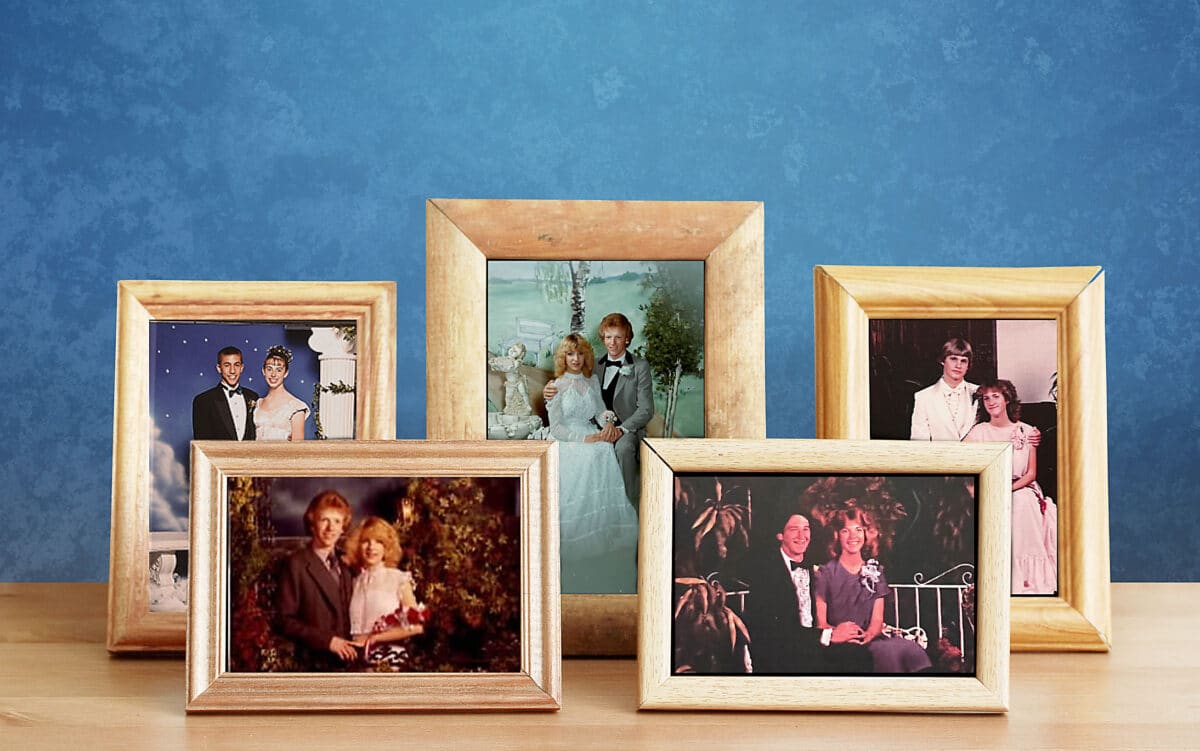 Next, provide your couple friends with small slips of paper and pencils and ask them to vote on the pictures for the following categories:
Best Smile
Fanciest Dress
Flashiest Tux
Biggest Hair
After writing their votes on the papers provided, have them fold up their papers and place them in a jar or bowl. When all of the couples have voted, tally up the votes. Then, present the winners with the award cards. We just love that these cards capture all the glitter and shine of the final dance scene in Footloose!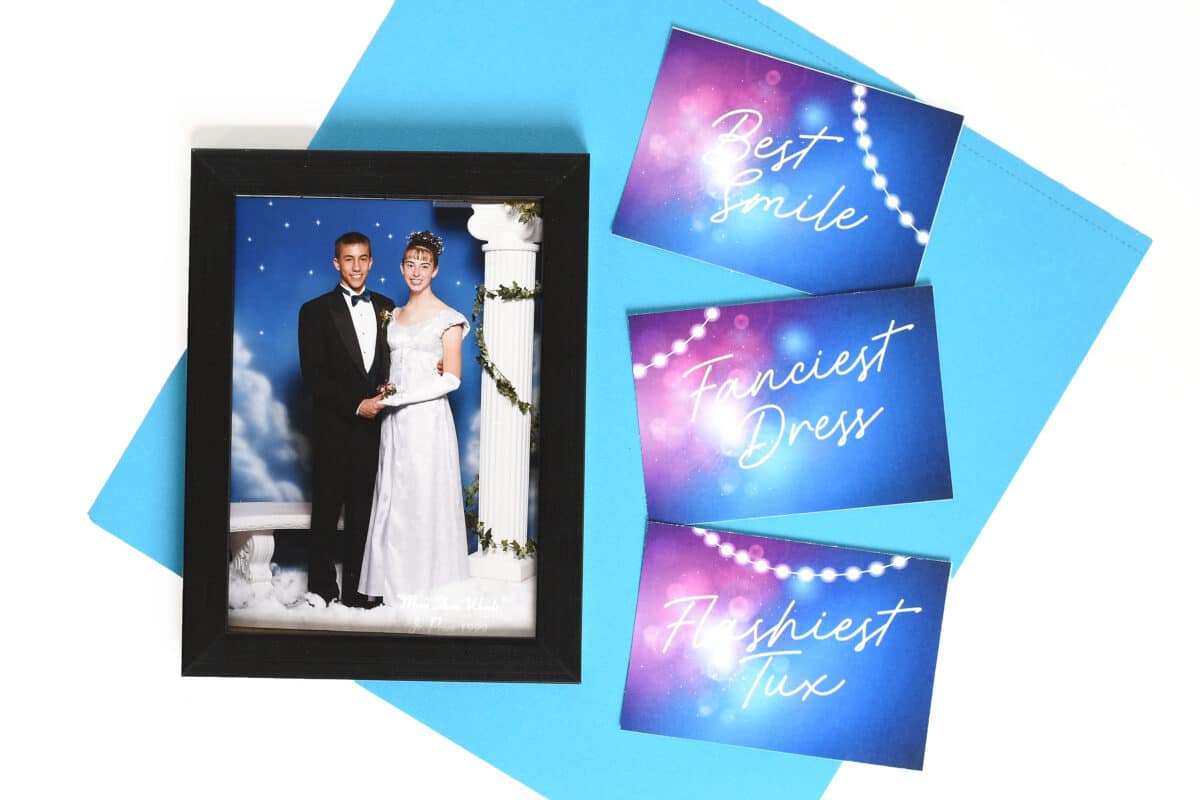 '80s Song Titles Game Cards
While Ren dancing through an empty warehouse and Ariel standing on two driving vehicles are some of the movie's most memorable scenes, the Footloose songs are what really help make it a classic! "Let's Hear It for the Boy" brings images of Ren teaching Willard to dance to our minds, while "Holding Out for a Hero" will always remind us of the game of "Tractor Chicken."
This game is all about Footloose songs and other famous, well-known '80s songs. The object of the game is to guess the famous '80s song title from the lyrics.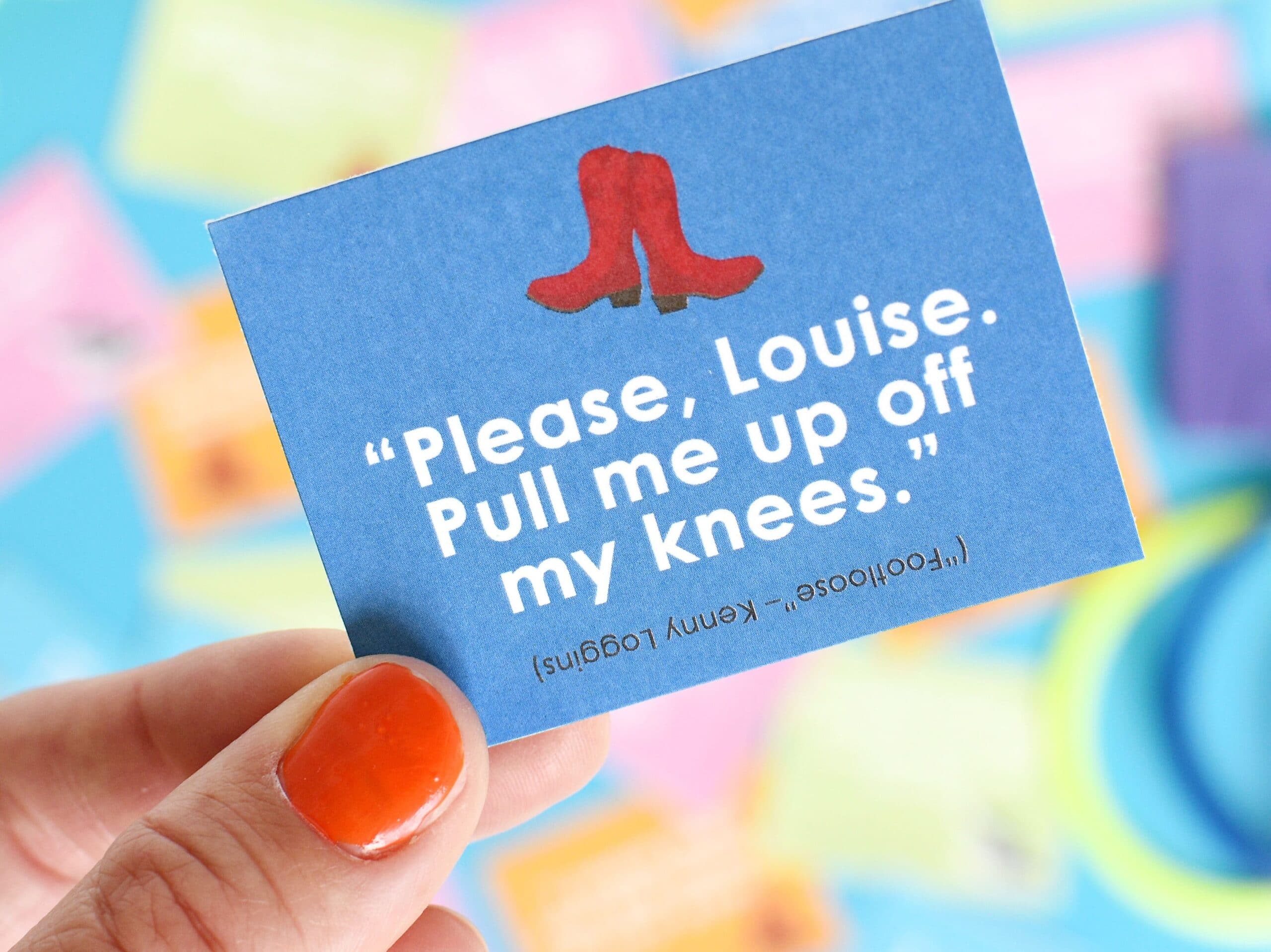 To play this game, print and cut out the cards beforehand. Have each couple take turns being the judge. The judge will pull out a song and only read the lyrics. The other couples will guess the song title as quickly as they can. The judge decides who said it first and gets the point. The judge will award a bonus point to any couple who sing the chorus from the song. This game is perfect for any '80s music fans out there!
Footloose Dance
Not ready to end the night of Footloose fun?! Don't worry! We have more ideas for your group date! It's time to put on your dancing shoes and "cut loose!" For this part of the date, you and your sweetie may want to clear a larger area for a makeshift dance floor. It's time to learn a Footloose dance from the movie!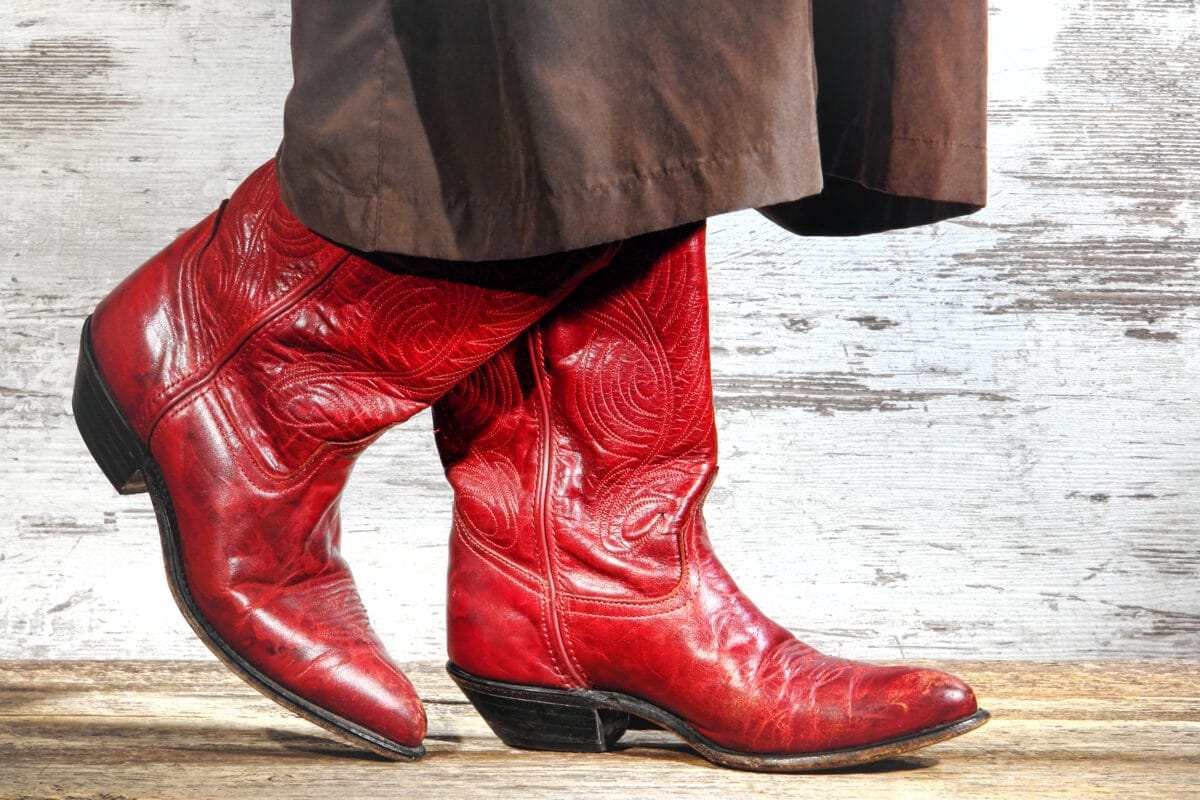 Of course, you can search YouTube for your own Footloose dance tutorial, but we also have a couple you can check out here!
If a Footloose line dance is more your style, you can check out these tutorials, too! These tutorials are from the new Footloose movie (2011), and they feature the song, Fake ID, by Big & Rich Ft. Gretchen Wilson.
Can't get enough dancing? Try this Footloose dance add-on game.
Here's how to play:
Have everyone stand in a circle. Each person will need to make a single hand or leg movement (kick, jazz hands, etc.). Pick a person to start with. Once they do their single movement, the person to their left copies them, then adds on their own movement, and so on. The last person is left to do the dance movements of every person in the circle. Keep going around the circle again, or finish it by having everyone try and dance the entire sequence of movements together. Make sure to play some music from the Footloose soundtrack as you play!
Watch Footloose
You can't end this blast-from-the-past date night without watching the Footloose movie! We totally need to see a young Kevin Bacon dancing his heart out!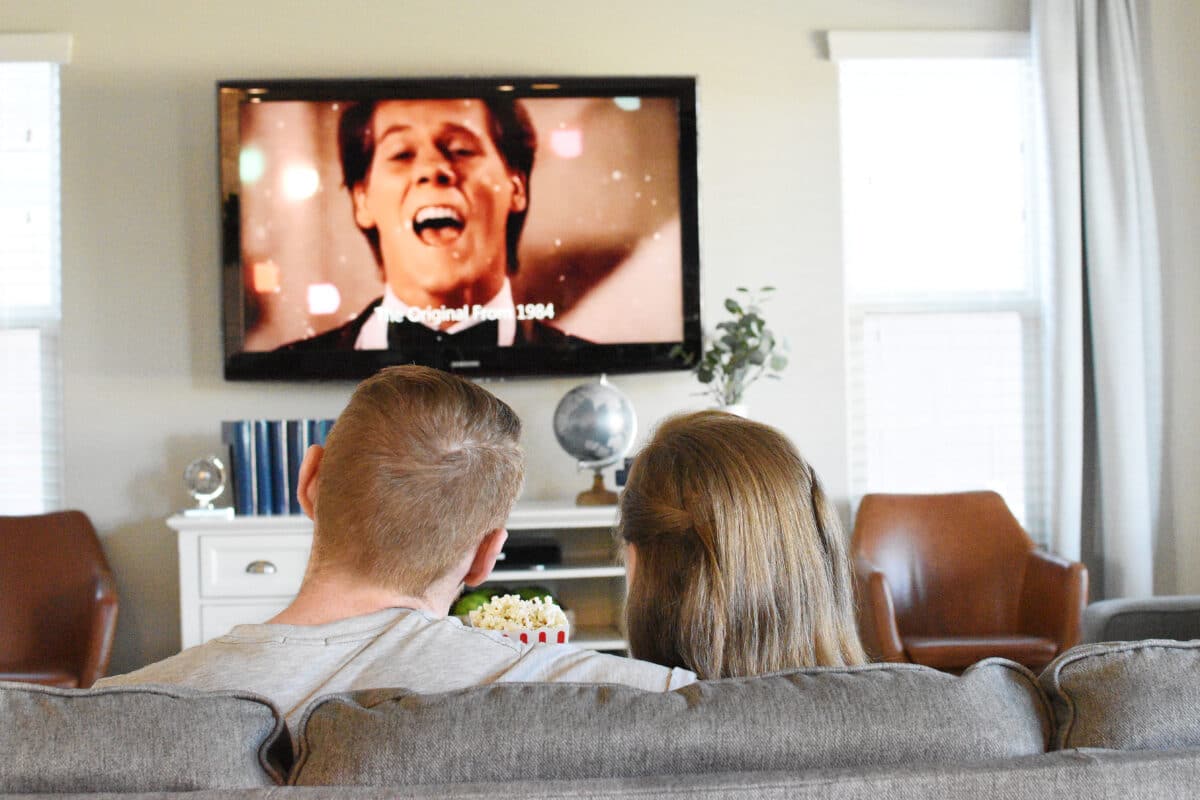 So, grab some popcorn, movie treats, pop in the movie, and snuggle up close to your sweetie. Oh yeah, and don't forget to kick off those Sunday shoes! 😉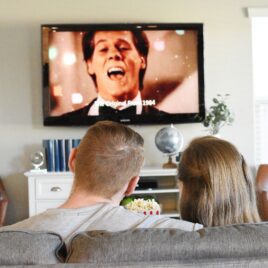 Footloose Group Date
Printables Designed by Courtney @ Paperelli Exclusively for The Dating Divas
Digital Invitation
Printables Designed by Courtney @ Paperelli Exclusively for The Dating Divas