Love Note Valentine Countdown 
Countdown to Valentine's Day with this fun and festive clothespin wreath! With these adorable printable love notes you can clip a new note each day from February 1st leading up to Valentine's Day! What a sweet way to show your love AND add festive decor to your home!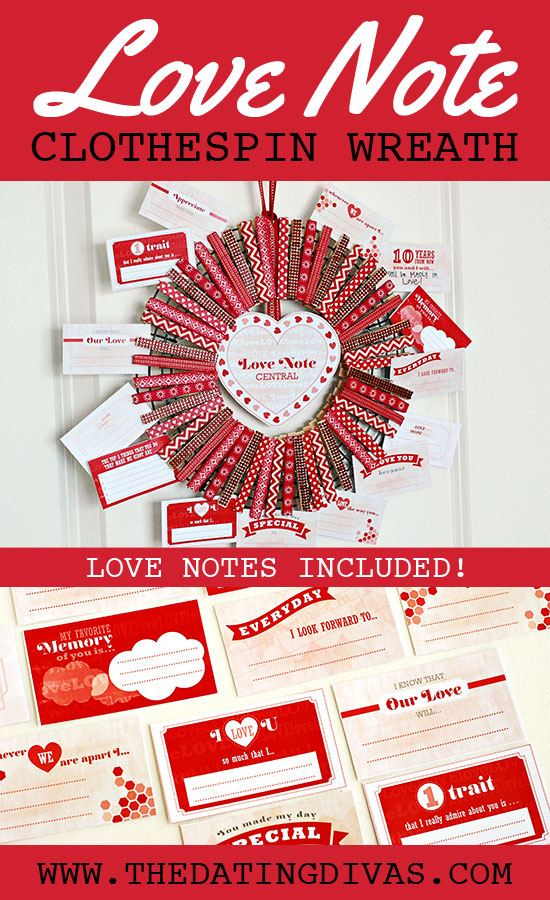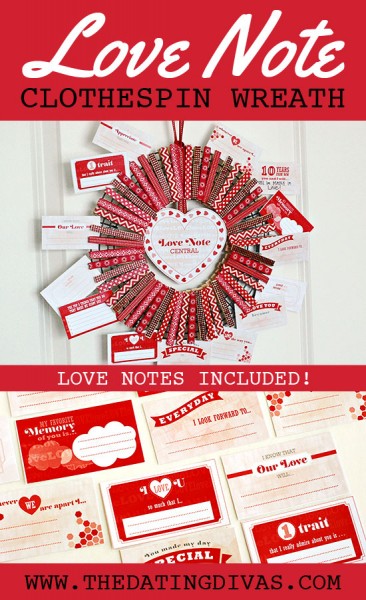 Disclaimer: This post contains affiliate links. To learn more about 'em, click here.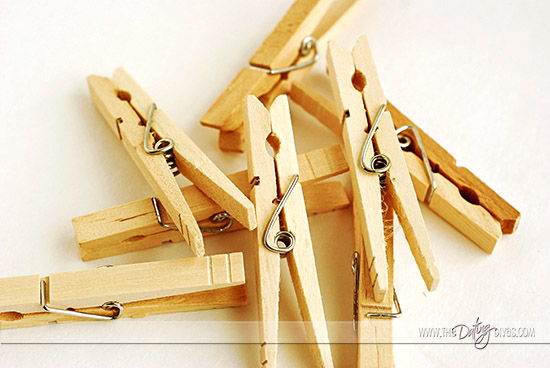 Materials Needed:
THE WREATH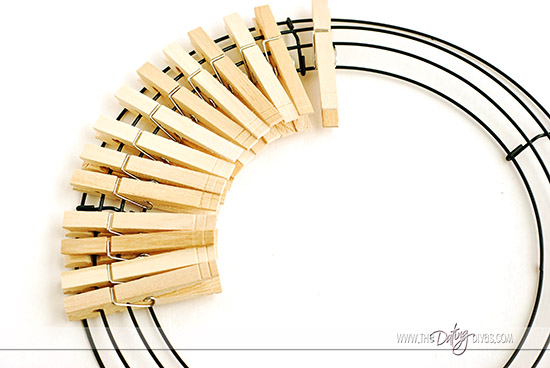 Step 1: Placement
Start by placing your undecorated clothespins around the wreath frame. You will want to figure out how many you need AND make sure they will fit just how you want them. I chose to have the clamp ends face out of the circle to have more room. However you choose – just make sure you are consistent to have them all face the same way!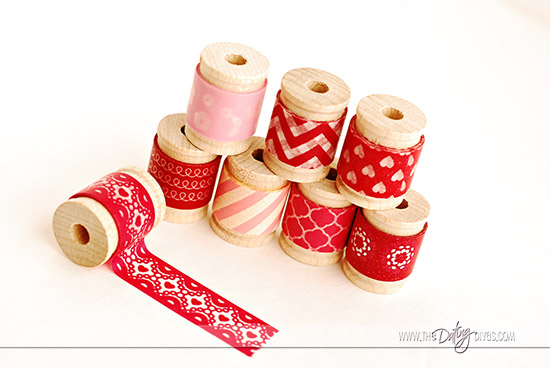 Step 2: Choose your washi tape! 
I have FALLEN IN LOVE with wash tape. If you haven't used it yet – you have got to try it on all of your craft projects. There are oodles of colors, patterns and styles to choose from and a variety in sizing. For this project I found this website where you didn't need to buy the entire roll, but a few yards – EXACTLY what I needed for this type of project. I was able to my more patterns and didn't have too much extra. Warning: you might get addicted. There are so many to choose from!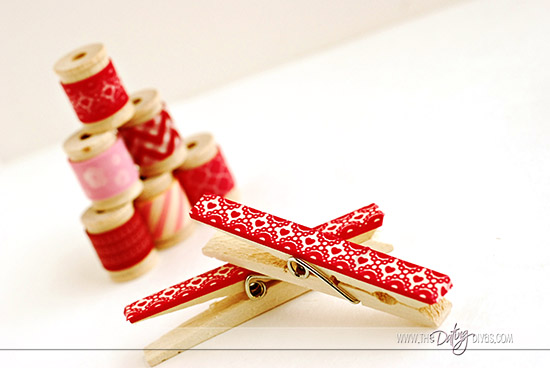 Step 3: Washi-ize your clothespins
It is time to give those boring clothespins a makeover! Add your wash tape to your clothespins. Even though clothespins are typicality 3/8″ wide I went with the 1/2″ (15 mm) tape so I could wrap the edges. It was JUST the right size. It was so incredibly easy to place the tape, cut and wrap around the edges.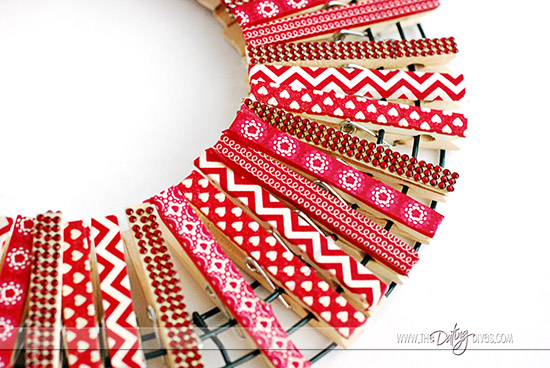 Step 4: Get Creative!
I went for a color scheme or reds and pinks (typical Valentine/love colors) and got creative with the patterns. I even found these fun jewel stickers at my local craft store and added those too! I think they added a nice touch. You can get creative with what you want to add to make it personal to you!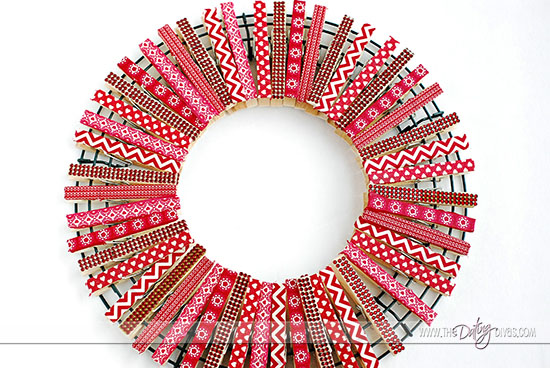 Step 5: Put It All Together!
Now the fun part: putting it all together! You get to start clipping those fancy clothespins onto your wreath frame! Find patterns that look well together and clip away!
THE LOVE NOTES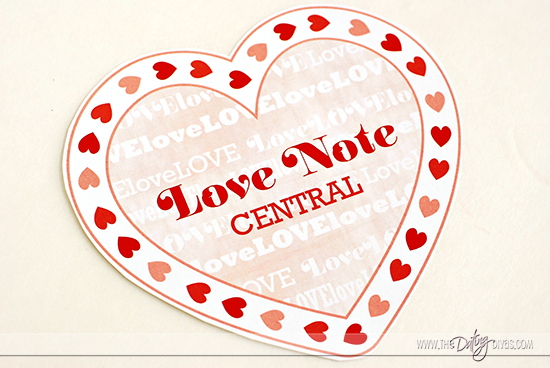 Now that you have a cute clothespin wreath – you need some love notes to put on it! Our fabulous designer Erin from Printable Crush has come up with some love note prompts for you and your spouse to fill out and attach your new wreath.  She did an AMAZING job of capturing my vision for these notes and she nailed it the first round! Check them out and you can see what I mean . . .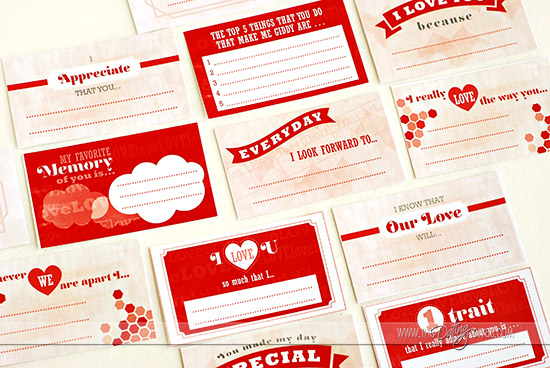 Now, you can attach your love notes anytime your heart desires, BUT we conveniently created 14 days worth of love notes for you. The idea is to place a new love note on the wreath every day from February 1st – February 14th like a countdown to Valentines day!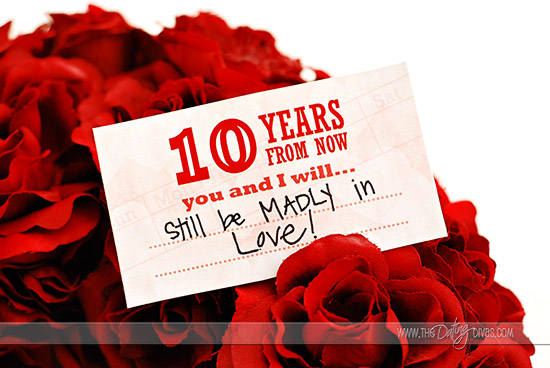 Imagine your spouse's reaction every morning as he eagerly anticipates your love note each day. PLUS with the prompts – writing 14 days worth of love notes is super easy!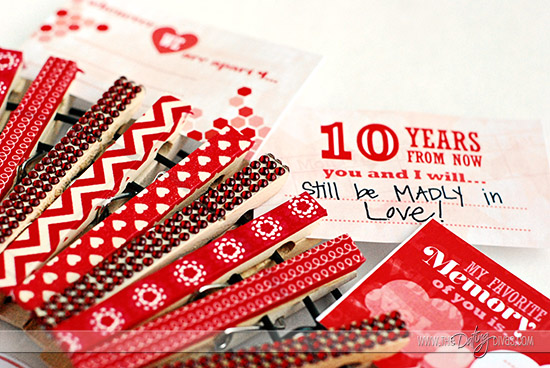 Finally – attach your notes to your wreath each time you write one. Rather than tucking them away – you can have them on display to see again and again!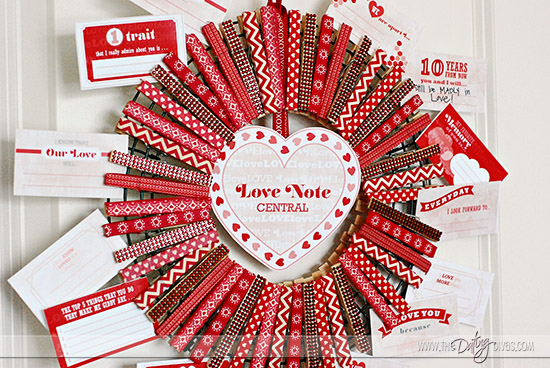 There you have it! A super simple DIY Valentine love note holder! I am so excited to try this out with my hubby this Valentine's day PLUS my mind races with other creative possibilities! You could make one for your anniversary or a birthday or even just because! The possibilities are endless!
So what are you waiting for? Go gather up your clothespins and get your adorable love note printables!
Happy Valentine's Day Everyone! 
Love Note Clothespin Wreath
Printables Designed By Erin @ Strawberry Mommycakes Exclusively For The Dating Divas