A Pictionary Game For Couples 
Here at The Dating Divas, we love a good Pictionary game night! We love trying new games, but we also love the classic games too! Pictionary is a classic game that everyone knows and enjoys in all stages of life. Well, we thought we would take this well-known game and give it a good Dating Diva spin to make a Pictionary game that is extra fun and especially bonding to play with your spouse!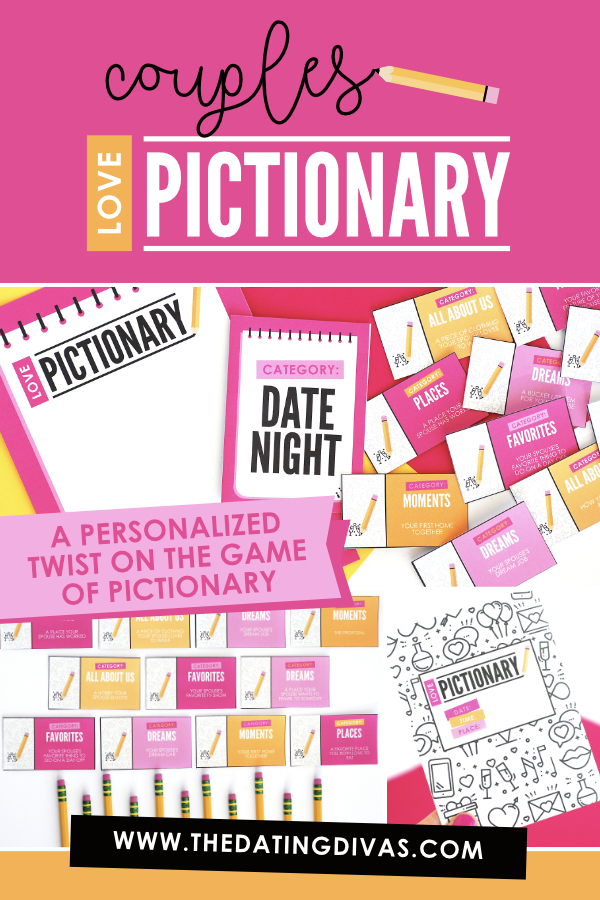 Disclaimer: This post contains affiliate links. To learn more about 'em, click here.
Playing a game like Pictionary is super fun on its own, but we have added a special twist to make the game a little more personal and a lot more fun! This is one of those date nights that you can do at home, it requires very little prep and this is all thanks to our fabulous designer Carisa from Messes to Memories. She brought our idea to life!
Pictionary Game Night Invitation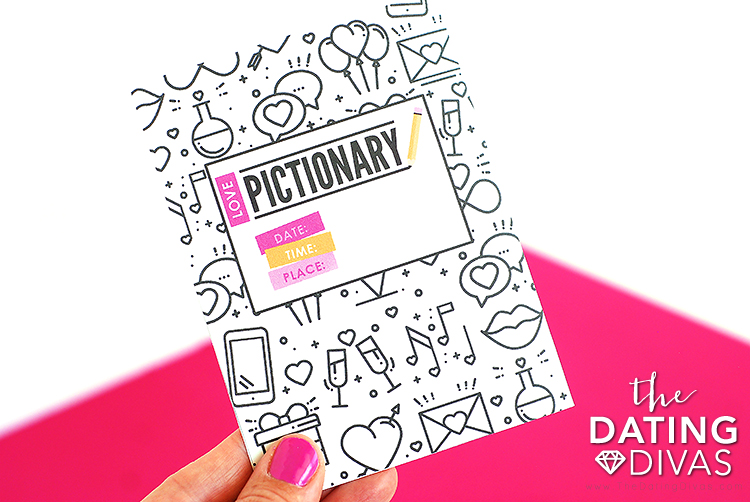 Even with a simple date night at home, you can make a little effort to make date night special. We have a two-sided invitation card that you can leave for your spouse letting them know that you have a Love Pictionary game night in store!
How to Play the Love Pictionary Game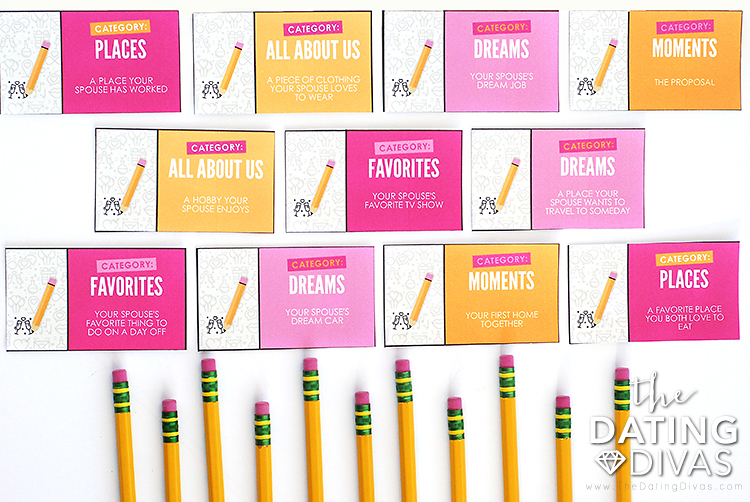 Now, let the games begin! In a normal game of Pictionary, you each select a card that would have a special item to draw. With our special twist to the game, however, you will be given a prompt for what to draw. Each prompt will have you decide what specific thing you will draw based on your knowledge of and your experiences with your spouse! For example, the card prompt might look something like this:
Category: All About Us 
Your Spouse's Least Favorite Chore 
Do you know what chore that would be for your spouse? I do! Folding and putting away laundry. Not exactly an easy one to draw, but it is definitely the answer! You might be drawing mowing the lawn or washing dishes, the answer will be completely personalized to you and your relationship. Fun right?
Now, not only would your spouse have to guess "folding laundry" (or whatever chore you determined was the least favorite) but they could also try to guess the prompt (least favorite chore). It kind of has a little Newlywed Game twist to it, right?
Pictionary Game Cards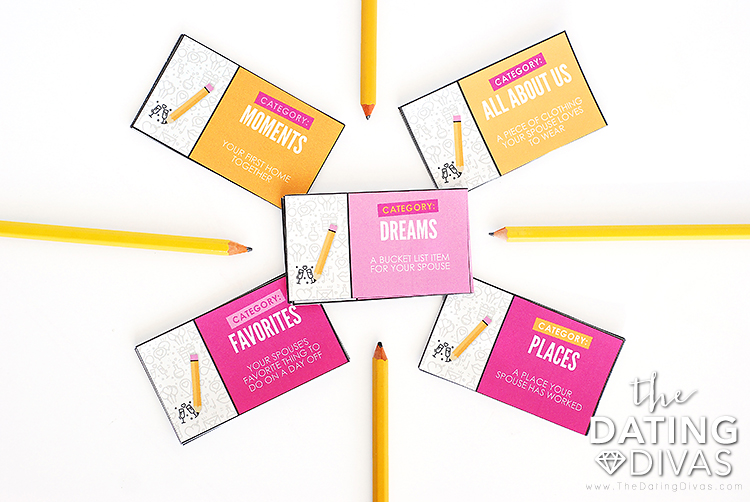 Included in our Pictionary game are three dozen drawing prompts! We also have five unique categories of prompts. They include:
Moments – these will be prompts to draw a picture a specific event you have shared in your relationship.
All About Us – A little test of how well you know your spouse with these fun prompts all about each other.
Dreams – These cards will have you drawing you and your spouse's future hopes and dreams.
Favorites – How well do you know your spouse's favorite things? Find out with these prompts!
Places – Here you will draw special locations that are important to you and your spouse.
Tips For Playing the Pictionary Game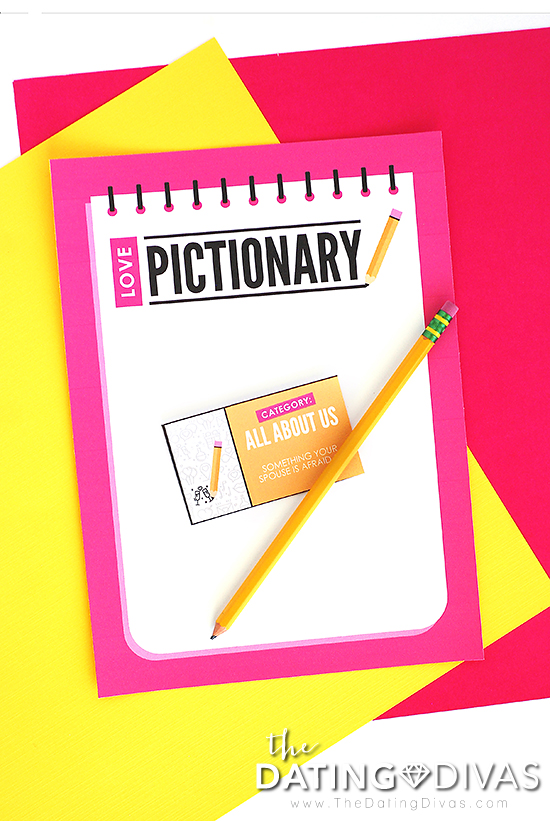 Included in your game printable download is a love Pictionary game drawing board. You can really draw on any paper you have around the house,  but I laminated this one on some quality cardstock and we used dry erase markers. It was a simple thing to do and we could use it over and over again.
What I Love About This Pictionary Game: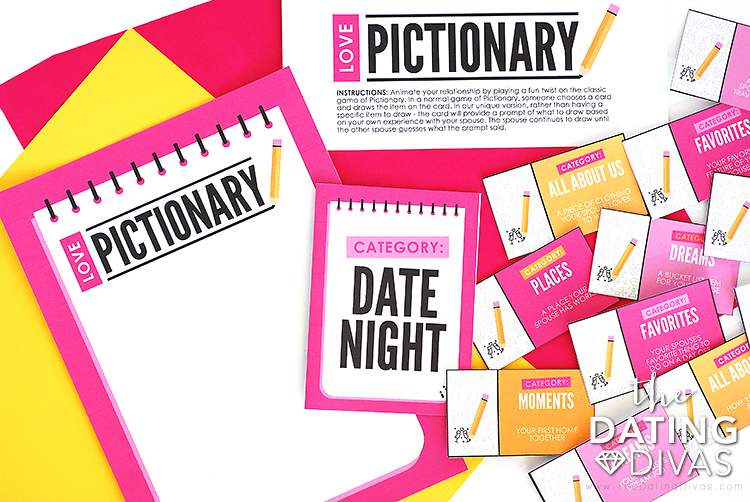 I love how personal this is. It is a unique way to get to know your spouse better in a fun way.
This is one of those date nights that is super easy to pull off. Just print and play!
This date night didn't cost us any money at all! It was completely free and didn't even require a babysitter.
You could play this game several times because the answers could potentially be different.
This is a great date night that you can print in advance and have ready to pull out when you have a little time for a last minute date night together (like our Date Night Envelope Kits)
This could be played as a date night at home with you and your spouse, but it could also be a fun group date night with other couples.
Love Pictionary Date Night
We hope you have so much fun playing our Love Pictionary Game for your next date night! You can download everything you need by clicking the link below. Enjoy!
SaveSave
Love Pictionary Game
Printables Designed by Carisa @ Messes to Memories Exclusively for The Dating Divas