Make Your Own Board Game for Couples
Want to switch things up a bit? We'll show you how to make a homemade DIY board game to heat things up in the bedroom. Get ready for a fun and flirty game where you make the rules. This bedroom board game gives YOU all the control!
This is a chance to be as creative as you want! And, it is the absolute perfect opportunity to try out something new or indulge a little in your favorite bedroom activities. Connect in the bedroom in a whole new way…
Read on to be inspired! I'm sharing some great tips to make your bedroom board game a success!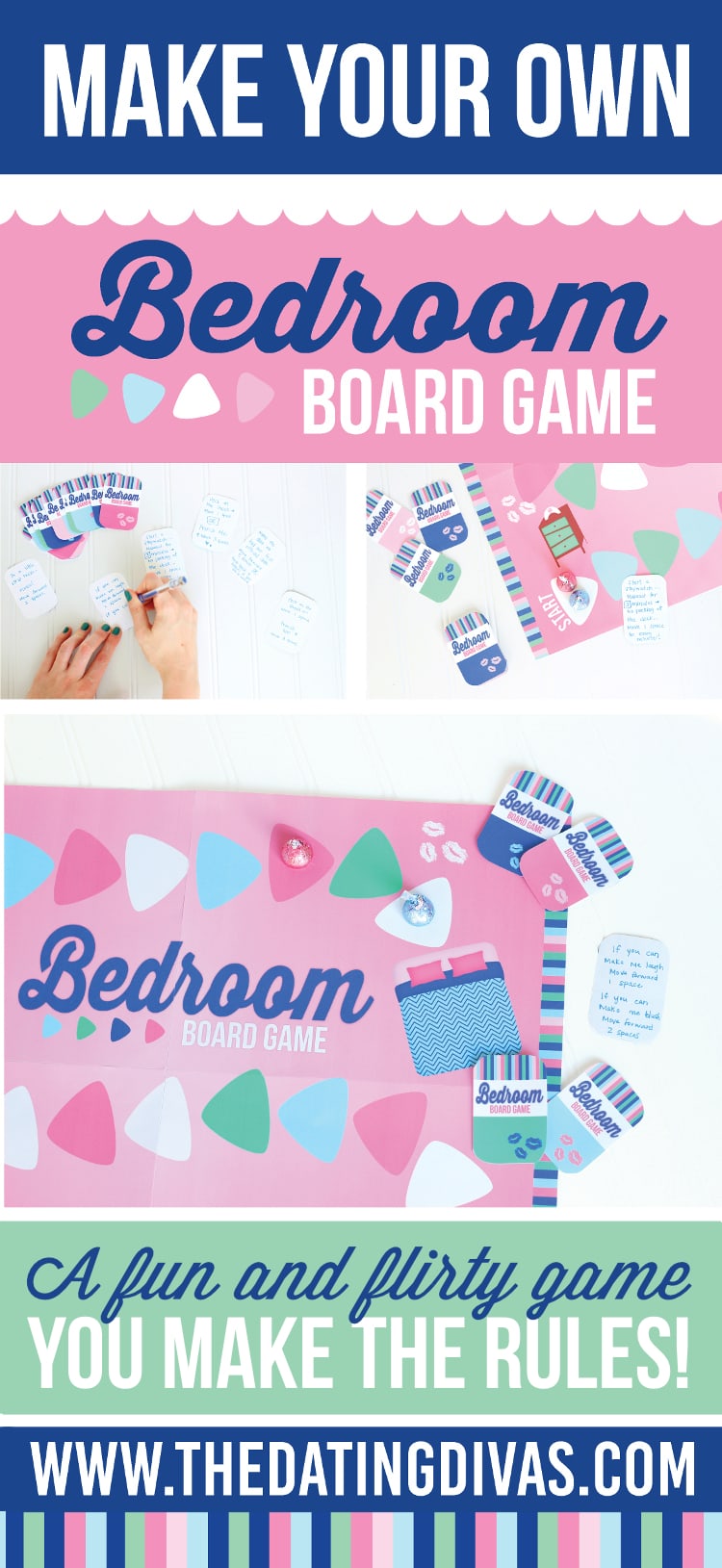 This post contains affiliate links. To learn more about 'em, click here.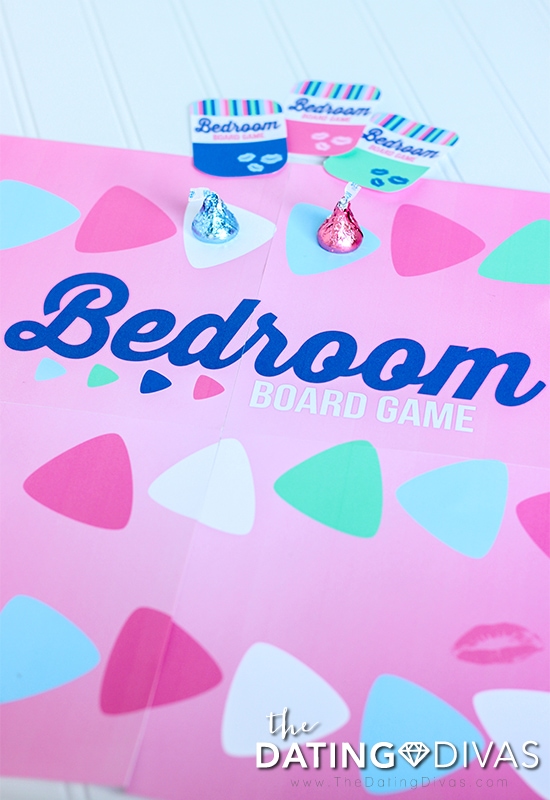 Tip #1 – Enlist your spouse, I guarantee they'll be on board with this date night for two! Cut out your board game (use this to get perfectly straight lines)! Now you can work together to create the perfect game for the bedroom.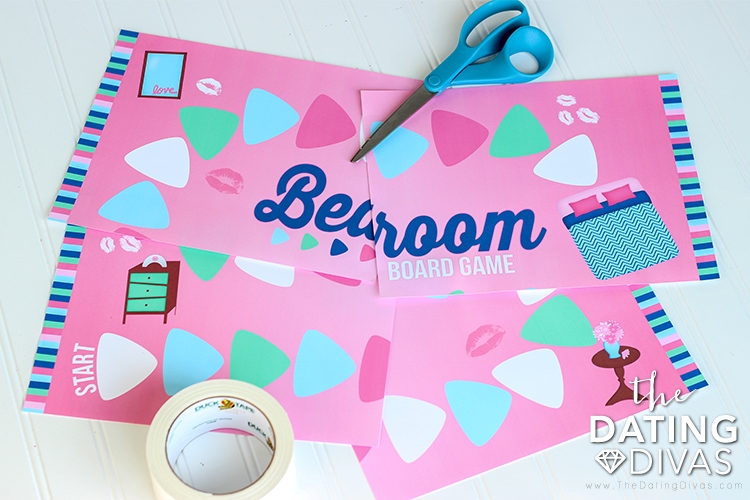 We put ours together with some white duct tape. It makes the board game super sturdy!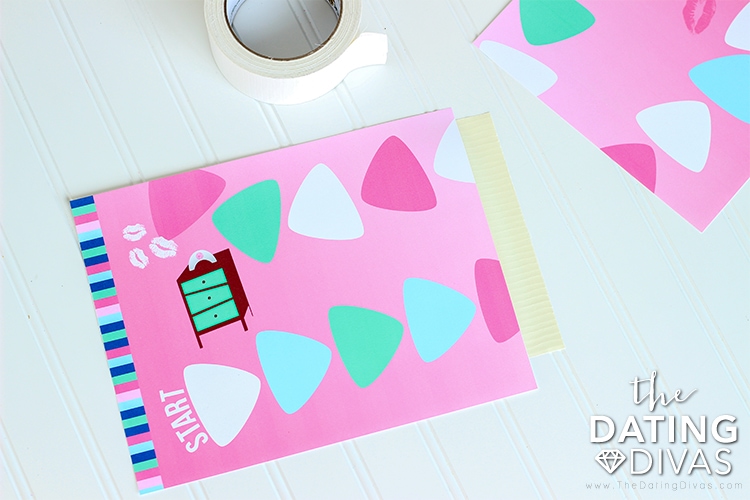 My husband loves games! All kinds of board games, but especially board games. He actually has a dream to design his own family board game someday…. He is an adorable nerd! I just love him.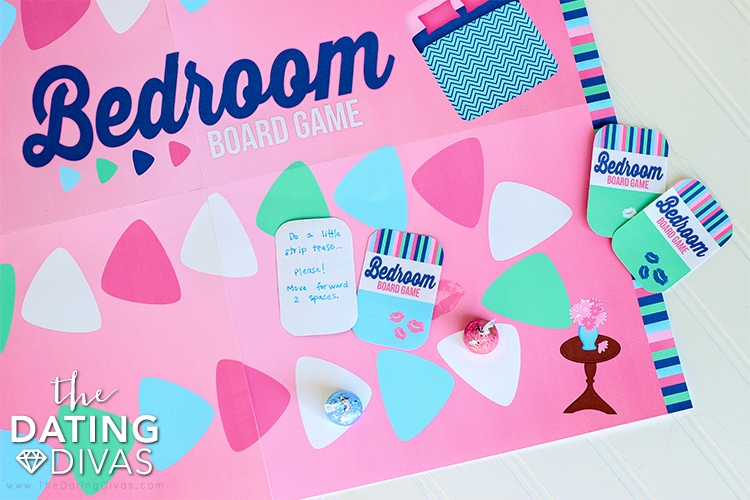 Anyway, when I told him about this fun bedroom board game idea he was all over it! He had all these different ideas for what we could do. And the cool thing is, there really are no rules, so you can throw ideas back and forth and decide how you want to play!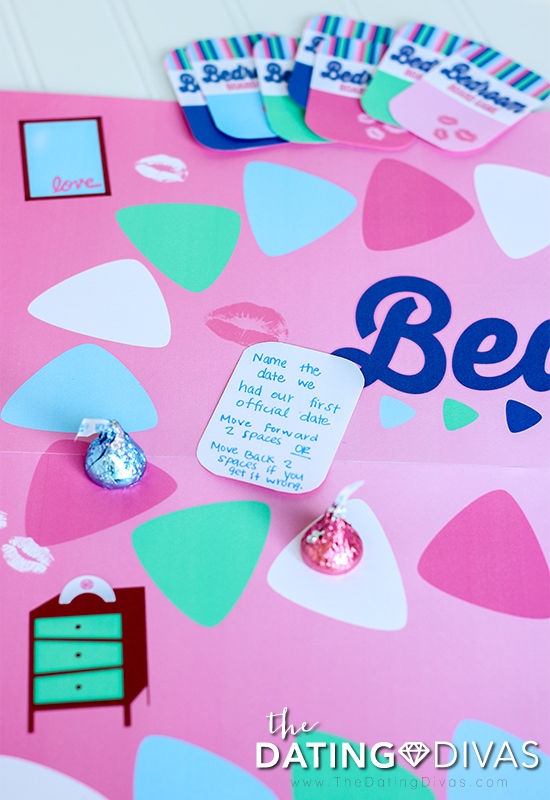 Tip #2 – Be open to trying new things. This is a fantastic way to get to know your spouse better in a FUN and totally unique way! You might even learn something you didn't know before.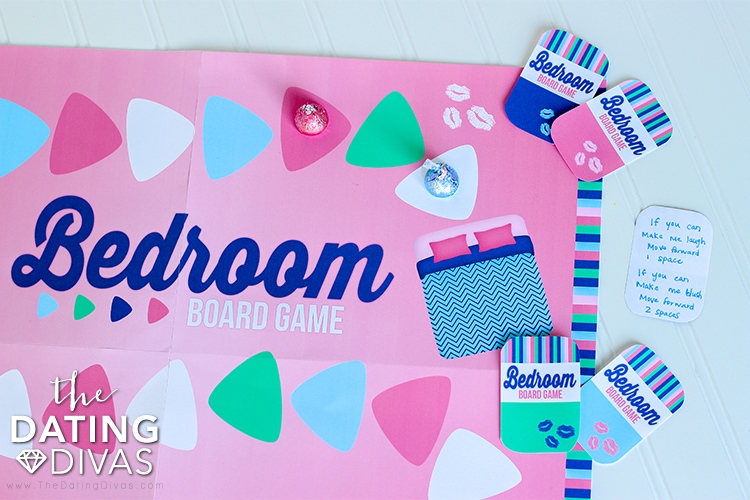 We have provided an adorable board game designed by Messes to Memories! I absolutely love how it turned out!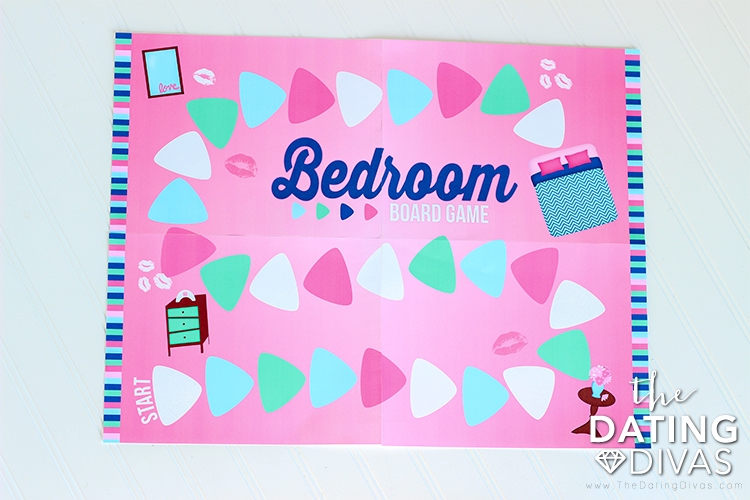 There are also blank cards we provided to go with the board game.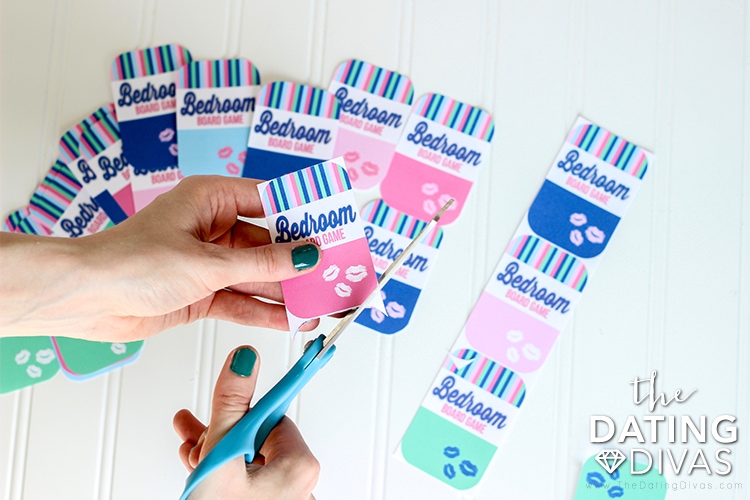 The whole point of this date night is to give you a chance to do whatever you want! You are 100% in charge… If you are sneaky, you can find out what really turns your spouse on! Wink!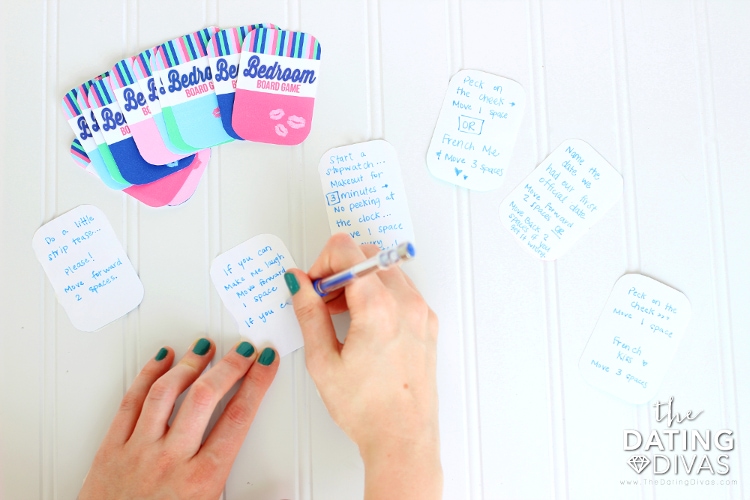 If you're not sure where to start, we came up with some great ideas to get you started on your brainstorming session. And when I say we… I actually mean my husband! Ha ha–like I said. He was ALL over this idea!
Ideas:
Give 2 options worth a different amount of points. Give me a peck on the cheek OR French kiss. The options are endless!
Timed challenges are super fun! Set a time limit and then you can't look at the clock – you just have to guess when the time is up. For every minute, you move a space… If you go over, you lose your turn. Deep massage for 3 minutes.
Ask a question with a specific answer. What was the date of our first kiss? The card can also determine a consequence for if they get the question wrong. Like… lose a turn, take 1 piece of clothing off, or move back a space.
Request an action. Drop and give me twenty! Perform some yoga in your lingerie! Or Fashion Show.
Thoughtful questions to discuss. What is something we do that helps you connect emotionally?
This Jenga love game is another one of our favorites and it has some really great ideas for questions and tasks if you need some help coming up with more!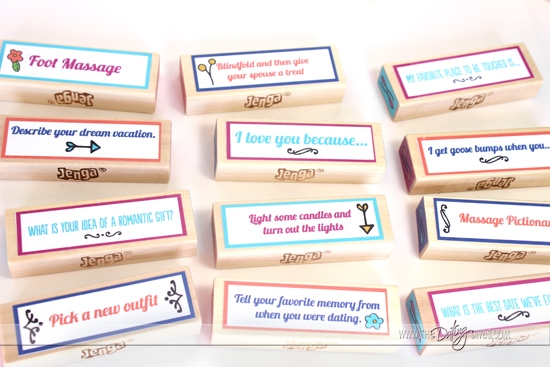 Tip #3 – Grab some chocolate pieces and start playing!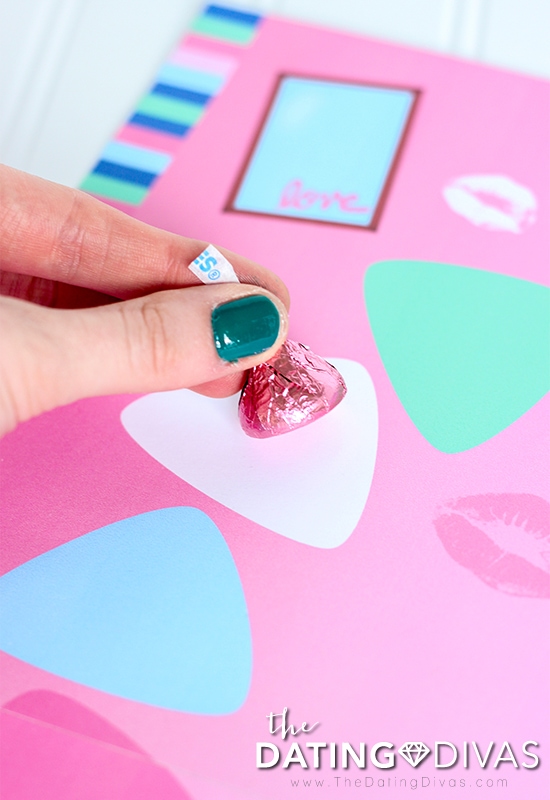 This game is a great way to help you connect with your spouse.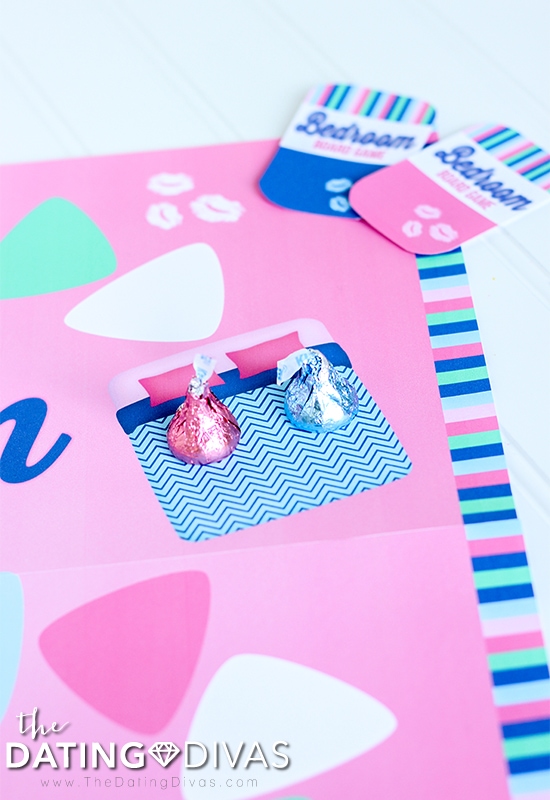 If you plan ahead, you can grab some fun candles or a massage stone to enhance the mood! We absolutely love this one! We had so much fun… I can't wait to play this game again! And the super neat thing is, every time you play you can change it up because YOU are in charge!
Bedroom Board Game
Printables Designed by Carisa @ Messes to Memories Exclusively for The Dating Divas