Sweet Letters for Kids for the Moment They Need Them! 
We always want to be there for our little ones as they grow. We wish we could be there for them through all their ups and their downs – and now you can! Our collection of Open When Letters for Kids gives you the chance to write heartfelt messages to encourage, console, celebrate and offer advice to your kiddos in the moment they need it the most! With over 30 open when letter topic prompts that are specifically geared towards kids, you truly have a unique and special gift idea for kids that they will treasure forever!

Disclaimer: This post contains affiliate links. To learn more about 'em, click here.
Our original Open When Letters Kit was so incredibly popular that we have had several requests from our readers for a version that is just for kids. You asked, and we delivered! We have an all-new printable pack of Open When Letters for kids that is bigger than ever – over 30 envelope and template options!
Here are the main things that I love about these special letters for kids:
The letters can be written for kids of any age! This could be something you do for your child before they are even born, all the way up until they leave for college!

This is a gift idea for your kids that is so easy to put together – simply add the envelope label to the outside of any envelope (we used these because they matched the printables' color scheme perfectly!) and write your own personalized message on the corresponding stationery template or card. Easy! 
The envelope and card designs in this kit are so colorful and fun! Our designer Carisa (from Messes to Memories) utilized gorgeous, kid-friendly colors and patterns that are absolutely darling!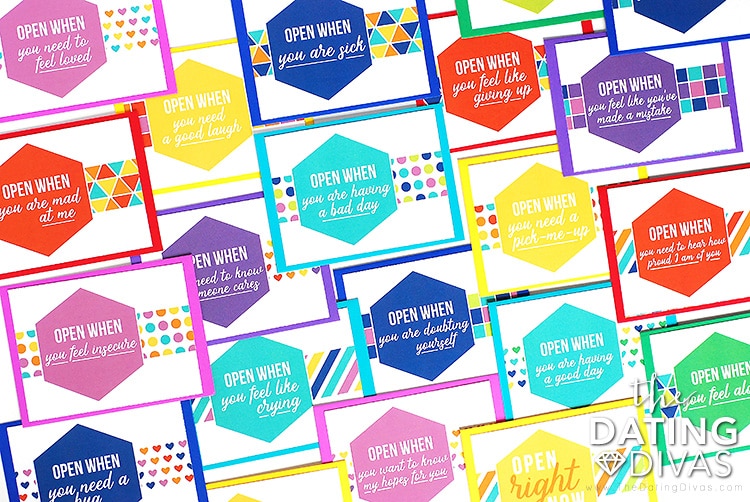 This Open When Letters for Kids Pack includes:
Envelope Labels and Card Templates – Coordinating labels and cards for 25 different letter writing prompts.
Special Occasion Letters – 10 additional letter stationery options for those big milestones in life.
Bonus Box Cover – A special keepsake box cover to store your Open When Letters.
Letters for Kids Envelope Labels And Cards
Writing letters to kids is so easy with this kit! The cards and labels give you a prompt to help you know what to write about. We have 35 open when letter topics for your kids to help you get started writing. Each card has a cute pattern that matches its label.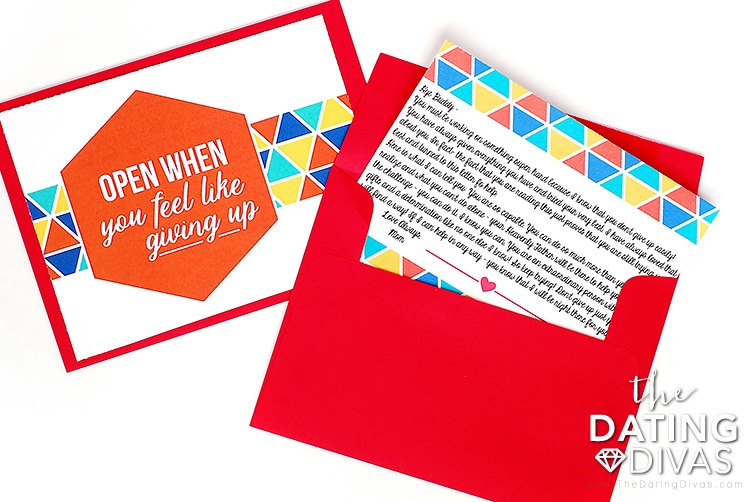 We have 25 easy-to-assemble envelope labels and coordinating cards to get you started on writing your own personalized messages to your kiddo just like in the example letter above!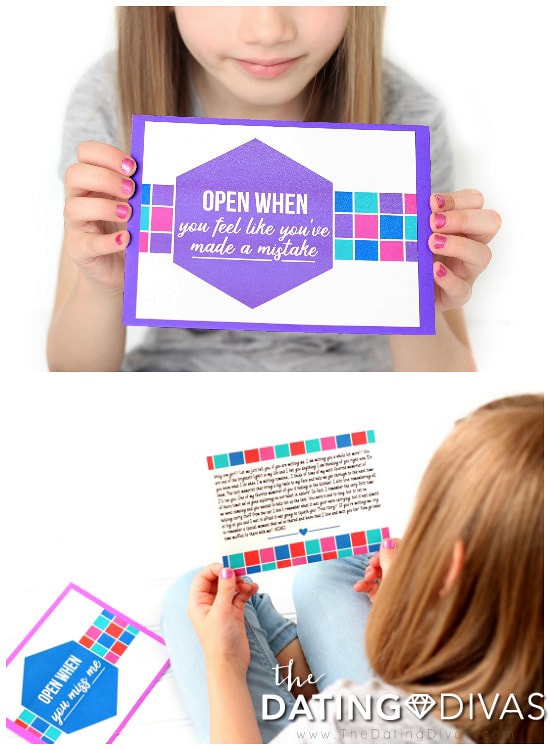 With prompts ranging from  "Open when you need some motivation" to "Open when you need a good laugh" – there is something for every moment in life.
Special Occasion Letters for Kids
For those extra big milestones in life, such as starting school or getting married, we have 10 additional Open When Letter topics stationery kits. These special occasion letters have envelope labels that go with a full page of beautiful, coordinating stationery. You can take time to fill the page with your own words of advice and encouragement long before they reach that stage.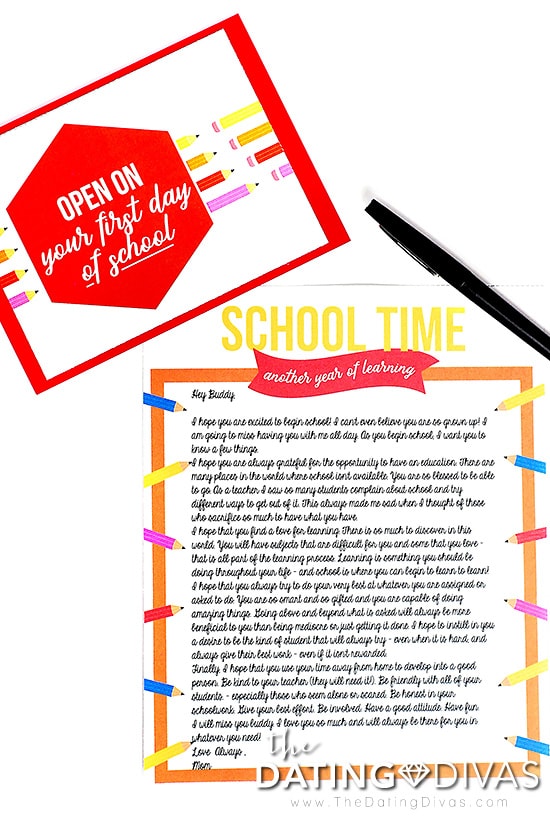 Open When Letter Box Cover

Finally, you will need to keep all of these letters in a special place where your child can easily access their letters for that moment they need them AND have a place to keep them for years to come!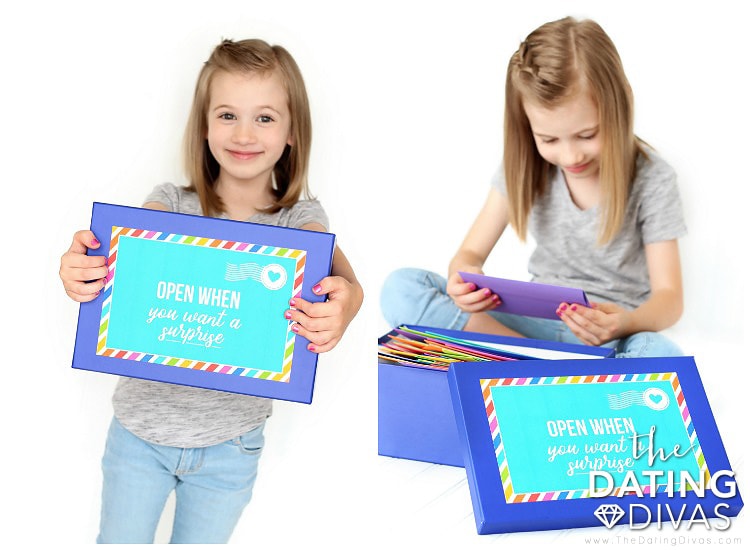 You can top a keepsake box with our gorgeous box cover that fits perfectly on a standard photo storage box.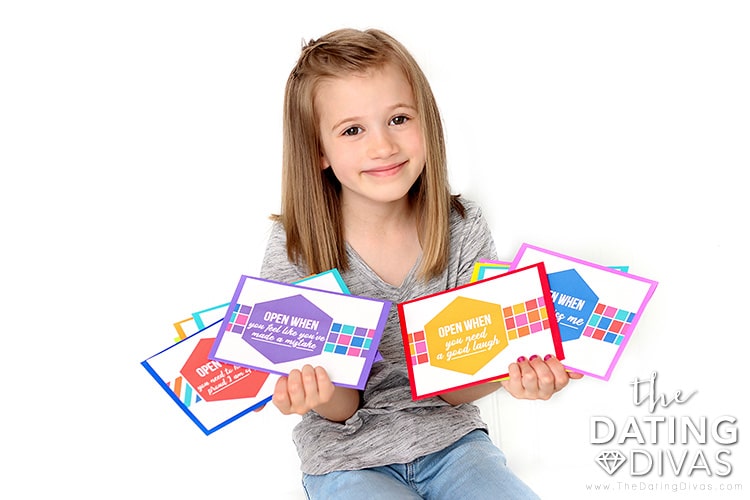 These Open When Letters For Kids are the perfect gift for your child no matter what their age! Can you even imagine how exciting this would be for them to receive these wonderful letters written by you?  These are the types of gifts that your kids will remember for years to come!
Start Writing Yours Now
for Only
$8.97! 



While you are writing these letters for your kids, don't forget about our Open When Letters for Your Spouse! They will love this idea so much that they will want to have their own set too!
And here is another fun spin-off idea – we have a set of date night ideas for an Open When Date Box! How fun is that?! Prep several dates in advance and have your sweetie select the date night activity based on their mood for the evening.