Fast-Paced Fall Pumpkin Games
I think fall has GOT to be my favorite season. From the leaves to the pumpkins to everything in between, there's just so much to love and to celebrate! To help YOU celebrate this time of year, we've come up with a set of fun and fabulous pumpkin games to play with your favorite group of couples. These hilarious Halloween Minute to Win It Games work during the entire fall season, and are so pumpkin-friendly we can hardly stand it! Are you ready to unleash the power of the pumpkin games? Let's take a look at the goods!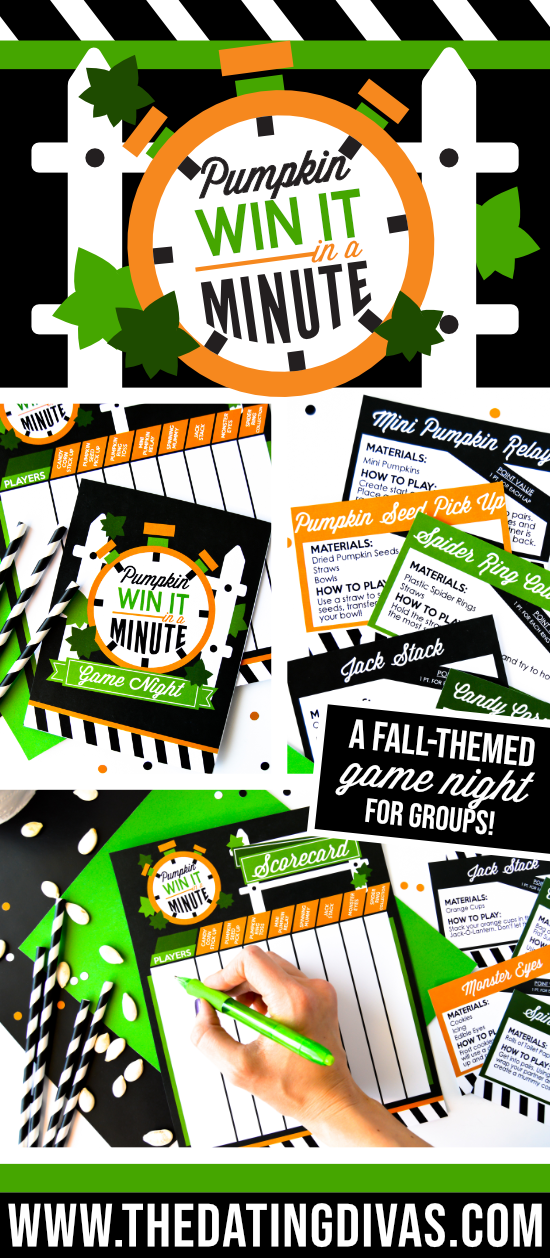 Disclaimer: This post contains affiliate links. To learn more about 'em, click here.
You can thank our very own Diva Elizabeth for designing these beautiful Fall and Halloween Minute to Win it Games. I just get all giddy inside when I get to see the work she's done! Get excited and go check out some of her other amazing printables on our site!
Pumpkin Games Invite
Get everyone on board with these Minute to Win It Halloween Games with this darling, pumpkin-patch inspired invite. Just print (we always love using a high-quality cardstock!), fold down the center line and fill in the info on the back side. We've included spaces for the date, time, and location as well as a special item spot. Each of your pumpkin games requires a few, inexpensive materials and this space will let your guests know exactly what to bring.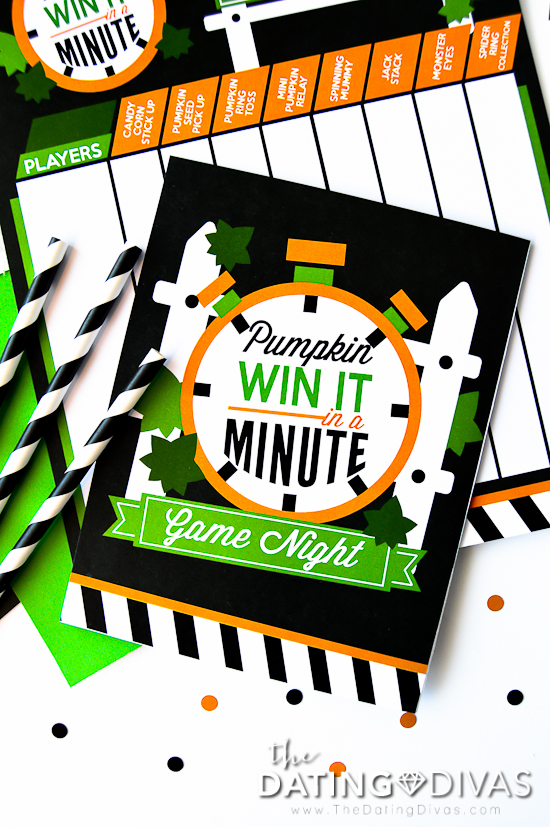 Once you've gotten your pumpkin games invite filled in and filled out, it's time to create your guest list. Pass your invites out to all the couples you want to join you and wait for the fun to begin! We guarantee everyone will be SO excited about these Halloween Minute to Win It Games that they'll hardly know what to do with themselves. How fabulously fall-ish!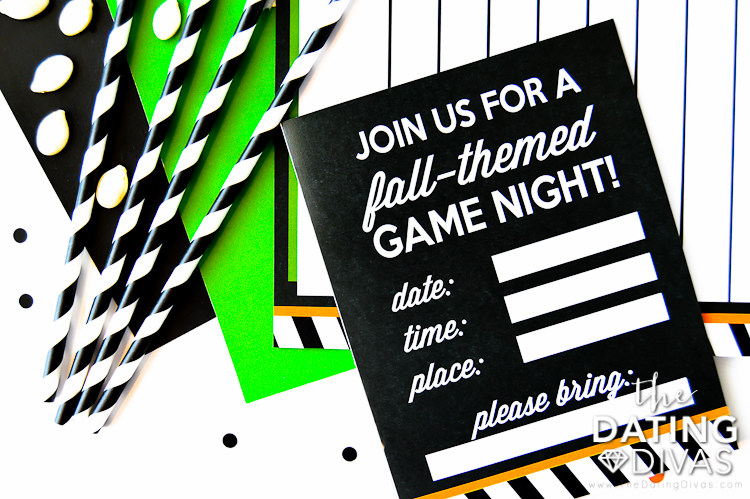 Halloween Pumpkin Games & Fall Activity Cards
One of the BEST parts about this game night is how simple it is. In your printable pack, you'll find EIGHT fun games – four fall-themed pumpkin games and four Halloween games. We told you these pumpkin games would work all autumn long and we weren't lying! Simply print off the game cards to see the necessary directions as well as the required materials. Again, we suggest printing on cardstock for ultimate game night satisfaction. Cut out your cards and consider taking a sneak peek of each activity so you know exactly what to expect when it comes to playing your Minute to Win It Halloween Games.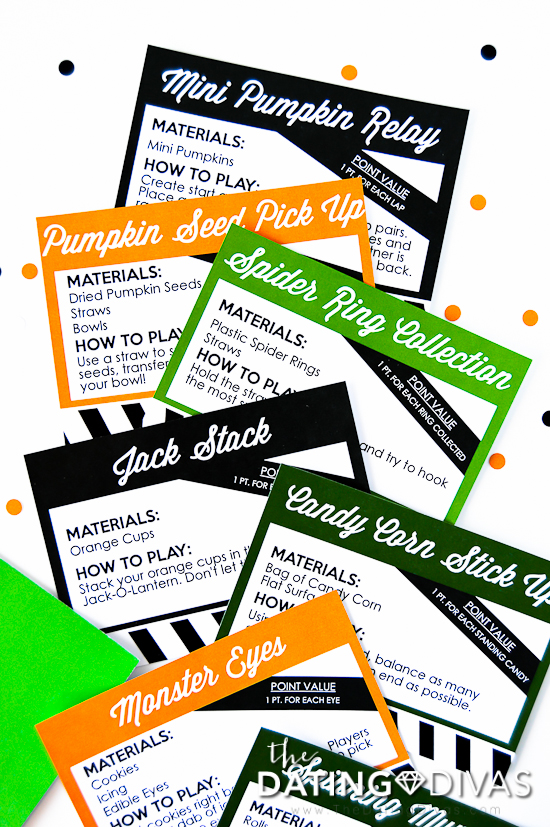 Your set of Halloween pumpkin games and fall activities include the following:
Mini Pumpkin Relay

Pumpkin Seed Pick Up

Spider Ring Collection

Jack Stack

Candy Corn Stick Up

Monster Eyes

Spinning Mummy

Pumpkin Ring Toss
Do those sound over-the-top fabulous or what?! We've even included a set of blank cards so you can come up with your very own pumpkin games! One of our favorite activities is the Jack Stack because you've got to get the orange cups in the correct places to complete the challenge. Things can get pretty tricky! We also love Spinning Mummy and Pumpkin Seed Pick Up but ALL of the included Halloween Minute to Win It Games are full of laughs and fun. Remember you only have ONE minute to win it which means each activity is only one minute long. We call that a recipe for some seriously fun shenanigans!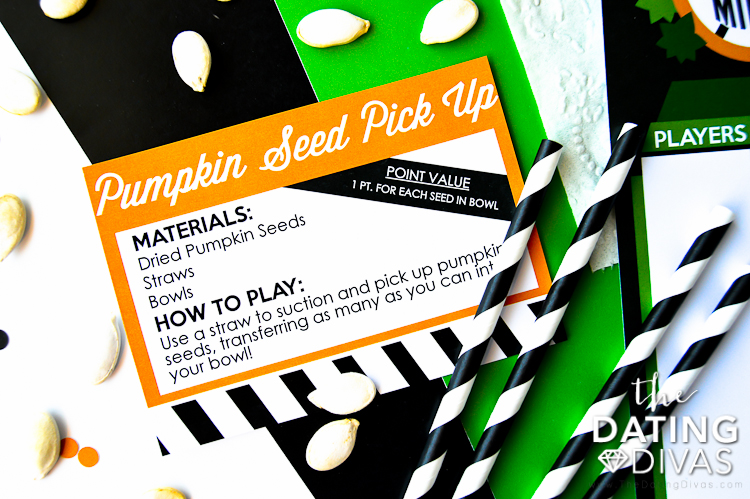 You'll notice that each of your game cards consists of a title, list of materials, instructions for gameplay and a handy dandy point guide. These points will help you determine the overall winner of your pumpkin games night AND will let you know exactly what to mark on your Halloween Minute to Win It Games scoresheet- more on that below!
Halloween Minute to Win It Games Scoresheet
In addition to the fall pumpkin games and activity cards, we've also included a fabulous scoresheet. This snazzy printable will enhance the competition factor of your Fall and Halloween Minute to Win it Games by about a thousand! Simply write down everyone's names and keep track of how many points they earn. Remember, you can find the point value for each of the pumpkin games on their corresponding cards. Who's ready to win it?!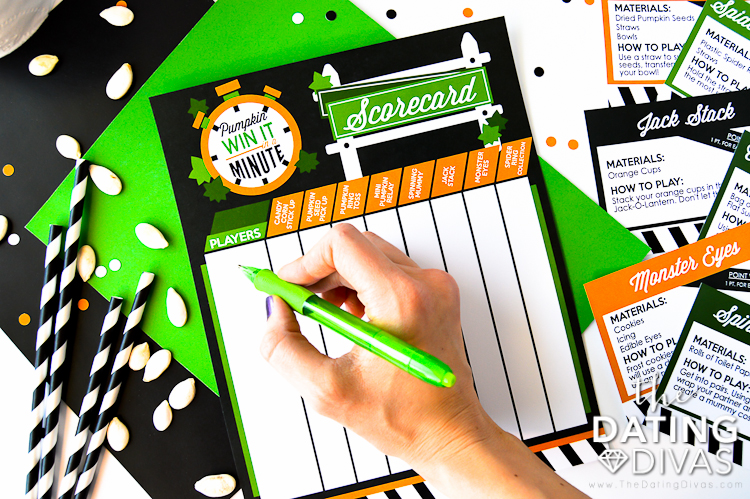 When it's time to get the fall pumpkin games party-started, just grab your timer, scoresheet, and cards and read the directions for each game aloud. That way everyone knows what to do and the games can go off without a hitch. Most of the games can be played inside, but if the weather is nice, you might consider taking your Pumpkin Ring Toss outdoors and spreading those pumpkins out. I made rings out of pipe cleaners, but you could cut rings from plates or use whatever you've got lying around – feel free to get creative. And…what's a party without delicious food? Make your pumpkin games night even more full of fall with pumpkin flavors from the best Pumpkin Recipes and Warm Drink Recipes for Fall. You could even end the night with a little pumpkin decorating competition!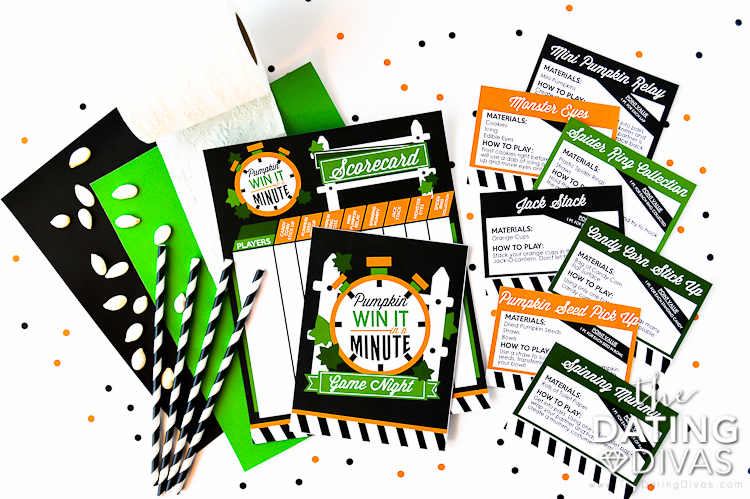 Okay, does that sound like the best fall game night EVER or what?! Grab your minute to win it printables and your friends and get ready to play some fast-paced pumpkin games like never before. Enjoy!
Pumpkin Win it in a Minute Games
Printables Designed by Elizabeth Exclusively for The Dating Divas