Get to Know Your Spouse Easy Date Idea
 How well do you know your spouse? Could you pick out their meal of choice at a restaurant? How about a new outfit to fit their style? Ever wondered what your spouse THINKS you're thinking? Or what they would choose for you? It's time to get inside your sweetheart's head with an easy date idea to mix up your regular routine. Spend the night making choices for each other—it will help you get to know your spouse better! I love this easy date idea because it is super quick and painless to pull off. If you are a creature of habit and want to do a traditional dinner and movie date, you can put a spin on things and use this creative date idea to get to know your spouse better. Whether you use our printables our not, date night will be more interesting as you try to "read your spouse's mind!"

Disclaimer: This post contains affiliate links. To learn more about 'em, click here.
Carisa from Messes to Memories created the bright and fun printables for this easy date idea! Print them out and bring them along on your date night as you play "read my mind" and discover how well you really know your spouse!
How Well Do You Know Your Spouse Game
Here's how it works! The whole date is based on each of you making decisions for each other: picking out things you think the other would like. This can be really funny and insightful, and a good way to get to know your spouse better!
When we tried out this date, my husband and I decided to go out for frozen yogurt. SO many choices to really test your knowledge of your spouse's preferences!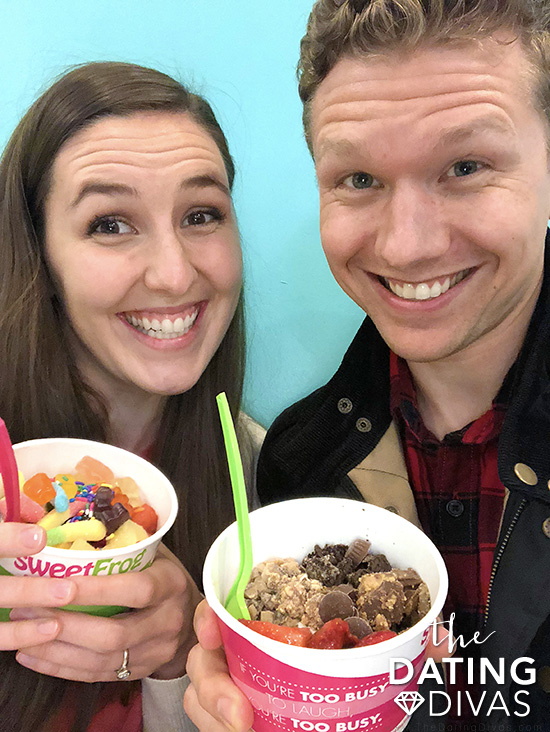 We were pretty spot on filling each other's cups! We both always like the plain tart flavor (because it's a neutral palette with any topping!) so that was a given for the base. I topped his yogurt with anything chocolatey and peanut butter, because that's what he prefers. He nailed my cup with all sorts of fruit and gummy candy because… apparently I have the taste buds of a kindergartener!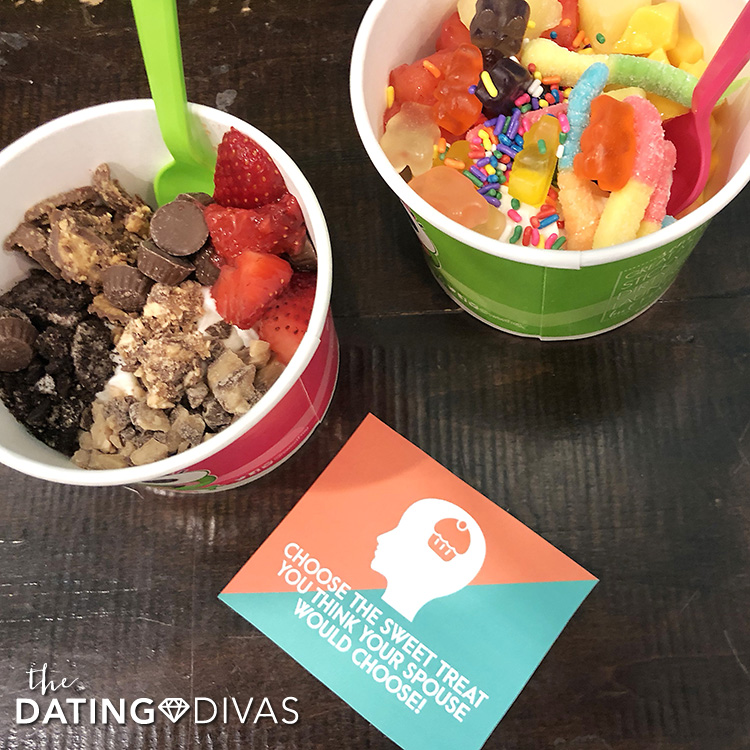 *TIP: Try not to give your sweetie any hints or facial expression clues about what you would or wouldn't want. We made sure not to watch each other picking out our toppings, otherwise I wouldn't have been able to keep a straight face!
This easy date idea can be done with OR without our cute printables! If you choose to use the cards, here's a look at them…
Read My Mind Easy Date Invitation
If you want to build up some anticipation and explain your date a little bit, give your spouse the invitation beforehand.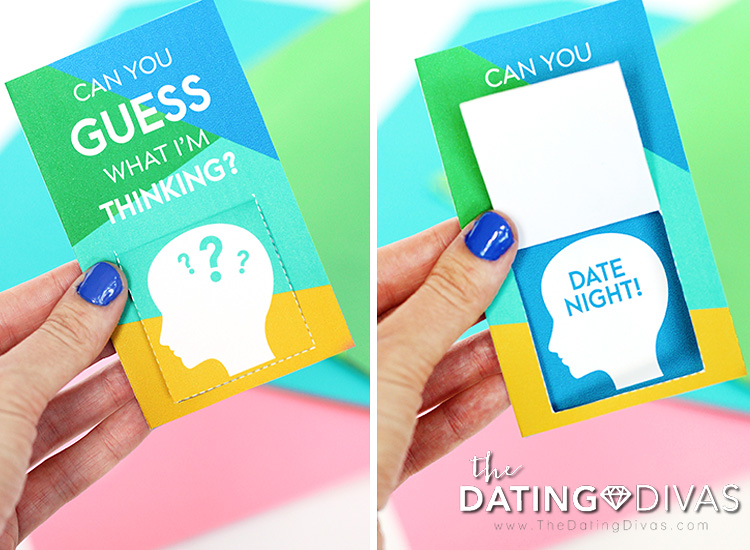 The inside of the card explains your creative date idea. This little lift-the-flap card is a fun way to introduce your activity. After all the time you've been in a relationship together, how well do you know your spouse? Test it out!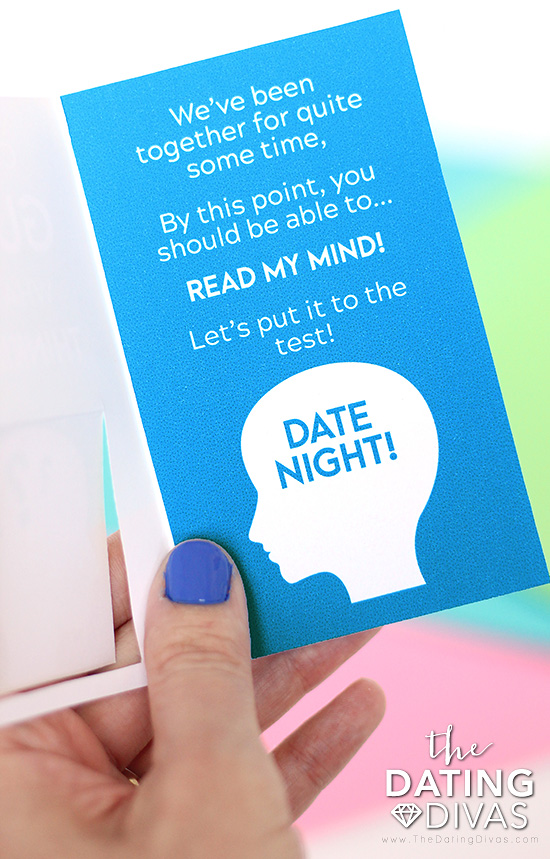 How Well Do You Know Your Spouse Game Cards
Use the activity cards to guide you through your date. You won't have time for all of them, so pick a few that seem appealing to you as a couple! You can tailor this easy date idea to your schedule, situation and style—there are tons of options! Save this fun date night idea on Pinterest!
If you want to get out of the house, go to dinner or dessert (or BOTH!) and order for your spouse. Then hit up the mall and take turns picking out outfits for the other to try on.
If you prefer to stay in, order take out for each other! Making ice cream sundaes with lots of toppings at home would also work well. Then take turns choosing the tv show, game or bedroom activity you think your spouse would pick!

Get to Know Your Spouse Conversation Starters
Another way to try to "read your spouse's mind" is with our funny conversation starters. These questions will make you think: What does my spouse really like? Try to get in their brain as you answer the questions about each other!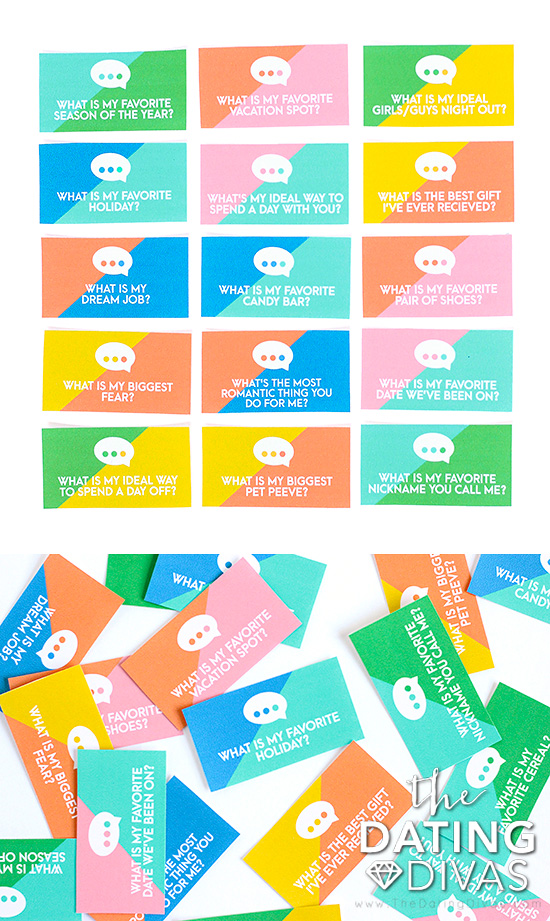 Hope you love this easy date night! By trying to "read their mind" you'll figure out: How well do you know your spouse? And you'll get to know them better while having lots of fun!
Read My Mind Printables
Printables designed by Carisa @ Messes to Memories exclusively for the Dating Divas