Summer is JUST around the corner…do you know what that means?! It's time for new adventures!!! I remember growing up, some of the greatest adventures my family experienced were during our AMAZING road trips! I still laugh about some of the  moments we shared together in the car, including the time my sister's gum fell in her eye while sleeping! We spent over an hour in the gas station restroom while my mom tried to scrub the bubblegum from her eyelashes! (Note to self—NEVER give kids gum while traveling!!!) Anyways, to this day, one of my favorite things to do with my husband is go on road trips! Not only are they relaxing, but they provide some great time to reconnect and be with loved ones! So, with summer fast approaching, we decided to come up with this AH-MAZING printable kit to entertain the whole family on your next car trip…
ROAD TRIP ACTIVITIES & GAMES FOR COUPLES AND FAMILIES!!!

Disclaimer: This post contains affiliate links. To learn more about 'em, click here. 
Our fun-filled Road Trip in a Box has EVERY car trip activity idea you need while traveling with kids, your family, or just your spouse!!!
Your Road Trip Games and Activities include:
Cute Destination Activity Tags
Fun Road Trip Bingo Game
Good Car Behavior Rewards
Road Trip Music CD case
Road Trip Truth or Dare Activity
Exciting Road Trip Trivia Game
Complete Instructions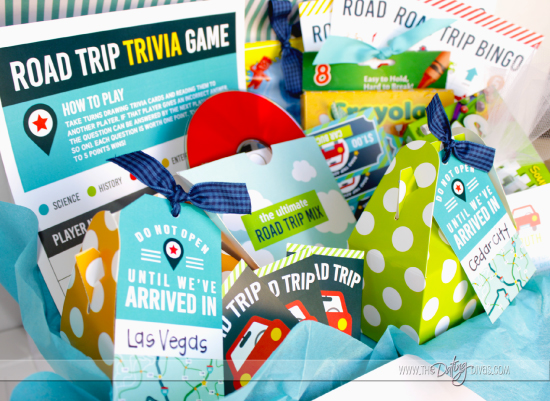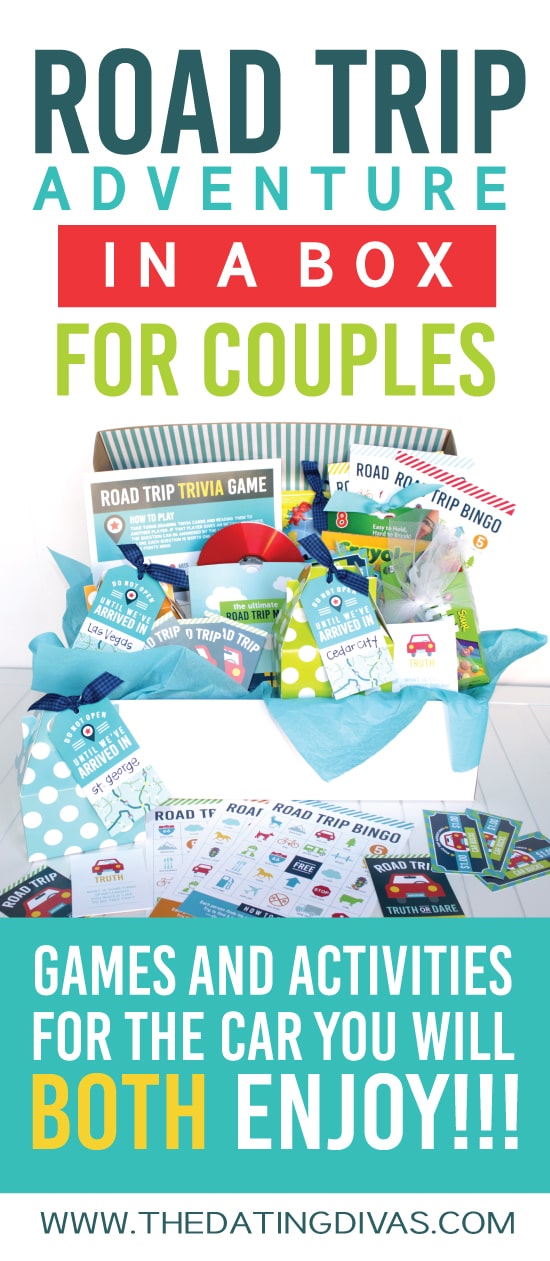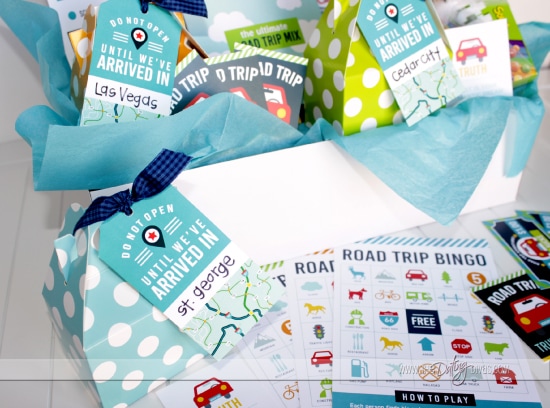 So how does it work!? Plan your car games and activities by how long you'll be on the road and how many stops you will be making during your road trip! This will determine how many backseat activities and road trip car surprises you need to prepare!  Each hour (or however often you want), pull a new fun car game or road trip activity out of your Road Trip Adventure Box!  Your family will LOVE having so many fun activities in the car while you travel to your destination! This Road Trip Adventure in a Box is SO quick and easy to put together and makes it a snap to keep kids (and spouses) busy and happy in the car!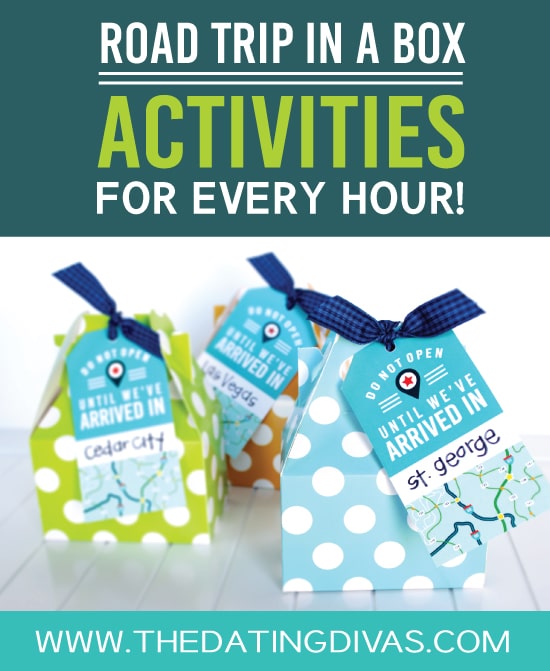 Begin by prepping our QUICK AND EASY ROAD TRIP IN A BOX PRINTABLE TAGS. These fun designs include a space for you to write down WHEN to open your road trip surprises!!!  Simply print them off and adhere them to each road trip activity! I found these adorable polka dot boxes at Hobby Lobby, but you can get really similar ones here, or could just wrap your road trip surprises with simple paper!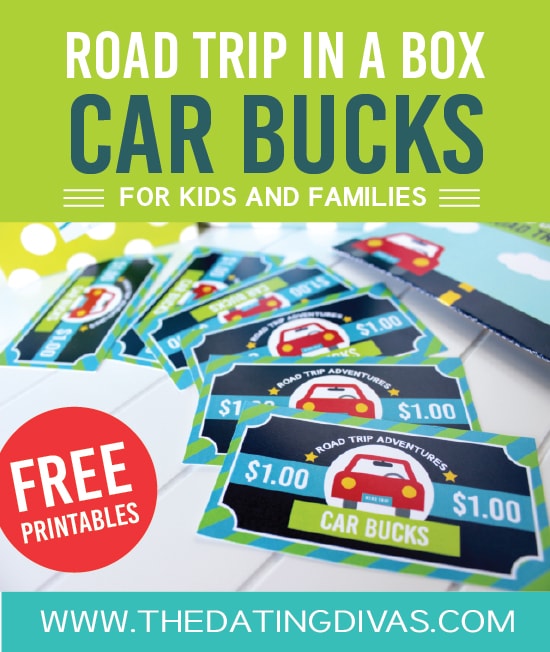 ROAD TRIP IN A BOX CAR BUCKS
Don't forget to print off these adorable Road Trip In a Box Car Bucks! These easy-to-use Car Bucks are the PERFECT way to reward good behavior while driving! Your kids can trade in their Car Bucks for small on the road prizes (ex: a car snack, a coloring book & crayons, dollar store toys like these, etc.), or for a treat at the next rest stop – like a quick game of tag or a ball toss with you!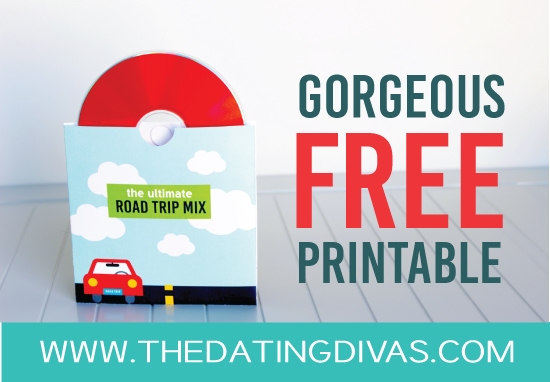 ROAD TRIP IN A BOX CD COVER
What is a road trip without music?! Create a great Road Trip Music mix and top off your cute Road Trip in a Box with this gorgeous CD cover! This fun and FREE printable is a great way to store your road trip mix! You could even use a CD as one of your countdown items for your road trip! Your family/spouse will love opening their very own personal "Ultimate Road Trip Mix!"
Make A Family Road Trip CD Music Mix Prior to leaving on our vacations, my family would always make a road trip mix! Each member of my family would get to pick 2-3 songs to add to the CD, and we would listen to the entire mix while driving to our destination! If you are traveling with your family, create a fun CD mix/playlist before you leave! Have each family member pick a few songs to add to the list for your very own, "Ultimate Road Trip Mix"!
Make A Couples Road Trip CD Music Mix Take some time before you leave to create a fun CD mix/playlist with music you both love! Be sure to pick songs you can belt out together in the car, like "Life Is A Highway!"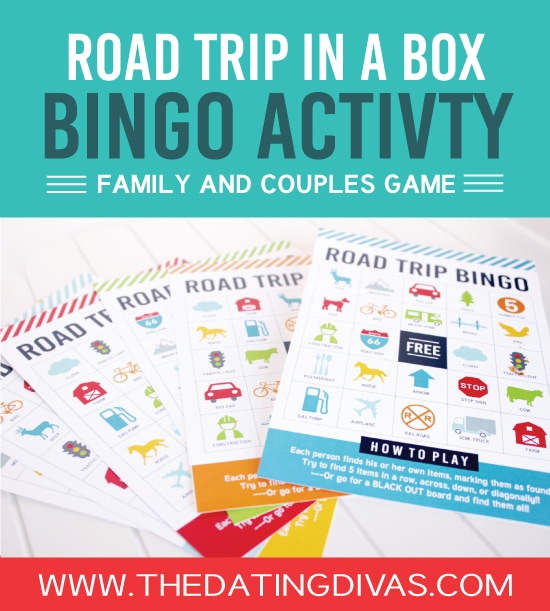 ROAD TRIP IN A BOX BINGO GAME
Looking for a fun road trip activity? How about a classic game of Road Trip Bingo?! Let your family unwrap our adorable Road Trip Bingo cards for another fun activity in the car!
Car Bingo Game For The Family We have provided 6 different versions of our Road Trip Printable Bingo just for YOUR family! Give each family member a card and have them look out the window to find the items on their Bingo sheet! This is the PERFECT activity to keep little hands busy during a long drive! You could even reward the winner with some of our printable Car Bucks (see above)!
Car Bingo Game With Your Spouse Who says you are ever too old for Bingo?! Channel your inner child by playing this fun and classic version of Road Trip Bingo during your next trip with your spouse!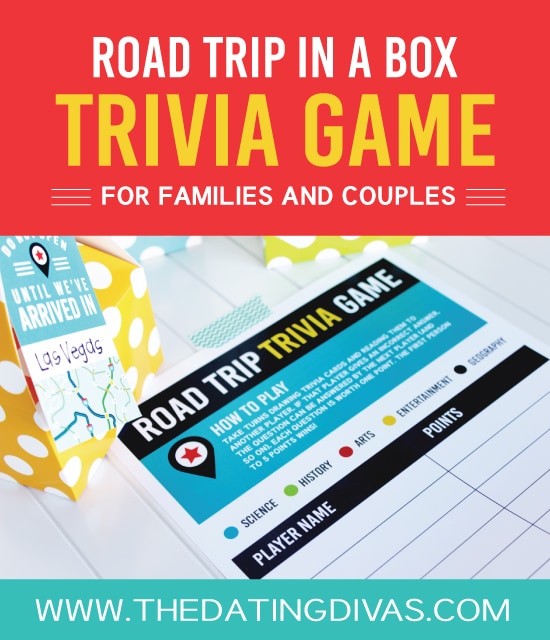 ROAD TRIP IN A BOX TRIVIA GAME
This would be a fun road trip activity to unwrap and play either as a couple or family! Find out who knows their trivia the best, with this fun Road Trip Trivia Game!
Car Trivia Game For The Family If you have older kids, simply print off the questions and scoreboard we have provided for a fun car activity! If you have younger kids, don't worry! We have also provided some blank cards so you can write down age appropriate questions tailored to your family's needs!
Couples Car Trivia Game I don't know about you, but my husband and I LOVE trivia games! If you are in the same boat, you definitely need to print off this fun activity for your next road trip with your spouse! Take turns answering science, entertainment, history, geography, and art trivia questions! The first person to 5 wins!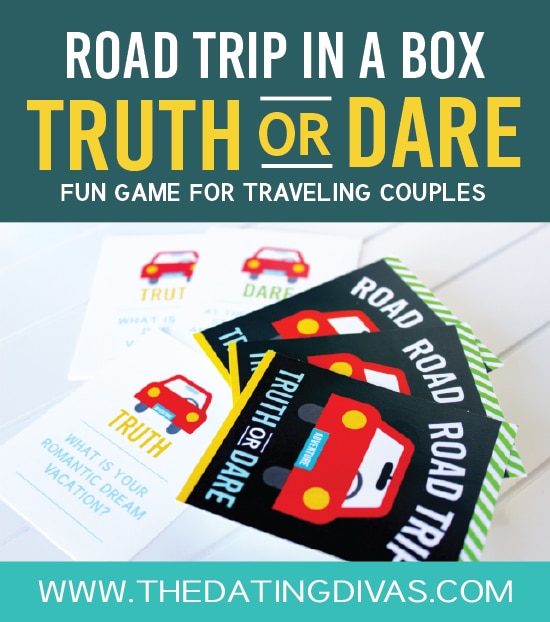 ROAD TRIP IN A BOX TRUTH OR DARE
This is the PERFECT road trip game idea for any couple! Use our fun version of Road Trip Truth or Dare for a trip you will never forget! How does it work? Take turns drawing cards (there are two different versions of cards – a "truth" card and a "dare" card). Each card has a question or a fun task to be completed! Have fun!!!
ADDITIONAL ROAD TRIP
ACTIVITY IDEAS FOR FAMILIES AND COUPLES
LICENSE PLATE BINGO Looking for another fun printable version of Car Bingo? Well check out our AMAZING License Plate Bingo! You could also wrap up these car bingo sheets as a special surprise for your kids!
BACKSEAT CAR TREATS Here are some ADORABLE bag toppers for treats in the car! This would be such a fun way to wrap up one of your hourly surprises for your Road Trip in a Box!
ROAD TRIP QUESTIONNAIRE See how well you know your spouse as you take a fun road trip! Print out our easy-to-use questionnaire! We have provided 50 fun questions to see how well you know your spouse! This is the PERFECT car activity for couples!
Your road trip won't be complete without our darling countdown activity tags, bingo cards, truth or dare playing pieces, and family trivia game! We've bundled this entire kit into one extraordinary product just for you!
Get Your Complete
Road Trip in a Box Kit
for Just $4.97!


This is one printable kit that your whole family is going to LOVE! Surprise your loved ones with fun on-the-go this traveling season. You'll be making priceless memories both in the car AND when you arrive at your destination!
Get Your FREE Road Trip in a Box Printables
Car Bucks Rewards
Printables Designed by Courtney @ All Things Bright & Beautiful Exclusively for The Dating Divas
Road Trip CD Mix Cover
Printables Designed by Courtney @ All Things Bright & Beautiful Exclusively for The Dating Divas