How to Apply False Lashes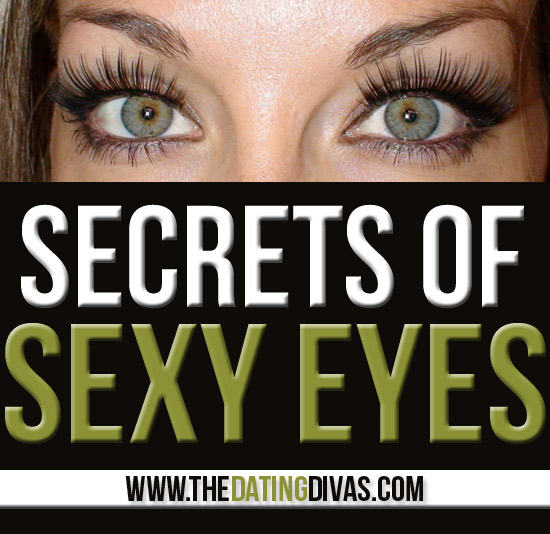 I KNOW I'm not alone when I say that love in the bedroom is a lot more fun when you feel confident, beautiful, and sexy!
Hmm? What was that? You don't feel that way often enough? Not anymore sweetheart! Just read on DIVA!
Everybody knows the sweetest trick of "bedroom eyes" is the
eyelashes
, and with a few secrets, you'll easily find that YOU can have the look tonight!

Secret #1
***************
You don't have to buy expensive lashes!
Walmart sells great lashes for $3.24, and when handled carefully, you can easily reuse them!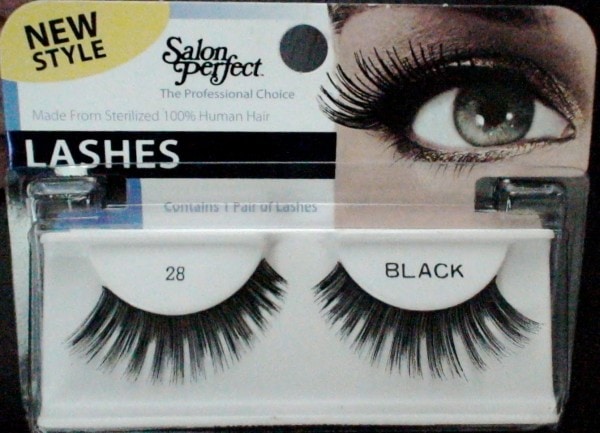 *There are a variety of styles to choose from, so pick your favorite or try 'em all!*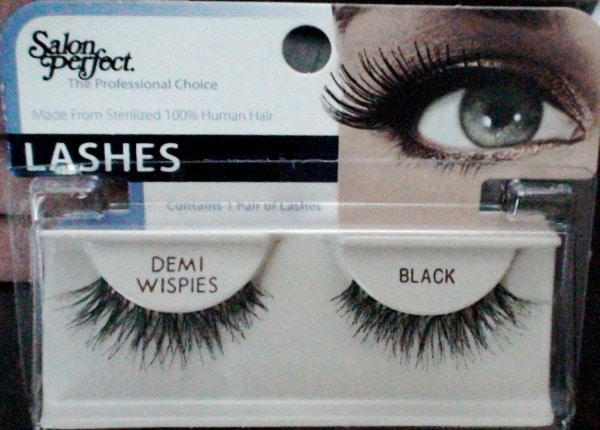 An even bigger secret is that you can find foreign-made eyelashes in bulk (yes, as in 10 pairs or 80 pairs) on ebay for practically nothing. I'm talking like 10 cents a pair!! They aren't super high quality, but they are the ones I am wearing in the pictures, and I totally just use those as disposables. *Cha-CHING!*
Secret #2
***************
A little glue goes a long way!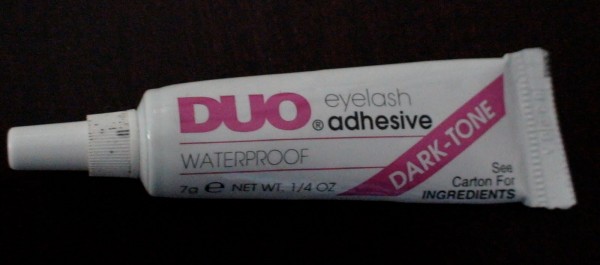 My favorite eyelash glue is called DUO. A couple of reasons I like it best are:
I think it becomes tacky on your eyelid a bit quicker than other glues, yet still gives you enough time to adjust the lash position.
The glue itself comes in BLACK. This is much easier to see where there is excess on your eyelid and also blends right in with eyeliner!
All you need is a thin-as-a-pin line of glue down the "spine" of the lash. If you get too much, it will not dry quickly, it might get into your eye, and it will look all gooped up where the extra smears on the eyelid. Less is definitely more in this case.
P.S. The tube itself looks small, but it lasts for-ev-er!
Secret #3
***************
With a little practice, getting those sweet lashes in place will soon take 2 minutes! Seriously.
Yeah! No reason not to do it everyday, huh! To prep your new lashes first though, you may need to trim the "spine" to fit your eyelid length. This usually depends on the kind of lash you buy… the foreign ones will have ends you need to trim anyway. Or maybe your beautiful lids are just the right length for most styles of lashes, but if they're not, do NOT skip this step. If you do, you will feel it. All. Day. Long.
Secret #4
***************
Get those lashes as close to your natural ones as possible…even then….a little closer!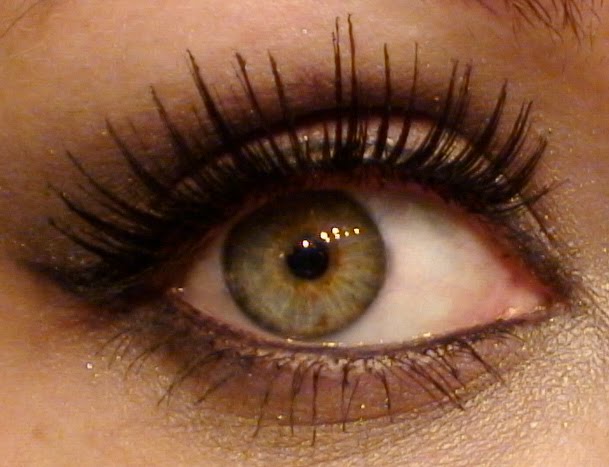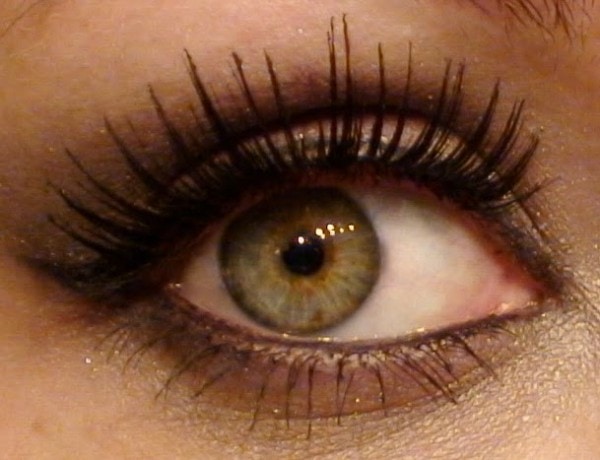 Bear with me, divas! LOL! It's tough to take pictures of your own eye!
The closer you can get them, the more natural they will look and feel. If you can't get your lashes close enough (you think you can see a tiny "stripe" of skin between your lashes and the false lashes) then GENTLY use your eyelash curler to pull your lashes right up to the false ones. A slow, soft pump on the curler is all it takes. (Did I mention gently?) Do this when the glue is just barely dried enough that they're not sliding around, but it's not set up completely yet (glue has been on your skin for maybe 15 seconds.) If the whole eyelash comes up with the curler, wait a little longer next time.
P.S. When using the curler, make sure to get ALL your natural and false lashes inside the curl. If you don't, you can end up with a harsh gap crimped into one side or your natural lashes can look like they're going out instead of up.
Secret #5
***************
Eyeliner To The Rescue
Liquid eyeliner just might be my best friend… after my amazing husband BFF that is!
There are two main things eyeliner does here:
*It fills in any gaps in the black arch you want flowing continuously from left to right.
*It can easily can be utilized to make your eyes look BIGGER! (i.e. more dramatic!)
Yes, I fill in eyeliner on both ends of my lashes. The inner corner of your eye will look like a black line stops at end of the lashes unless you fill it in to the corner, and the outer corner of the eye is where you can stretch that beauty of a line out a bit to WIDEN those baby blues (or in my case, baby greens). Underneath the eye, I use a pencil eyeliner instead of the liquid. It's much better to blend on the bottom.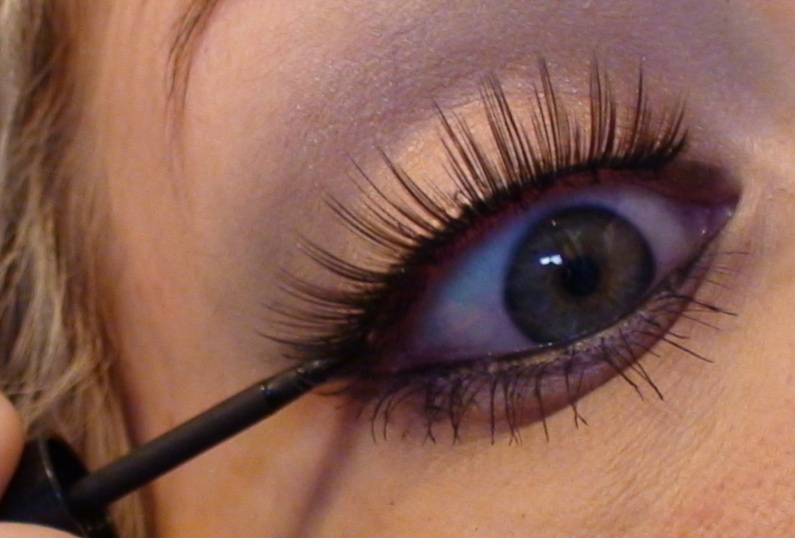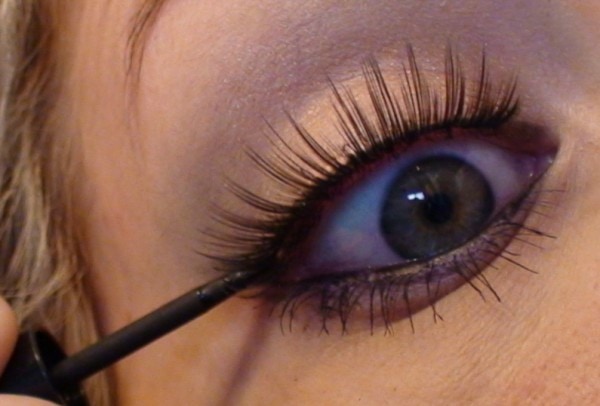 Secret #6
***************
Bonus Mascara
I totally dig how clean false eyelashes look. They don't have the coated or clumped look… but sometimes I put just a little mascara on the inside ends and outside ends anyway. Why? By brushing mascara where my natural lashes start, it's kinda like another way of gluing them in place. I won't lie… sometimes I leave my long eyelashes on for days at a time! The mascara binds to both my lashes and the false ones, making it even more secure. Then once in a while I'll dab a little mascara on the tips of the lashes. It makes them POP even more! I guess if the spread fan of lashes looks slightly imperfect afterward, that it will actually only look more natural because my natural lashes could never fan out like the false ones do.
Oh, and just so ya know….you might feel like you are looking underneath a shadow at first, but the feeling will go away! LOL.
Last but not least, don't forget to look in the mirror and give that sexy diva a good practice wink for using on the hubby later on.


**If you get an AWESOME reaction from the hubby on your bedroom eyes, totally comment all about it!!