Serendipity Movie Date Night
Have you ever seen the movie Serendipity with Kate Beckinsale and John Cusack? Well, talk about romance and destiny! It is one of the best! It is an absolute classic, romantic movie and perfect for date night. We decided to create the perfect, customizable date night based on this movie all about destiny and fate! Do you believe that you and your spouse were meant to be together? Get ready for a Serendipity movie date night that will leave no doubt in your mind!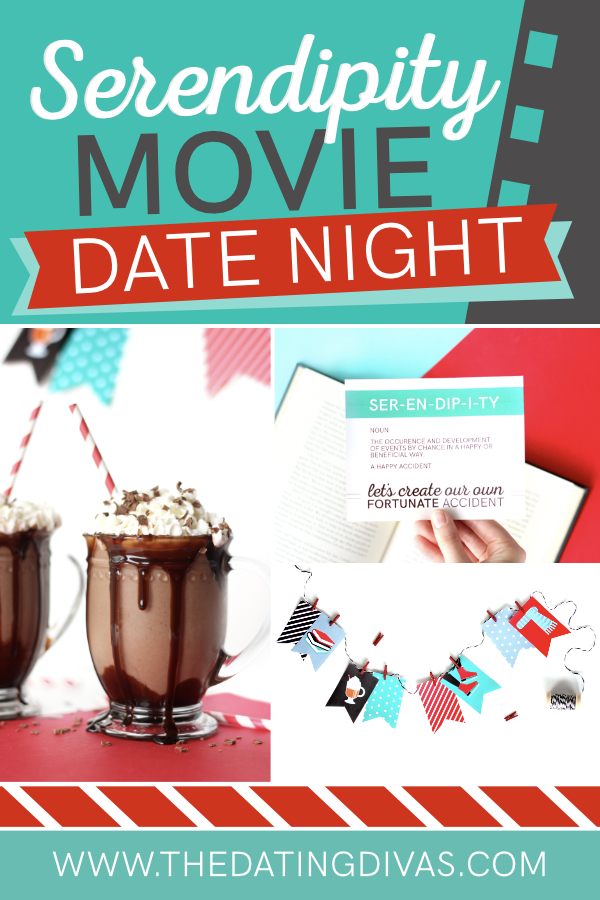 Disclaimer: This post contains affiliate links. To learn more about 'em, click here.
Don't you think that is usually how most of us met our spouses?  Looking for something else and then BAM you meet your husband so unexpectedly! Serendipity is such a fun word and I think if we are striving to keep the sparks alive with our spouses, you never know what surprises you will find along the way. So with that being said here is our Serendipity movie date!
Serendipity Invitation
In the movie, Kate Beckinsale's character (Sara) writes her name and number in a book and tells John Cusack's character (Jonathan) that if he finds that book someday then it was meant to be. We thought that an invite in a book would be rather fitting for this date night.

We have the most adorable invitation that you can leave in your spouse's current read… hopefully, they'll find it before date night. Otherwise, you might have to drop a few hints.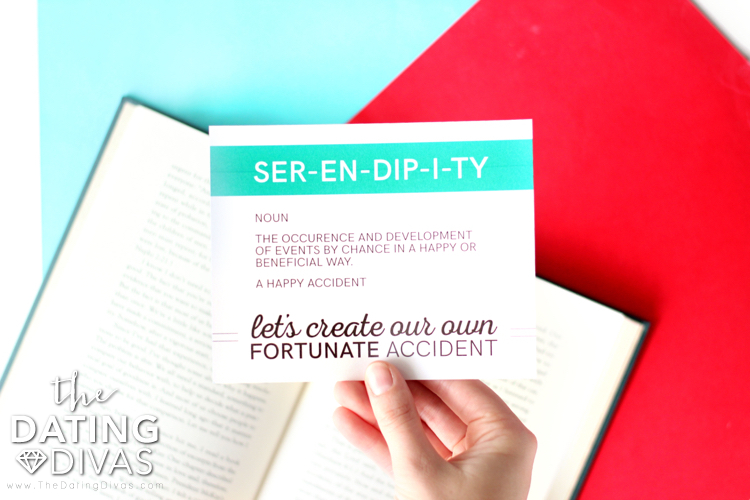 But hey, if it's meant to be, they'll find it! That's what Serendipity is all about, after all!
Serendipity Date Ideas
Back to the movie! After meeting Christmas shopping, Sara and Jonathan go and have a treat at a cafe called Serendipity 3. It's a real cafe in NYC. He leaves his scarf and they both end up back there and decide from there to go ice skating. Sooo many fun ideas already! Have you ever been ice skating with your spouse? It can be pretty romantic.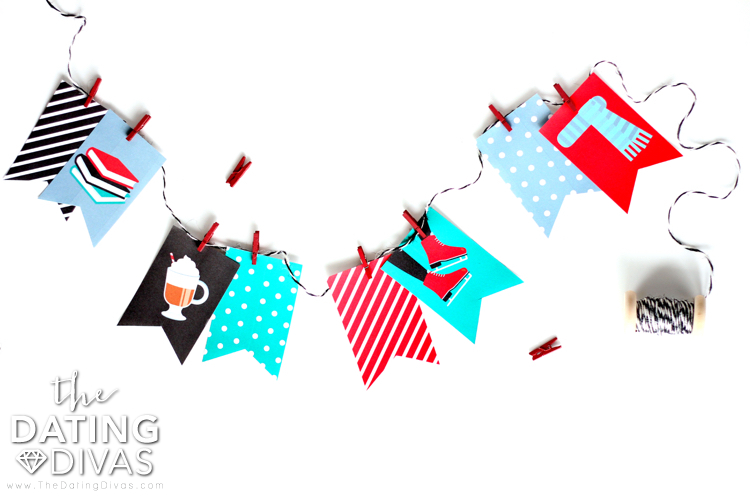 So as you can see already, there are so many fun activities that you can do based on this movie. We've put together a fun Serendipity date night banner to help you decide what to do for your movie date night! There are patterns and images on one side and you can also print out Serendipity movie quotes and tasks on the other side (to make it double-sided). Or just print out as an extra page to make the banner longer!!
Here are some ideas we thought of to make your Serendipity Movie date extra special!
Shopping
Ice Skating
Frozen Hot Cocoa Dessert
Visit a Bookstore
Discuss your Beliefs about Destiny
Sexy Dot-to-Dot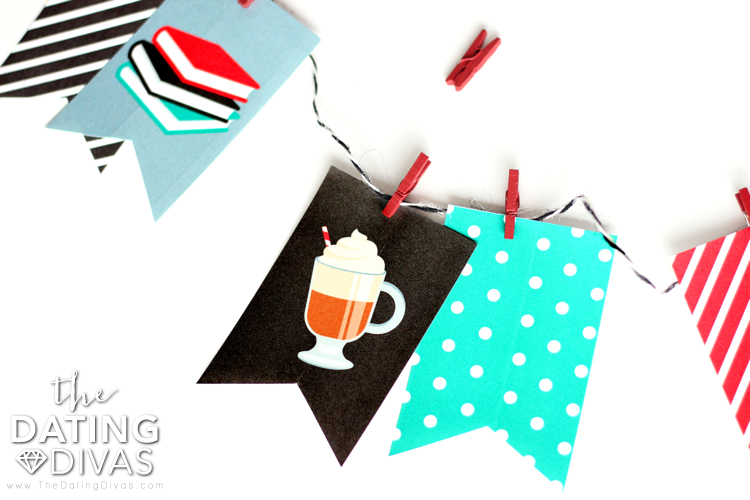 We've included a lot of ideas and extra printables to go along with some of these ideas below! Now you can start planning your date night.
Serendipity Shopping Tasks
Let's get back to the movie! When Sara and Jonathan meet they are Christmas shopping. Perfect! When you get to the store, play a little game with your spouse using the shopping task cards! There are some really fun ideas for tasks that even include sneaking a little gift for your spouse, plus some extra cute ideas that are themed off the movie. Check out a few of our favorite:
Write your name on a dollar and buy something with it.
Write a love note and leave it on a shelf in the store. Give your spouse 10 minutes to find it.
Sneak a gift into your shopping cart for your spouse.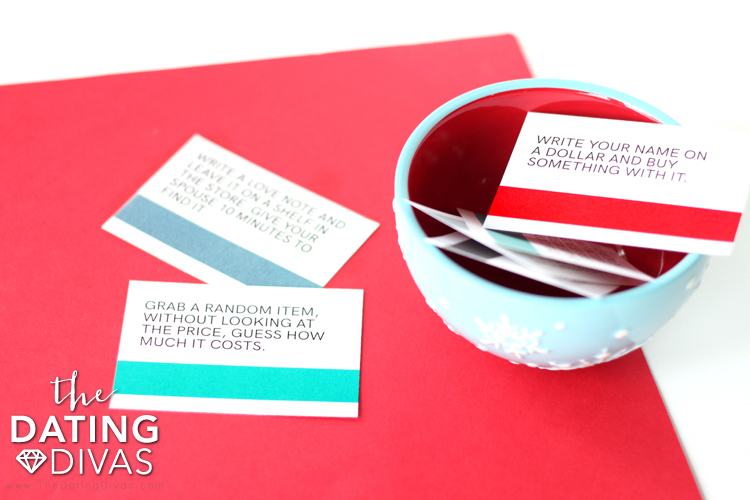 Frozen Hot Chocolate Recipe
I wanted to come home and have a special treat waiting. In the movie when they go to Serendipity cafe they have Frozen Hot Chocolate! YUM! You HAVE to try this! Here is a delicious recipe that you will want to whip up to enjoy with your sweetheart for date night.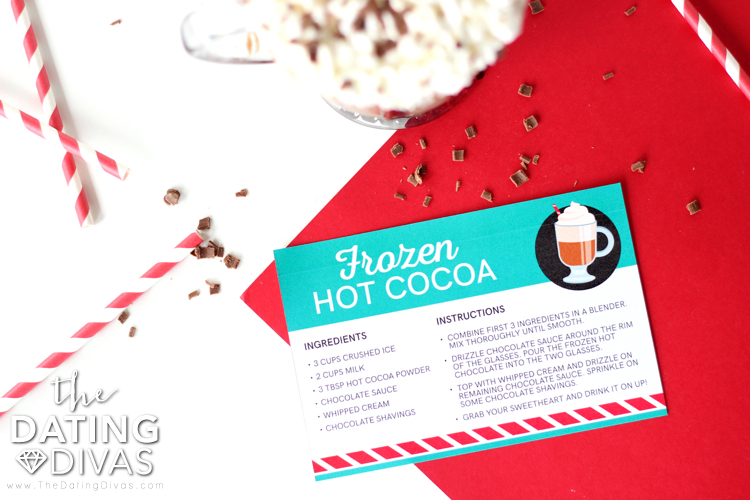 Frozen Hot Chocolate Dessert
Now doesn't this look just delicious?? Every date night needs a special treat. Turn on the movie Serendipity and settle in with a giant mug of frozen hot cocoa.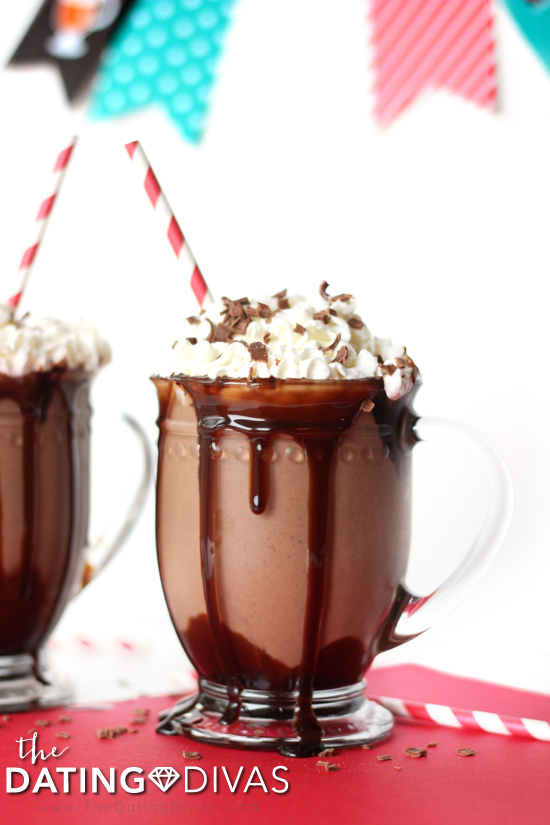 This is such a yummy treat and so easy to make!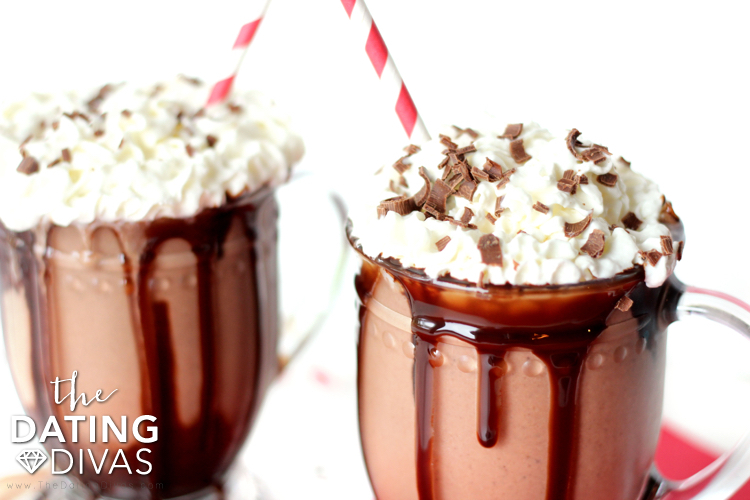 After the movie, you might be worn out and ready to hit the hey! Or you might be ready for a little sexy time. We've got just the idea!
Sexy Serendipity Date Activity
Okay… now you might remember that part in the movie where Jonathan made a deep connection with Sara by connecting the freckles on Sara's arm forming the constellation of Cassiopeia. This was a pretty memorable moment in the movie for Sara and we feel like it would make the perfect sexy activity to end your Serendipity date night. Check out the instructions in the printables for a sexy idea you and your spouse will love!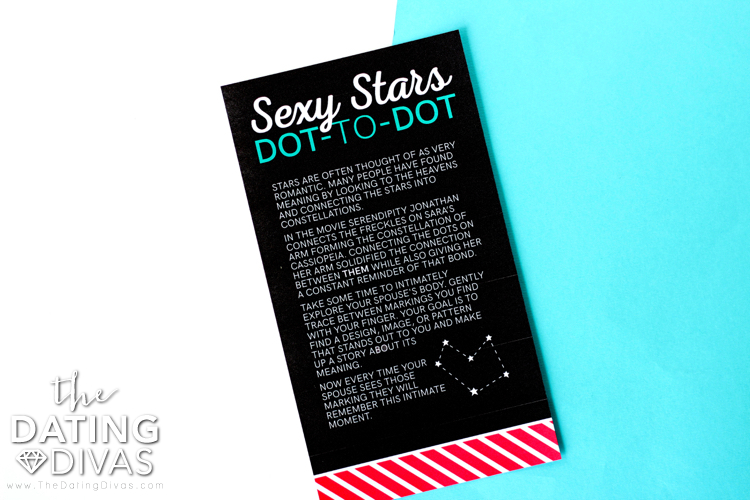 Anytime you do something out of the ordinary you run into a little Serendipity of your own. Maybe you learn something new or unexpected about your spouse or you have a whole new adventure that you never knew you would have. Take the plunge and have fun on your Serendipity Date!
Serendipity Date
Printables Designed by Carisa @ Messes to Memories Exclusively for The Dating Divas