Homemade Sex Dice Games For Couples
If you're looking for a spicy bedroom activity that you can create at home, you've come to the right place! These DIY sexy dice are so easy to make and will help heat things up in the bedroom in no time at all (plus they are FREE!)
We've included a set of five printable dice, each with a different set of elements. You can start off slow, using just one die, or you can be adventurous and use them all! So what are you waiting for? Give this sex dice game a roll and see just how fun this intimate date night can be!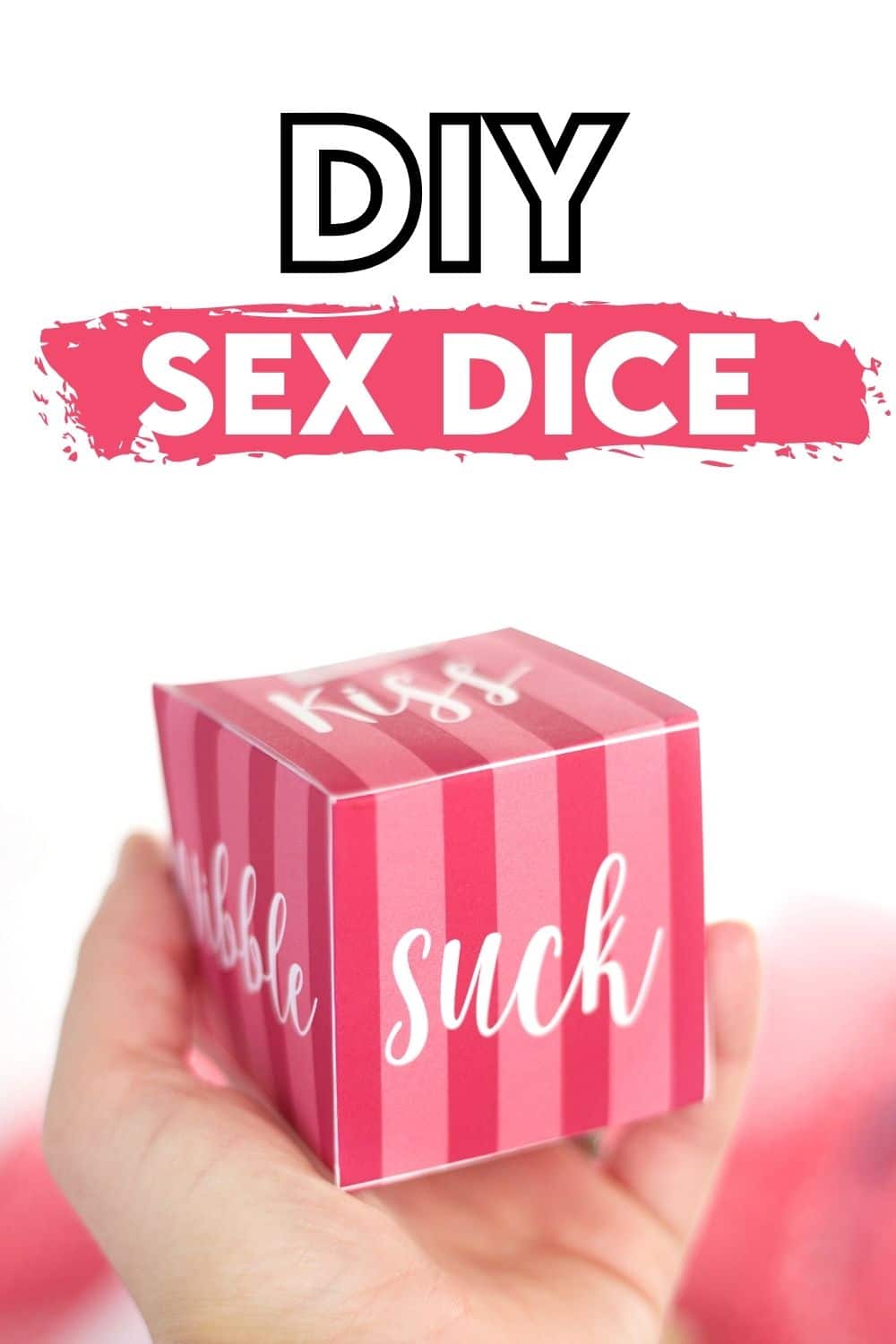 Disclaimer: This post contains affiliate links. To learn more about 'em, click here.
Sexy Dice Games
Sexy time doesn't get easier than this! Carisa from Messes to Memories created these super cute sex dice games for couples, and we couldn't be more grateful! All you have to do is print them out and assemble them. Let the bedroom sexual dice games begin.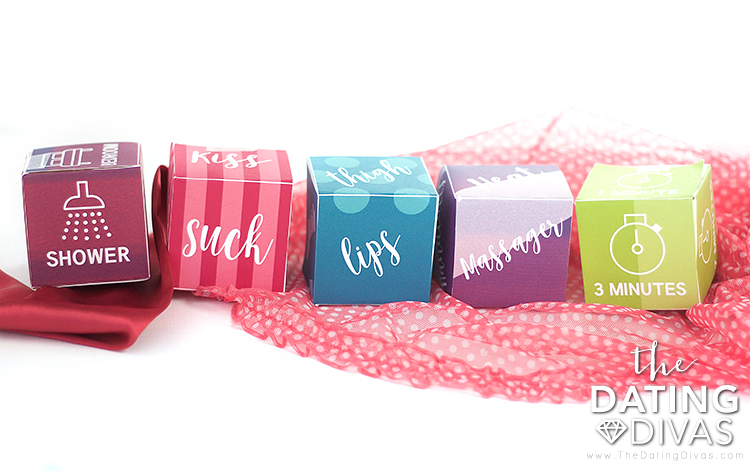 We've included not one but FIVE different dice for you to choose from, including:
Body parts die
Time die
Actions die
Location die
Toys die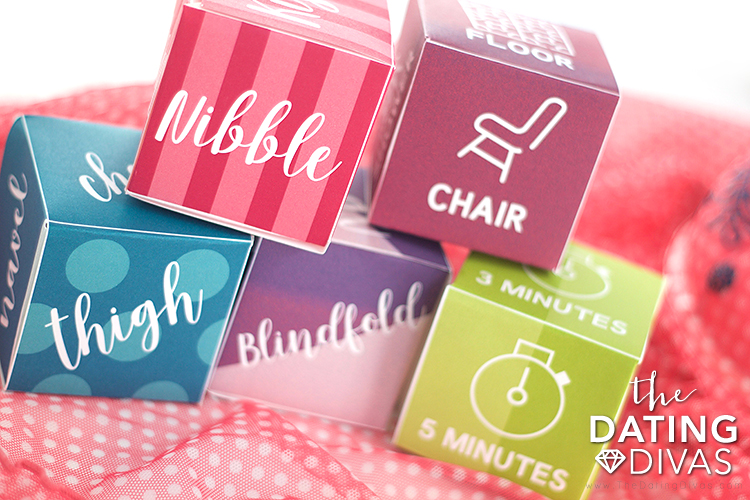 How to Make Your Sexy Dice
Start by printing each printable page onto white cardstock—the stronger, the better! Fold on each of the fold lines to create creases, and bend the folds into a box. Use a strong glue stick on the wings to bond the sides of the dice together. Once assembled, you should have strong, proportional dice that are ready to be rolled!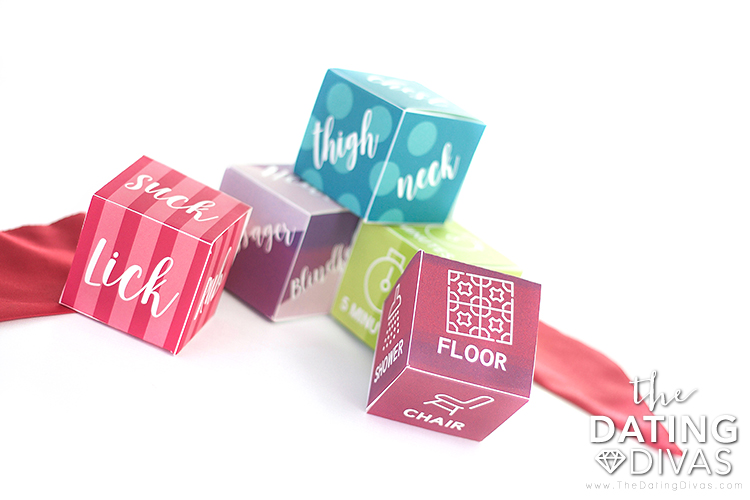 The number of possible outcomes using these dice is endless because there are so many different combinations!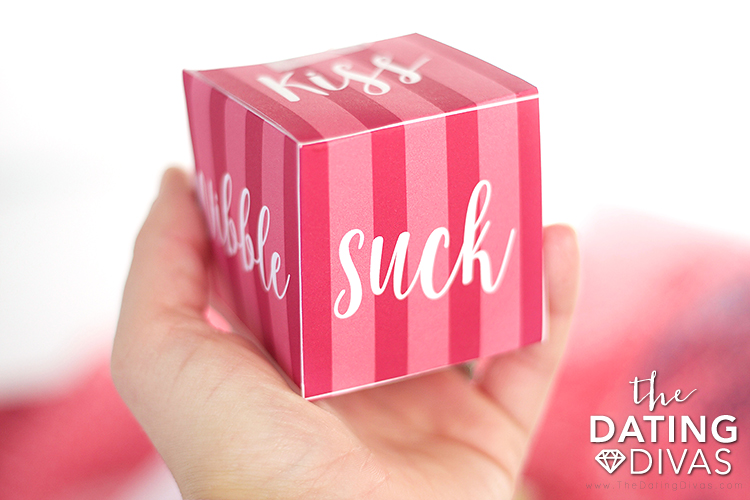 How to Use Your Sexual Dice
The best part about these dice is that you can pick as many or as few as you want. Feeling wild? Use all 5! Feeling a bit timid? Just pick one. If you're curious about what types of tasks are listed on each die, keep reading, and we'll tell you!
Body Parts Die – Bottom, navel, chest, thigh, neck, and lips.
Time Die – 1 minute, 2 minutes, 3 minutes, 5 minutes, 7 minutes, and 10 minutes.
Actions Die – Kiss, nibble, suck, lick, rub, and tickle.
Locations Die – Bedroom, shower, floor, chair, couch, and table.
Toys Die – Ice, handcuffs, heat, massager, blindfold, and tickler.
Take turns rolling the dice and doing the combination that appears. For example, if you roll all five dice, you might suck your partner's lips in the shower while using a massager. FUN, right?!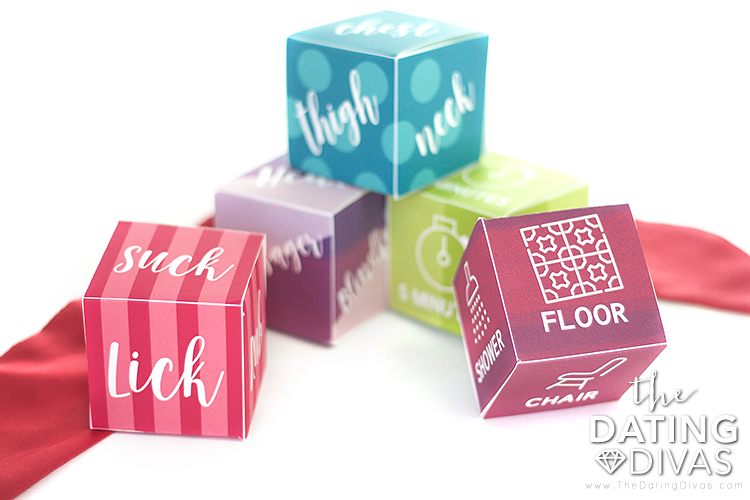 There really are endless combinations, so let the sexy dice lead the way. This will be a night of dice games you will never forget!
Best Sex Dice you Can Buy
5 . Position Sex Dice (plus pillow)
For more DIY sexy date night ideas, check out our How Many Licks? date night-at-home idea and our Guess The Flavor: Sexy Kissing Game date night idea!
Want to Improve Your Sex Life?
If you want more ways to spice things up in the bedroom, you need ForePLAY Fixes! We'll text you & your spouse new, sexy ideas to try each week.
Husbands get a text on Monday.
Wives get a text on Wednesday.
And on Friday, we'll send you both a sexy date idea!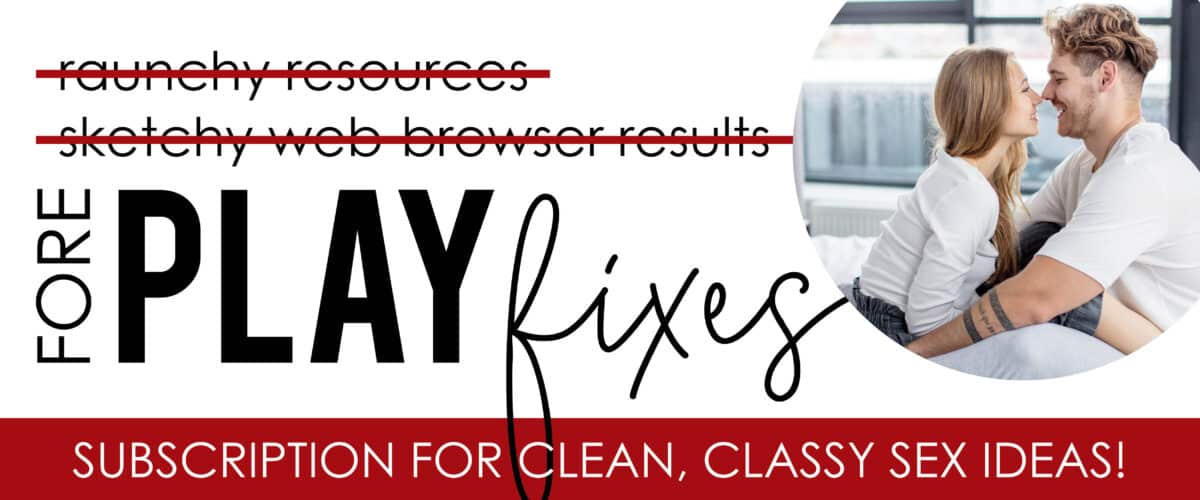 Foreplay your way to better sex today!

Sexy Dice Printables
Printables Designed by Carisa @ Messes to Memories Exclusively for The Dating Divas