Spin The Bottle Date Night
Spice things up and go for a spin with this classic spin the bottle game. The cherry on top…This game includes sexy card game questions as a digital download for an incredibly sexy and easy date night.
Remember when you were 16 and every time you played spin the bottle you got all jittery?! Puppy love isn't just for the young! During the next date night you are going to bring back those jitters by playing this adult version with your sweetie.

Disclaimer: This post contains affiliate links. To learn more about 'em, click here.

Recently, we presented a winning Spin The Bottle: Board Game Edition intimate date night idea that was created by our super talented Diva Gabby! It's such a sassy, fun date idea that I had to put an easy game card twist on it.
My hubby and I love card games because they are the easiest to put together. For all of you that love your date nights to be super easy, fun, and spicy – you're at the right spot because this spin the bottle date night idea is for you!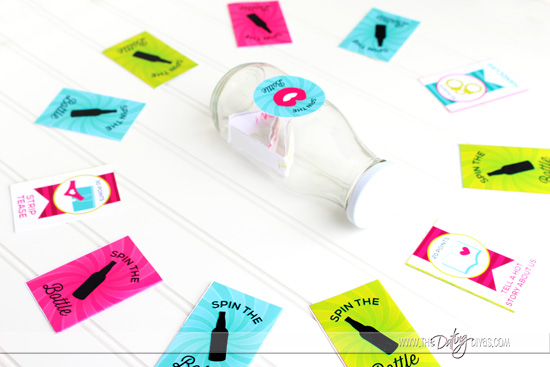 You have to admit this already looks like fun. Need a closer peek, here ya go…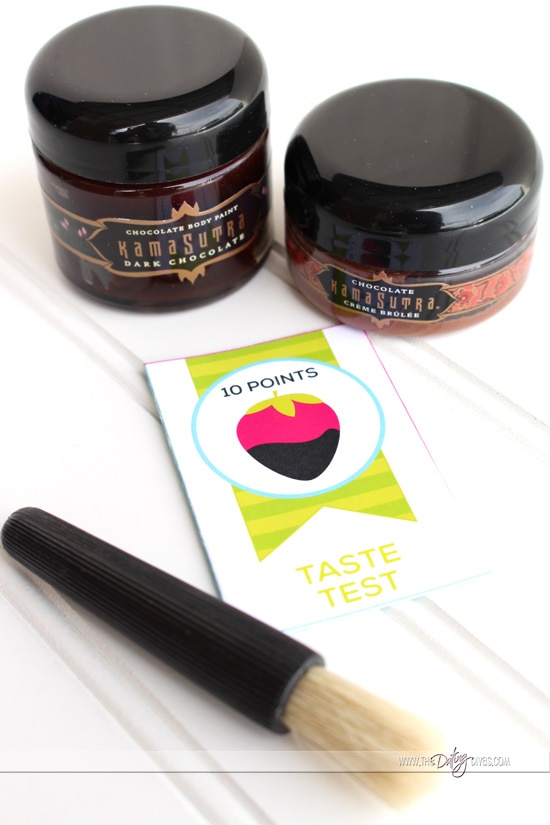 The two of you will look forward to this date night game because you two are going to LOVE every sizzling moment of playing it together on date night!  Are you ready to be hooked??? Stick around and you will be!
I probably should tell you a little bit about this sexy date night game, *wink.
This date night printable digital download bundle features gorgeous printables from one of our all-time favorite designers: Strawberry Mommycakes. Check her out for your future design needs, you'll be impressed with her talented work!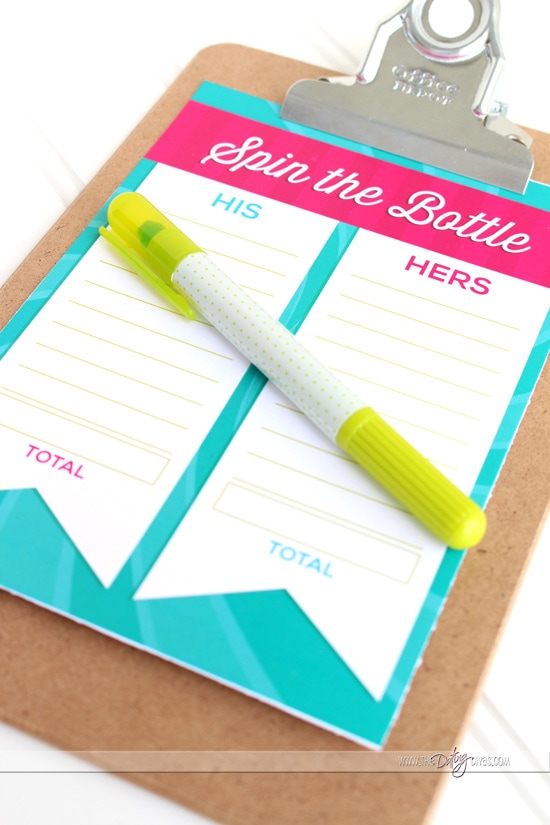 In this instant access free printable digital download you will find:
1. An instruction page.
2. An invite for your sexy date night.
3. A score sheet for him and her.
4. A spin the bottle label for your bottle.
5. 24 game cards, including one blank card for you to fill out any way you'd like.
We've provided everything you need to play this game over the next few date nights. You're welcome!
There's never a dull moment on date night with this card game because with 24 game cards you can switch up this game over and over again.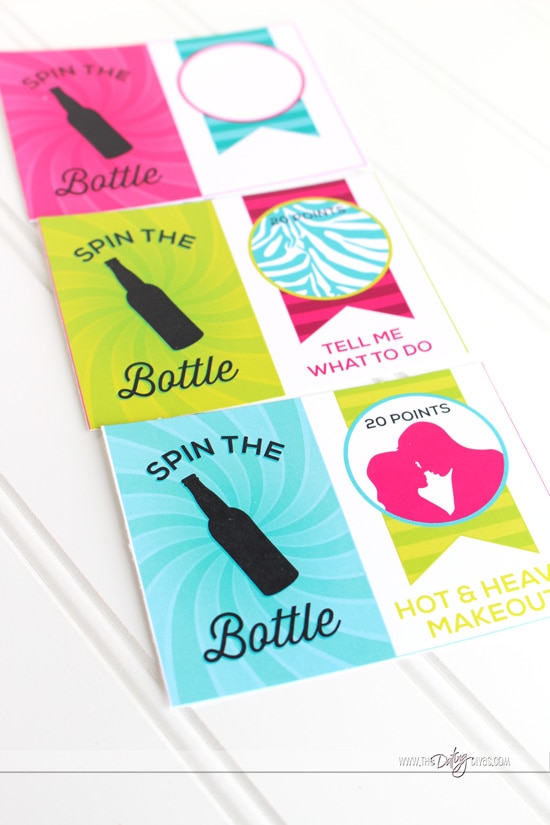 Intimate Date Night Planning
Pull this date night off in a few easy steps:
1. Instantly download these printables and print onto white cardstock. For the game cards simply cut each card out, a paper trimmer will save your life –
this one is my absolute favorite! Fold each card and glue together with a glue stick, voila!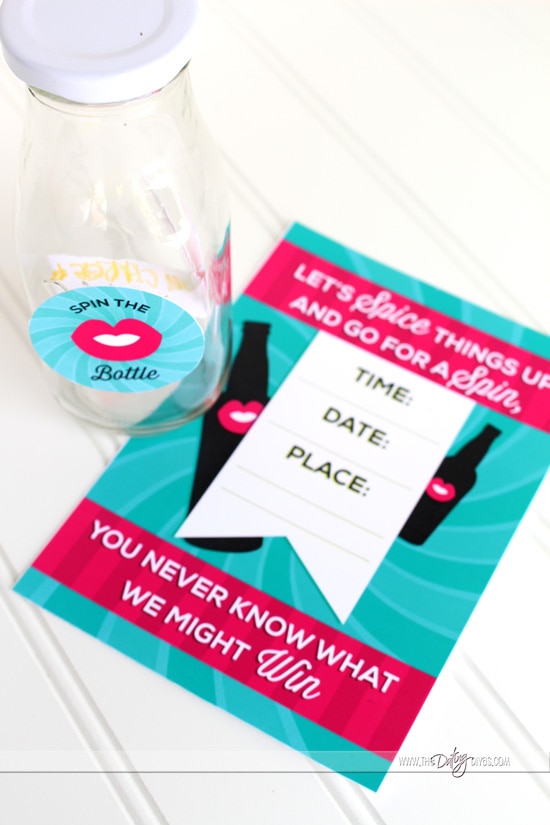 2.
Send your spouse the sexy date night invite.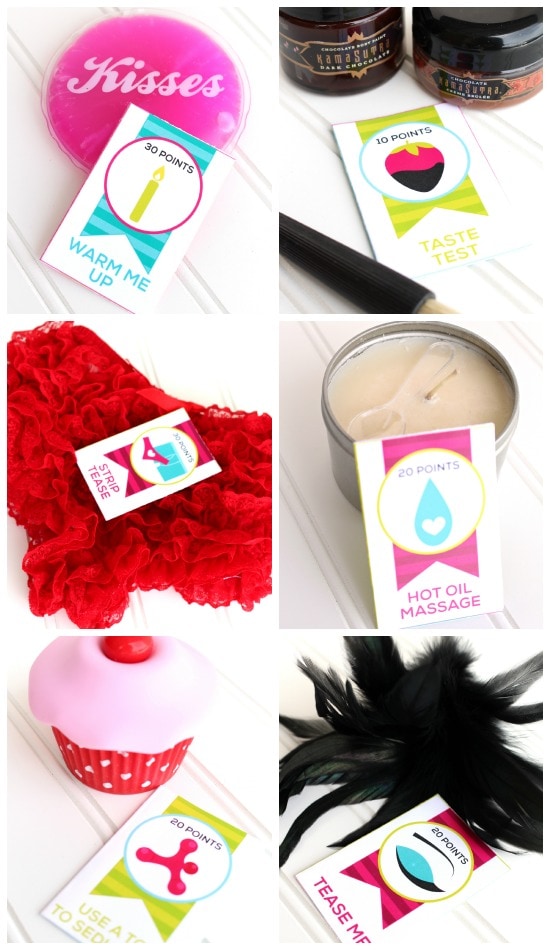 3.
Collect items needed to complete all of the date night game cards. If you're on the market for edible body paint, I love
this brand
!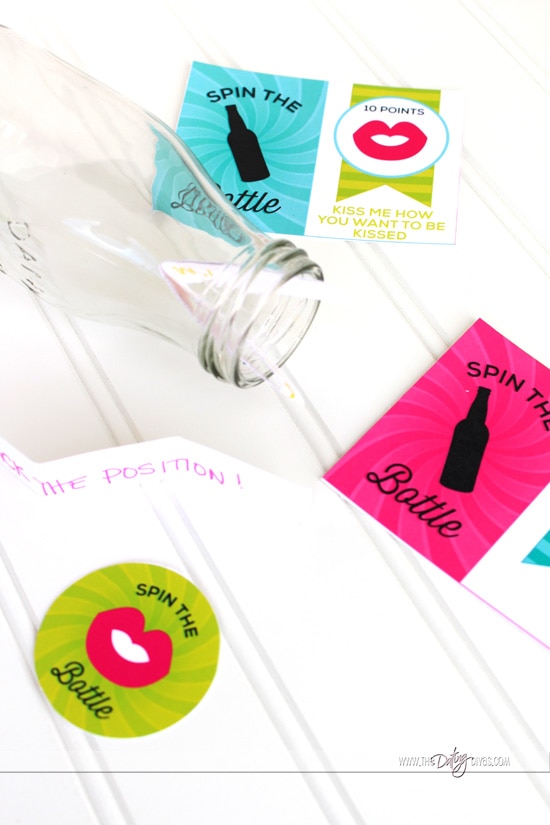 4.
Grab a bottle – I used
something similar to this
. (Don't have a milk bottle, you should totally get a few! They have so many uses!!!) Use
double sided tape
to stick the label onto the bottle.
And that's it, this sizzling date night is ready to go! As promised this is an easy date to pull off!!!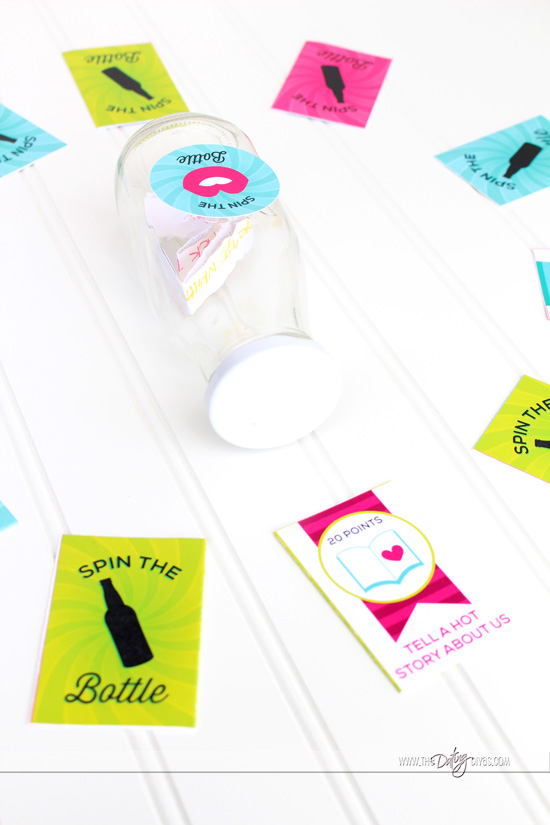 Sexy Spin The Bottle Date Night
On date night, pick your favorite handful of cards, 3, 5, 10 – or all of them. One warning though, the two of you will be too hot and bothered to make it through all of them! *wink* A key note, the more points on the cards the steamier they are, so pick wisely. Gather all the items needed to fulfill the instructions on the cards. Read over the rules, place your bets, keep the score card handy, and spin the bottle. 
Sexy Spin The Bottle Date Night
Printables Designed by Erin @ Strawberry Mommycakes Exclusively for The Dating Divas