Sexy Survey & Intimate Questions For Couples
We know asking intimate questions can be a little uncomfortable, but we've done all of the work for you to make it as painless as possible. Today we are going to make that not only EASY but super fun to do! Our printable Sexy Survey gives you a pre-made list of intimate questions to ask your spouse. Their answers will show you exactly how to spice up your love life and asks just the right intimacy and marriage questions! Just print our free surveys and make a date night out of it. Ready to check it out? Let's take a look!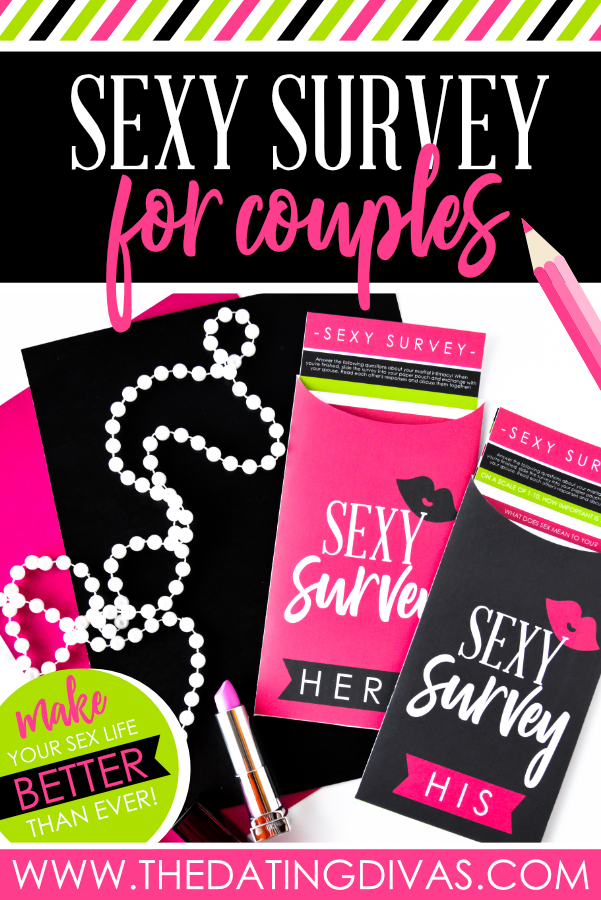 This post contains affiliate links. To learn more about 'em, click here.

With the help of one of our favorite designers, our very own Diva Elizabeth, we've made this survey of intimate questions super eye-catching and fun! We couldn't have done it without her!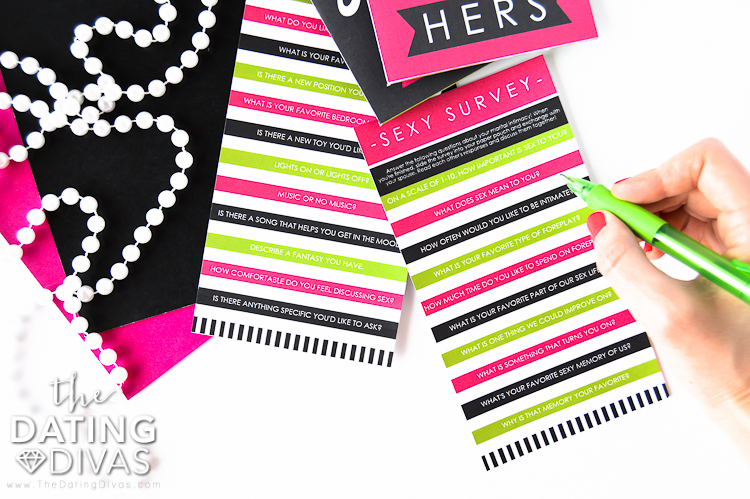 An Easy Way to Ask Intimate Questions
Each partner gets their very own set of intimate questions as well as a survey envelope to help keep things more under wraps. The survey design gives each couple a written way to express their thoughts. We find that many folks have a much easier time communicating their feelings in this way and our printable design makes that super easy!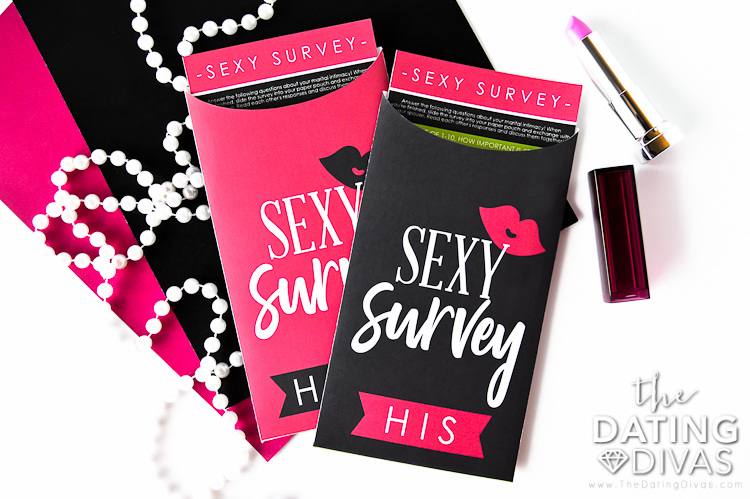 Intimate Questions to Ask your Spouse
Each survey is identical and includes a list of 22 intimate questions plus blank spaces for responses. Questions include such things as, "What is your favorite part of our sex life" and "What is one thing we could improve on?" You may feel a little out of your comfort zone when filling this out but we promise the answers to these intimate questions will show you exactly how to spice up your love life!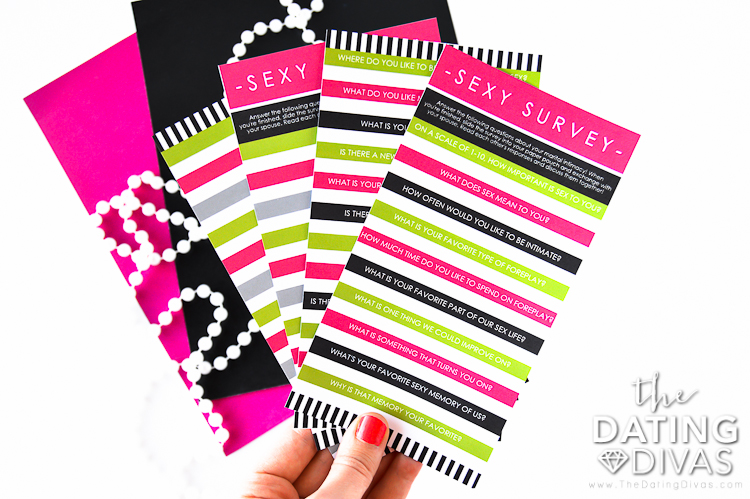 We've even included a completely blank option which allows you to pick the perfect intimate questions to ask your spouse. The sky's the limit with this bad boy!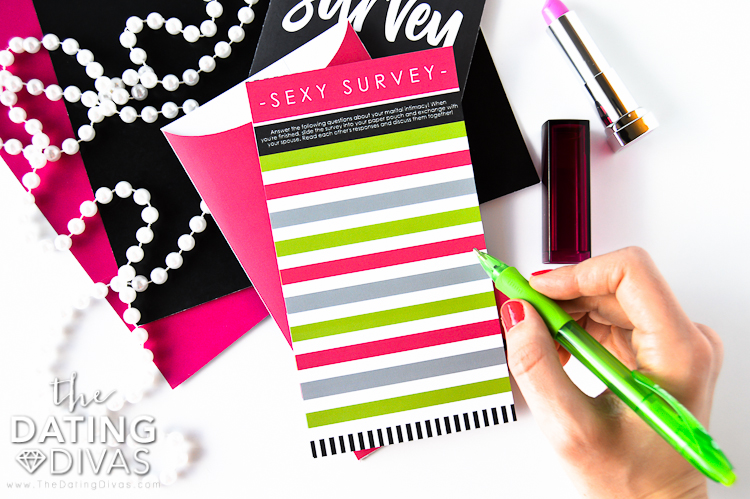 How to Spice Up Your Love Life
Yes indeed, this survey of intimate questions is sure to break the ice and improve things in the bedroom. The reason it works is that each of you gets to explore your own feelings regarding sex and intimacy, and then you get to learn how your spouse feels! After all, if you want to have more passion and romance with your spouse, both of you need to be open and honest about what your likes and dislikes are. As the saying goes, "Knowledge is power!" and by discussing and sharing your findings, you're both able to get on the same page and make things better than ever before.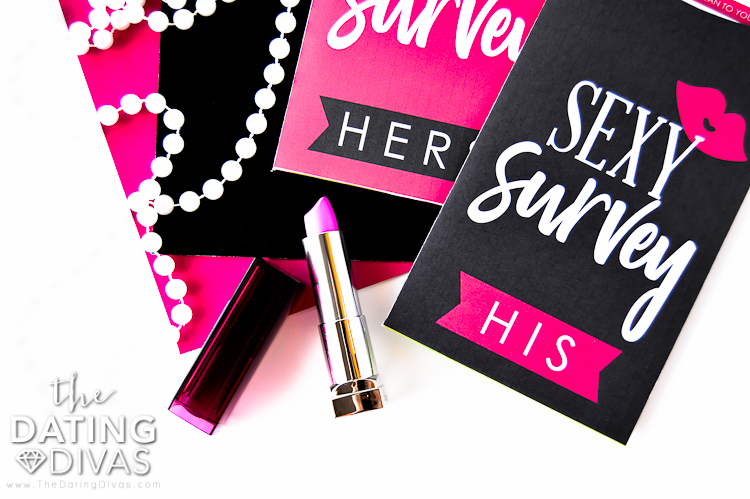 All you have to do is print our free 'His' and 'Hers' surveys and make a date night out of it. Get some yummy snacks and drinks and settle down on the couch or table together to fill them out. When you're finished with your responses, slide your Sexy Survey into your envelope and trade with your sweetheart. Read each other's answers to the intimate questions and don't be afraid to ask for clarification or to dig even deeper.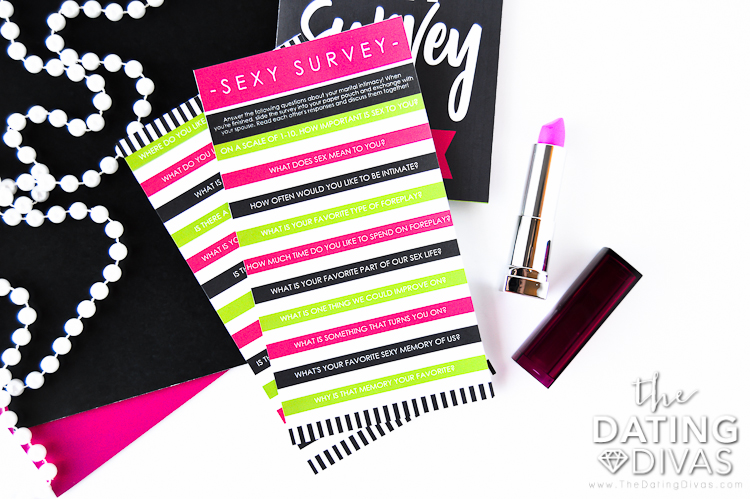 Whether you struggle in this area OR you already have an amazing love life- this is for you! There is ALWAYS room for deeper understanding and these intimate questions to ask your spouse are exactly the kind of marriage questions that will take things to the next level. If you're looking to ask even MORE great marriage questions, be sure and check out our Favorite Things Questionnaire and our Conversation Cards! Both will help you tackle the tough topics and really open up meaningful conversations that will show you how to spice up your love life like never before!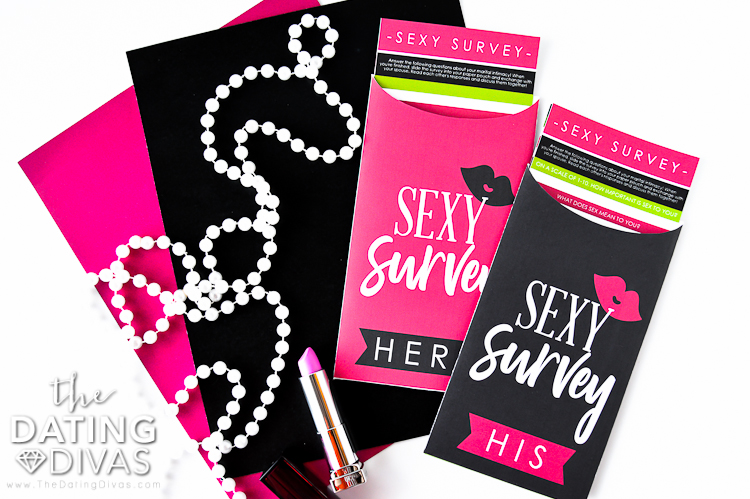 Sexy Survey
Printables Designed by Elizabeth Edwards Exclusively for The Dating Divas