Romantic Thanksgiving Idea for the Bedroom
Thanksgiving is a very special holiday filled with food, family, and friends! But in all the fun and celebration of all the things we are thankful for, we might forget to show attention to that one person we are most thankful for… our spouse! After spending time celebrating with friends & family, a Sexy Thanksgiving After Party is one of our most favorite romantic Thanksgiving ideas to end your holiday celebration! Don't forget to show a little gratitude to your spouse this Thanksgiving!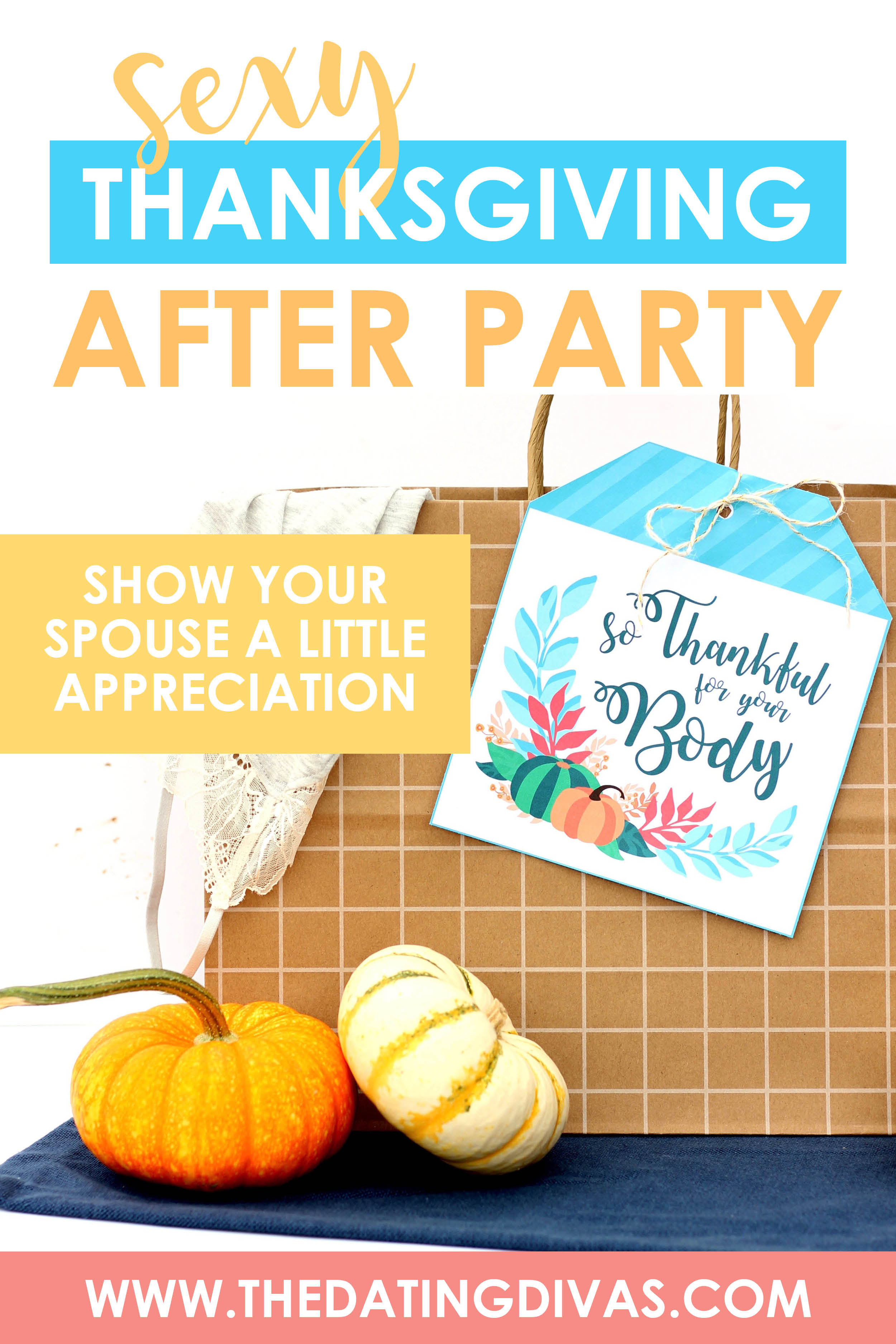 Disclaimer: This post contains affiliate links. To learn more about 'em, click here.
Since Thanksgiving can often be a pretty busy holiday with a lot of meal prep and family time, we wanted to make this idea quick and easy, but also fun and relaxing. I'm pretty sure this is exactly what you need after all the holiday fun!
To help make things even easier for you, here is everything you'll need for this Romantic Thanksgiving Idea:
Our Romantic Thanksgiving printables
A small gift bag
Sexy underwear, lingerie, boxers, etc
Massage oil
Feather tickler (like this one)
Dice
One of the Best Thanksgiving Day Ideas for Couples
To get everything prepped for your intimate Thanksgiving after party, print out the gorgeous, Romantic Thanksgiving printables located below! You might also want to snag some lingerie/sexy undies from your drawer. You can of course order some new ones too to make things even more exciting!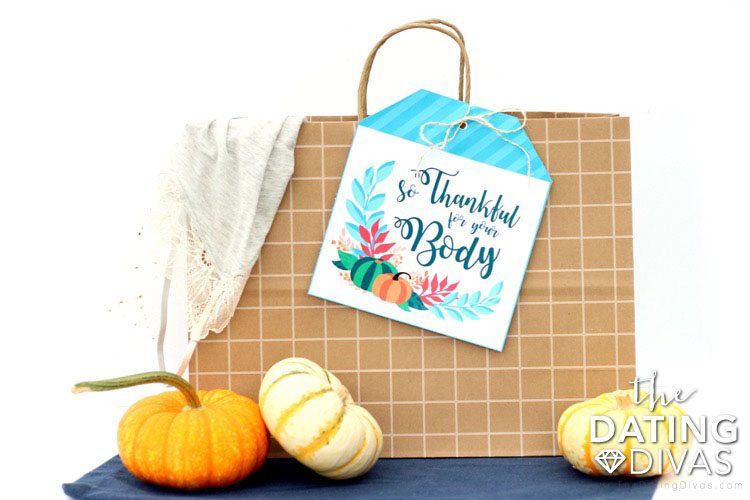 Next, grab a cute gift bag and attach the Romantic Thanksgiving gift tag to the front with some string. This is the very first thing your spouse will see, and isn't so darling?! It's sure to set the mood right away!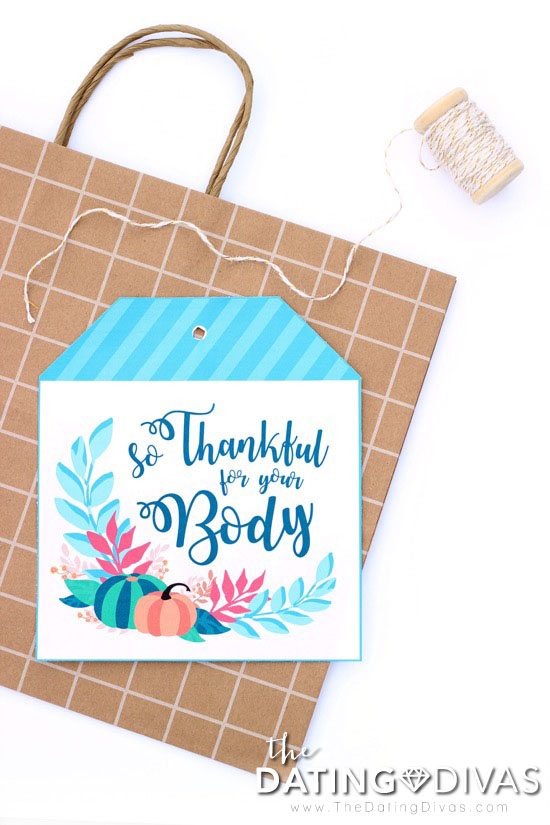 Next, simply fill your bag with lingerie/boxers, oil, a feather, and maybe some other similar sexy things like a candle or incense (you'll find out why you need these in just a second!) Leave the invitation in the top of the bag or somewhere it is easy to find so your spouse knows what they're getting themselves into. 😉 Then, surprise your spouse with your cute romantic Thanksgiving gift bag! Leave it on the bed, in their closet, or somewhere discrete but where they're sure to find it!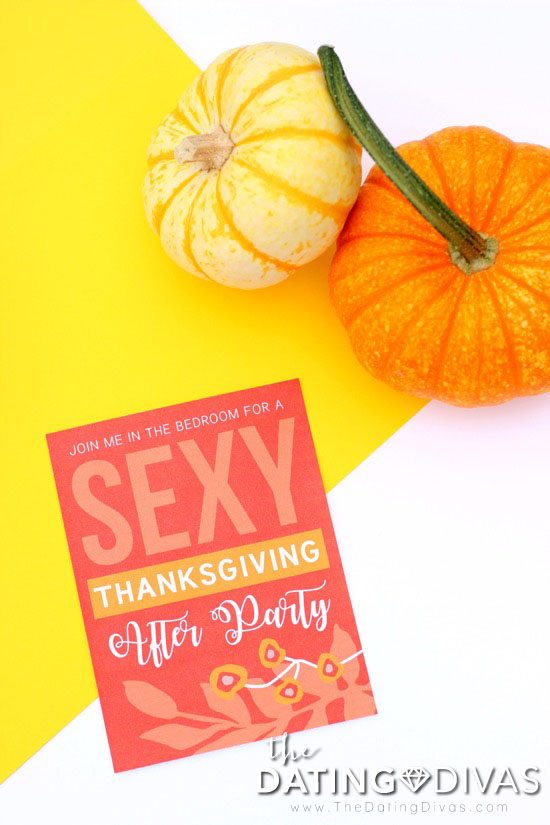 Thanksgiving-themed Intimacy Game
This is the best part! Our date ideas our never complete without a fun game for the bedroom. You could even forego the gift bag altogether and after enjoying a romantic Thanksgiving Dinner for Two, pull these out and enjoy! Feel free to get as creative as you want and make these printables work for you however you need.
Here's how you play the game:
Make sure to have a couple of pens on hand and ready for the intimate bedroom game. We've kept this game super simple and straightforward. All you have to do is each grab a paper that says "So Thankful for your Body" and list your favorite parts of your SPOUSE'S body! Keep in mind you will be giving these body parts some attention.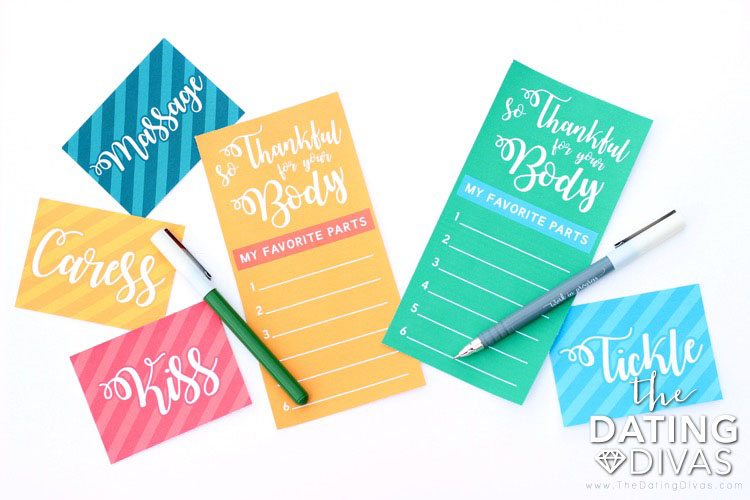 Take turns rolling a dice to determine which body part you'll be giving attention to and then pull a card to determine the action you'll take. Sounds super simpler (well, because it is) but that's all you need to really enjoy this romantic Thanksgiving idea.
Enjoy partying with your spouse on Thanksgiving night! If you're looking for something more light-hearted, try our Thanksgiving Charades!
Sexy Thanksgiving After Party
Printables Designed by Carisa @ Messes to Memories Exclusively for The Dating Divas