What is Skinny Dipping
This is truly the perfect sexy date to undress AND get you both in the "nude" for a night to remember! Skinny dipping… An experience MEANT for couples! 😉 The Dating Divas are so excited to present to you… The Skinny Dip Intimacy Date! To clarify, "skinny-dipping" refers to swimming nude. Wearing clothes in the water is difficult because it restricts your freedom of movement! So, why not get naked with your sweetie and enjoy the freedom? (Safely and legally, of course.) This sexy date will give you so many amazing ideas on how to skinny dip AND how to make it happen at home (even if it's in the bathtub!) Included are a flirty invitation, snack labels, a sexy game to undress with, a skinny dip sexy game while in the water, and tips for the after-party on how to warm your sweetie up! Now, there is only one rule with this skinny dipping sexy date… no skinny dipping ALONE! 😉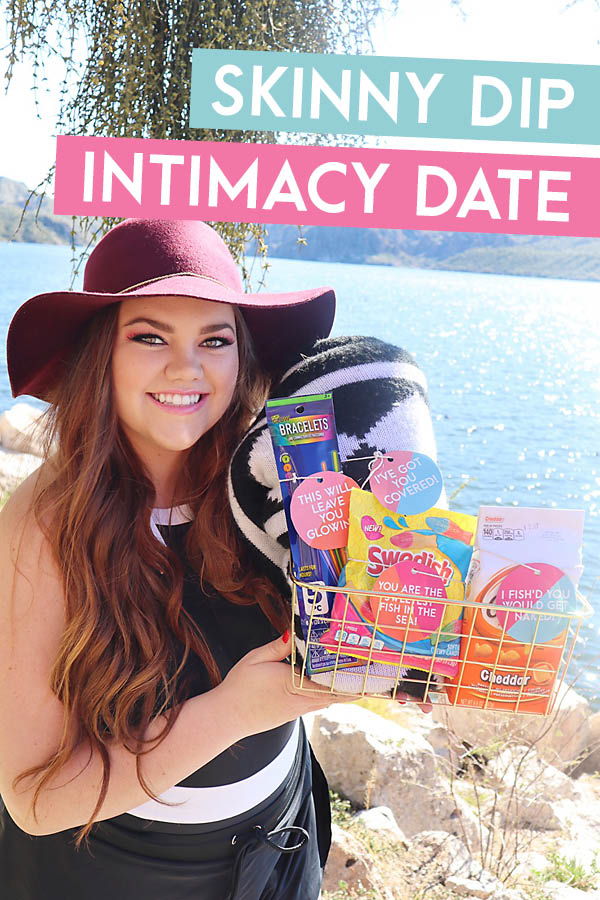 Disclaimer: This post contains affiliate links. To learn more about 'em, click here.
A big shoutout to the beautiful Courtney from Paparelli and The Dating Divas who created these adorable and flirty free printables for your Skinny Dip Intimacy Date!
Sexy Skinny Dip Date
First things first, surprise your sweetie with this sexy invitation! With this adorable and free invite, you will have the date, time, and place listed, so your sweetie knows exactly when and where this sexy date is taking place! If your spouse asks what skinny dipping is, don't worry! The Dating Divas have you covered! You won't even question how to skinny dip because everything is planned for you, so couples like you can have the most romantic night ever! Now it's time to tell your spouse that their shirt has to go because the human body is made of 70% water… and you are thirsty! 😉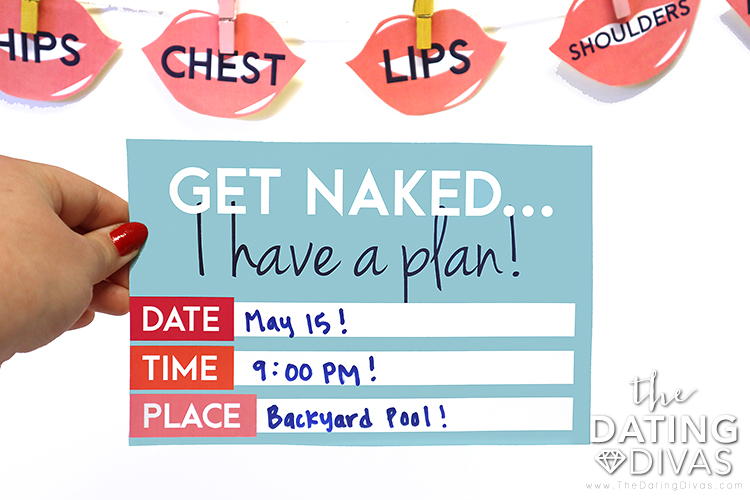 How to Skinny Dip
Now, in order to have an amazing date with your sweetheart, being prepared is key! Here at The Dating Divas, we created the Skinny Dip Essentials Basket! A basket filled with towels, a blanket, treats (including themed snack labels, of course), and sparkling cider! To get in the mood, you can have candles lit around you, soft music playing, and even rose petals leading to the pool or bathtub! We also added in a glow stick printable so this sexy date will leave you two GLOWING! 😉 You can even put glow sticks in the pool or bathtub for an added touch!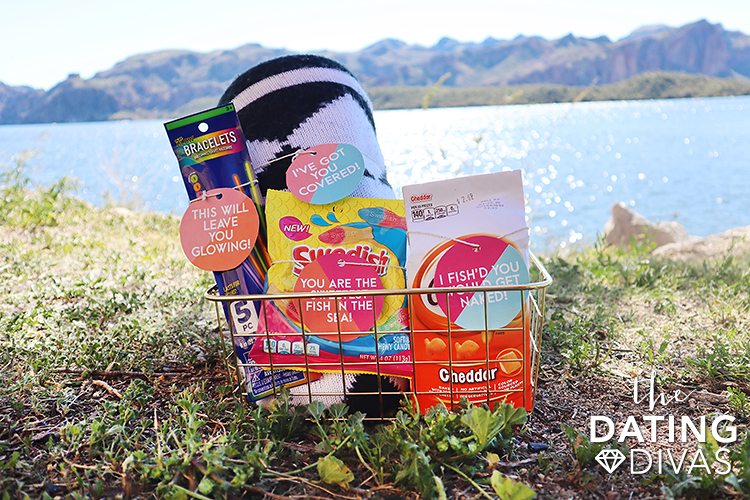 Check out what each printable label goes within the Skinny Dip Essentials Basket:
I've got you COVERED! – Towel.
You stole my blanket heart! – Blanket.
This will leave you GLOWING! –

Glow sticks

.
I CIDER love you! – Sparkling cider.
You are the sweetest FISH in the sea! – Swedish fish.
I FISH'D you would get naked! – Goldfish.
Strip to WIN Skinny Dipping Game
Now it's time to learn how to skinny dip in the best way possible! Play a little game where you both are winners… We call it, STRIP SKINNY DIP! Here's how to play – Take turns drawing cards with your sweetie. Read the question aloud to your partner. If they get it wrong, they have to lose an article of clothing. The first one naked loses… or do they? 😉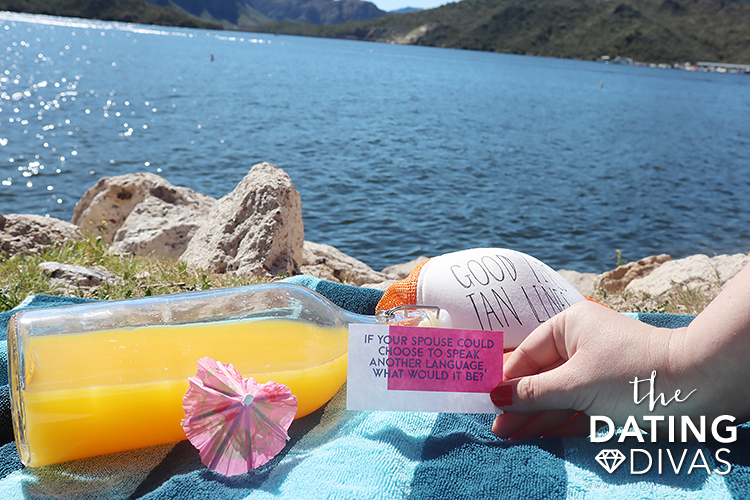 No Pool? No Problem!
If you find yourself without a pool – don't fret! This sexy date works just as well in the bathtub! There are so many ways to rock skinny dipping in the tub! If you want to take it to the next level, then book a hotel with a tub big enough for two and surprise your sweetie! Think candles, romantic music, your essentials basket, and luxurious bath products. Of course, you could always recreate this date at home, assuming your bathtub is up to the job! Additionally, if you have a private pool in your backyard, then you're totally set with this date on your private property! Long story short, what are you waiting for? This date is a MUST TRY!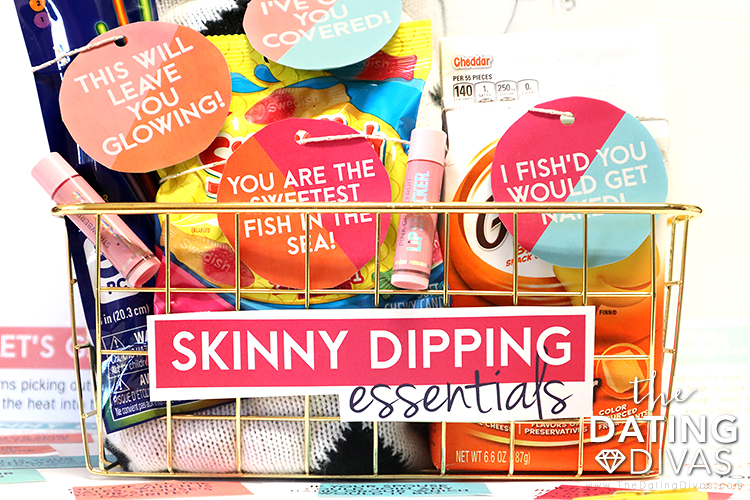 Skinny Dipping Extras
Skinny dipping is a risque activity that everyone needs to try at least once in their lifetime! After all, it's all the fun of swimming but with a touch of adrenaline! 😉 But honestly, we can't leave you hanging without providing you some skinny dipping extras. Although getting in the water naked can be intimidating at first, once you read these skinny dip extra tips, you will be an expert! Don't forget, being confident in front of your spouse is sexy!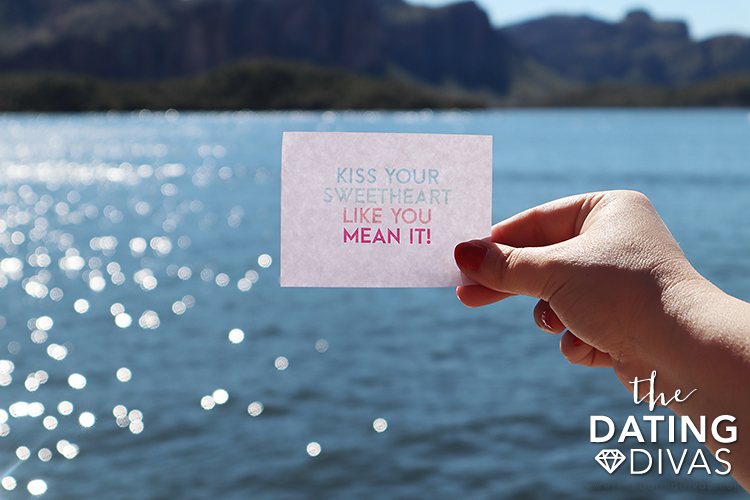 Sexy Skinny Dipping Game
Picture this: You and your spouse in the water… NAKED! So what happens now? Well, we had to save the best for last – a sexy version of Marco Polo! Here's how do you play this sexy game: You and your spouse will alternate picking kiss cards. Let's say you choose the kiss card that says "HIPS." You then close your eyes and tell your spouse to hide in the water! Next, you yell "Marco" while he yells back, "Polo." Find your way through the water (eyes closed) to your spouse and try to find his HIPS! You are then required to kiss, squeeze, or touch that specific body part! Then you switch! Keep going until all the kiss cards have been used, or you cannot take the heat any longer! 😉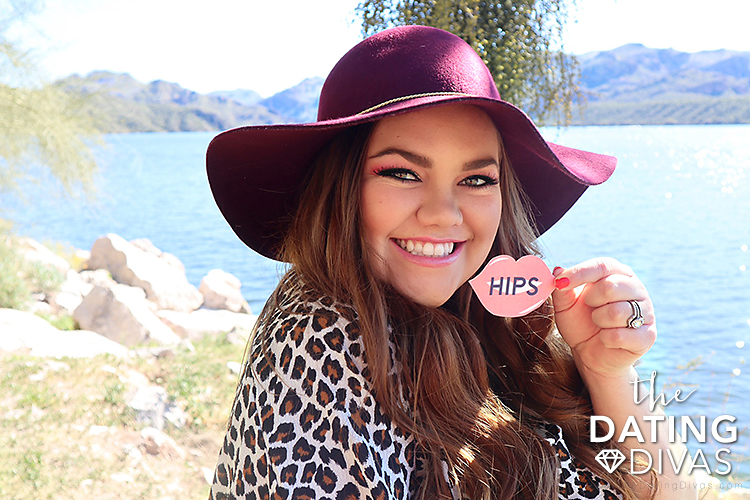 Bring the Heat to the Bedroom
Now, in most skinny dipping stories you hear, getting out of the water is the hardest part! So, how can we make it actually enjoyable? Well, we created these adorable "Let's Get Hot" cards! You and your spouse will go from chilly to steamy within minutes using these! The way you play is after you get out of the water, grab your towels and the blanket from the essentials basket, then head inside and get cozy. Take turns picking question cards and wait for things to get hot and steamy! Trust us. It shouldn't take very long! 😉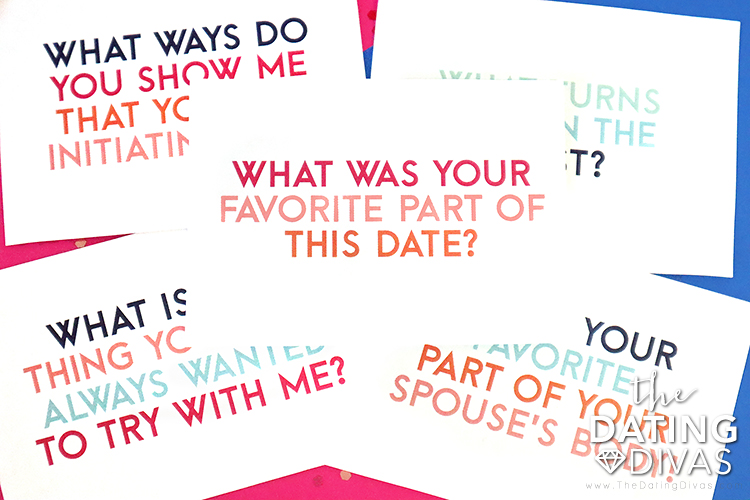 Lastly, if you loved this Skinny Dip Intimacy Date, you must try our Sexy Cootie Catcher Date and our flirty Aphrodisiac Date Night!
Skinny Dip Intimacy Date
Printables Designed by Courntey @ Paparelli Exclusively for The Dating Divas