Easter Love Gift: Some Bunny Loves You Basket
Show your honey bunny some Easter lovin'! The Easter Bunny always brings treats for the kiddos, but here's a chance to make sure your spouse doesn't get forgotten! Stuff a care package or basket with carrots to let them know that "no bunny compares!" These little carrot boxes are filled with their favorite Easter treats. Although this basket or package is perfect for your sweetheart, it can really be used for anyone – kids, neighbors, teachers, grandparents or anyone else you LOVE!

Disclaimer: This post contains affiliate links. To learn more about 'em, click here.
Carisa from Messes to Memories made these bunny printables for us, and they are just adorable! They make me so "HOPPY!" (Couldn't resist the bunny pun!) I love their sweet springy vibe. The cutting and prepping was really simple, but looks super impressive at the same time. Thanks, Carisa! 
We've created printables to make a sweet Easter surprise in 2 different ways: a care package for long distance relationships and tags for an Easter basket treat!
Some Bunny Loves You Care Package
If you have a loved one far away, use the box flaps to decorate an Easter package! Stuff the carrots with candy, throw in a few more spring treats and surprises, and send the love! You could also use these flaps for a fun "Easter Date Night in a Box"… check out our Jelly Bean Date for an easy Easter date night!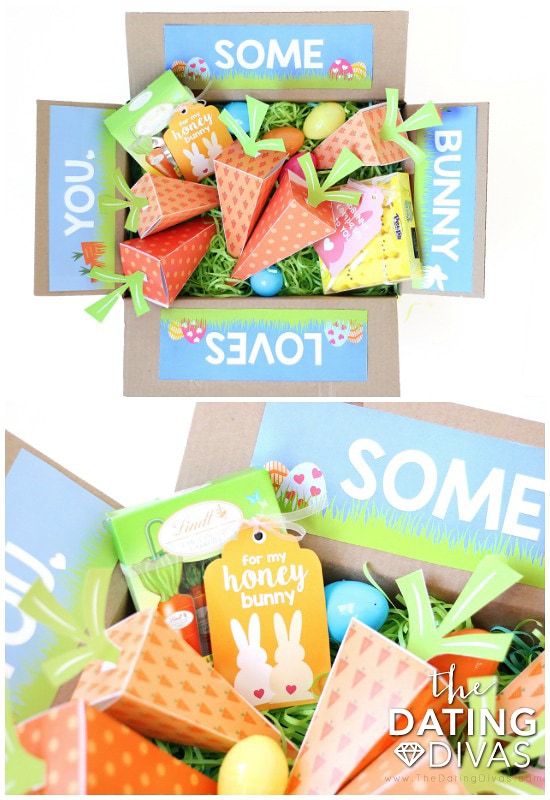 I found these Lindt chocolate carrots while out shopping and they fit perfectly with the bunny theme, I couldn't resist! Plus they are GOOD chocolate – rich and yummy! The sure way to make a carrot better is to turn it into chocolate, am I right? Throw a package of these in your box for some extra goodness!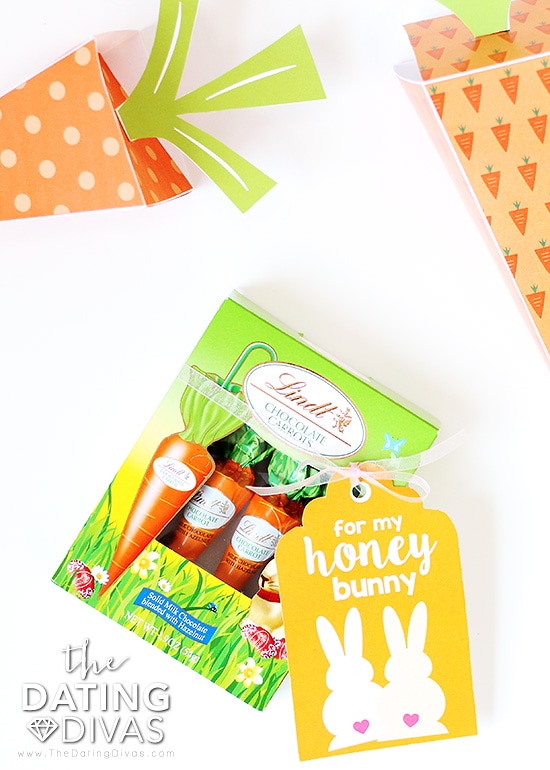 Some Bunny Loves You Basket Tags
If you want to pull together a romantic Easter basket for your sweetheart, stuff it full of goodies and attach a flirtatious tag! I used this adorable felt tulip basket from Amazon.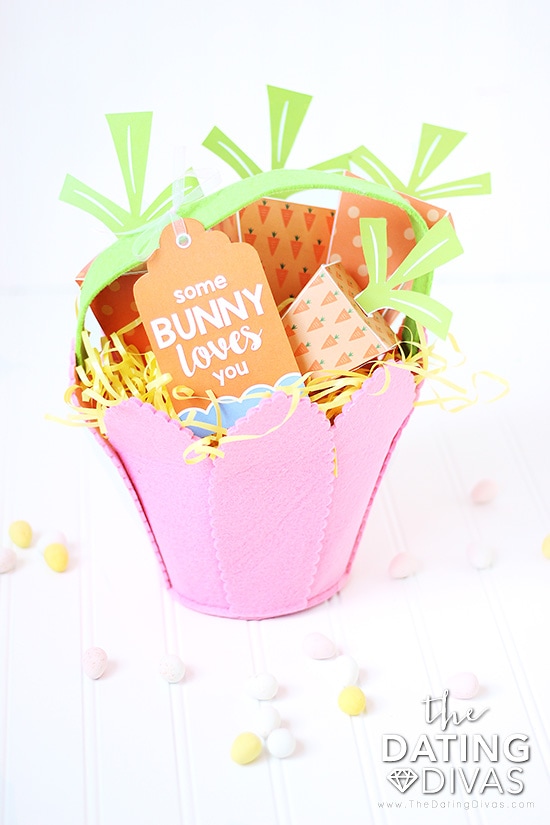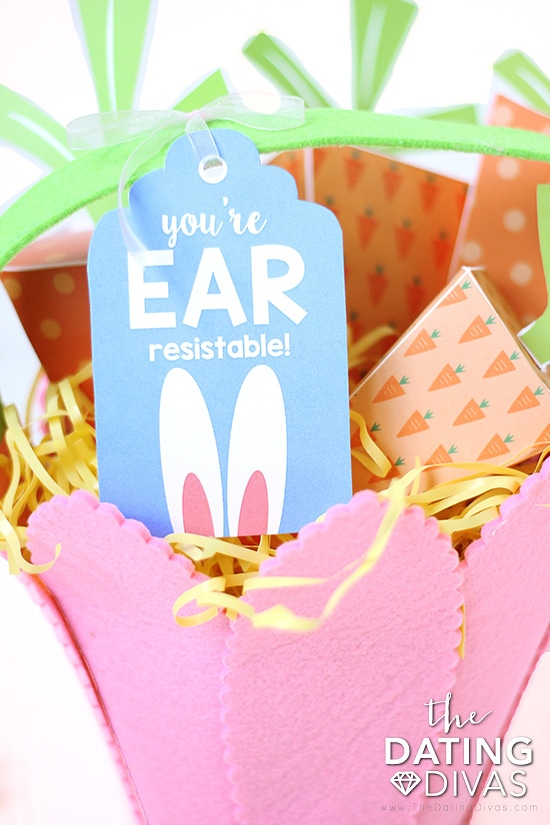 We have 4 different bunny tags for you to choose from!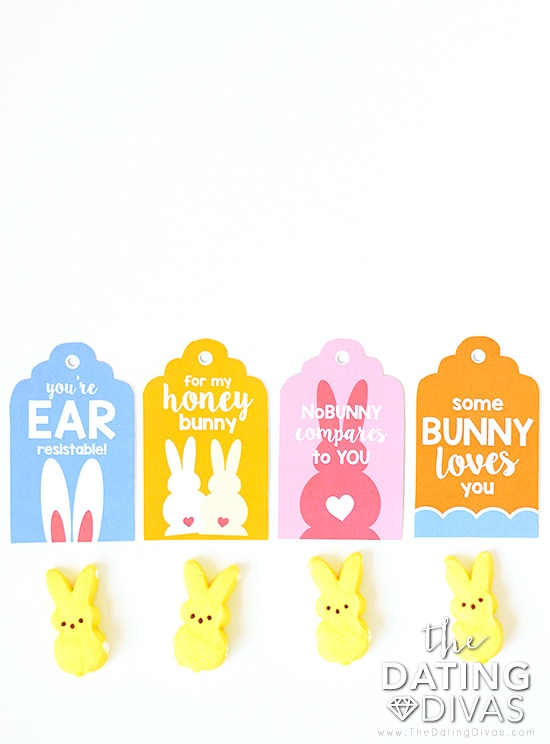 One of the tags has a cute little bunny bum that is a prime spot for a little fluffy tail! Just attach a cotton ball or pom-pom on top of the heart for an extra 3D effect!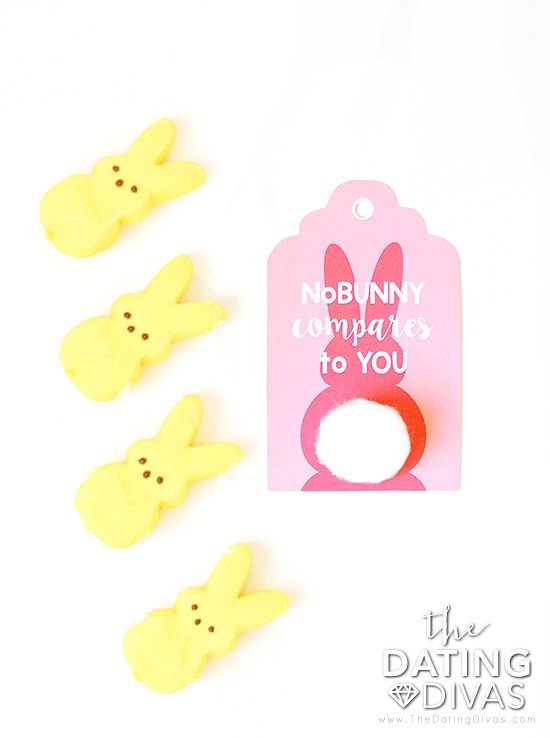 Easy Printable Carrot Tutorial
Now that you have your box or basket, you need some carrots! Follow these quick steps to make a simple carrot treat box!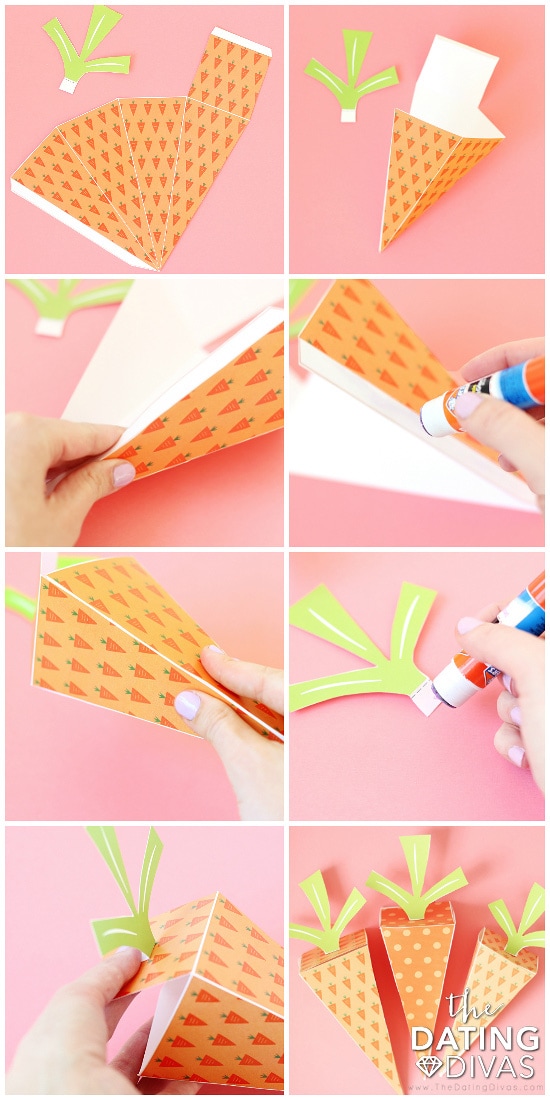 Cut out the carrot template around the dotted lines.
Fold along each of the white lines, following the instructions on the print out page.
Fold the white flap on the edge of the pattern.
Apply glue or adhesive on the white flap.
Fold the carrot together to create a pyramid shape, attaching the white flap under the edge of the orange patterned side.
Fold the little white flap on the green stem and apply glue.
Attach the white flap to the top of the carrot box.
Tada! You are now officially the world's best gardener – you have magically "grown" carrots in 5 minutes!
Fill your carrots with jelly beans or small Easter chocolates, like M&Ms or Robin Eggs. My personal favorites are Mini Cadbury Eggs – I wait all year for them to hit the stores!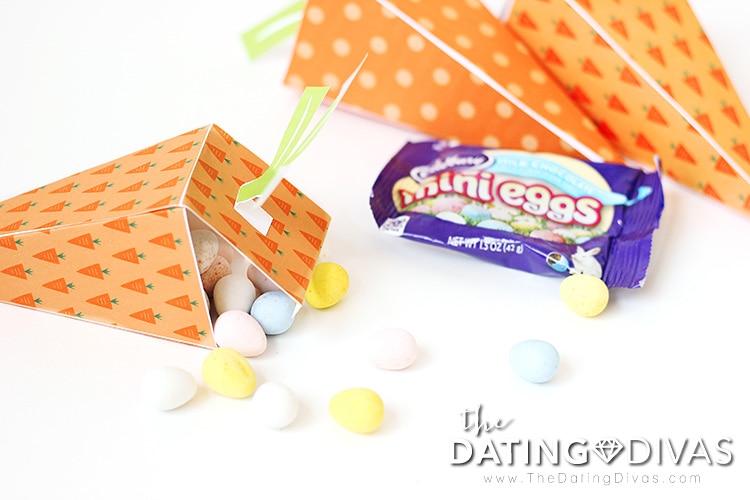 Make sure your honey knows that "Some Bunny Loves You" this Easter with these quick and easy printables! Your bunny basket or package will definitely make your sweetie very "HOPPY"!
Love is in the air – Happy Spring!
And for great Easter basket fillers, click Here! We also rounded up Christ-centered Easter products and The Best Spring & Easter decor. 
Some Bunny Loves You Printables
Printables Designed by Courtney @ Paperelli Exclusively for The Dating Divas