Easter Jelly Bean Date 
Springtime sweets are popping up in the stores in preparation for Easter, and it is so tempting! Mini Cadbury Eggs, anyone? (Those things are dangerous, it's WAY too easy to to eat a whole bag in one sitting!) Amongst the chocolate bunnies and Peeps, you'll find a tried and true favorite – Jelly Beans!  These little morsels are a classic for Easter, or really any time of the year, let's be honest! Grab a bag and you've got yourself a Jelly Bean Date Night, it's that simple!!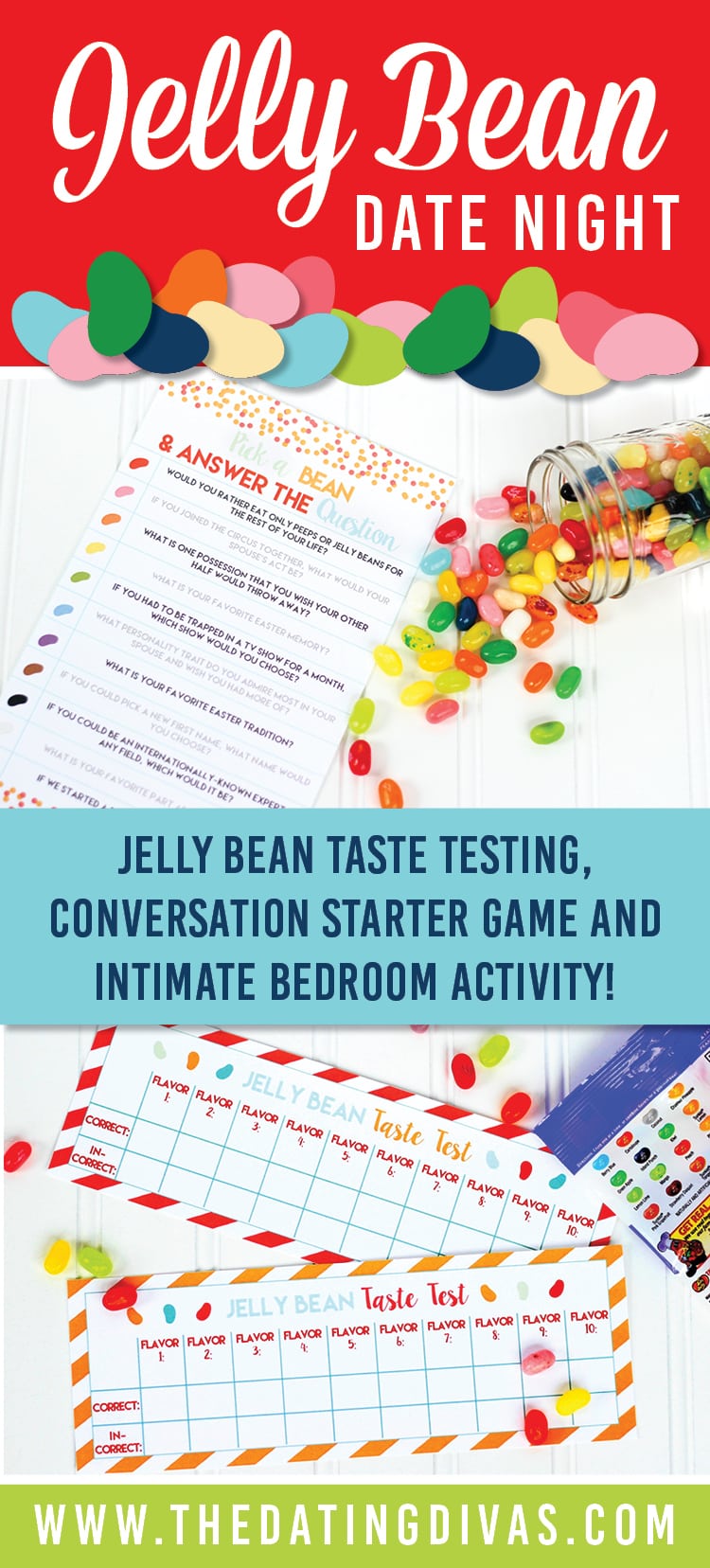 Disclaimer: This post contains affiliate links. To learn more about 'em, click here.
Our girl Kayley (the fabulous designer from Ollie and Lulu) has created some adorable Jelly Bean Date printables. Her sweet, whimsical designs are perfect for some springtime loving! Especially the bedroom spinner – to die for! Thanks Kayley!
These Jelly Bean Date ideas are quick and easy to prep, all you need are the printables and a bag of Jelly Beans! Jelly Bellys will give you the most flavors and options, but any kind will work!
Jelly Bean Love Note
This punny little love note is a fun way to invite your spouse to your Jelly Bean Date! Just print, fold and punch a hole. Fill in some sweet words of love inside and then attach with cute twine to a bag or jar of jelly beans!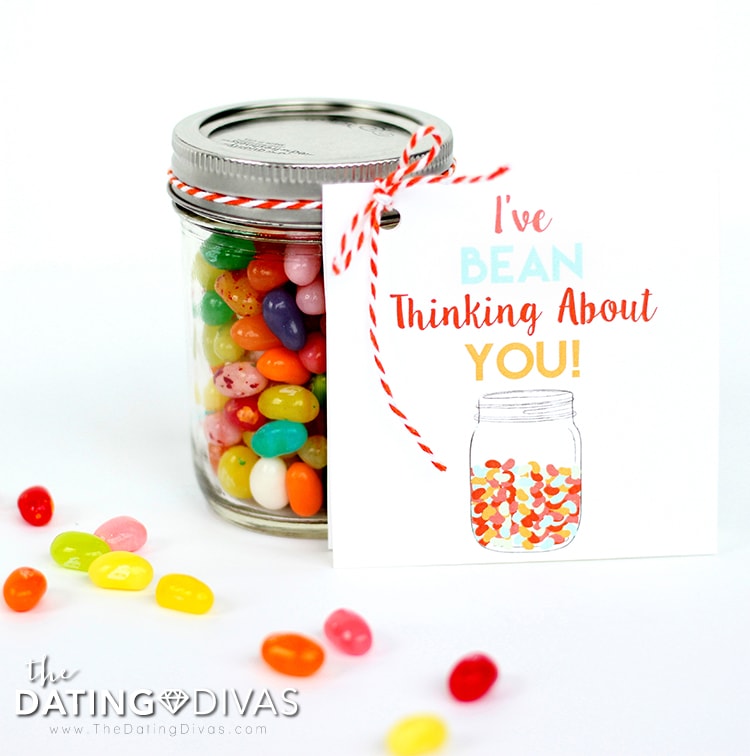 Jelly Bean Taste Testing
Set up your Taste Test mats and blindfold your sweetie! Choose 10 flavors to quiz them on, then feed your spouse a bean and see what they think! If you are feeling adventurous, you could try a bag of Bertie Bott's Every Flavour Beans (from Harry Potter!) and see if they can identify the gross flavors (like boogers and dirt – totally disgusting and hilarious!). Whoever guesses the most flavors correctly claims the victory!
Another fun Jelly Bean Date game idea is to play Bean Boozled! The inexpensive game contains 10 yummy flavors & 10 icky ones that look identical (example: the black bean could be licorice or skunk spray flavor). Would you be brave enough to try one?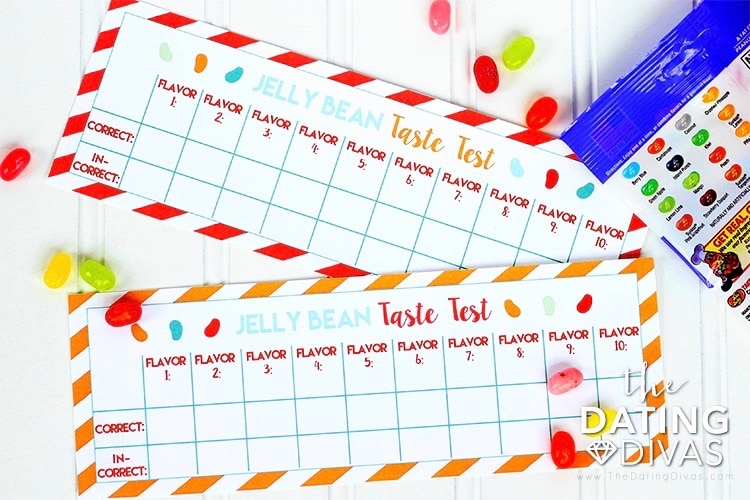 Jelly Bean Conversation Starters
After the taste test is over, cuddle up with your Jelly Bean bag and take turns picking different colors of beans. Answer the fun and goofy question that coordinates with the bean you chose!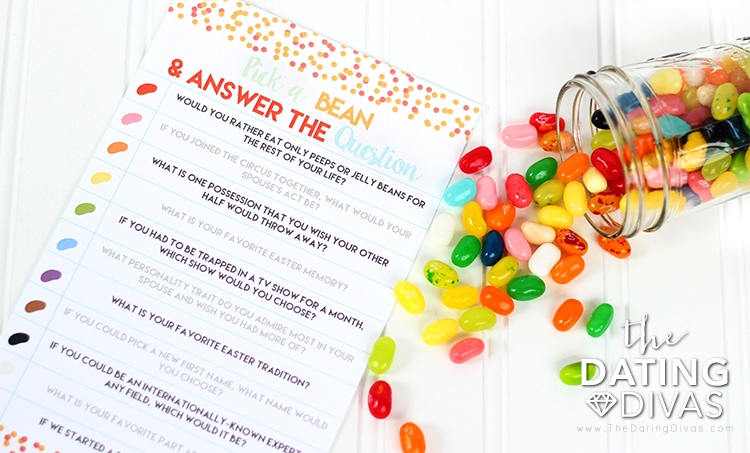 Jelly Bean Intimate Spinner
Now that you've had plenty of laughs and time to connect and talk, move it on into the bedroom! Things are going to get steamy with this Juicy Jelly Beans bedroom game! Choose a bean to represent a sensual body part, and go for a spin on the printable spinner to see what kind of action you will complete. Take turns spinning and selecting beans until things get too hot to handle! (WINK!)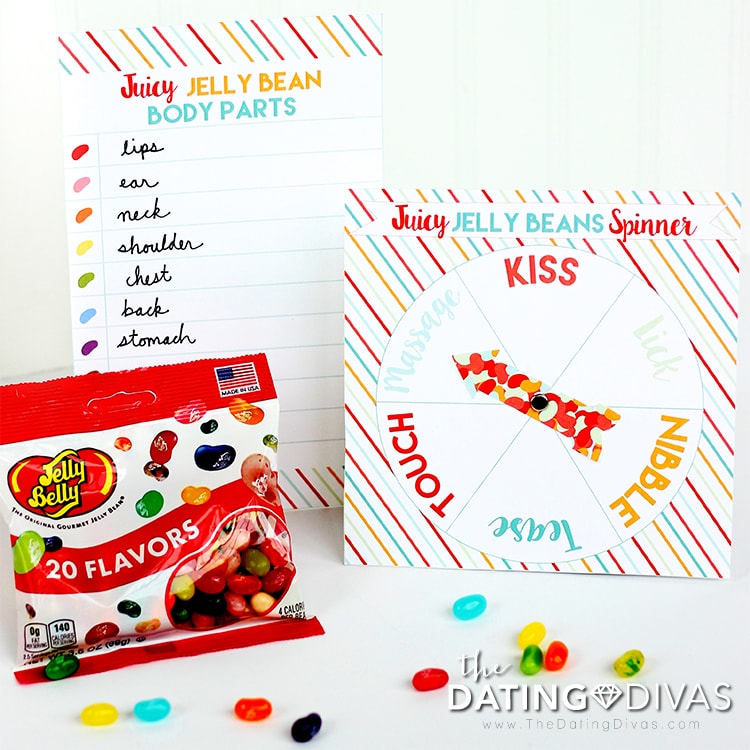 The best part is this sweet Jelly Bean Date can be prepped in 5 minutes! You'll have treats to share, conversation & laughs, and some intimate time as well. Oh yeah!
Jelly Bean Date Night Printables
Printables Designed by Kayley @ Ollie and Lulu Exclusively for The Dating Divas