Fun St. Patrick's Day Family Dinner Idea

It is time to PARTY!!! I have such a fun idea to spice up your upcoming St. Patrick's Day dinner that even the pickiest eater is sure to love!
Get ready to treat your family to dinner at…
"St. Patty's Party Pub!"
This is a super-simple party that your kids will remember forever, and with our free printable dinner menu- we've got all the hard part done!
It's time to get a little crazy because this is no ordinary menu!  In fact, your kids won't have any idea what they're ordering.  Instead of the menu having the actual food names, you'll be using St. Patrick's Day code words.  You better believe it is hilarious!  Everyone is sure to get the giggles when sister gets ice cream and a straw for her appetizer, and little brother gets limeade and broccoli!!
Here's how it works:
To begin, choose the foods that you would like to serve for the meal.  I went with a more traditional Irish Menu, but you could totally go all green like ***Then, assign each item to a code word on your "cheat sheet."  (You'll need 8 items all together.)  For example: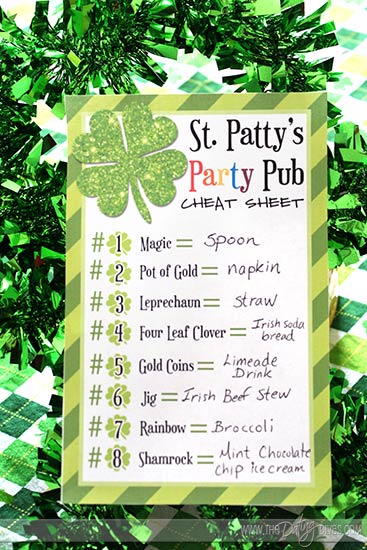 Once you have your menu planned do a little bit of decorating to your table. Put up this darling We're Lucky In Love Banner and make sure to be heavy handed with the shamrocks and anything green!  Hit up the dollar store or try out some of these Free St. Patrick's Day Printables.
Put plates out but NOT any utensils or napkins- those are on the menu and they'll have to order them!
To help everyone get in the Shamrock Spirit- how about these festive St. Patrick's Day headbands?! These are so sweet and I love how our amazing designer Kristin from CdotLove designer made them look like the shamrocks were covered in sparkly glitter- who wouldn't love that?!! I just LOVE every design that Kristin has done- she totally rocks!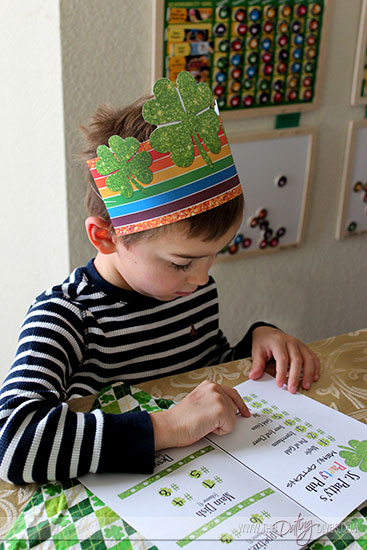 You know everyone is going to be excited to eat supper tonight! Welcome them to "St. Patty's Party Pub" and give them instructions on how to fill out their menu.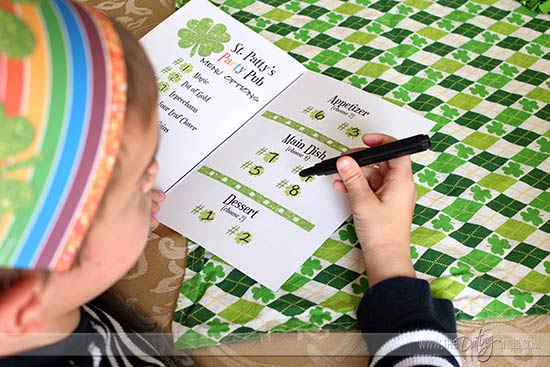 Double check to make sure they use all of the 8 different items.  They will be choosing two items for an appetizer, four items for the main course, and two items for their dessert. The question is…what order will their items arrive in:)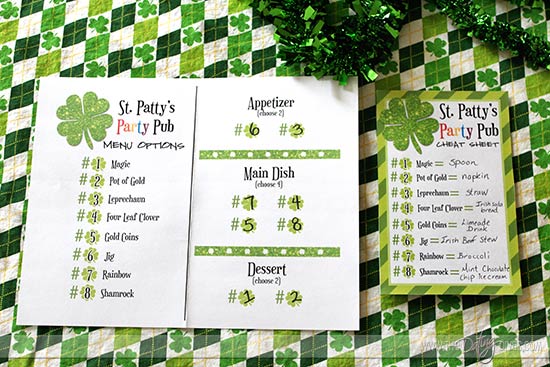 Pull out your "cheat sheet" and serve each family member, one course at a time…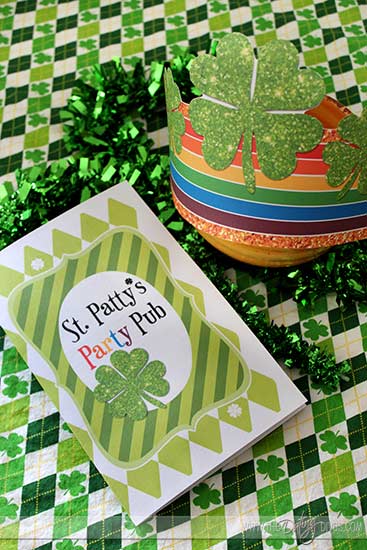 Get ready for lots of giggles as you bring out the orders for this crazy mixed-up dinner! Your kids will be loving it if they get to eat dessert first…especially if they are licking ice cream while your husband eats broccoli with a straw!
Because at St. Patty's Party Pub- nothing is a guarantee except for some crazy fun!
If you LOVE this fun idea, you have GOT to try Cupid's Crazy Café– Becca's AWESOME Valentine's version that was the inspiration for this fun mixed-up dinner. If you are looking for more St. Patrick's Day fun then try out Candice's Leprechaun Love Hunt or a Magical Date Night.
St. Patty's Party Pub Printables
Printables Designed by Kristin @ CdotLove Exclusively for The Dating Divas