Star Light, Star Bright…
What is this amazing date idea you ask??? A telescope adventure with lots of cuddles! Our date night included renting kids astronomy books, making a refractory telescope, and snuggling under the stars. Sounds fun, right? I promise if you're into romantic nights, this is the date for you!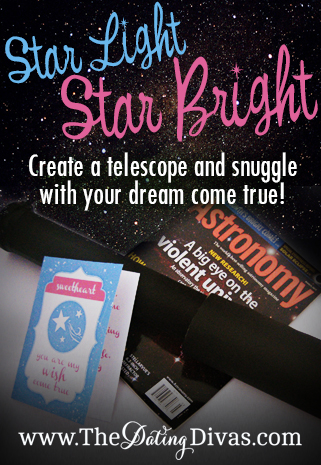 This post contains affiliate links. To learn more about 'em, click here.
I have always been in love with a bright night sky full of shimmering lights. The moment I see a shooting star, I close my eyes and make a wish. When I was a little girl, those wishes were about my prince in shinning armor. As I have grown older and have the man of my dreams, I have found that nothing is better than making out under a blanket of stars and dreaming upon shooting stars with my hubby.
Our romantic nights under the stars are perfect but I wanted to add a little cherry on top, so I created this date to help us enjoy the stars a tad bit more.
I had to see if this date was even possible, so I scoured the web and found a couple awesome tutorials that gave me the little push I needed to create this date night. I promise if you're into romantic nights, this is the date for you!
Prepare for your date night by renting children's books on astrology at your local library. Find books that describe the orientation of the stars, points like the Big Dipper, Orion, and the North Star. You can have a romantic night and learn a little too, right?! Grab your "to die for" printables and print them off on white cardstock and cut them out. These printables are the darling creation of Whimsicle Design Studio. Take a moment and go visit her site, you are going to fall in love with Whimsicle Design, I promise.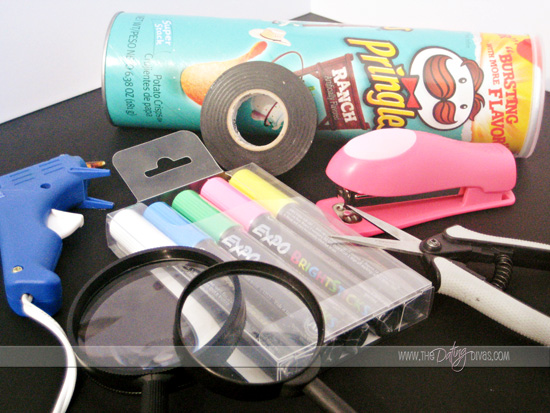 Now it's time to go shopping and gather all of the items needed to make your telescope.  You will need:
A Pringles Can
Electrical Tape
Stapler
Glue Gun
Scissors
Markers
, optional
2 Magnifying Glasses
, one bigger than the other
Black Bristol Board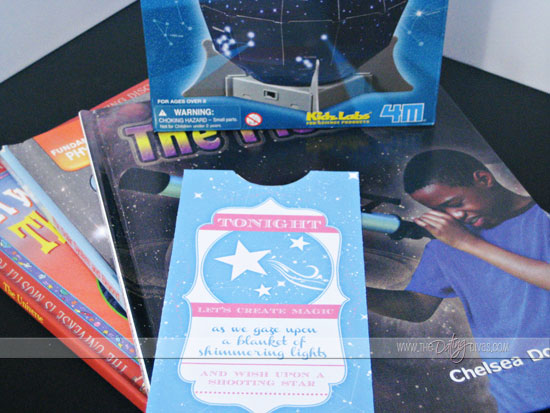 On your date night, set out your astronomy books and leave the adorable Star Light, Star Bright invite right on top. Give your spouse a little sneak peak of what is in store for his night out with you.
Fast forward a few hours and it's time for your STARRY DATE NIGHT!!! Grab your computer, all the items to create your telescope, and pull up this link –> Melanie with The Canada Science and Technology Museum. It will teach you how to make your refractory telescope. If you want an astronomy discussion, watch to the entire video, if you just want to learn how to make your telescope, zoom to minute 1:39.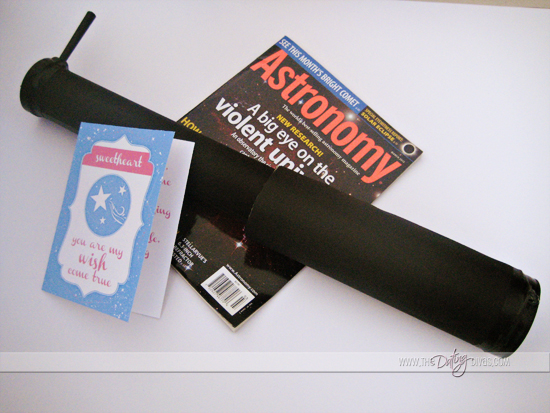 That was easy and fun, wasn't it? Now it's time to snuggle under the stars, so grab those blankets, your telescope, astronomy books, and enjoy the starlit sky! During a special moment, slip your spouse your "wish come true" card to up the romance level a bit. Can't get away from home, that's ok, get out on your roof, check out The Romantic Rooftop Date for a few tips.
The next morning, let your sweetheart know how much you enjoyed your date by giving them an Orbit The Moon Printable with a pack of Orbit gum.
If this telescope wasn't your favorite, then check out this video –> by Peter and John.  I'm not that handy and I didn't want to spend extra time creating this telescope but we might try this next time cause it's a pretty cool one!
Now get going and enjoy your night under the stars and snuggle it up!!!