Super Dad Father's Day Gift Basket Ideas
Not all superheroes wear capes. They might wear a suit and tie, a working uniform, hospital scrubs, or even a stained, old t-shirt, but it's not the clothes that make the man, it's his actions. And those heroic acts are what inspired us to create a sweet gift for the hero dads in our lives. This Father's Day candy bouquet is absolutely the perfect gift for the sweets-lover in your life. You can thank him with a creative and DIY superhero Father's Day gift that's easy to create and looks like the million bucks you wish you could spend on him.

Disclaimer: This post contains affiliate links. To learn more about 'em, click here.
Thanks to Carisa from Messes to Memories, we were able to create digital prints that will make your Father's Day candy bouquet as super as the superhero dad in your life. They are so cute and inspired by the comic book heydays with bursts of bright color and big, loud words!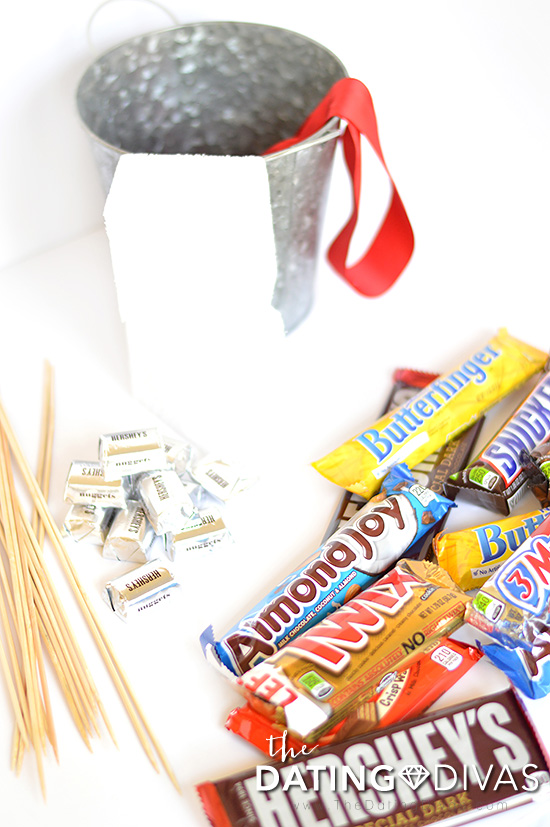 Here's what else you'll need:
A cute bucket. Hello, Dollar Store! But you can grab a similar one on Amazon, too or maybe search your house?!
Wooden skewers. You won't need a whole pack but you can use them to make other Candy Bouquets later or just try some fun grilling recipes which are perfect for the Grill & Chill Date.
Styrofoam. Grab a ball, blocks or the green kind for floral arrangements.
Tape. Good, super sticky tape. LOTS of good, super sticky tape. I used some transparent tape but got frustrated quickly, so then I had to get stickier.
Ribbon. Something nice and wide looks great!
Tissue Paper. Think superhero colors – red, yellow or blue!
CANDY Bars. Pick his favorites. Pick your favorites 😀 Try something new.
Last Minute Superhero Father's Day Gift
If you're browsing homemade Father's Day gifts because you've run out of time, this is the perfect option. (And don't worry, no judgments—we've allll been there!) You could even hit up a 24-hour convenience store to grab some candy bars if it's really last minute. If you're in a rush, you can easily just print off the first two pages and call it a day.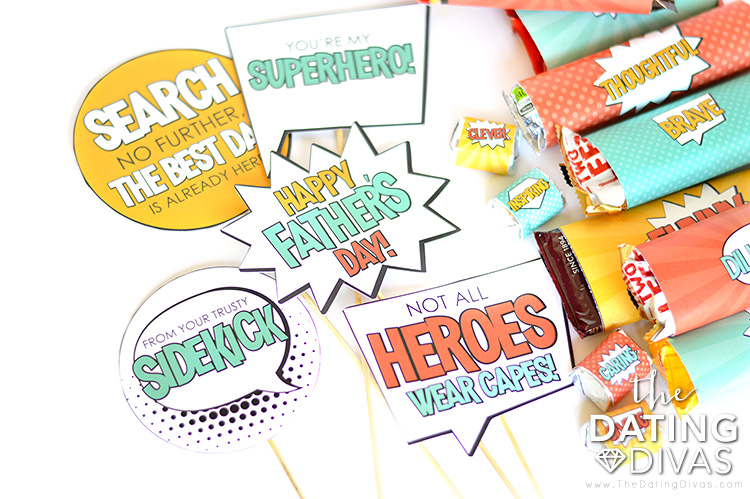 Start by wrapping the super DAD belt around a bucket. I just cut two little slits the width of my ribbon on each side and slipped it through, but in a pinch you could just tape it directly to the bucket.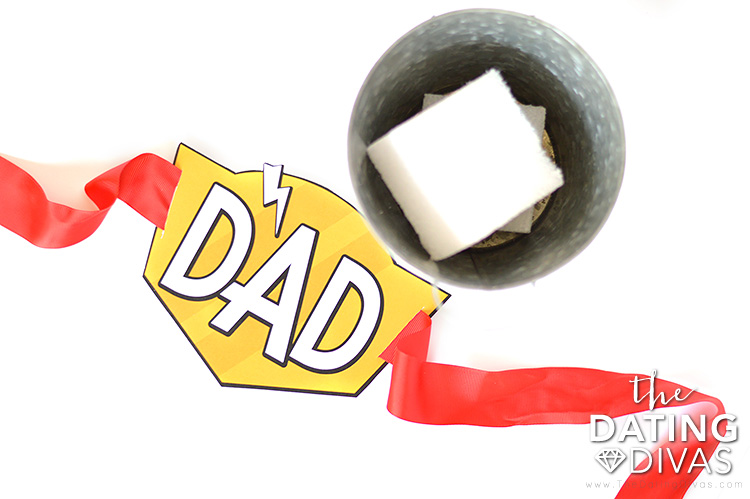 Next, stick a few candy bars in a bucket. It works best if you use that super sticky tape to attach the candy bars to skewers and then poke those skewers into the styrofoam. If you're in a real hurry and strapped for supplies, just carefully pile and arrange the candy bars in a bucket. Save these steps on Pinterest!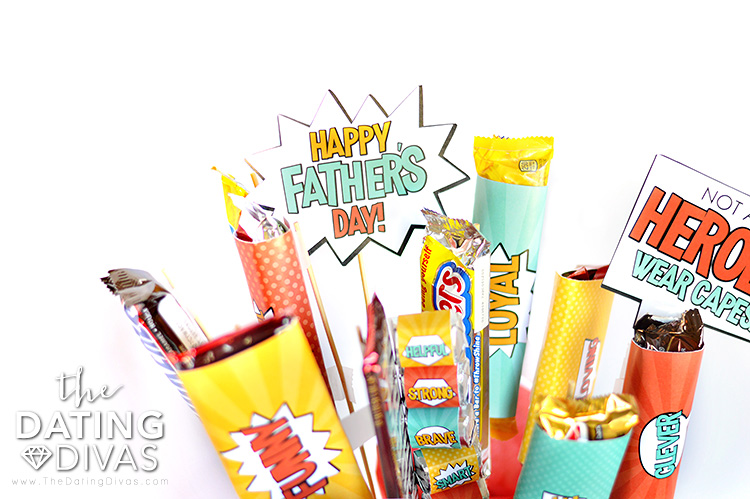 Finally, add the heroic message bubbles to a few skewers and stick them in to really get your superhero Father's Day point across. Hint: Can't find skewers at the last minute? Tape them to a few pencils! And a bonus WIN: those of you who need every spare second, this PDF is editable which means you can even add your name (or your kid's name) to the "Sidekick" bubble before you print! How cool is that?!
Meaningful Father's Day Gift Basket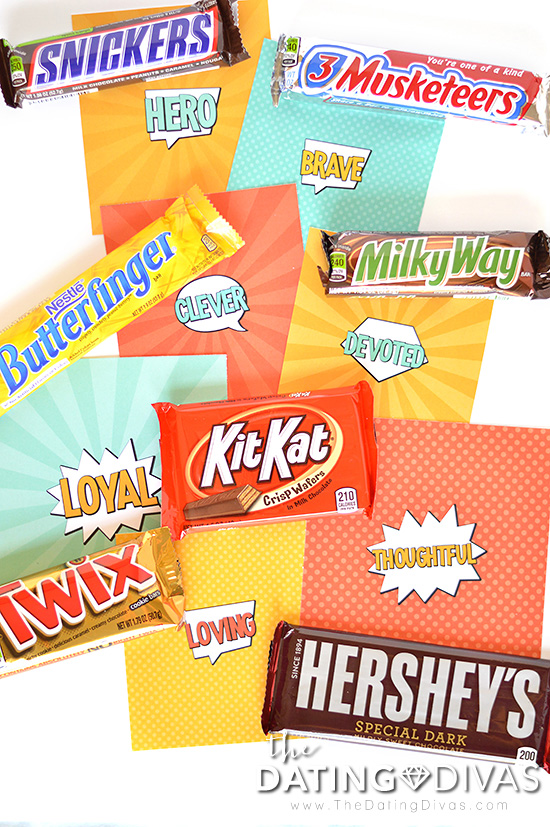 For an added touch of thoughtfulness, wrap at least a few of the candy bars with a personalized wrapper. Each wrapper has a sweet adjective that describes dads, so you can pick the ones that describe him the best. Now it's not just sweet treats, but sweet words as well. He'll love the kind gesture.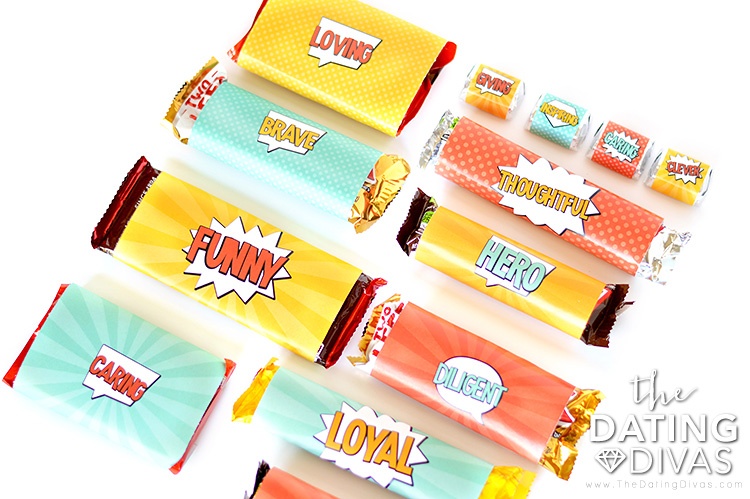 The candy bar wrappers come many shapes and sizes to accommodate all candy bars, plus if one is a tad long, they're easy to cut to fit. The largest size works great with longer candy like butterfingers or wider candy like Reese's and Twix. The medium size is great for slightly smaller candy bars like Snickers or 3 Musketeers. Don't worry too much if they don't fit all the way around, the front is what matters most.
Father's Day Superhero Candy Skewers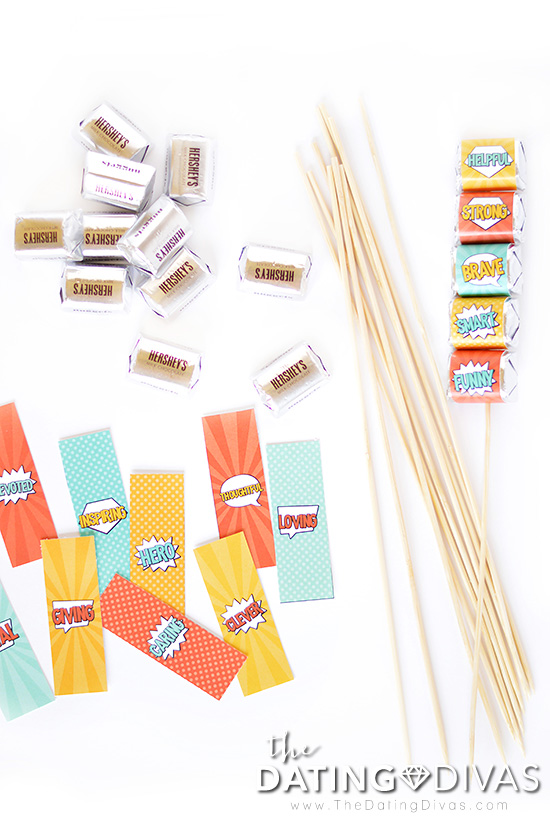 I love how the mini candy bar wrappers turned out! It gives you the opportunity to add TONS of kind words without taking up too much space in your basket. These fit perfectly around Hershey Nuggets, but you could also use any smaller, pre-wrapped candy like Dove Chocolates.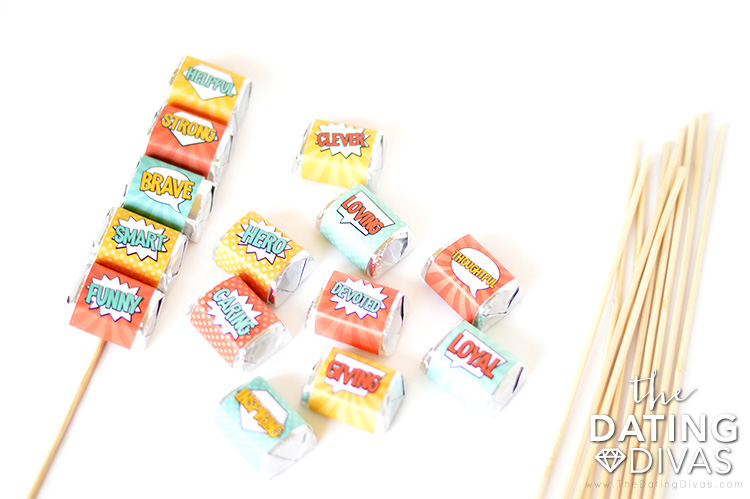 Just wrap each mini candy individually and stack them up on a skewer. Simple and sweet.
Candy Bouquet Tips
Want a picture-perfect, superhero Father's Day gift basket? We've got a few pointers to help it come out exactly the way you want.
Buy a variety of candy bars and a few more than you think you'll need. It helps to have options as you're arranging, PLUS it never hurts to have extra candy lying around and you can always use one of these ideas to use it up!
Use SUPERhero strength tape. Seriously. The strongest duct tape, florist tape, whatever. Super sticky.
Print the bucket sign and basket fillers on cardstock so they're sturdy and will stand up on their own but print the candy bar wrappers on regular paper to make wrapping each candy easier.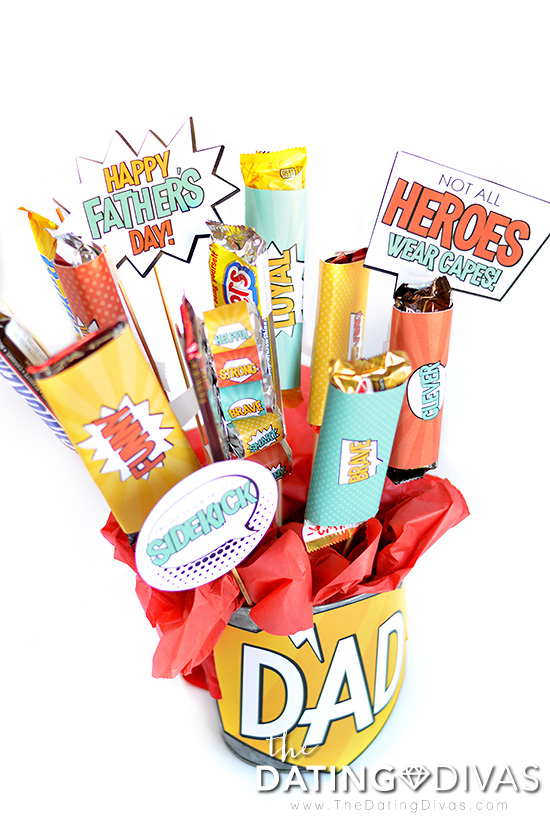 Have something heavy on hand to weigh down your bucket. I actually just filled the bottom of the bucket with more candy!
Start with the biggest, heaviest, tallest candy and put it in the back. Add the basket fillers last.
Cut a few skewers to give the basket some height differences.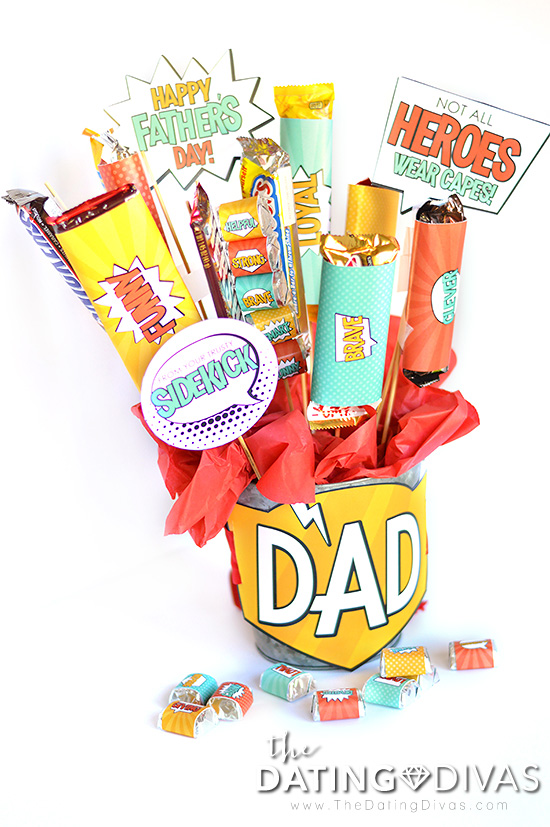 Hope you and all the SUPERDADS in your life enjoy Father's Day with these perfect candy bar gift basket ideas for men!
SaveSave
SaveSave
Superhero Father's Day Candy Bouquet
Printables Designed by Carisa @ Messes to Memories Exclusively for The Dating Divas