Candy Bouquet for DAD
Dad's deserve every bit as much attention as Mom's on their special day! But what do you get for the best dad out there on Father's Day? A flower bouquet just doesn't mean much to dear ol' dad! Our sweet Corie had this clever idea to create a bouquet for her husband minus the flowers! This fun and clever twist on a bouquet is one that Dad's will actually LOVE… and enjoy every bite! It's pretty easy to create, too! You ready to make your Dad a Candy Bouquet?

Disclaimer: This post contains affiliate links. To learn more about 'em, click here.
I must say that putting together a fun craft like this for my husband is usually more fun for me than it is for him when he actually receives it! What can I say? I get excited about these things! But when my hubby came home to this fun bouquet, he really was surprised! It was something so unique, bright, colorful and edible… he was totally impressed!
Here's what you need to impress your hubby or dad with one of these cool candy bouquets:
These bright and sweet printable cards just for Dad were designed by Messes to Memories. There are 4 different cards to choose from! I love how the cards use common colors from candy bars so that they match the bouquet perfectly!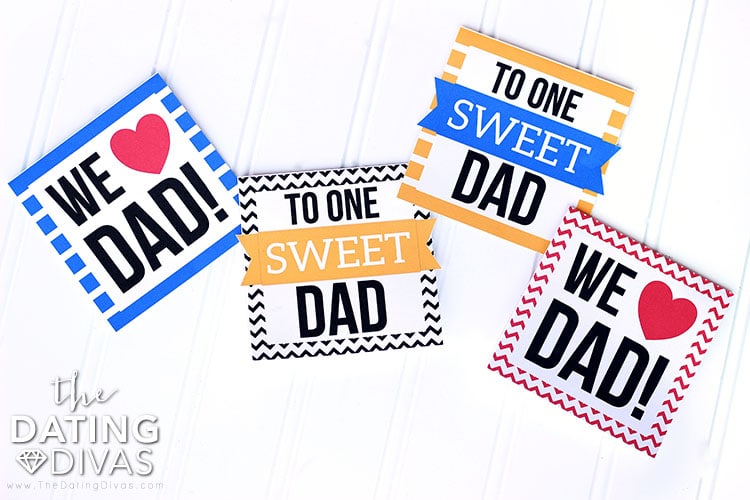 Now let's get crafty with candy! First step, gather your supplies.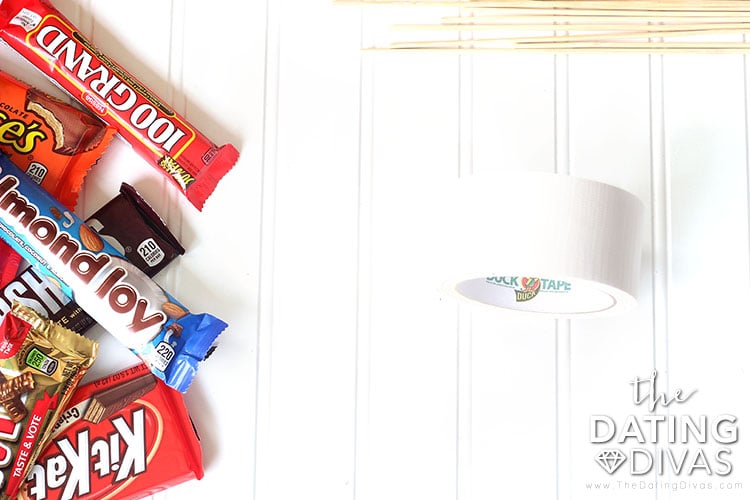 Using a heavy duty tape, like duck tape. Attach one skewer to the back of each candy bar. I attached the tape at the top and the bottom to make sure that it would be secure!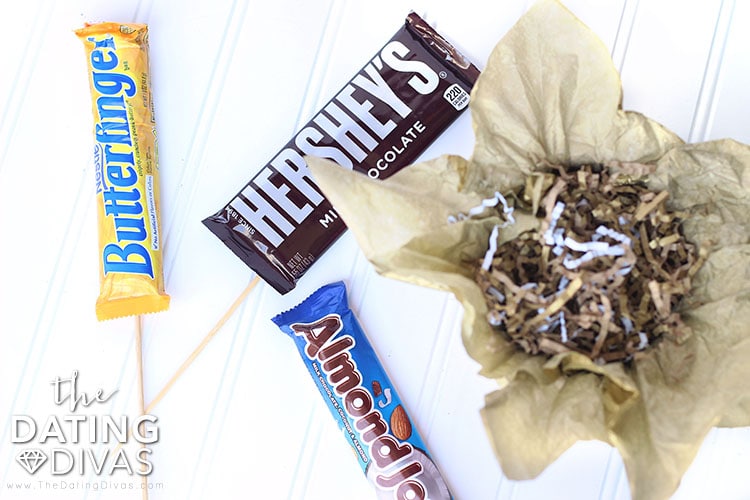 Grab your bucket and fill it with a styrofoam block or ball. I used a styrofoam ball and cut it in half.
Add some tissue paper or crinkle paper for a little pop of color and fun! We thought gold was the perfect pairing with all the yellows, blues, reds and blacks!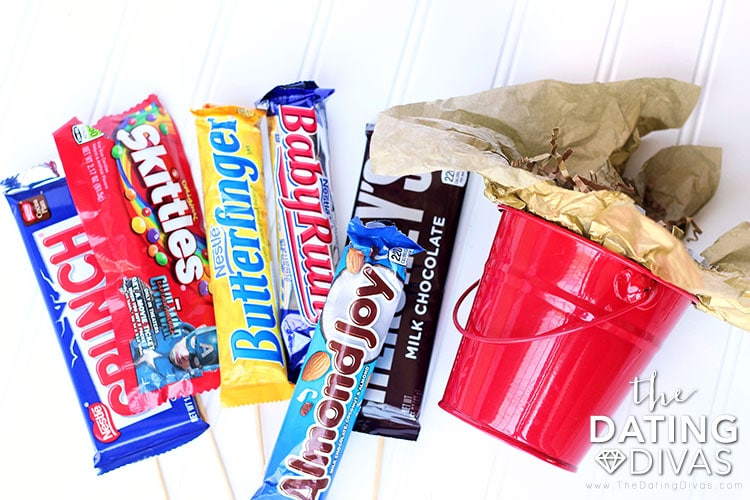 Once your bucket is ready to go and all your candy has been attached to the wooden skewers, you're ready to start placing the skewers into the styrofoam ball. You'll want to play with spacing, levels and layers to get the look that you want!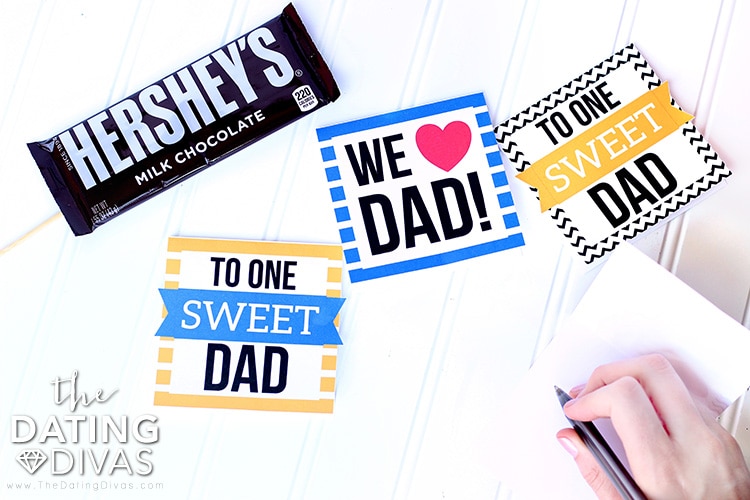 Don't forget to grab a card and write a sweet note to that special man in your life! Let Dad know how much you love him this Father's Day!!!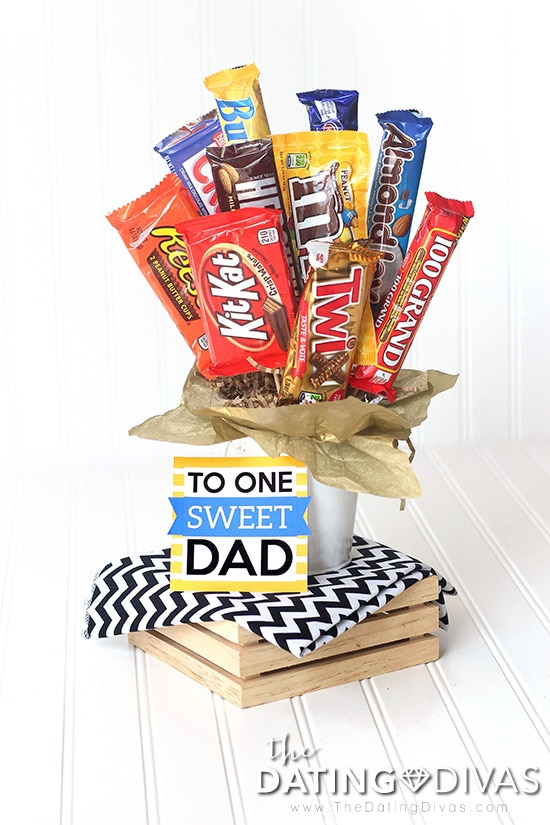 Ta da!! Leave this delicious surprise where dad can find it!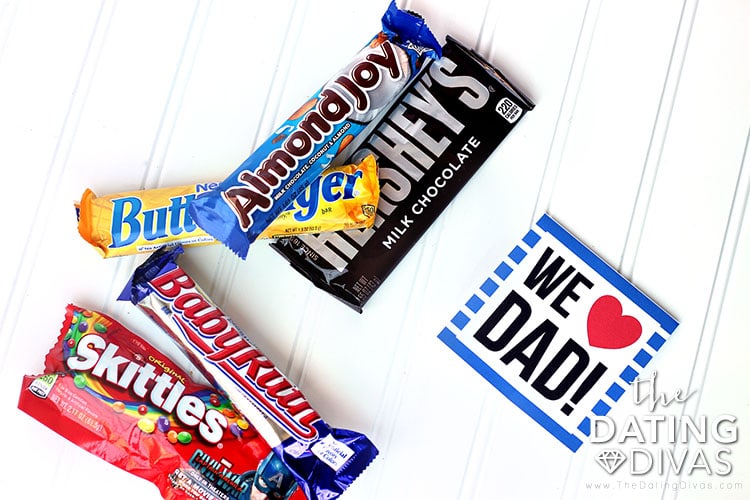 This is perfect for Father's Day! But really, you could make a sweet bouquet to tell your spouse or your dad you love and appreciate him any time!