So you're looking for a sweet gift idea?! Well, you've come to the right place! Today we're going to set you up for success with a DIY Candy Bouquet! This is such a cute gift idea for anyone on your list – Mother's Day, Father's Day, Valentine's Day, even birthdays or a pick-me-up gift, a candy bar bouquet is such a cute gift idea for almost any occasion. Who wouldn't be thrilled with a bucket of chocolate?
Check out this video to see how to make a candy bouquet.
Or scroll to keep reading for more details.

Disclaimer: This post contains affiliate links. To learn more about 'em, click here.
Better Than Flowers
A flower bouquet is nice and pretty, but a candy bouquet is next level! Our sweet Corie had this clever idea to create a bouquet for her husband minus the flowers! This fun and clever twist on a bouquet is one that Mom's, Dad's and really anyone will really LOVE… and enjoy every bite! It's pretty easy to create, too! Are you ready to make your own candy bouquet gift?
Great for Any Occasion
I decided to make this for my husband for Father's Day! But we totally suggest this idea for other special occasions. I must say that I usually get more excited about putting together a fun craft like this for my husband than he does when he actually receives it! What can I say? I get excited about gift giving! It's my love language, for sure!
But when my hubby came home to this fun bouquet, he really was surprised! It was something so unique, bright, colorful and edible… he was totally impressed! The awesome thing is that even the kids can help put candy bars on skewers and stick them into the styrofoam ball! See?? Perfect DIY gift idea!
Get Started on your Candy Bouquet DIY Project
First step! Gather all the supplies to make these cool candy bouquets. No worries, we've got a list right here for ya to make it easy:
A bucket
Styrofoam ball
Wooden skewers
Tape
Tissue paper and/or crinkle paper
Your hubby's favorite candy bars
And of course, a sweet card…
These bright and sweet printable cards were designed by Messes to Memories. There are 2 different designs to choose from! Each design has 3 options for MOM, DAD, and a more generic one to gift to anyone. I love how the cards use common colors from candy bars so that they match the bouquet perfectly!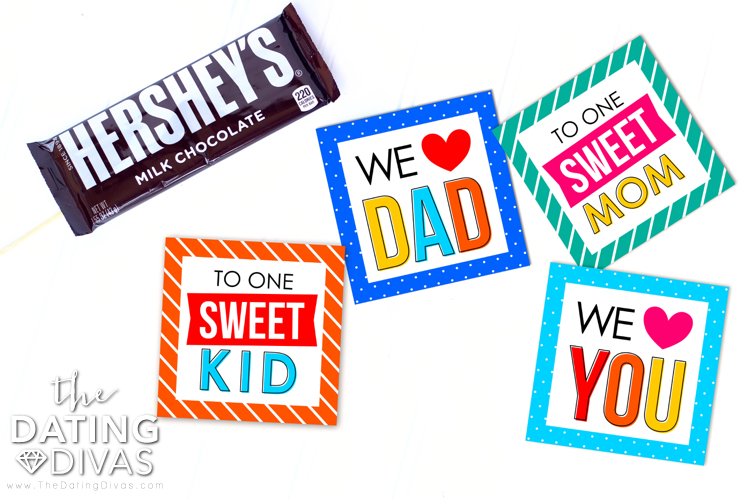 Now let's get crafty with candy! Once you've gathered your supplies, you're ready to knock out this DIY project quickly!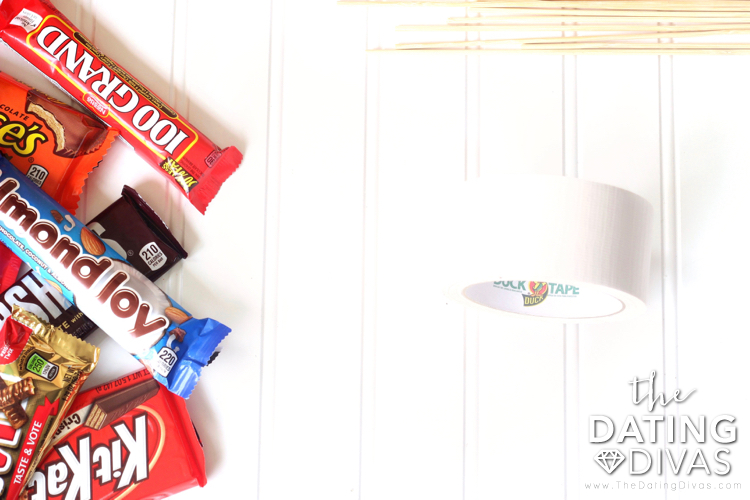 Using a heavy-duty tape, like duck tape, attach one skewer to the back of each candy bar. I attached the tape at the top and the bottom to make sure that it would be secure! I had my kids help me with this part so they could help me gift our sweet candy bouquet.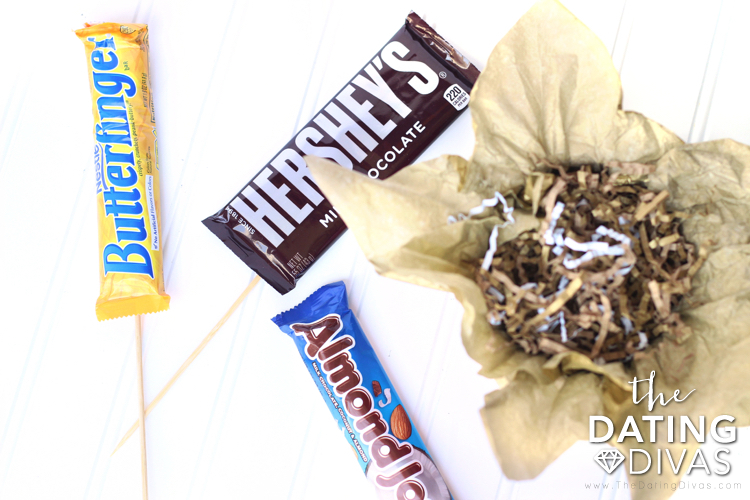 Grab your bucket and stuff it with a styrofoam block or ball. I used a styrofoam ball and cut it in half. I also had to put a small weight in the bottom to balance out all those candy bars! Chocolate is heavy!
Once your bucket is ready to go and all your candy has been attached to the wooden skewers, you're ready to start placing the skewers into the styrofoam ball.
More Candy Bouquet Ideas
To make your candy bouquet look polished, add something to the base of the candy bars like tissue paper, crinkle paper, tulle or ribbon! We added some tissue paper and crinkle paper for a little pop of color and fun! We thought gold was the perfect pairing with all the yellows, blues, reds and browns!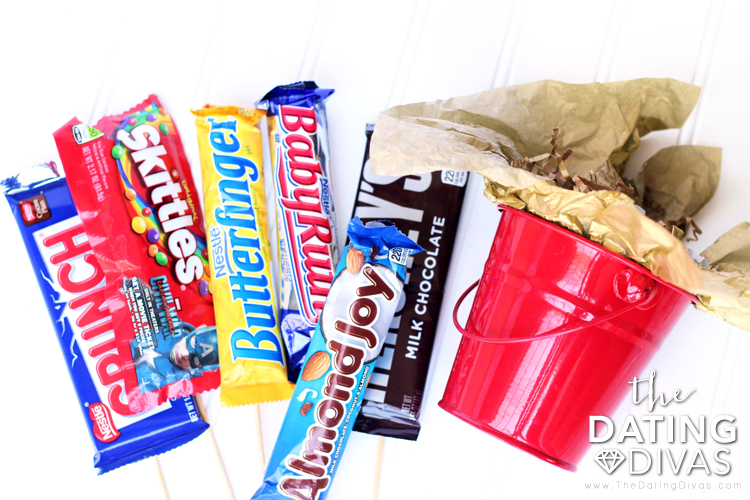 To make the perfect candy bar bouquet, you'll want to play with spacing, levels and layers to get the look that you want! You'll especially want to pay attention to the color of the candy bar wrapper to make sure that the colors are distributed evenly. Don't be afraid to move the candy bars around even after you've placed them.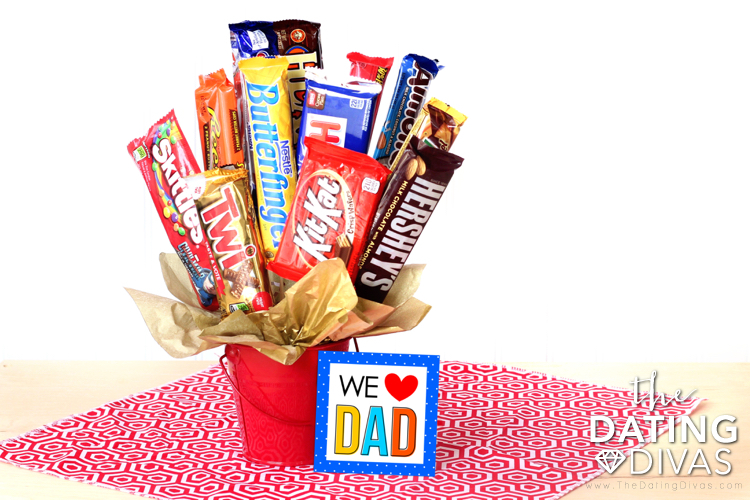 Don't Forget the Card
Grab a card and write a sweet note to the special someone you are gifting this sweet candy bouquet! These foldable cards open up and have space for you to add a little note inside. Let them know how much you love them!!!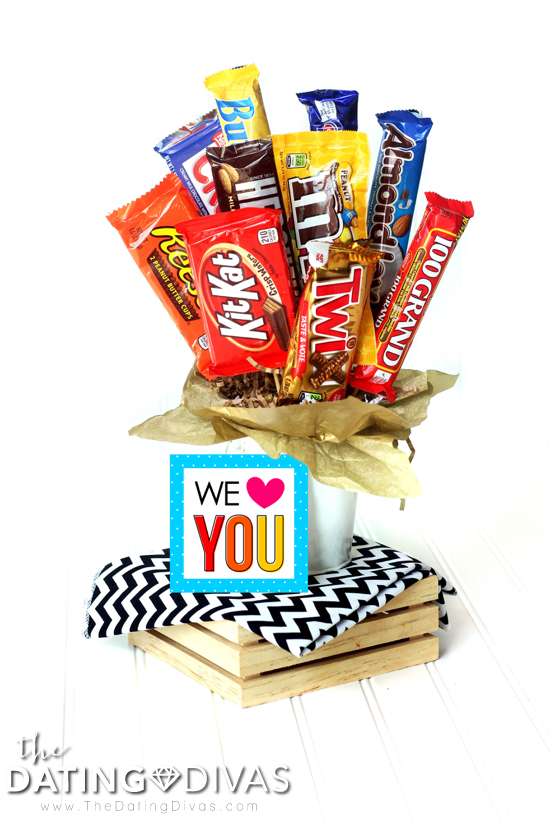 I am absolutely in love with this generic card that can be used for literally anyone. Well, anyone that you love 😉 This card works for everyone, your aunt, uncle, friend, grandma, grandpa, teacher and the list goes on. Ta da!! Leave this delicious candy bouquet surprise where they'll find it!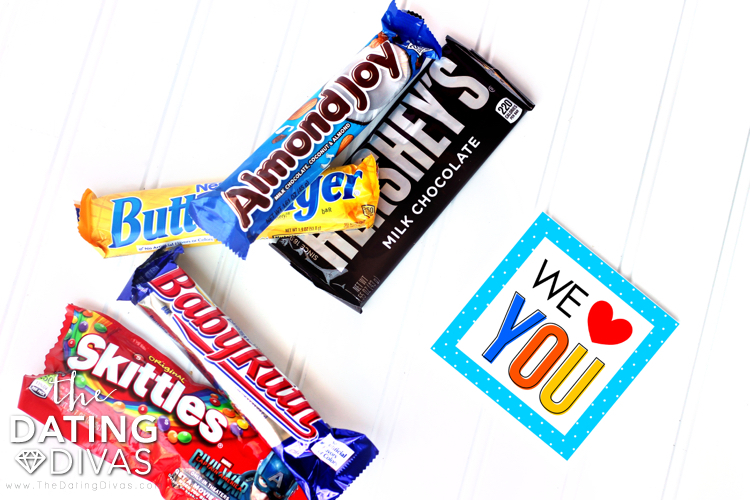 This is a perfect gift idea! You could gift this sweet bouquet any time to let someone know that you love and appreciate having them in your life!
Download the Candy Bouquet Cards Below!