DIY Explosion Box Tutorial
For expressing my love to my husband this year, I bypassed the oodles of traditional grocery store cards and decided to make my own! I am always looking for something a little more special because, well, HE is more special. He is deserving of something that lets him know that I love him so much that I can make a little more effort for him than just any old card. When I made this DIY explosion box card for him, I knew it was the perfect thing! It has an element of curiosity, a unique surprise (look at all the pages!) and it was so personal/meaningful–everything I would want to give my love to show him that I care! Lucky for you, we have made creating your own DIY exploding box super easy with step-by-step instructions, ideas, and even templates!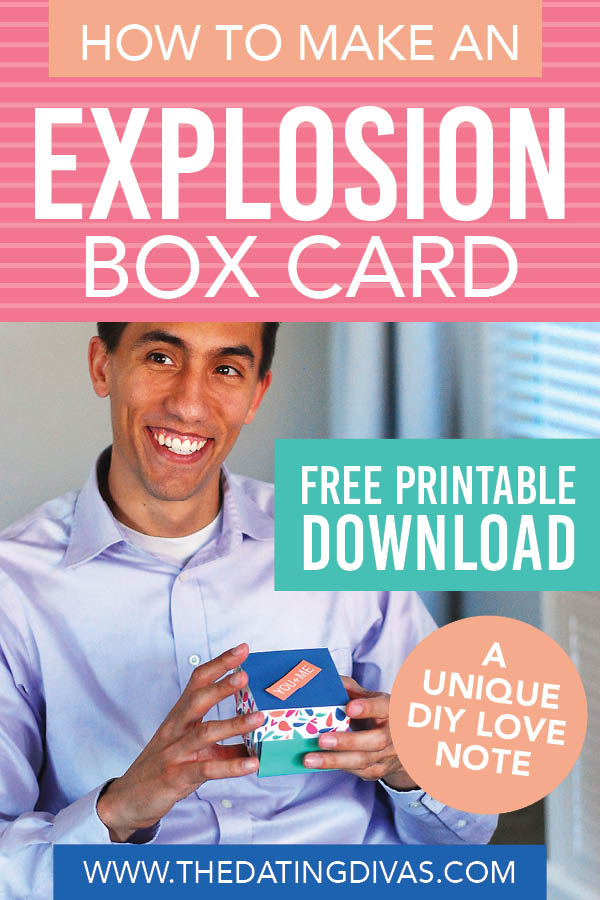 Disclaimer: This post contains affiliate links. To learn more about 'em, click here.
How to Make an Explosion Box
I am all for making something meaningful but also quick and easy (they don't have to know that you whipped it up super fast, right?).  This explosion box card is the perfect balance of looking like you took hours but in reality, it doesn't. That is a win in my book! Because of the easy-to-use templates, you don't have to find fancy paper or even measure! Just print, cut, glue and personalize! We have made it super easy for you to make these exploding cards!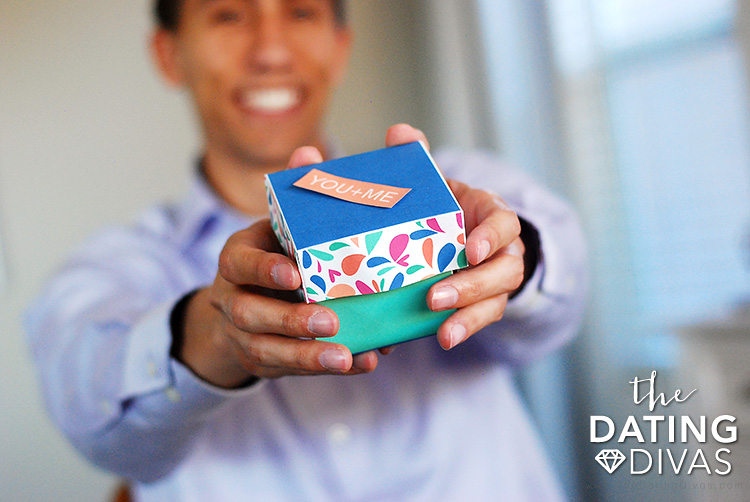 This exploding box card is just what it sounds like. The gift itself is a little box and when the lid is removed, the box sides "explode" out with over twenty sides to cover in creative ways. Well, maybe "explode" sounds a little more dramatic (if you were picturing fireworks and smoke) but it does dramatically spill out for a fun surprise. Exploding cards that explode with all of your love and memories.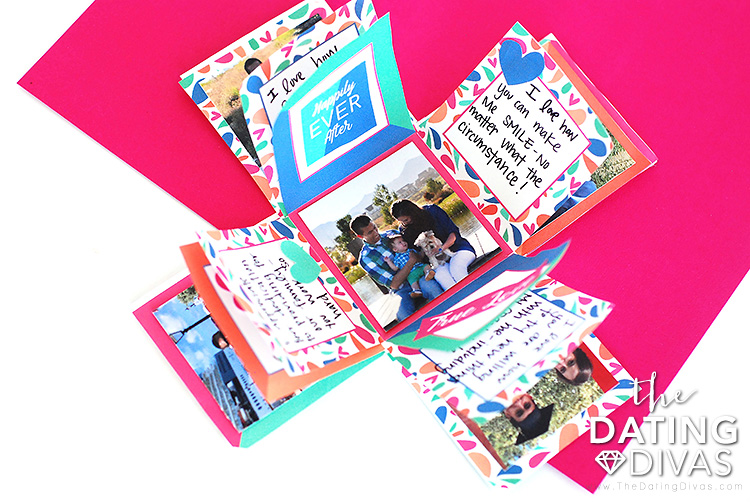 What You Need for the Card:
When making your own box card you will need to grab some supplies. Exploding cards are not complicated to make, you only need the following to get started:
How to Make an Explosion Gift Box
Exploding cards are cute, clever, and much more meaningful than a regular card. In a single box card you have created a meaningful gift that can be kept forever! So let's get to it, here's how to make an explosion box.
Step 1: Print the Templates
Download and print the free PDF printables from the link at the bottom of this page. Your explosion box templates will include three slightly different sized layers, a lid, and an outside layer. All of these pages are pre-measured and labeled so all you need to do is print and cut them out.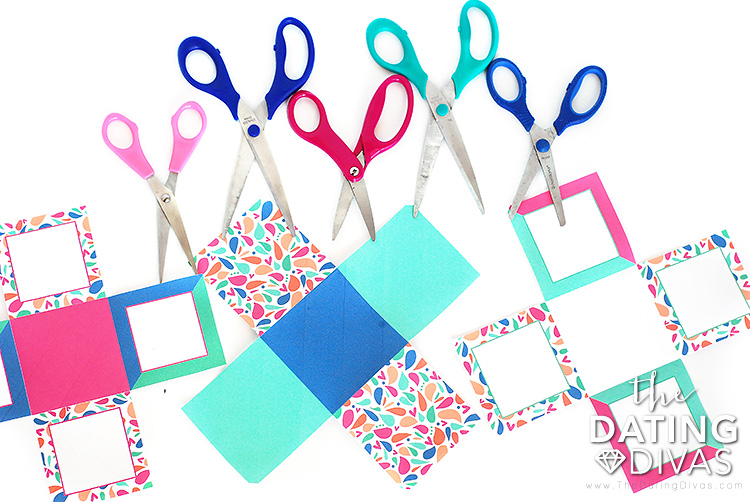 Step 2: Fold Your Explosion Box
Carefully fold each of the square edges of the box card template. We made it super easy for you to see where to fold by changing up the color for each square. You can use a ruler and or bone folder to make your lines crisp and straight. Keeping everything as straight as possible will be very important in this project.
Step 3: Glue The Layers To Your Explosion Box
Now, you need to put all of your layer pieces together. Start with layer 3 on the very bottom and position layer 2 so that it is nestled on top of layer 3. Use adhesive to glue the backside of the center white square of layer 2 to the front side of the center white square of layer 3 (I promise that is easier than it sounds!).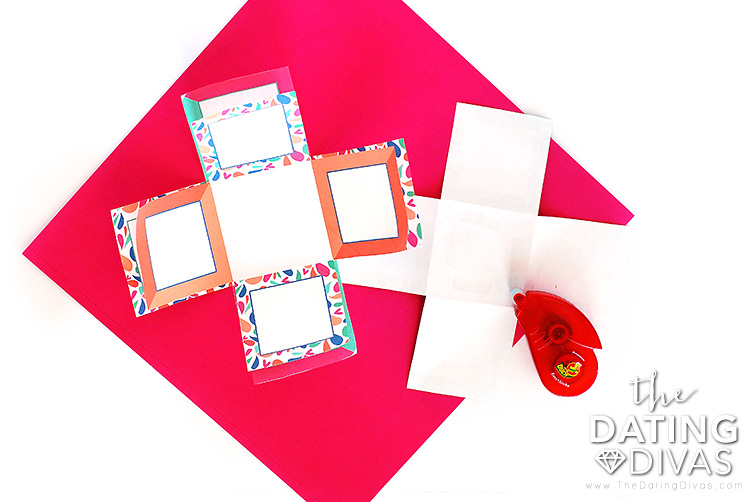 Do the same steps to attach layer 1 to layer 2. Make sure that they are centered nicely and fold the sides in again.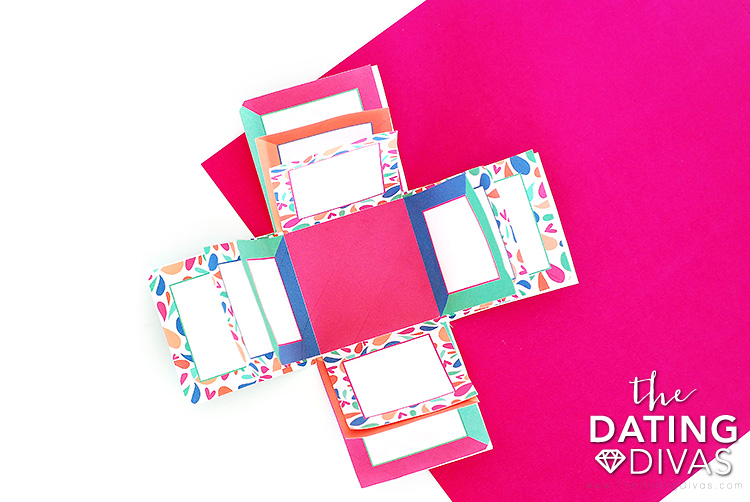 Step 4: Glue the Outside Layer of Your Explosion Box
In order to have your explosion gift box be colorful on the outside as well as the inside, we have one more layer for you. Apply adhesive to the entire backside of the outside layer and carefully press the outside layer onto the backside of the most bottom layer of your box (layer 3).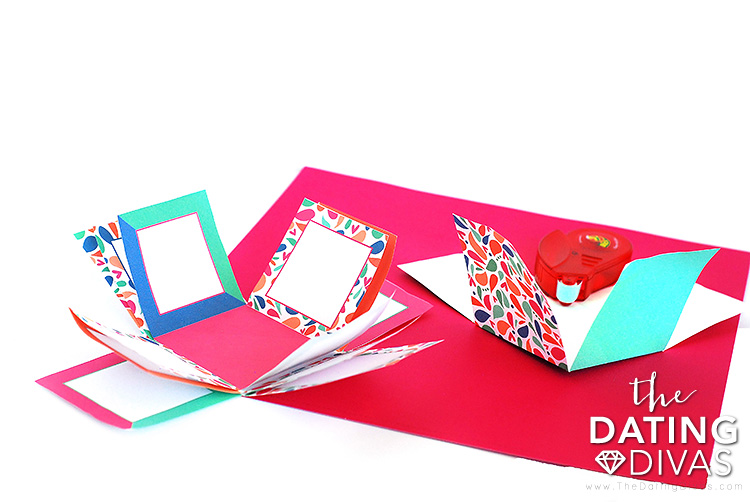 This will give layer 3 a two-sided look and give your box a fun pattern even when it is closed. If you are using your own paper and it has color on both sides you can skip this step.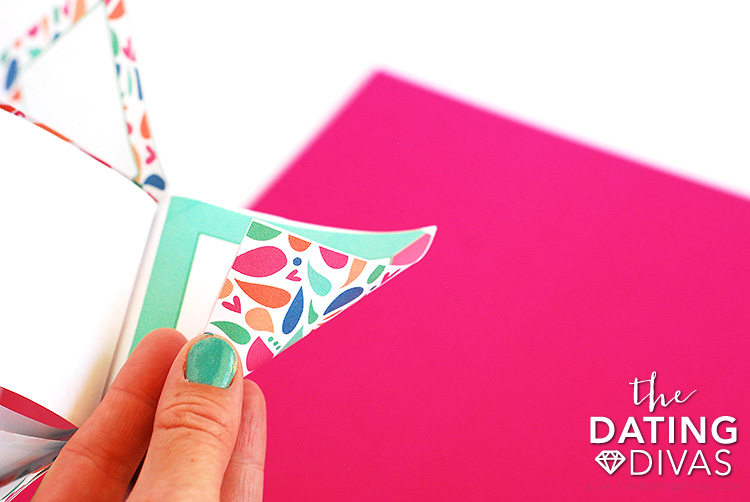 Step 5: Make Your Explosion Box Lid
Finally, you will want to make the lid to be able to close your box. Go ahead and fold along all of the lines distinguished by a new color/pattern. Then, apply adhesive to each of the pink squares.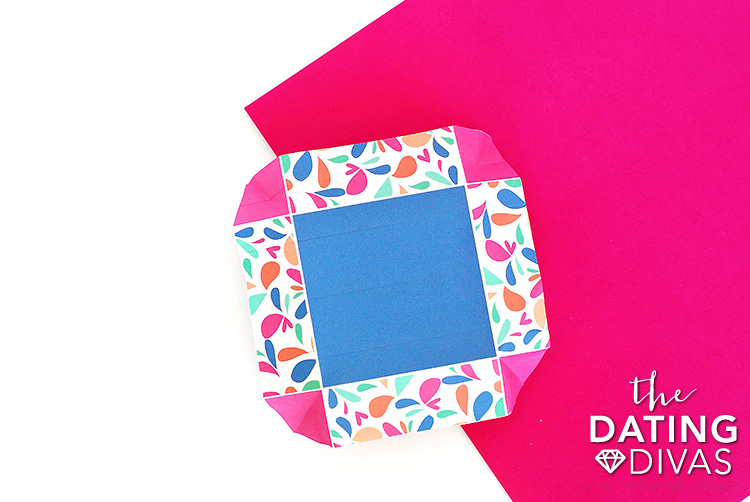 Now for the trickiest part of all – take a pink corner square and pinch it so that the patterned sides come together and the adhesive presses the two pink sides together. This will convert the pink square into a small triangle on the inside of the box. Secure with a paper clip until the adhesive dries and repeat with the three remaining pink corner squares.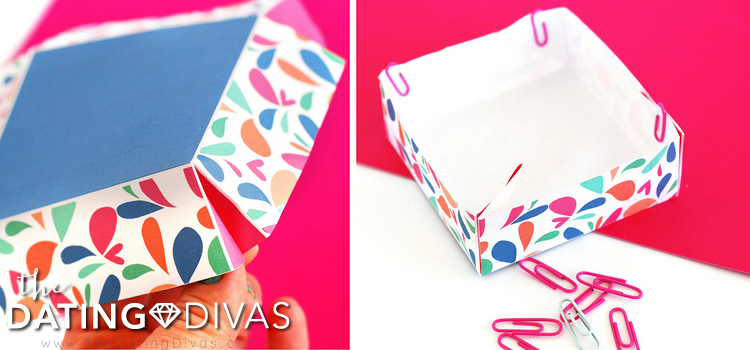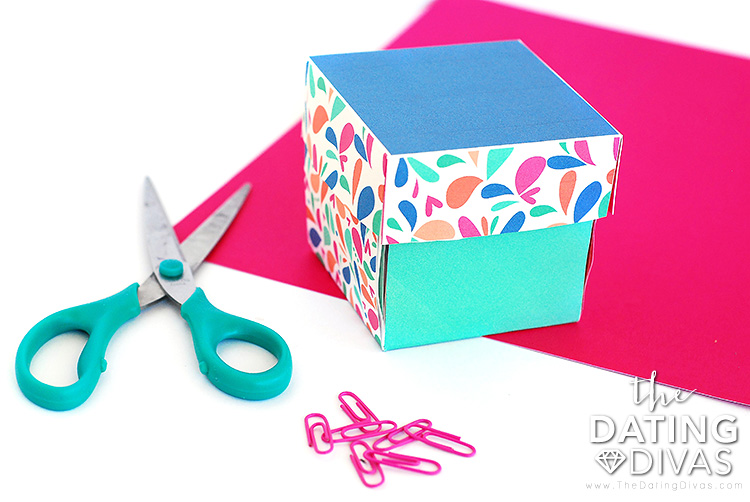 Now, fold the sides of your exploding box toward the center and place your lid on top to hold it all in. When that lid is removed it should all explode out! It might seem like a lot of assembly instructions, but the pictures really help, so let me suggest that you just go ahead and save this idea on Pinterest so you can come back and look at exactly what we did.
Step 6: Personalize Your Explosion Box
Now it is time to personalize your explosion box card! This is what I love most about this card. This isn't some card from the store that has one distinct place to write a message. This unique love note has twenty different flaps that you can customize with special pictures, mementos, personal messages from you – whatever you want.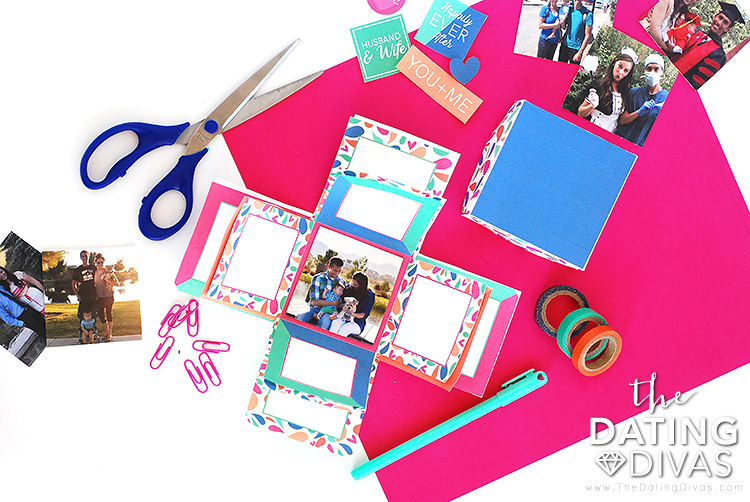 To really give your project that extra special touch, we have created several coordinating embellishments for you that you can add to the flaps of your love note. The sweet phrases and images are easy to add and will give your love note a finished, cohesive look.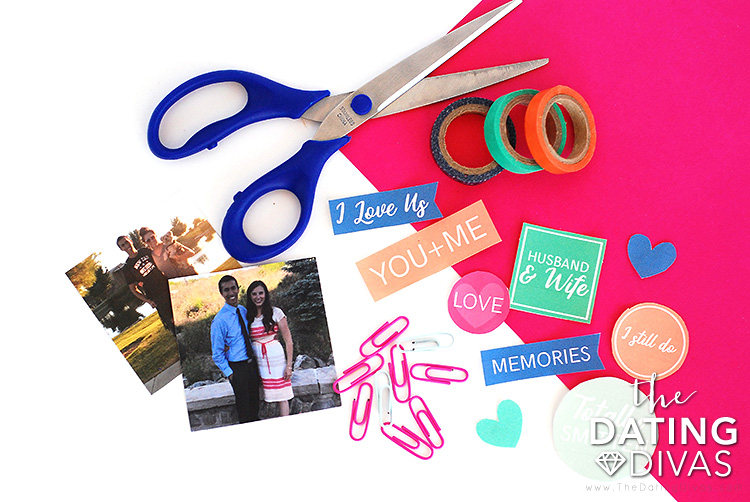 Explosion Gift Box Ideas
I just love the uniqueness of this card, but also all of the options. The possibilities for what you could do with this box are endless. You could make an explosion box card for just about any special occasion: birthday, anniversary, Valentine's Day—you name it! You could even do this "just because" as a way to say, I love you.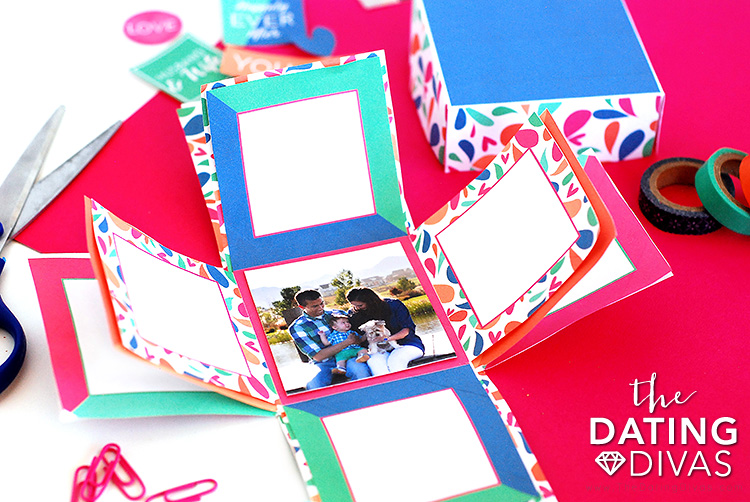 The possibilities are endless for what you can add to the sides of your explosion box. The first explosion box card that I ever made I wrote something I loved about my spouse on about half of the flaps and the other flaps I placed pictures of us together. This time, I tried to write things I love about him as well as favorite memories that we have shared together (to coordinate with the pictures!).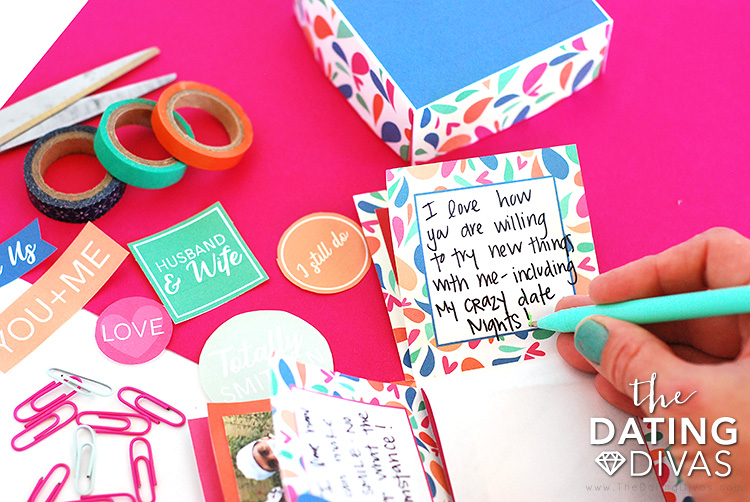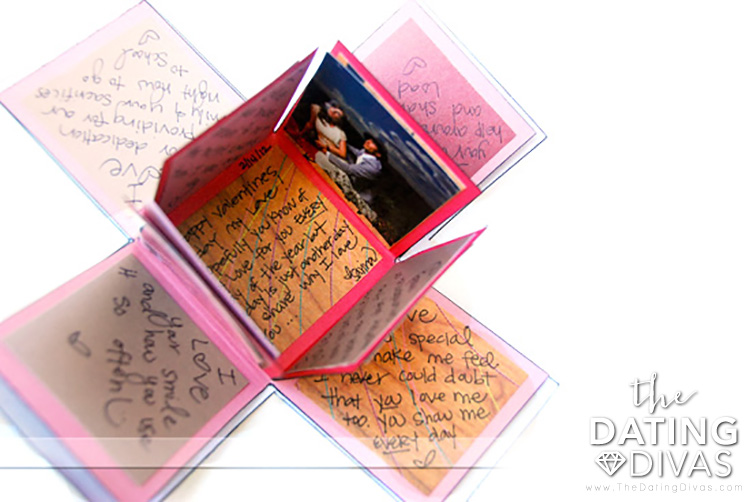 Creating a Card of Your Own
We have tried to make everything extra easier for you by creating pre-designed templates. However, it is also an option for you to get really creative and use your own paper. Our printable PDF can be used as a template to trace the shapes onto another paper of your choice. Then you can have any colors or patterns you can dream of! For example, for the next box that I do, I want to get a map of somewhere we travel to and use that as the paper. Then, I will fill the flaps with favorite memories and pictures from the trip. Wouldn't that be amazing?
The Exploding Box is a fun and creative way to express your love in a very personalized way! Now that you know how to make an explosion box when you make yours, make sure to snap a pic and tag us @datingdivas or #datingdivas or add it to a pin on Pinterest so we can see how you personalized yours!