Turn Your Shopping Trip into a Target Date Night
Tik Tok may have recently made the Target date challenge popular, but we've been taking dates to Target for years! This might seem crazy, but date nights at Target are one of our favorite dates! First of all, Target has pretty cute and stylish stuff – don't ya think? And second, Target is just a nice store to roam while picking up a few everyday essentials, not to mention scouring the dollar spot for a few fun finds. We've come up with some pretty fun and entertaining games to play at Target from our many date nights out over the past several years. Even if a trip to Target isn't your go-to date night, I'm pretty sure you'll enjoy some of these challenges enough to make one amazing Target Date Night you'll always remember.

Disclaimer: This post contains affiliate links. To learn more about 'em, click here.
We don't have a lot of date night's out. But on the rare occasions when we do get a babysitter, we will often wind up going to Target before the night is over. There are a couple reasons for this. I really don't enjoy shopping with kids in tow, so I'll often procrastinate shopping trips, which means I usually need something while we're out on date night and my husband is always so willing to go to Target if he knows it will help me out. I never get the chance to go shopping without kids, so I actually really enjoy taking it easy and just roaming the aisles with my husband.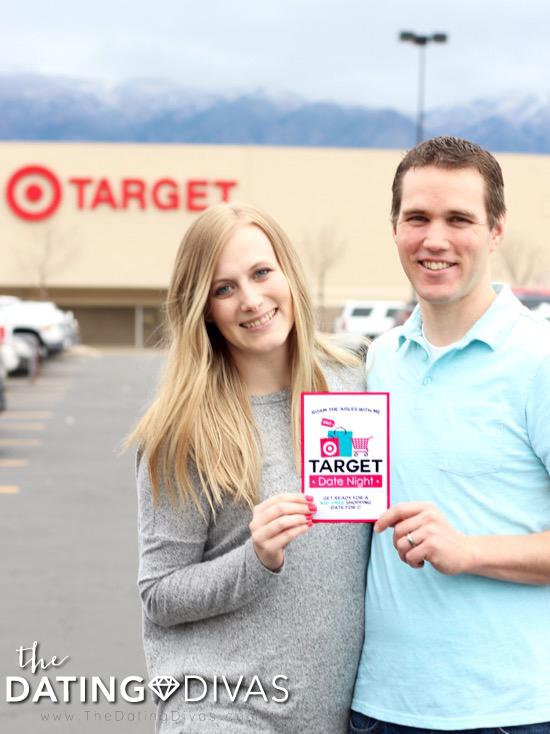 Plus, Target is probably the only store my husband would agree to go to on our date night! He's a trooper! Ha – he actually tells me he loves to go shopping with me. How sweet is that? And he's actually the one that came up with the game that I'll be sharing in this post. Before you forget, pin this date idea to your Pinterest board now!
Target Date Night
I feel like this is a "real life" date night! Growing up, my parents would often just go shopping for date night. I never really understood why they would choose to do that, but now I kind of do! I feel like it's something that a lot of couples do when they have a kid-free date night. But we've taken this simple shopping date idea up a notch and provided a few games and challenges to make it more exciting! Just like any other date, you can plan it in advance and send your spouse an invite to give them a little anticipation.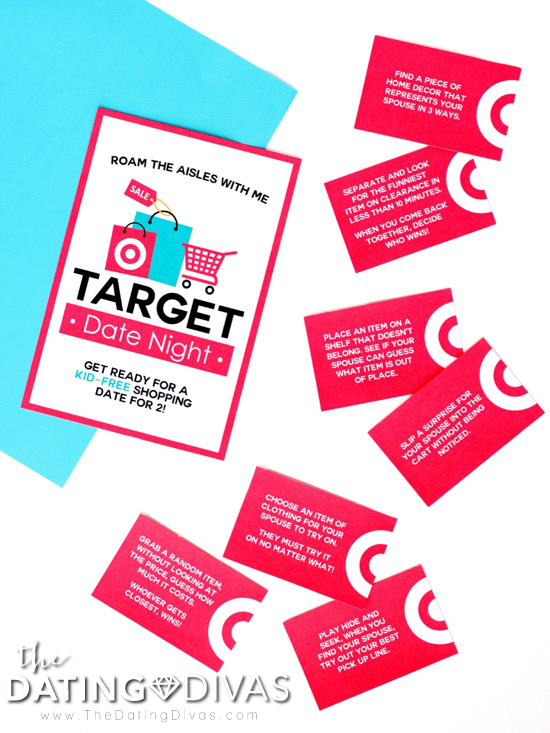 Or for a last minute date, download the digital Target Date invite and send them a text. This still lets your spouse know what's on your mind for date night in a fun way!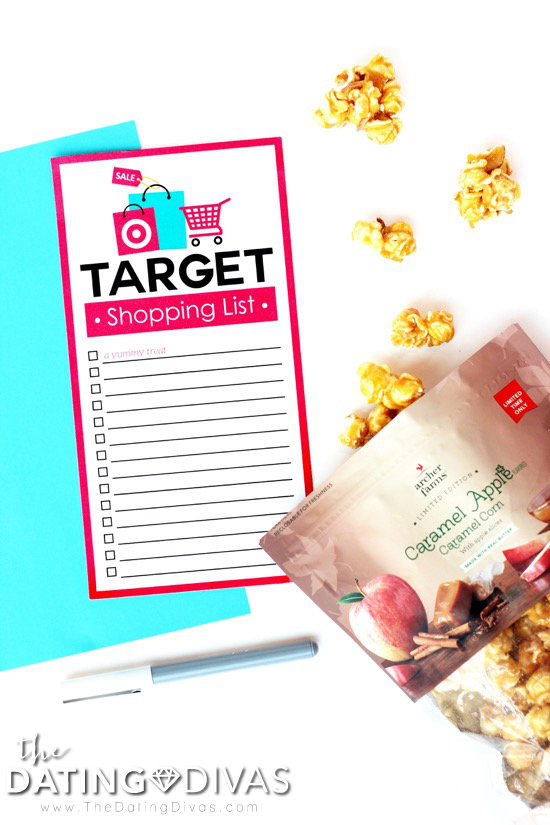 Before your date night starts, make sure you fill out anything you might need on your Target Shopping List. We've added a must-buy on the first line for ya… you're welcome!
Target Shopping Game
It was our 4th anniversary, we were out window shopping and my hubby came up with this game and we've enjoyed playing it ever since! We were browsing a boutique in the mall while we were waiting for our dinner reservation at The Cheesecake Factory. Scott calls me over and says, "Hey, let's pretend that price doesn't matter, look at this shelf and choose one thing that you would love to have, then I'll guess what you would want!" I smiled a bit because I thought there was no way he would be able to guess. We were looking at a rack of jewelry and he hadn't ever really gotten my style before, but he said he was up for the challenge.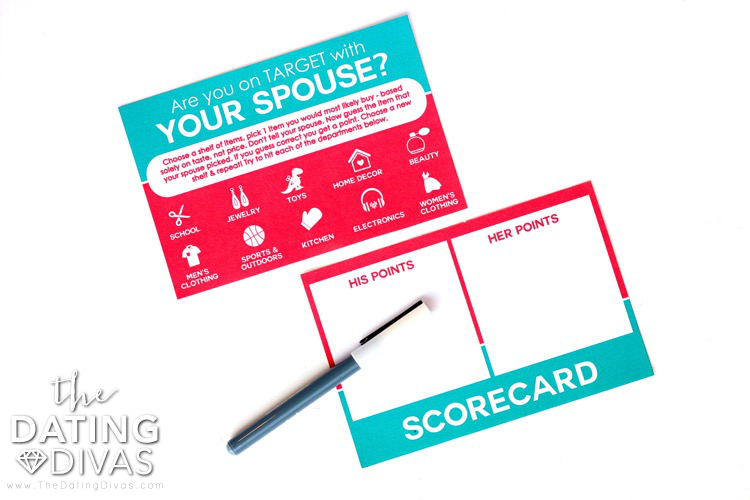 He was way off! We now refer to this as "The Shopping Game" and it is so fun. We have enjoyed playing it at all different stores and my sweetheart has gotten a little better at this game over the years.
Now we've designed some printables to accompany this game. First, you have a fun instruction sheet with 10 different departments for you to hit. There is also a scorecard that you can fold over so that it is on the back of the instruction card, or cut out and keep separate! For each department that you guess correctly, you get a point!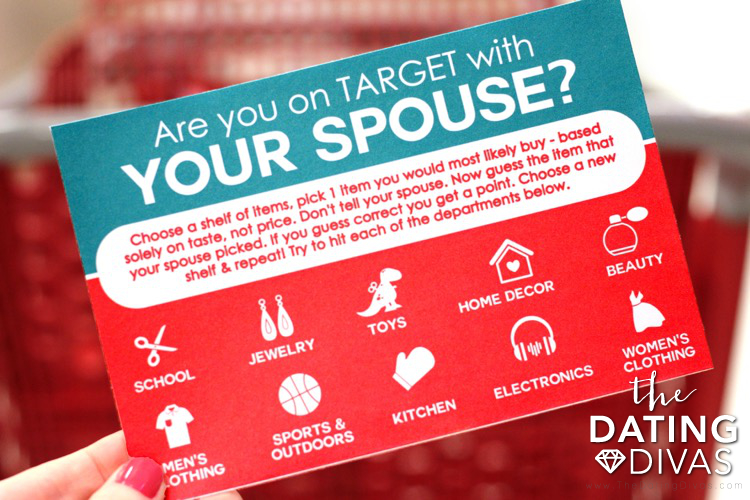 It's okay to be a little competitive!! I sure am – ha!! Not only is this a fun game, it's also a great way to learn more about your spouse's styles and preferences. And get this, this is a great way to do a little research to find out what to get your spouse for a gift… how sneaky is that? Save these cute printables to your date night Pinterest board!
Target Challenges
If the shopping game isn't enough for you, we've got some really fun challenges for you to complete on your Target Date! There are 8 challenges to be exact! There are some really practical challenges that might lead to a purchase or two.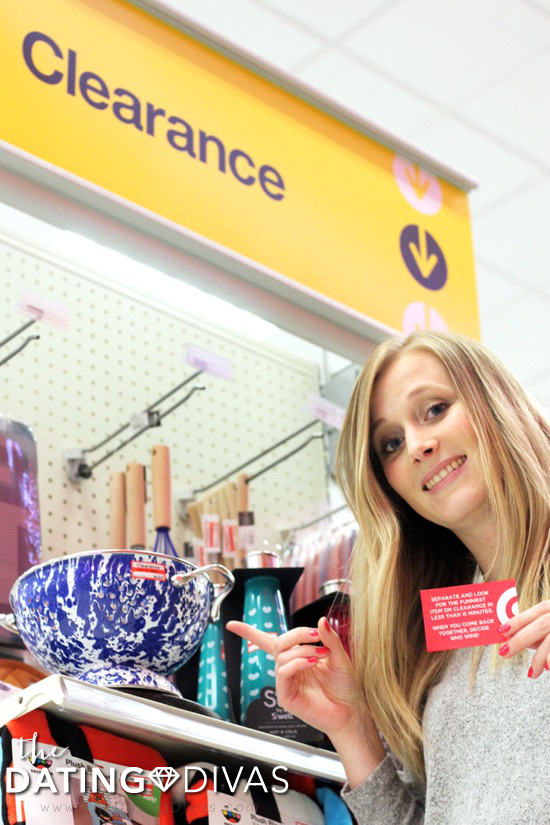 Plus, there are a few fun and flirty challenges to really round out your date. And because no date night is complete without dessert… don't forget to check your Target shopping list and grab a sweet treat to eat.
Target Date Night
Printables Designed by Carisa @ Messes to Memories Exclusively for The Dating Divas
Target Date Digital Invite
Designed by Carisa @ Messes to Memories Exclusively for The Dating Divas