C

O

L

O

R

F

U

L

 

CANDY DATE FOR COUPLES
What's at the end of every Divas' rainbow?? A colorful date night that's cute as can be! This easy-to-prep date night is the perfect way to connect and add color to your love life, while also allowing you to indulge in a little extra sweetness (and we like the sound of that!). With multiple candy-themed games and a rainbow-y invite to help set the stage, this is the perfect prism-themed idea for springtime, St. Patrick's Day, or anytime you find your love life needing a lift! Ready, set, unleash the rainbows!

Disclaimer: This post contains affiliate links. To learn more about 'em, click here.
Who's to thank for this all this candy-colored goodness? Why Carisa from
Messes to Memories
of course! Her brilliant designs totally made this idea a reality and we couldn't have done it without her!
TASTE THE RAINBOW INVITE
Before you begin, be sure and get your hands on some rainbow-colored candies. Skittles are always a fantastic option but there are loads of alternatives out there! Next up, you'll want to slip your sweetheart our Taste the Rainbow Invite. This cutie patootie card will give them all sorts of ideas about the fun to come and has the perfect spot to include the time. So sweet!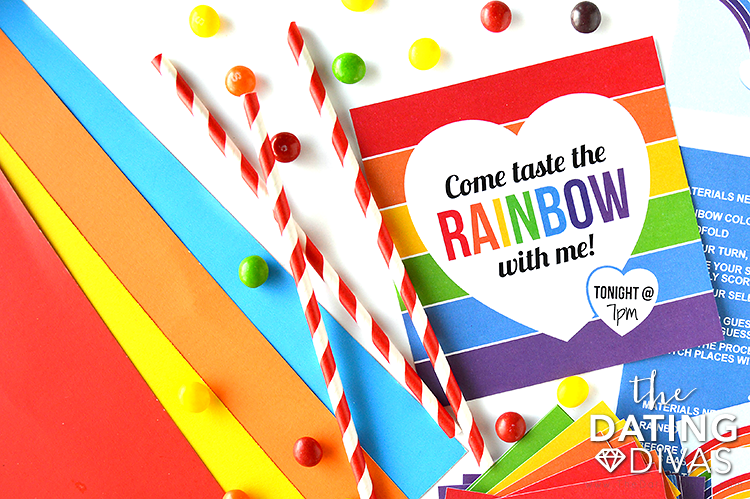 TAST

E

THE RAINBOW GAMES
Included in this date idea is not one, but two fabulous games that go from sweet and subtle to hot, hot, HOT! Our Taste the Rainbow Games Instruction sheet will guide you through both and contains everything you need to know! Pin this date idea on Pinterest!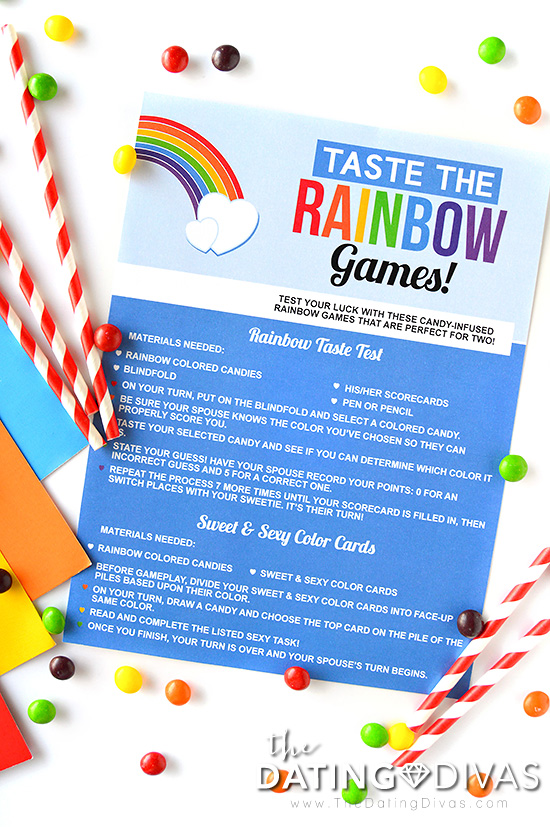 RAINBOW TASTE TEST GAME
First game up, the Rainbow Taste Test. Using our His & Hers Rainbow Taste Test Scorecards, go up against your spouse and see whose taste buds are best! Gameplay is uber simple and incredibly fun. Scoring instructions and gameplay are included on your Instruction Sheet and down below. May the best taster win!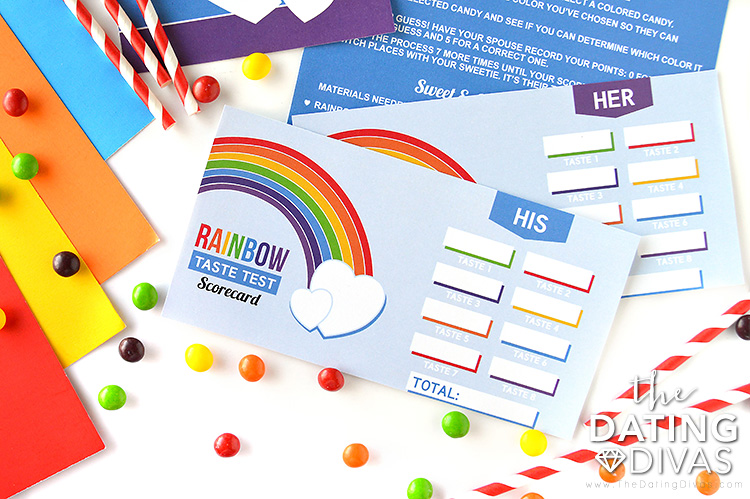 HOW TO PLAY RAINBOW TASTE TEST
Materials Needed:
Rainbow Colored Candies

His/Her Scorecards
Blindfold
Pen or Pencil
On your turn, put on the blindfold and select a colored candy.

Be sure your spouse knows the color you've chosen so they can properly score you.

Taste your selected candy and see if you can determine which color it is.

State your guess! Have your spouse record your points: 0 for an incorrect guess and 5 for a correct one.

Repeat the process 7 more times until your scorecard is filled in, then switch places with your sweetie. It's their turn!
SWEET & SEXY COLOR CARDS GAME
Next up, a seductive game of Sweet & Sexy Color Cards where EVERYBODY'S a winner!  With over 30 task cards, you'll both be on Cloud 9 in no time. Gameplay is simple, involving matching candy colors to cards and getting your sweet lovin' on. Instructions are included on both your Taste the Rainbow Games instruction sheet and below! Save these fun game ideas on Pinterest!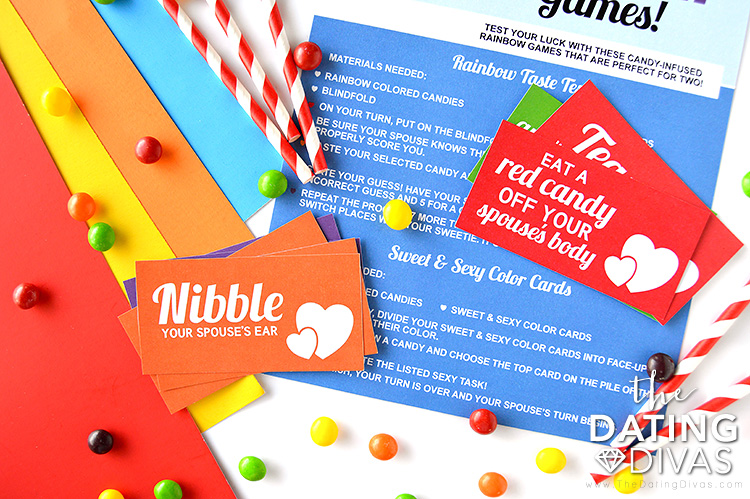 HOW TO PLAY SWEET & SEXY COLOR CARDS
Materials Needed:
Rainbow Candies

Sweet & Sexy Color Cards
Before gameplay, divide your Sweet & Sexy Color Cards into face-up piles based on their color.

On your turn, draw a candy and choose the top card on the pile of the same color.

Read and complete the listed sexy task!

Once you finish, your turn is over and your spouse's turn begins.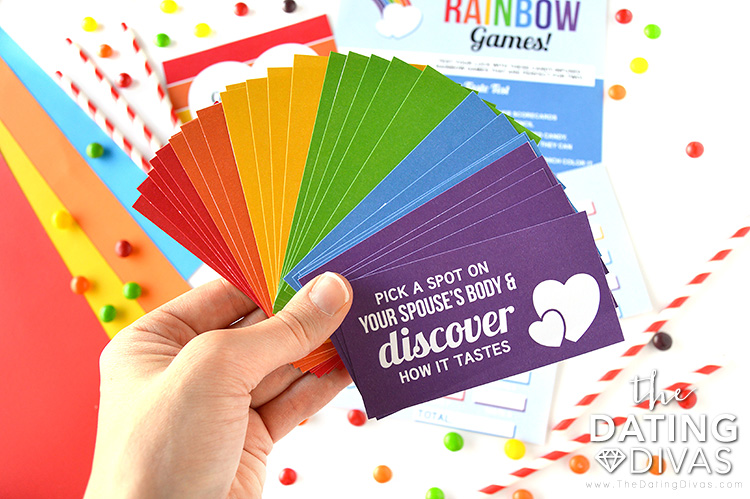 What did we tell you? Somewhere over the rainbow lies the perfect date for two. And THIS is it!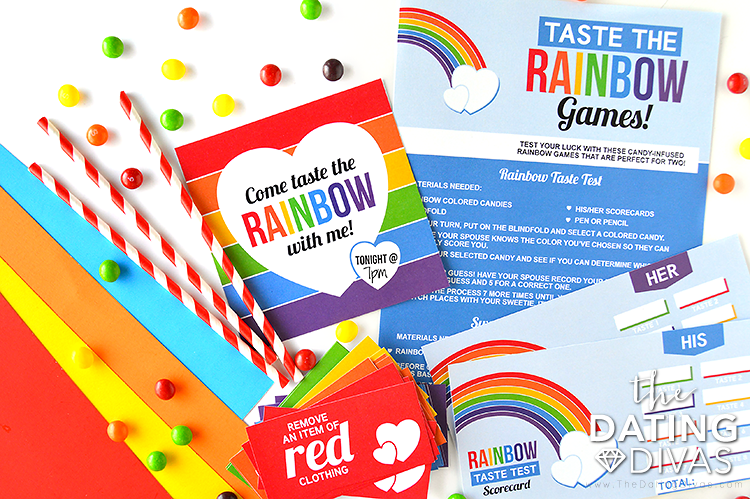 SaveSave
SaveSave
Taste the Rainbow Date
Printables Designed by Carisa @ Messes to Memories Exclusively for The Dating Divas