The Ultimate Marriage Myth Debunked
When you first announce to your friends and family that you are getting married, all smiles and pure excitement showing on your face, it is much like when you announce you are expecting your first child. Well-meaning loved ones shower you with congratulations, and then they start giving you their two cents. They offer advice on everything from how to cook for your husband to tips on how to iron his shirts. The advice I heard the most when I first got engaged and then married was that each spouse should give 50% to the relationship, and as long as you do your part you will have a strong marriage.  So many couples not only believe this advice, but practice it, only concerned with their 50% or whether or not their spouse is giving 50%.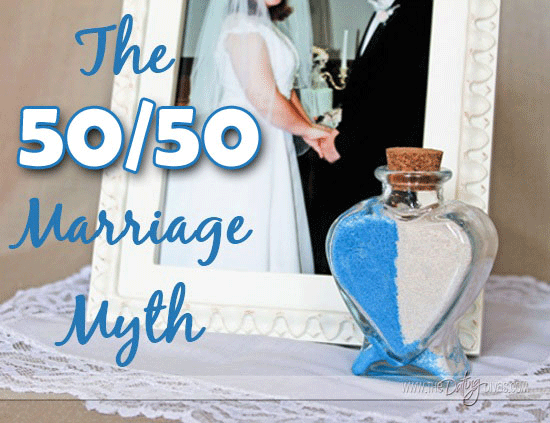 This popular 50/50 advice is a complete myth, and I'm sad to say has led to marital struggles in many marriages. The truth of the matter is that a strong and healthy marriage requires each spouse giving 100%, 100% of themselves, 100% of their love, and 100% of their trust. Both you and your husband have days when giving even 15% is difficult. Whether it's stresses at work, a busy schedule, or a family issue you're trying to work out, there are things in life that keep us from giving what we should in our marriage. But the goal is to have both partners striving to give 100% so that when one of you falls short, the other is there to make up the difference.
Part of giving 100% of yourself is also realizing that this requires you to ONLY worry about you and what you are giving to your marriage. Can I guarantee that if you give your 100% that he will do the same? No. You can not control how much effort your spouse is putting into your relationship, but you can control how much you are putting into it. So only worry about what you can control – you! Know that the extra effort you are putting in will be worth it! Make sure that you are striving to meet 100% of your spouse's needs 100% of the time. This isn't easy, and requires some serious unselfishness. Notice I said striving, though. Unless you are superwoman, you probably aren't going to meet 100% of his needs 100% of the time. But if we strive towards that goal, we will always be putting all we can into our marriages. We all know the greatest rewards come from those things we have to work for, and marriage is hard work. The payoff is so incredible though, that it keeps us working hard to achieve our marriage goals.
That's why the Dating Divas are here! We want to inspire you to put forth the effort, and help you reach that 100% with creative date ideas and ways to show your husband just how much you love him. Check out Wendy's review of The 5 Love Languages book on marriage. It's my favorite book on marriage, and has some fantastic advice on how to give 100% to your marriage!