Grinch Movie Night
We are thrilled to be partnering with Inside BruCrew Life for this Holiday idea packed post!
If you haven't stopped by Inside BruCrew  Life to check out Jocelyn's delicious recipes, go there now! Jocelyn is the baker, photographer, and writer behind the blog Inside BruCrew Life. She is married to her best friend, and they have three great children. When their youngest went to school full time, she began a blog to share fun crafts, recipes and pictures. This blog slowly became a place to share her love of desserts through cupcakes, cookies, brownies, and more. You will find creative and simple recipes on their blog to recreate in your kitchen using baking mixes and sprinkles. Turn premade into homemade with flair as you bake, eat, and repeat with the BruCrew in their kitchen.
Are you ready for amazing ideas for spreading Holiday cheer from The Dating Divas and Inside BruCrew Life?
Introducing The Grinch Dinner and a Movie Date!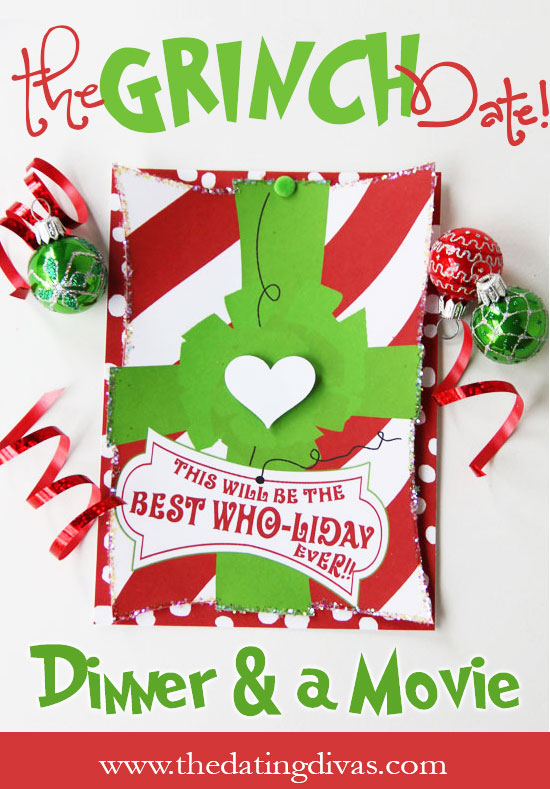 Disclaimer: This post contains affiliate links. To learn more about 'em, click here.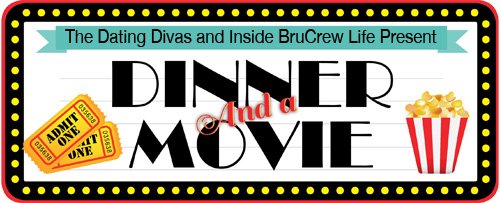 Dr. Seuss' How the Grinch Stole Christmas
is truly a Holiday classic… and after reading through these fun ideas, this date just might turn into a yearly family tradition!
Be sure to see if it's available for rent on VidAngel! We LOVE their online streaming service for sooo many reasons! Hurry and sign up if you haven't already!
A special thank you to Divas Becca, Sarina, Tara, Chrissy, Paige, Kari, Michelle, Stacy, and Wendy for their amazing contributions to this collection of ideas to spark YOUR creativity…  You ladies are awesome!

Decorations and Attire
Your existing Christmas decorations are the perfect way to set the scene for this date night.  The more whimsical, the better!  Here are a few other ways to create a festive environment:
1. Download and print the amazing printable invitation for The Grinch Dinner and a Movie.  A big thank you to Kristen of CdotLove for perfectly capturing the lighthearted and playful vibe of this movie!  Her invitation design actually swings- how cool is that?!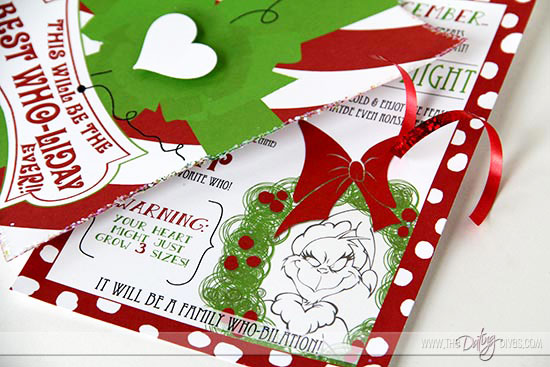 To construct your own version, simply punch a hole through the top of both paper pieces and attach a brad.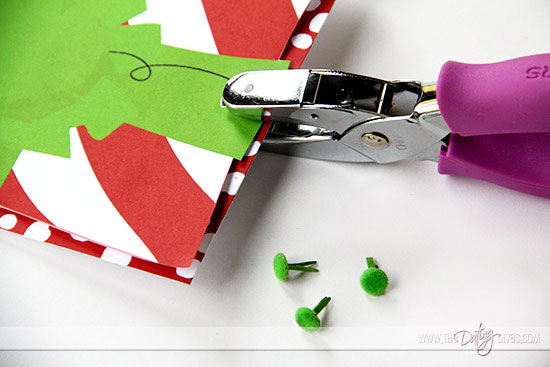 I added little white heart to the center of the bright green bow and a little bit of glitter using a glue pen around the border because in my world, Dr. Seuss and glitter just go together!
2.  Dress in green or your PJs!
3.  Put a set of reindeer antlers on the family pet.
4.  Whoville hair is a must!  Check out this Pinterest Board for ideas on how to sculpt your hair into a Whoville masterpiece!
5.  Visit the Cooke Family blog and print out Rachel's adorable free printable featuring a classic quote from the movie.  Place the printable in a frame and pair it with a few ornaments for instant update to your room's look.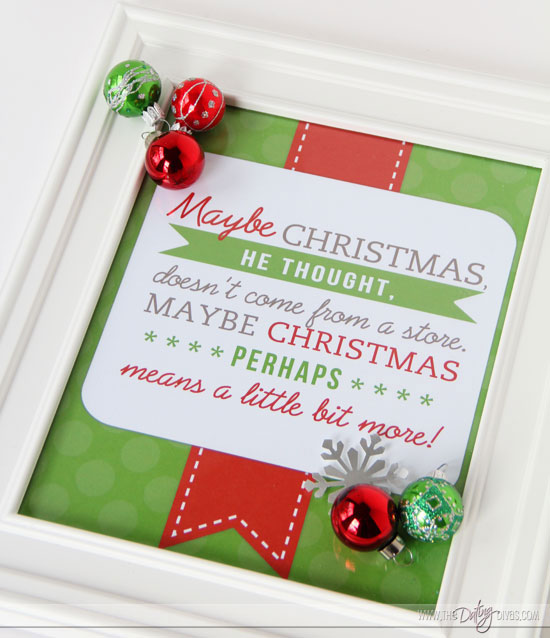 Activities
We've collected a fabulous line-up of activities to complement your movie screening:
1.  Make a Grinch ornament to add to your family tree.  See this PIN for inspiration!
2.  Grinch proof your Christmas tree!   Create a wall Christmas tree out of paper, felt, or washable crayons.  It's a win-win–  your kids will LOVE drawing on the walls and the lovable Grinch thief won't be able to steal your Christmas!
3.  Elect a Holiday "Cheermeister" through a round of friendly competition.  You could challenge each other to see who can speak in rhymes the longest.  Have fun coming up with friendly bets throughout the movie– one Diva suggested passing a set number of hearts stickers or cut-outs out to all your guests.  Anytime someone says the word "Grinch," he or she has to give away a heart to the person that caught them. Whoever has the most at the end of the date gets crowned the  official Cheermeister!
4. Make your own version of Grinch Pills using green tic-tacs or Grinch Dust!
5. Construct your own Whoville sugar trees out of ice cream cones and frosting.  We won't tell if a few get eaten along the way!  Thanks to A Day in First Grade for the crafting inspiration!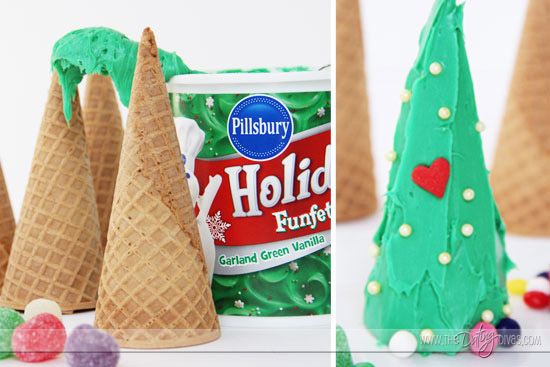 6.  Host a white elephant exchange before the movie with a Grinch twist.  Hop over to Play with Your Family's blog to see how this family passed gifts left or right when they heard key words in the Dr. Seuss story.  Too much fun and endless possibilities!
7.  Host a round of karaoke to the tune of "You're a Mean One, Mr. Grinch!"  You could even have the hubby dress up as The Grinch and serenade the kids!
8.  Play the How the Grinch Stole Christmas Game
or Whoville-opoly.
9.  Take a few minutes after the kids have gone to bed and reflect with your spouse– think about any moments that have made your heart and lives expand during the year.  Savor this trip down memory lane.
10.  Play Pin the Heart on the Grinch.  There are fun version of this game floating around on Pinterest (see THIS ONE).  You could even transform this game into a sassy intimate moments idea for just you and your hubby to enjoy! (wink, wink!)
Food and Drinks
These yummy treats will satisfy your sweet tooth!
1. Serve a signature green drink!  You could go for a healthy version by mixing up your own smoothie.  Our family's go-to green smoothie recipe is: an apple, a handful of carrots, a big handful of spinach, and 2 large kale leaves.  It is naturally sweet and has the most beautiful green color!  If your in a pinch for time, pick up a pack of NAKED's Green Machine
.  You could also mix up your own dessert concoction using green sherbert and lemon/lime soda!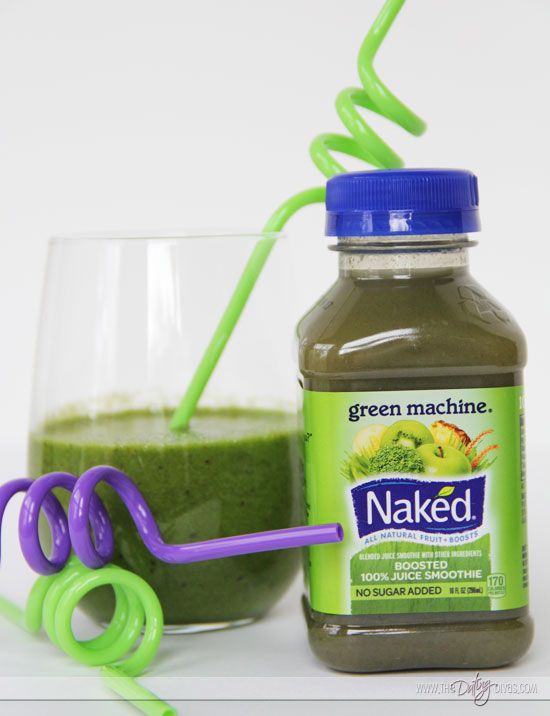 2. Make Dr. Seuss inspired fruit kabobs!  After seeing this PIN, I couldn't wait to make these little characters!  I would definitely recommend using a longer skewer than your average sized toothpick to hold together all the pieces.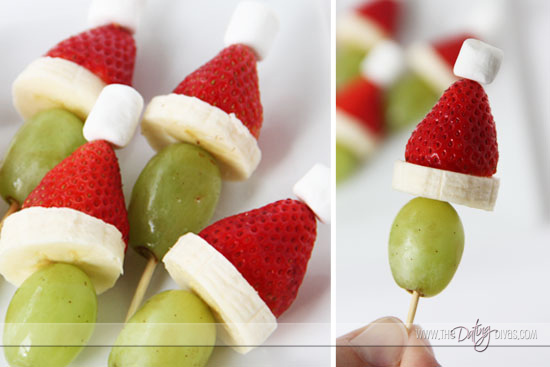 3.  Dye any cookies you might be serving GREEN!  This Andes Mint cookie is on my list to try this year!
4. Head over to Inside BruCrew Life to get this amazing cheesecake recipe for free!  Jocelyn's gorgeous dessert will definitely be the dessert centerpiece of any Grinch inspired celebration!  How cute are those chocolate star toppers?!!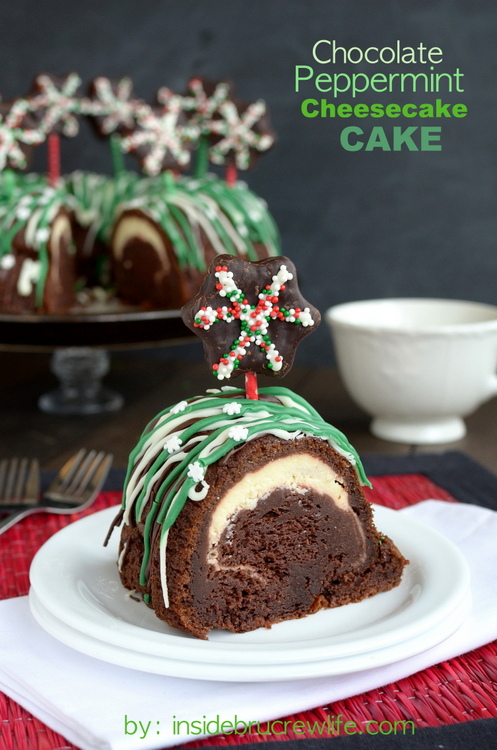 A big thank you to Inside BruCrew Life for sharing this yummy recipe with our readers.  Chocolate and cheesecake is definitely a winning combination!
5.  Tame your dessert sugar rush by having breakfast for dinner!  Green eggs and ham, anyone?!  Stephanie from Life as a Wife has some ideas on creating a savory breakfast menu.
There you have it… 20 ways to enjoy this classic Christmas movie!  If you have another great suggestion, let us know in the comments below!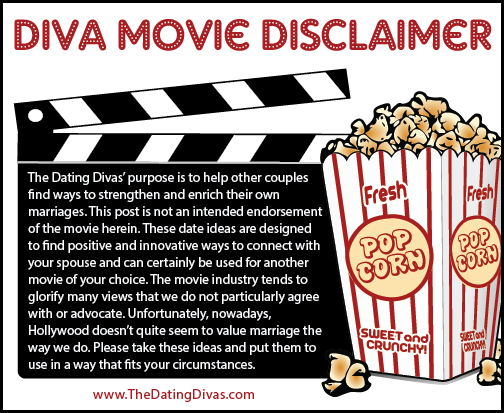 The Grinch Dinner and a Movie
Printables Designed by Kristen @ CdotLove Exclusively for The Dating Divas