Host Your Own 16 Piece Amazing Race Game and Challenges
The Amazing Race Game has it all: a 16-piece party pack of adventure, challenge, and teamwork – the perfect recipe for a great date night. My husband and I LOVE to travel so when we first watched the reality show The Amazing Race, it quickly became one of our favorites! First, we love seeing all of the different countries, and then came the challenges that matched the various cultures and we were hooked. Because of our love for this show, we have put together everything you need to host your very own version of The Amazing Race! The pack includes twelve unique Amazing Race challenges that can work for any type of group gathering and be played in any hometown! Finally, the best part is, we recently updated everything to add customizable features so you can personalize your Amazing Race game to your specific party.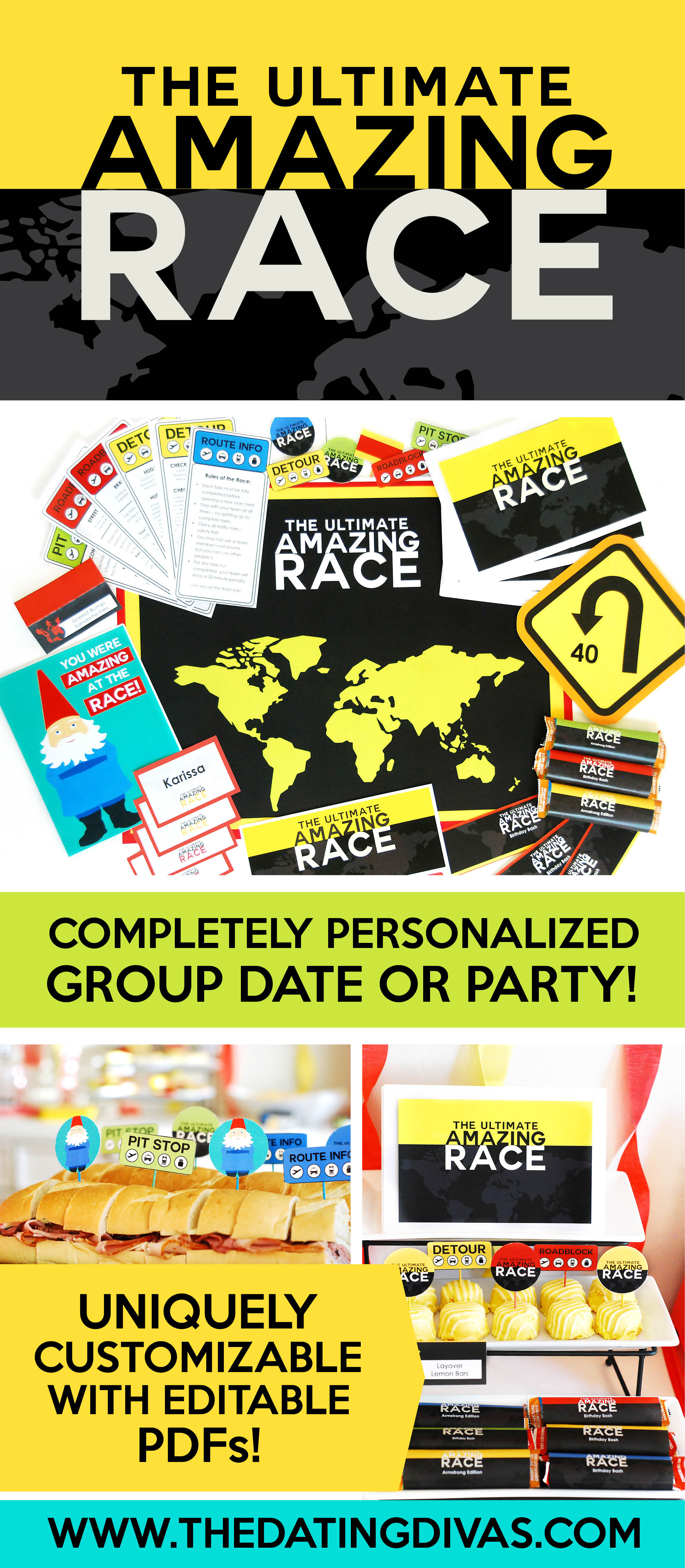 Disclaimer: This post contains affiliate links. To learn more about 'em, click here.
An exciting adventure awaits in an epic Amazing Race game that your friends and family will love! Inspired by the popular reality show, The Amazing Race, this high stakes adventure will take teams through exciting and competitive challenges right in your own hometown. With ready-to-print designs created by the talented Courtney at Paperelli Design, we have everything to make planning, prepping, and hosting this game as easy as possible. And, w
ith unique customizable features, you can personalize your party for your specific occasion!
Here is What the Amazing Race Game Pack Includes:
We have over 50 pages of jam-packed Amazing Race goodness for you to be able to put together your own Amazing Race competition. For instance, the game pack includes: 
Host Guide
Game Organizer
Editable Invitations
Envelope Covers
12 Different Challenge Cards
Blank Challenge Cards
Team Instruction Cards
Team Name Tags
Prize Printable
Pit Stop Mat
Decorative Banner
Customizable Street Sign Decor
Food Flags & Tents
Drink Wraps
Treat Bag Toppers
Granola Bar Wraps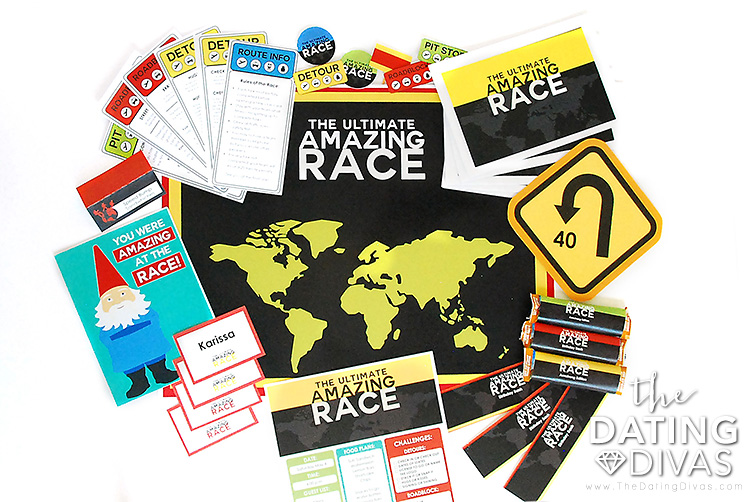 To sum up – we have everything you need and more. Just invite your most adventurous friends, print off the clues and then let the race begin! You can learn more about all that the pack features including more details about our:
Customizing Your Own Amazing Race Party
This Amazing Race Game has been one of our most popular activity ideas and as a result, we now have added a new and exciting customizable feature that allows you to personalize the game experience to your specific occasion.
With our unique editable printables, you can actually type your own information directly on many of the printables. From invitations to sign decor – you can add in your own specific details. For example," The Amazing Race Beckett's Birthday Edition" can be added to the invitations, the challenge card envelopes and even the food labels! Also, you can create your own challenge cards, add in specific details to your challenge cards and put your guest's names on the name tags.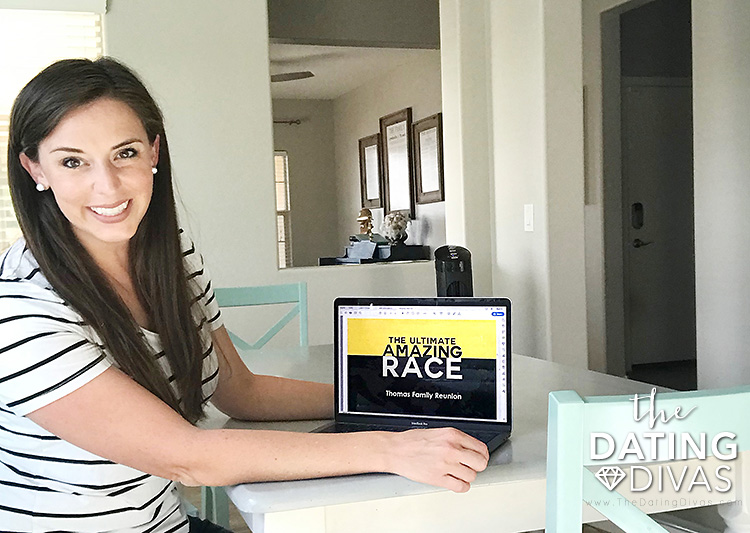 Here are a few ways our readers have used this Amazing Race Game in the past:
Birthday Party (great for both kids and adults!)

Family Reunion

Graduation

Valentine's Day

Anniversary

A proposal
Preparing Your Amazing Race Game
Putting together an adventurous party is super easy with our detailed host guide. The host guide will keep you on track and ensure that you don't lose your way! You will be guided every step of the way (sort of like your own personal host GPS!) in order to plan, organize, and host a memorable game that your guests will love.
This guide includes:
Detailed instructions for preparing the game materials

A thorough description of how to play the game

Materials for organizing your game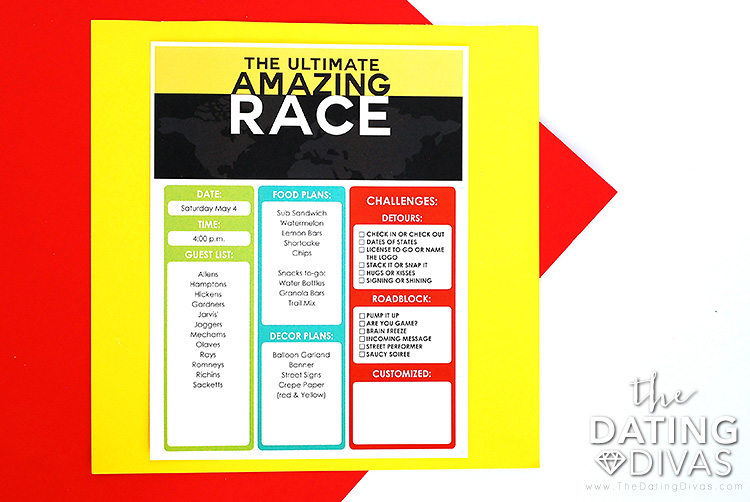 Amazing Race Party Invitations
Firstly, you will want to invite your most adventurous friends. Included in the pack is a customizable invitation to let your lucky guests know all the details about the party. You can type in your specific event information (date, time, and location) right on the printable using a free Adobe program and your invitation will look so professional!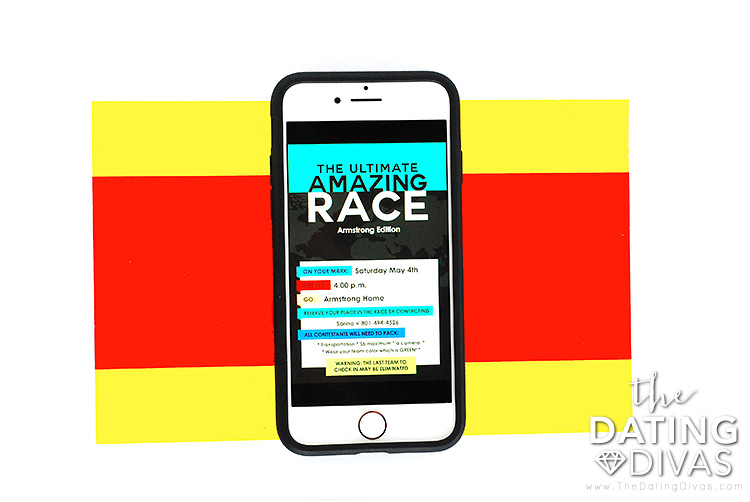 The Amazing Race Challenges
Pulling off the main event (an amazing race) is made possible because of our game challenge printables.  The pack includes twelve ready-to-play unique challenges that should work in just about any town. Further, our editable challenge templates give you plenty of opportunities to personalize your race for your specific group!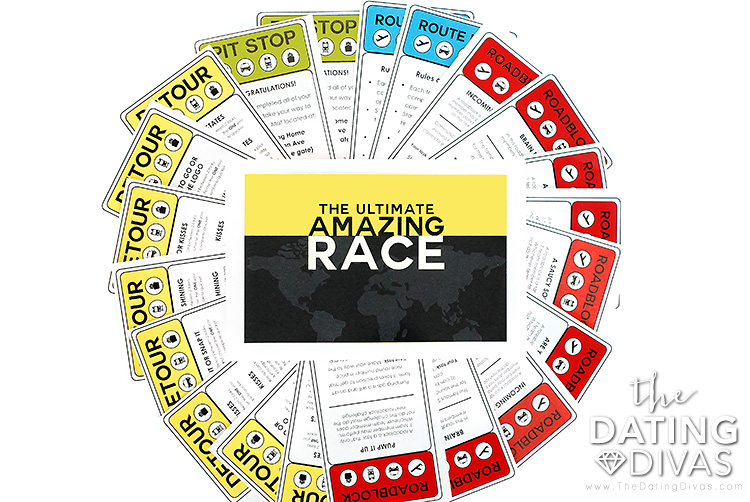 Playing the Amazing Race Game
The object of the Amazing Race game is for teams to complete each task from their provided envelopes and then return to the designated location as quickly as possible. The first team back to the pit stop mat wins the game!  
The teams then head out to complete their challenges as quickly as possible. The challenge cards provide all of the information they will need to know to complete the tasks. That is to say, the game can completely run itself. The contestants will have a blast finding locations in addition to complete their challenges and making memories as they work together to complete the tasks. The race is on!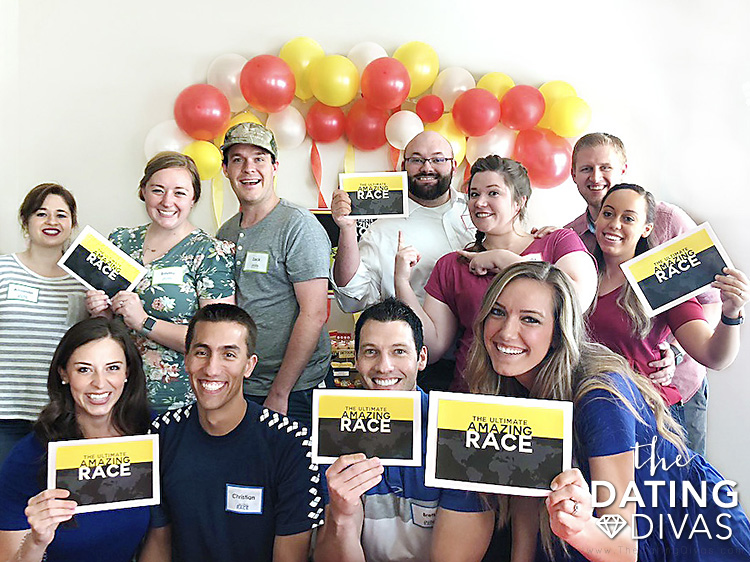 Amazing Race Party Decor
There are so many occasions where you might play this Amazing Race Game. You may just want to play the game as is, but you could also turn it into a full-on themed party with all of the details. So, whatever your occasion and situation, we have the materials for you! 
You can create a fun and festive atmosphere that any Amazing Race fan will appreciate. For example, you could decorate for the occasion with a printable banner, customizable street sign decor, and various food embellishments.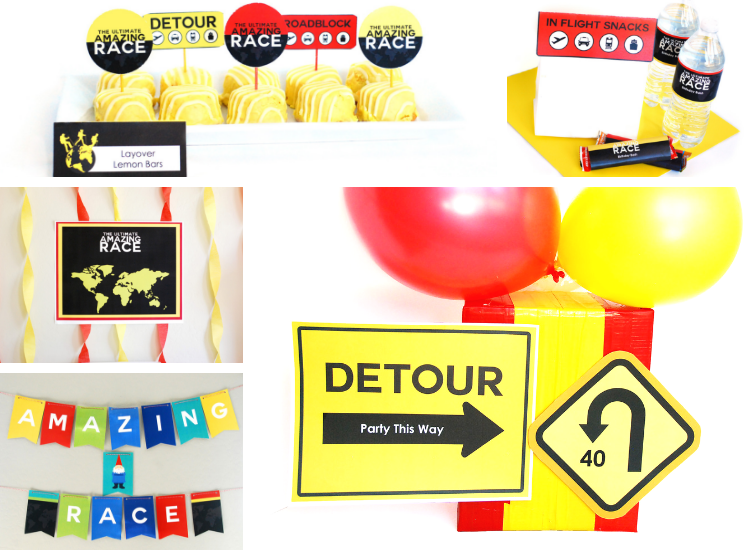 Frequently Asked Questions About The Amazing Race Game Pack:
How long does the race take?

This depends on several factors. The main factor is how many challenges you include in your race. Obviously, if you do 6 challenges it will be shorter than if you include all 12 challenges. Your location will also affect things. For example, if the nearest hotel is a 30-minute drive, that may lengthen the race significantly. That being said, you may want to plan on at least a good solid hour to complete 5 challenges (or factor in about 12 minutes per challenge).

What age group would enjoy The Amazing Race Game?

The challenges included are completely family friendly. We believe any age would really love this activity.  It is important to note that each team needs at least one team member old enough to drive so that completing challenges around town is possible. Or, use the editable template challenge card to create all brand new tasks that can be done around the neighborhood without a car.

A specific challenge doesn't work for my area. What do I do? Simply omit that challenge card or use the editable template to make adjustments.
Can the Host Play Too?

Absolutely! The host may have a slight advantage for having seen the challenges ahead of time but it is nothing that would hinder the game too much. Go for it!

How Many People Can Play?

There is no minimu or limit to how many people can play, however, the more people, the fiercer the competition.

Can the Game Be Played More Than Once? Absolutely! Simply collect all of the challenge cards at the end of the game to save for future use.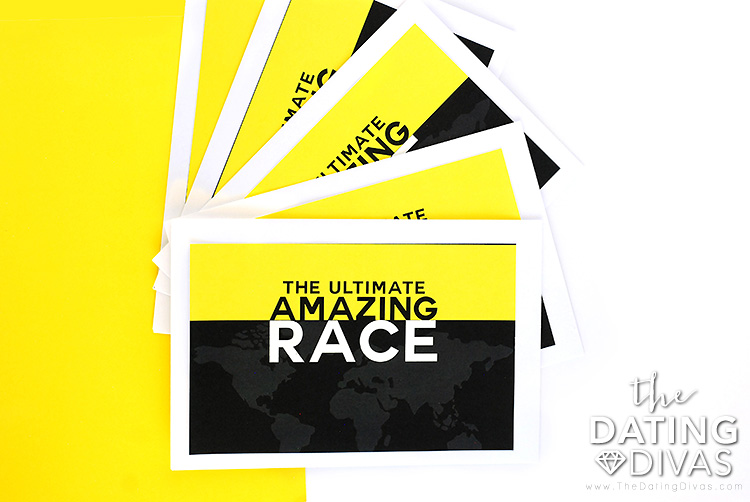 What Our Readers Love About the Amazing Race Game
We have gotten great feedback from the many groups that have done this Amazing Race Game. From birthday parties to even a proposal – so many of you have had your own Amazing Race adventure.
Check out what this reader said about the Amazing Race Game:
"I just wanted to let you all know that it was a BLAST! One of the things that made it a lot of fun was that we were able to enjoy time alone with our spouse/date and, on the other hand, time with our friends–the best of both worlds in one date! The Dating Divas have prepared everything for you to host an awesome date for your friends. Since we all have children, we will also have their kids come and play with ours as we host the event. I think the kids will enjoy the night just as much as the adults! PRINT IT, PLAN IT, DO IT, LOVE IT!!!"
and this one:
"We have hosted and played this game 4 different times now with all different types of groups: family, co-workers, as a group date night and with a church youth group. While each group has been different, each experience has been so much fun. We are all still talking about it. The game is a bonding experience for any age level"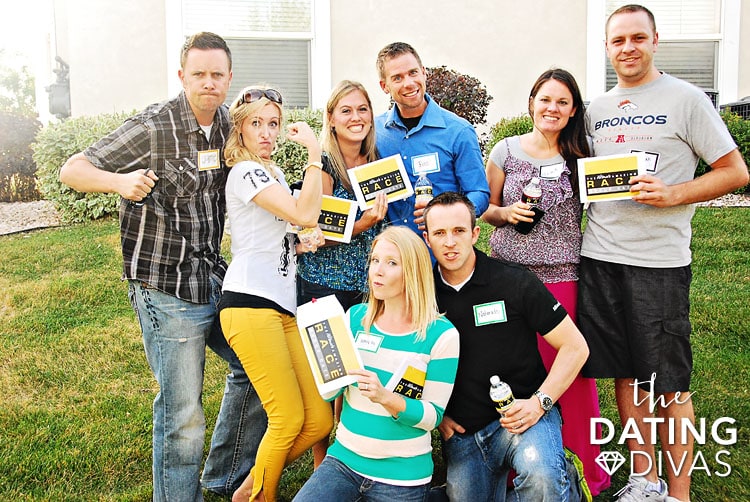 So, what are you waiting for?

On Your Mark

Get Set

Go!!!

Start inviting all of your friends because this is an AMAZING game that they will be talking about for a LONG time!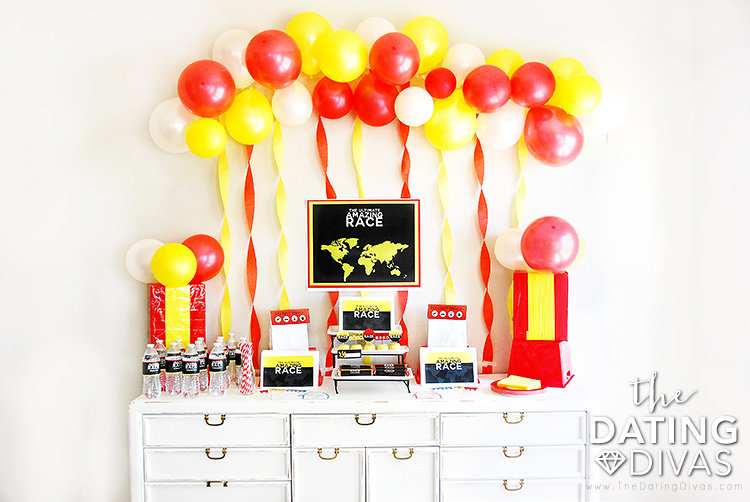 The Amazing Race Game
for only
$25.97!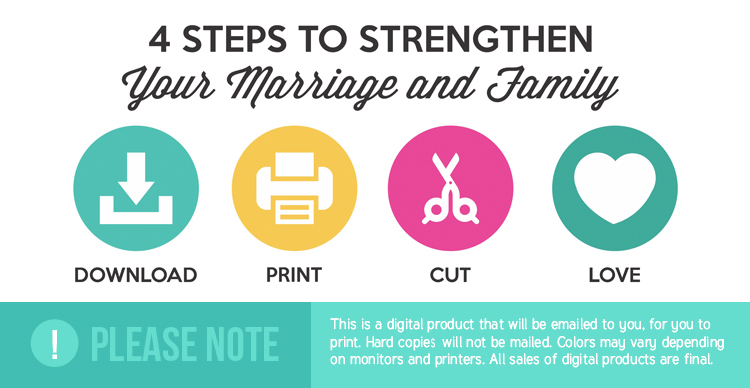 Finally, we have some other fun group date nights based off of famous t.v. shows that you might enjoy! Check out The Price is Right and Minute to Win It.