The Ultimate Amazing Race Group Date
Everything you need (and more!) to host your very own version of "The Amazing Race"! Includes Amazing Race challenges and clues that can apply to ANY hometown! Or use these ideas to throw an Amazing Race birthday party full of outdoor adventure! Whatever you've got planned, we've got your covered with all of the best Amazing Race games and ideas.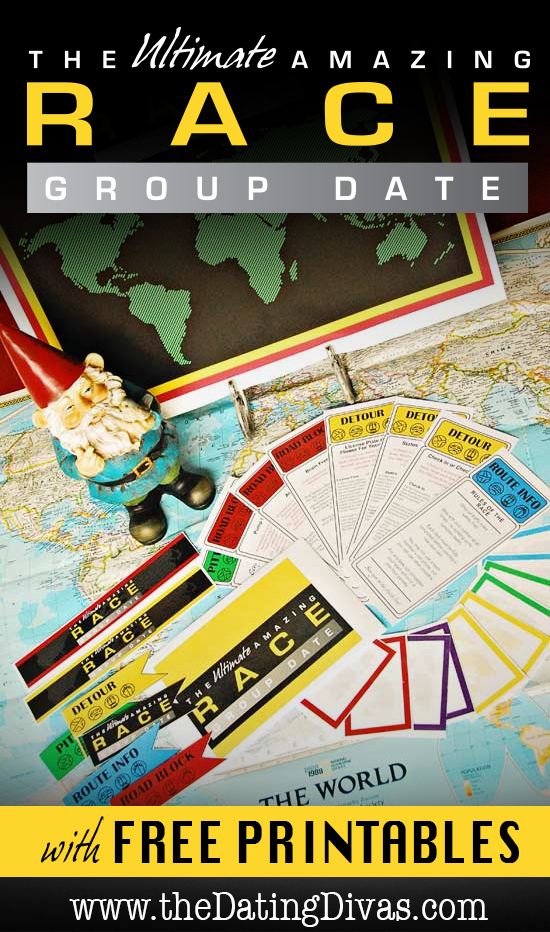 Disclaimer: This post contains affiliate links. To learn more about 'em, click here.
My husband and I LOVE to travel and so when we first watched the reality show The Amazing Race, it quickly became one of our favorites! We love seeing all of the different countries and the challenges that match the various cultures. Using the help of our fabulous Diva Designer Sameeha – I put together a group date night to play your very own version of The Amazing Race right in your hometown! We have everything (and I mean EVERYTHING!) you need to put together your own competition. Just invite your most adventurous friends, print off the clues and let the race begin!
Here Is What the Amazing Race Date Set Includes: 
Here is what the Fabulous Sameeha from The Inked Leaf included in the packet:

Invitations – Send these to your lucky guests to let them know all of the details of your event. 
Envelope Covers – These are made JUST like the ones on the show (with our own Diva flair of course!). 

Amazing Race Challenge Flags –

 Mark specific sites you want your contestants to go (if you do your own version) OR you can use these to put in each of the vehicles participating in the race!

Final Pit Stop Mat – In the show, the contestants race to the final finish line: the Pit Stop Mat. Sameeha created 2 sizes for you. The first is made to print on a normal 8.5 x 11 sheet of paper, the second is if you would like to print up to a 16 x 20 inch mat.
Route Info – A list of the rules for the game to hand out to your guests when they arrive.

The Amazing Race Clues –

 The kit includes a set of clues that should work in just about any town, as well as blank cards in case you want to create your own. We thought of everything for ya!

Name Cards – With a variety of colors you can print these on to 

sticker paper

 and voila! – you have a name tag for each of your contestants. For extra fun – assign each team their color in advance and have them come wearing that color!
Water Bottle Labels – I told you we thought of everything! Surely your guests will need to quench their thirst while out on the road. With these cute labels you can make even a plastic water bottle fit the theme!
Food Label Flags – I wanted to have some sweets and treats waiting for my guests at the finish line. Take these labels, wrap the end around a toothpick and stick them in whatever you decide to serve for food. 
Possible Additional Materials Needed for your Amazing Race Party: 
Each team will need to have a vehicle to transport them around town.

Some challenges require the contestant to take a picture as proof. If you choose to use those challenges, make sure each team member has a digital camera!

3 of the challenges require a small cost to complete (total less than $5.00). You could easily omit these challenges and have a completely free date night or let your guests know they should be prepared to spend up to $5.00.

Balloons. One of the challenges involve the team having 2 balloons (the kind that clowns use to make animals and such). If you choose to use this date you could have them find them on their own, or you might want to provide them in the envelope. It is up to you!

* NOTE: After having hosted this date I can tell you that you definitely want to get the balloons that are specifically made for twisting such as these ones 

HERE

.  If not, your players may have an EXTRA hard challenge but some GREAT stories! We certainly did! 
PREPARING YOUR AMAZING RACE GAMES
Amazing Race Party Invitations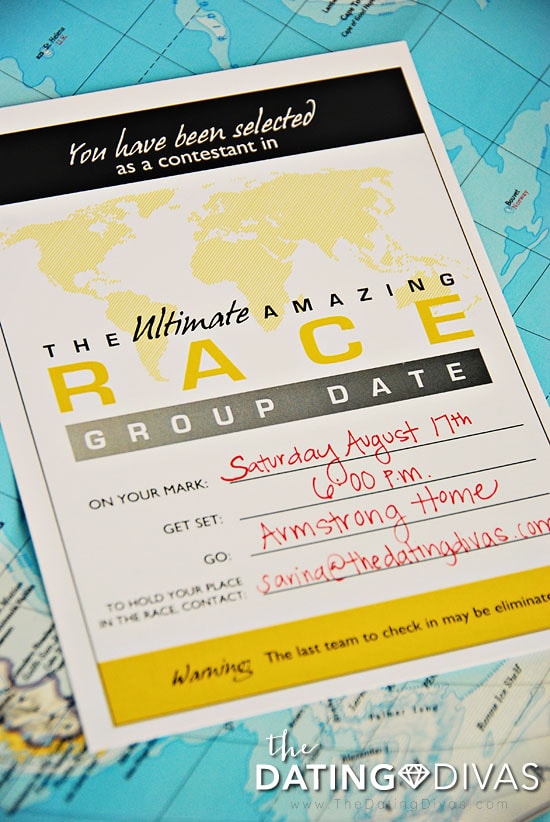 After choosing your lucky guests, just fill out the details of your date and send!
On Your Mark:

 Write the date of your event
Get Set: What time you want your guests to arrive
Go: The location of your event
Depending on which challenges you choose to do, you might also want to let your guests know that they will need their own vehicle, a digital camera, and $5.00. Also – if you want each team to have coordinating colors this would be a good time to let them know which color they should wear.
The Amazing Race Challenges
To make my challenge cards, I printed the envelope covers unto sticker sheets
 and then placed those onto 6×9 inch envelopes
. I then placed each of the challenge cards inside an envelope and made bundles so each team had one of each challenge.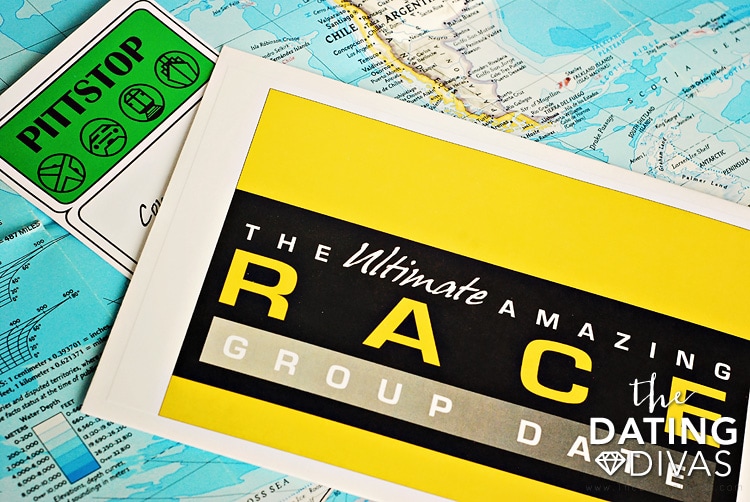 For YOUR date – you can decide which challenges you want to do or you could even create your own! This particular set includes 6 challenges (3 Detours and 3 Roadblocks) but you can mix and match as much as you want. I had to take one clue out when I hosted this because there wasn't a location nearby that they could compete their challenge! Good thing I checked before!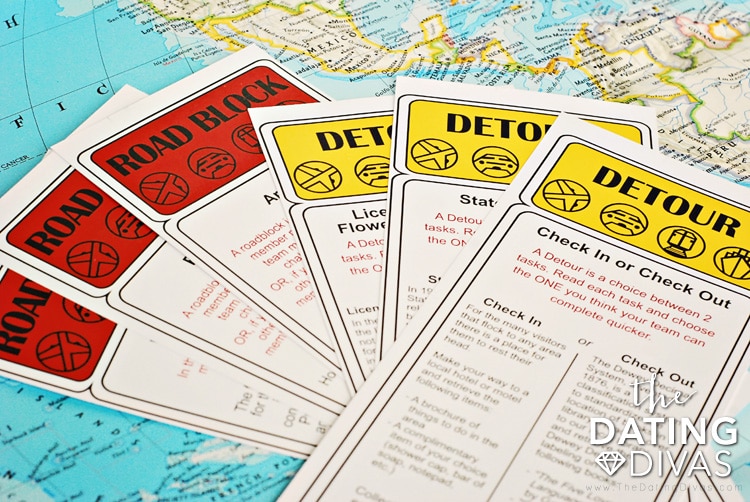 ALSO – if you want a completely FREE date night use only the yellow Detour clues!  But if your competitors are up for spending a little cash (no more than $5.00), then you can include the red Road Block challenges as well.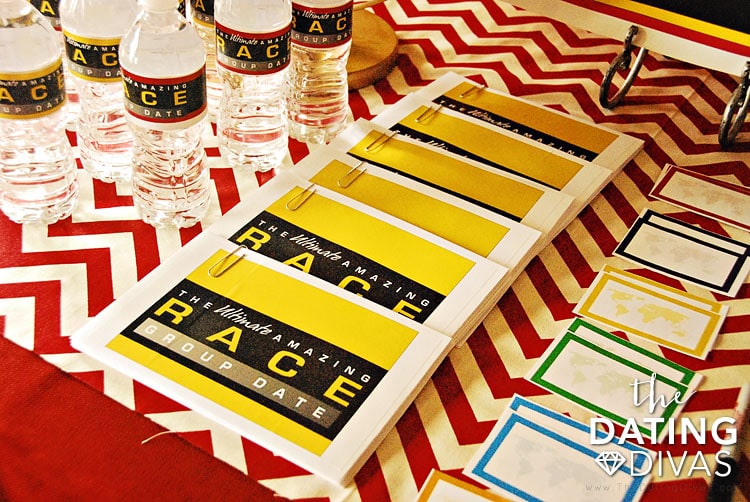 Amazing Race Party Decor
You can always just print the clues and play, but with a little more effort you can have a full display! Here are a few more things you can do to add to the theme!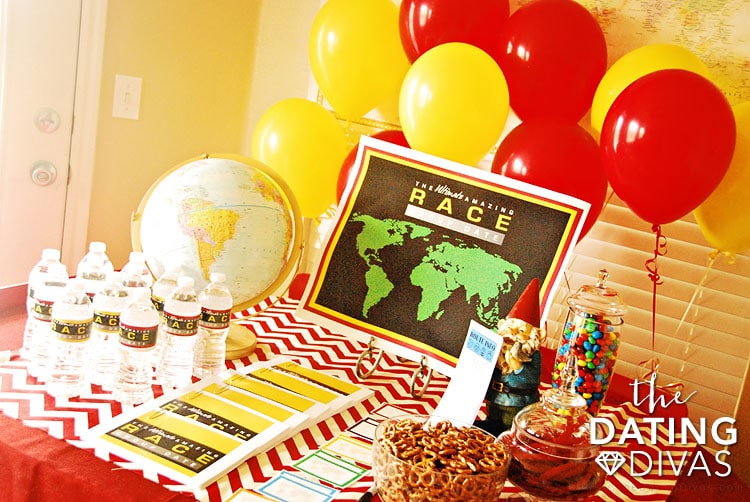 For my date night, I decorated our main table with a layout of all the challenges, the name tags, but also some decor and treats! Using a hot glue gun, I attached the water bottle wraps to the drinks. I found a Gnome (similar to the Travelocity Gnome
 from the show) at my local garden store and used him to prop up the rule cards. Also, I used these red and yellow balloons (the color of the markers on the show) and a globe.
PLAYING THE AMAZING RACE GAMES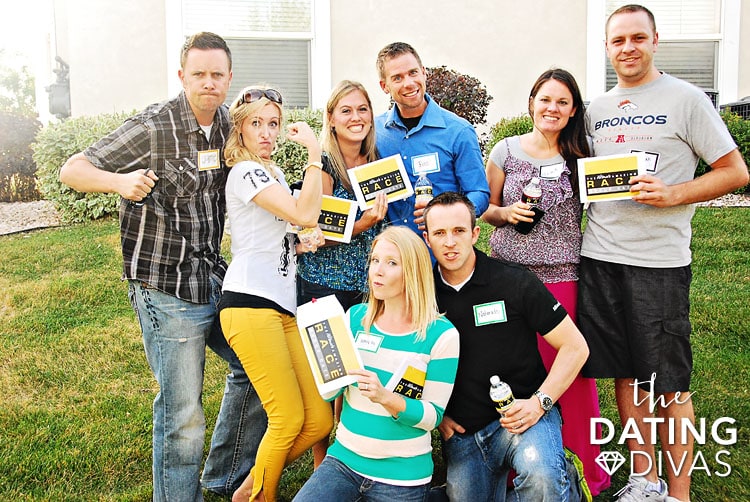 When I needed adventurous friends to come race with me – I looked to my fellow Divas! It was a very competitive group with LOTS of spunk! Aren't they fierce?
When your guests arrive you will want to start by explaining the rules. The Route Info card reminds players that they have to stay together at all times (no splitting up to complete tasks!), that they need to obey all traffic rules and more! 
Next, hand out the challenge envelopes and have each team choose any envelope from their stack. The yellow Detour challenge cards all have 2 options (just like in the show!). Teams will read the card's two options and then choose which one they think they can complete in the fastest time. The red Road Block cards only have one option. Whichever card, the team picks (the order totally does not matter) they should head out to any location where they think they could complete the task. Their goal is to complete each task card as fast as possible and return to the designated area first! 
Some Helpful Amazing Race Hints 
You will want to decide if the players should be allowed to use their cell phones. There are some challenges that require photos (and a phone is ideal for that) but in the real show players must complete the challenges without the use of google or Siri! Make sure you make a clear decision and communicate with the players. 
You may also want to require teams to travel to different locations to complete each task.

It would be a good idea to have a set time that everyone returns, regardless if they are done with clues or not. Just in case you have some very delayed players!

Many have asked if the host can play too. Absolutely! You may have a small advantage in having read the challenges in advance, but you still have to race to complete the tasks.
After The Amazing Race Party
Finally, as all of your guests return and step onto the final pit stop mat you will want to hear all their fun stories, but also see all of their items they brought back as proof of accomplishing their task. You can also eat sweets and watch an episode of the actual show while you wait for the others to return.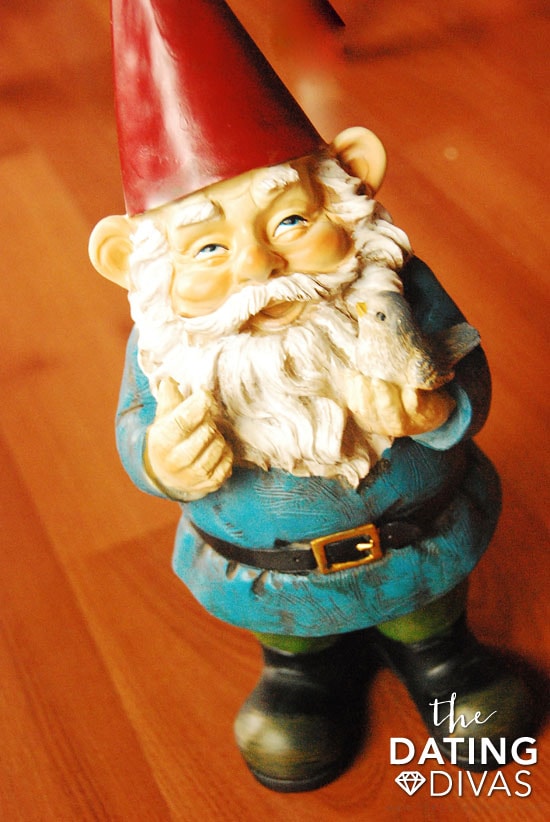 You can determine the prize. For ours – our winners Nisha (disclaimer: who recently had baby hence the adorable picture!) and her husband Adam took home the "Travelocity" Gnome. I am sure that it is a prized possession and probably has a center place on their mantel at home. Isn't that what you would do with a winning gnome?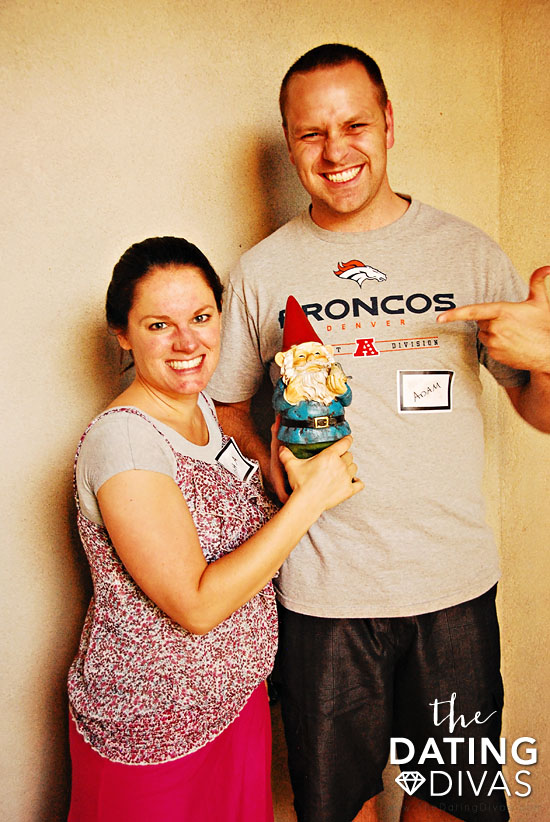 Free Amazing Race Printables
You can get all of the printables you need to enjoy this game for free by clicking the download link below and then . . .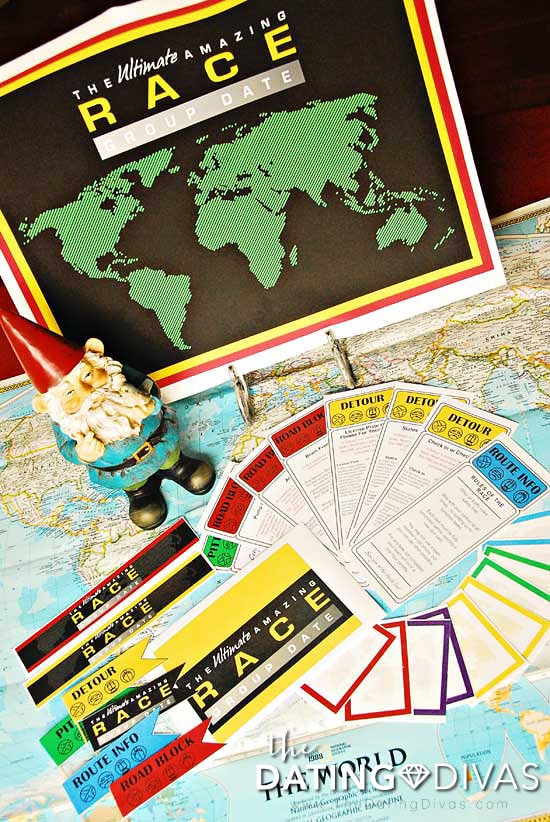 On your mark, get set, GO!!!!
Start inviting all of your friends because this is a group date night they will be talking about for a LONG time!
If you LOVED this, we have some other fun group date nights based off of famous t.v. shows that you might enjoy! Check out The Price is Right and Minute to Win It.