Free Printable Birthday Scavenger Hunt
Finding great birthday gifts for your husband is so hard! So instead, use these birthday scavenger hunt ideas to create a day full of fun and celebration! We guarantee that no other purchased gift will compare with this romantic scavenger hunt that is free, fun, and steamy!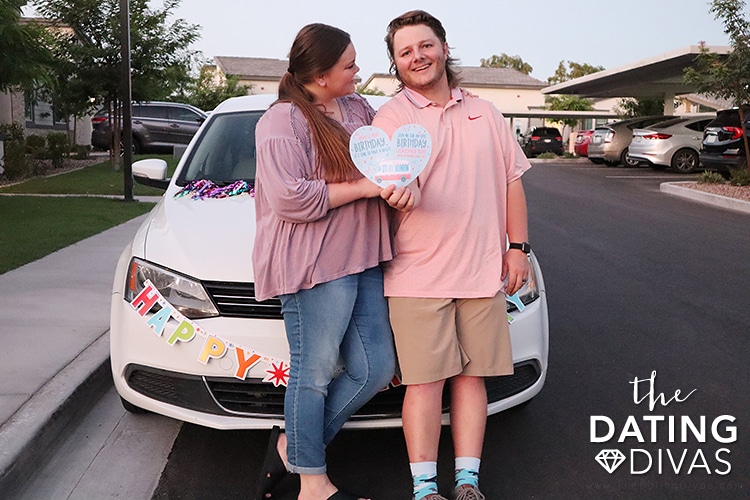 Birthday Scavenger Hunt Ideas
Who says scavenger hunts are just for kids? Not us! A birthday scavenger hunt for adults is the perfect way to make someone feel super special. It's basically a gift in itself, and it also gives you fun activities besides the traditional cake and presents.
Get ready to roll because these birthday scavenger hunt ideas will have you out of the house for the day. Scroll to the bottom of this post to download the free romantic scavenger hunt clues and activities. And now we will give you a rundown of how to use everything!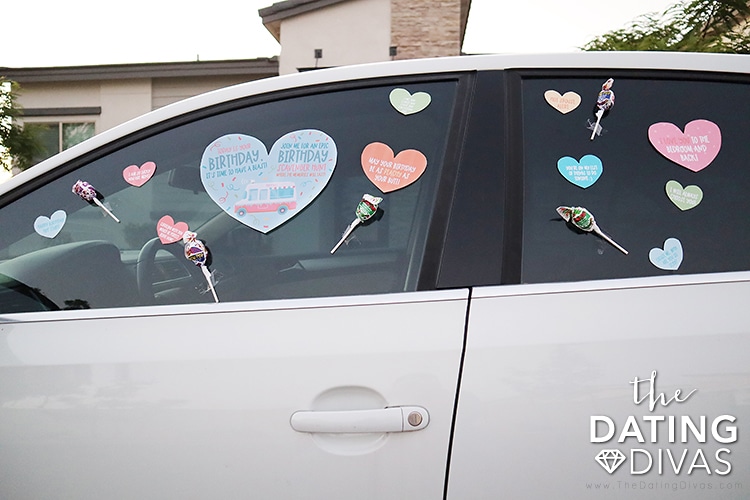 HOw to Make a Birthday Scavenger Hunt
To start the birthday scavenger hunt, tape the heart printable on the driver-side window. It reads:
Today is your BIRTHDAY,

It's time to have a blast!

Join me for an epic

BIRTHDAY SCAVENGER HUNT,

Where the memories will last!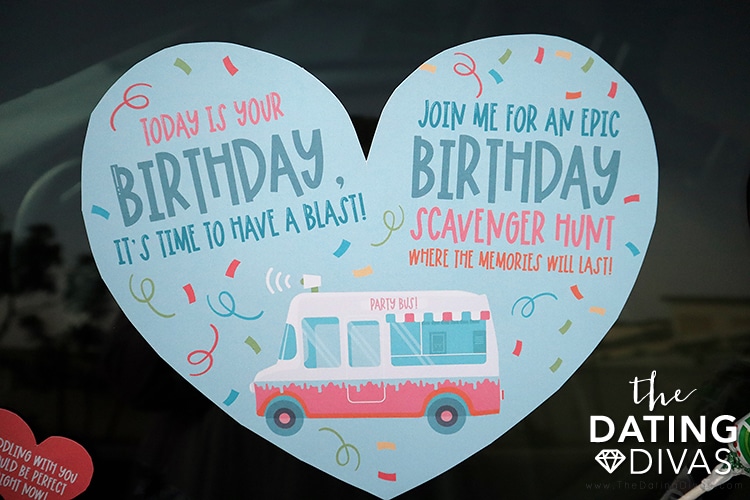 Decorate His Car
Once the note is secured, decorate the rest of the car with the printable hearts. They have sweet and silly sayings like, "I am so lucky you are mine", "You're on my list of things to do tonight", and "I will always choose you!"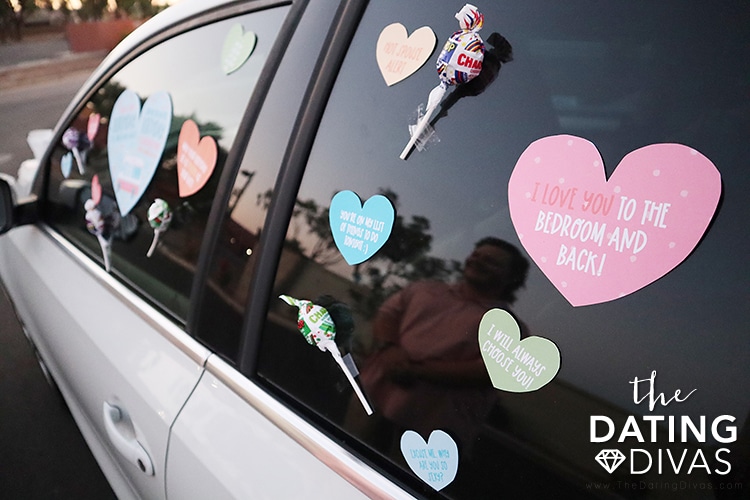 Prepare Your Supplies & Activities
There are four scavenger hunt clues with coordinating mini-dates that go along with them. We will go through where to put each clue and set up the birthday scavenger hunt activities in the following sections. But first, print and cut the printables, grab paper bags, a picnic blanket, picnic snacks, and you are all set to assemble the birthday scavenger hunt ideas!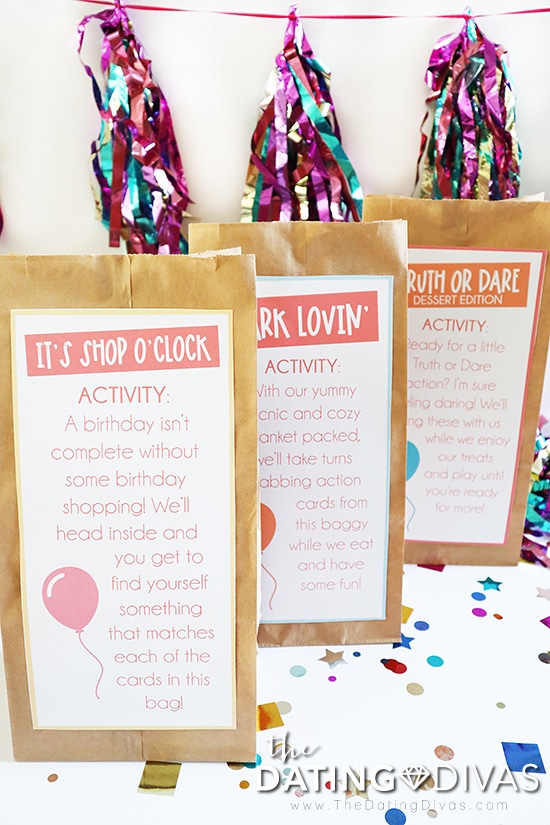 Get the Conversation Starters Ready
As you drive from one clue location to another, use these adorable conversation cards we created to make the most of every moment of this birthday scavenger hunt. The conversation cards include:
If you could relive a year in your life, what age would you choose?
What is your favorite date of ours?
Which of your siblings are you most like?
What turns you on almost instantly?
What's something you've always wanted to learn how to do?
Have you ever had a dream about me?
Are you an optimist, pessimist, or a realist?
Which game show do you think you could win?
What's your favorite foreplay?
What's your favorite sexual memory of us?
Are you most creative on your own or working with a team?
Do you have a motto you like to live by?
Name a person you have a lot of respect for and why?
What would you like to create with your own hands?
Where do you like being touched the most?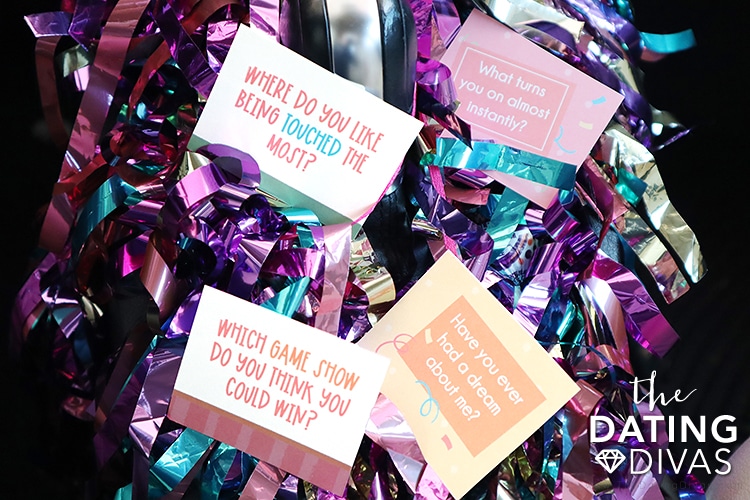 Start Your Romantic Scavenger Hunt
Everything is printed and prepped; now it's time for the fun part! Lead your partner out to their car and watch the surprise on their face as they see that a brilliant birthday scavenger hunt is in their future! If they look closely over each car decoration, they will see the first clue among them!
Birthday Scavenger Hunt Clue #1
Tape clue #1 to the car window with the other car decorations so your partner can read it, and the party can begin! The first clue for this birthday scavenger hunt reads:
CLUE #1:

This first clue kicks off the fun,

Which will last until we're done.

To make sure that you're not last,

Look where your foot presses to go fast!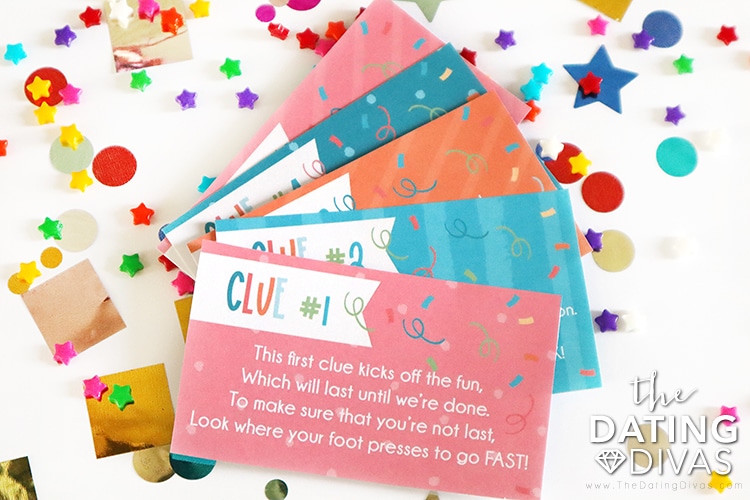 From there, he will find the second clue on the gas pedal inside of the car.
Birthday Scavenger Hunt Clue #2
Now have your partner hop in the car. The second clue will be waiting on the gas pedal. It reads:
CLUE #2:

Time to put the key in the ignition,

Because this next clue will be a great addition.

We have to hurry before it gets too dark,

We're heading to our favorite local park!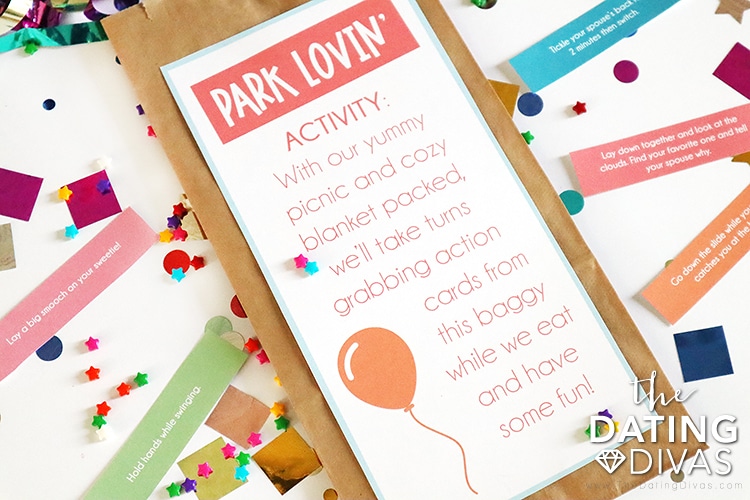 When you pull up to the park, grab your picnic blanket and snacks and find a comfortable spot to spend some time together. Grab the action cards out of the bag and take turns doing the following listed tasks:
Lay down together and look at the clouds. Find your favorite one and tell your spouse why.
Tickle your spouse's back for 2 minutes then switch!
Go down the slide while your spouse catches you at the bottom!
Hold hands while swinging.
Lay a big smooch on your sweetie!
Hopefully, your spouse has noticed that the third clue is taped to the bottom of the Park Lovin' Bag by now!
Birthday Scavenger Hunt Clue #3
Clue #3 will be taped on the bottom of the park activities bag. So once the mini-park date is over, the birthday scavenger hunt will resume. This clue reads:
CLUE #3:

We are just getting started, so I won't let you cheat.

Head to the place where we get our favorite treats!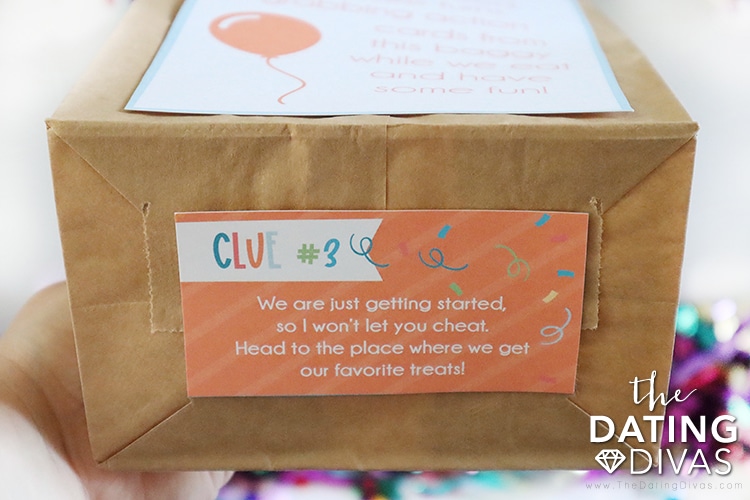 Head to your favorite dessert spot and pull out the Truth or Dare: Dessert Edition bag for your next birthday scavenger hunt activity. As you eat your treats, take turns drawing out the following truth or dare prompts:
DARE: Feed your sweetie a bite of your dessert!
TRUTH: Where would you want to eat whipped cream off of me?
DARE: Take the sexiest bite without looking away from your sweetie.
TRUTH: Do you prefer sex in the kitchen or the shower?
DARE: Give your sweetie a messy dessert kiss!
TRUTH: If your spouse was a dessert, what would they be?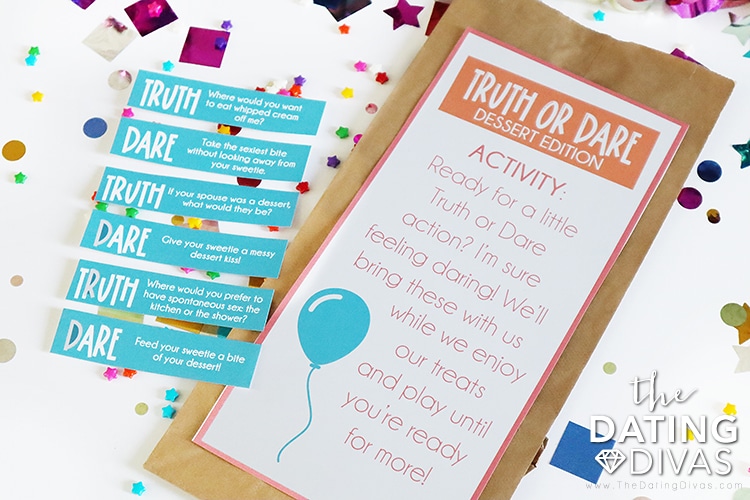 On the bottom of the truth or dare bag, your sweetie will find the clue for the next activity. This involves a birthday gift for your husband!
Birthday Scavenger Hunt Clue #4
Once you have finished your dessert, check out the bottom of the Truth or Dare: Dessert Edition bag for the final clue. The last clue reads:
Now that you're full,

you might be satisfied.

But wait, there's more,

It's time to drive to the store!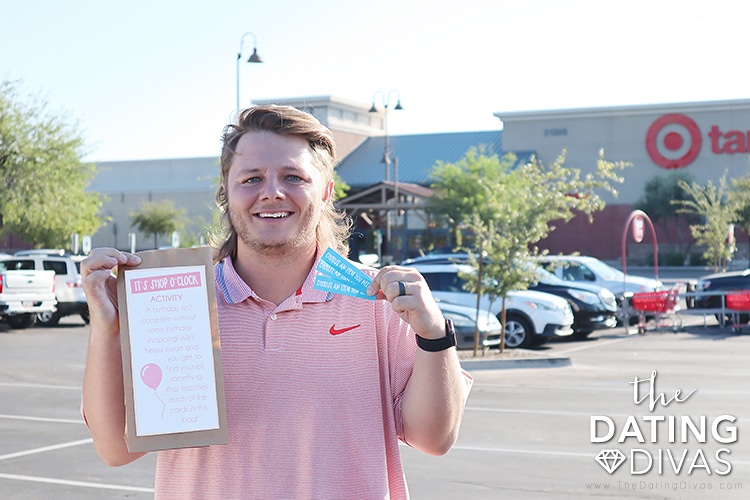 Head to the store to keep this romantic scavenger hunt going. Once you arrive at the store, give your husband or boyfriend the It's Shop O'Clock activity bag. This fun birthday activity is the perfect way to find birthday gifts for your husband that he actually wants! Because he will be choosing them!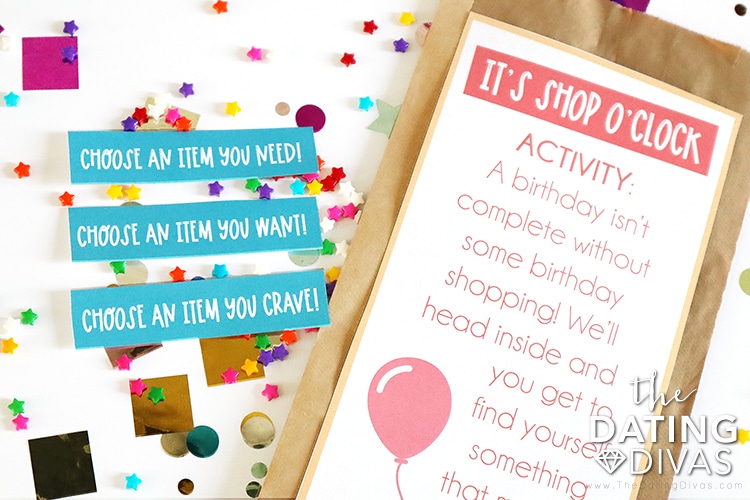 Here's how it works; inside the bag, he will find three cards which read:
CHOOSE AN ITEM YOU NEED!

CHOOSE AN ITEM YOU CRAVE!

CHOOSE AN ITEM YOU WANT!
You can put a spending limit on each of these items, or you can just set him loose to shop for whatever his heart desires!
Once he has chosen his three items, have him take a peek at the final clue on the bottom of the It's Shop O'Clock bag.
Birthday Scavenger Hunt Clue #5
The last and final clue of this romantic scavenger hunt will lead you to the bedroom (wahoo!) It reads:
CLUE #5:

Happy Birthday my dear!

I hope you have the best year!

Now one last place for us to head,

Let's get home quick so I can get you in BED!
Finally, as only a birthday scavenger hunt for adults can end, it's time for some alone time in the bedroom. So head home for a final birthday treat… You know what to do from there!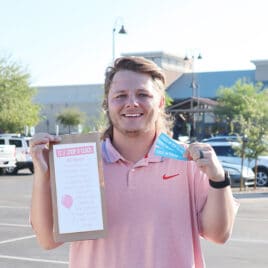 Birthday Scavenger Hunt
Printables Designed by Courtney Exclusively for The Dating Divas