Wanna Piece of Me? A Foreplay Idea.
You know what they say… a picture is worth a thousand words. I'd say this special and impressionable lil' gift is no exception!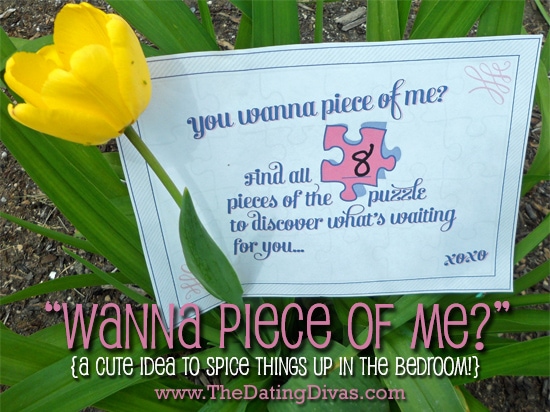 Disclaimer: This post contains affiliate links. To learn more about 'em, click here.


The IDEA:
Give your spouse a seriously beautiful picture of yourself one piece at a time throughout the day (or a piece in each letter if you're apart!) that will tantalize and entertain him leading up to bedroom romance.
The PREP:
Come up with your ideal ATTRACTIVE picture of yourself.  This may be as quick and easy as a great photo you already have of yourself or as fun as choosing a theme, props, dressing up, holding a message (like I did) and doing a mini self photoshoot!  Suggestive or innocently flirtatious, let your expression say it all.
Get a hard copy of said photo and also print this adorable, flirty flyer that tells him just what you're up to!
Glue the picture to the cardboard of an ordinary cereal box.
Draw a puzzle pattern in pencil on the backside of the cardboard.  Create as many or few pieces depending on how complex you want to make it!
Write a short and sweet message to your honey, expressing love and your intentions on sharing it that night…
You're thinking about what you're gonna say, huh!  Oh, and the last thing to do is carefully cut out the pieces.
The FUN:
Hide the puzzle pieces in as many unexpected places as you can think of!  Inside his pants pockets, in front of the speedometer display in the car, next to his toothbrush, taped to the back of his ipod, etc.  Or get creative and mail a small piece to him at work or put one inside the little door to fill the gas tank if you know the car is close to empty!  Those are the extra funny hiding places that he'll remember! *GRIN*  Enjoy watching him stumble across them throughout the day!
The "EVEN MORE FUN":
After he's found every piece to the puzzle, make sure he gets a chance to put it together and read your message.  Then let the "even more fun" part begin!
~ No further directions required ~
Wanna Piece of Me?
Printables Designed by Kiirsten Exclusively for The Dating Divas