Safari Theme Date for Couples
Animals always amaze me! I don't know what it is, but I just love how different and unique each of them are. A trip to the zoo is something I look forward to any time of year, it totally brings out the kid in me! Plus, seeing the crazy wide variety of zoo animals is ALWAYS  plus! That's why I knew this date at the zoo was absolutely PERFECT and I think you will too. With everything from safari theme printable invitations and scavenger hunts to snack/survival kit toppers, this date's got everything- it even has a wild intimacy activity that's the B-E-S-T! Keep reading to take a look at all the goods.


Disclaimer: This post contains affiliate links. To learn more about 'em, 

click here

.
But before we get going, I have to give a HUGE thank you to our very own Diva Elizabeth for creating such fabulous safari theme printables for us! They're so wild!
Safari Theme Invite to The Zoo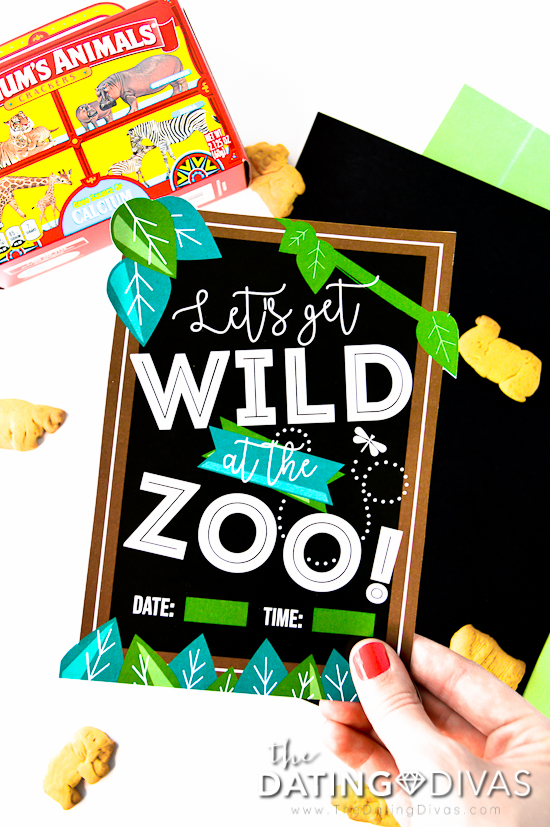 Instead of a regular invitation, I wanted my husband to have something SUPER fun that would totally get him ready for the zoo! This safari theme invite is absolutely perfect and is so easy to use. All you have to do is print, cut, and fill in the info for you fabulous soon-to-happen date. How cool is that? Just slip it to your sweetie along with the zoo tickets and you're ready to rock and roll.
Safari Theme Scavenger Hunt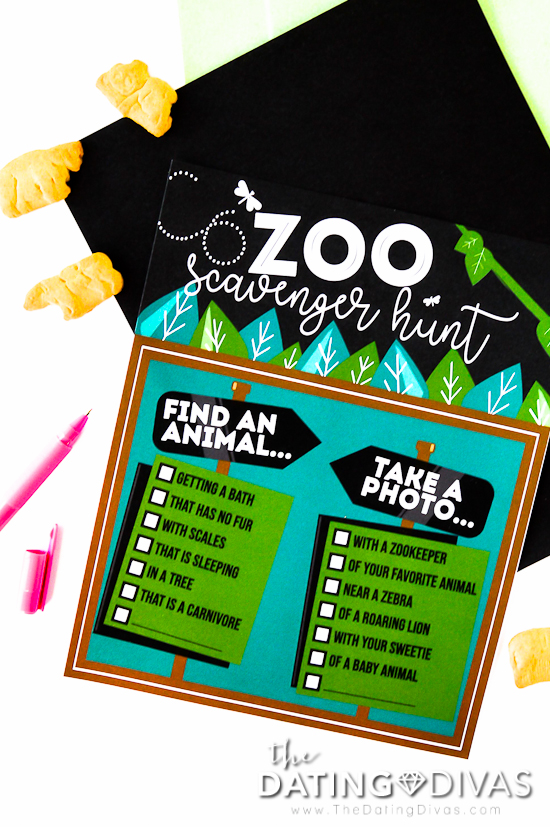 While you're at the zoo you will have plenty of quality time to chat and enjoy each other's company and the (hopefully) beautiful weather. This is a summer date that is always one of my favorites because you have something to do the whole time, but it is really relaxing, too. However, if you want to spice up your trip a little (and you know you do!) you'll definitely want to give the printable safari theme scavenger hunt a go! It's about to turn the ordinary watching of zoo animals on its head. There's an included photo scavenger hunt and an ordinary one so you and your sweetie will be anything but bored!
Safari Theme Snacks Bags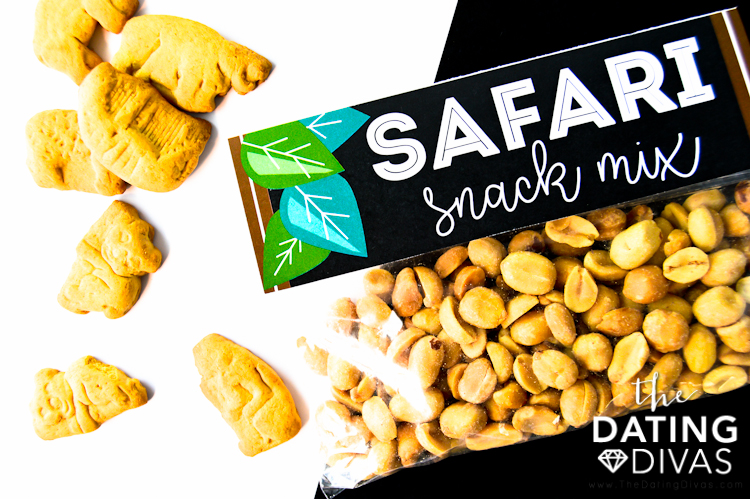 Watching all the zoo animals eat may make you a little hungry too, so you will definitely want to pack a few easy snacks. Check with the zoo website first, but most zoos I have been to allow you to take your own snacks and drinks in. Bringing your own treat will help make this an inexpensive date night… although those $7 bags of kettle corn do smell really good! These festive safari theme bag toppers are the perfect way to bring your snacks and other 'survival' items to the zoo! Take a look at the list below for some fabulous snack ideas that are so on safari theme it's crazy.
Snack Ideas for the Zoo
Zoo Survival Kit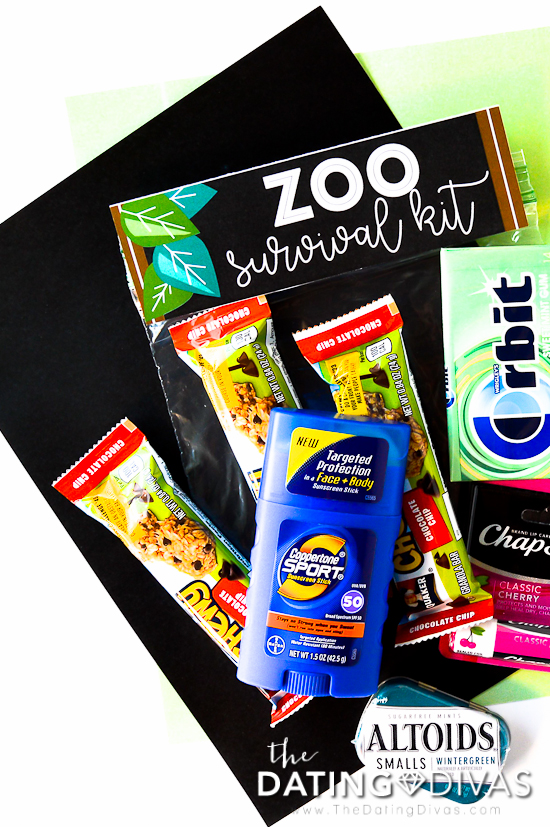 But hold your zebras (since we're at the zoo…haha!), because we've also included a fabulous safari theme survival kit topper to keep you keepin' on all day long. Simply affix the tag to a ziplock baggie and pop in a few survival items like sunscreen, gum, mints, granola bars, and chapstick! It'll definitely help you make the most of your time with the zoo animals (and with your sweetie!).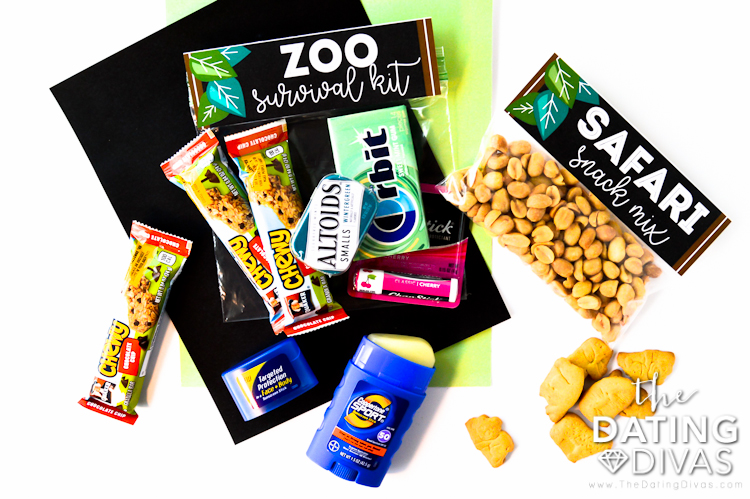 Intimacy Activity for After The Zoo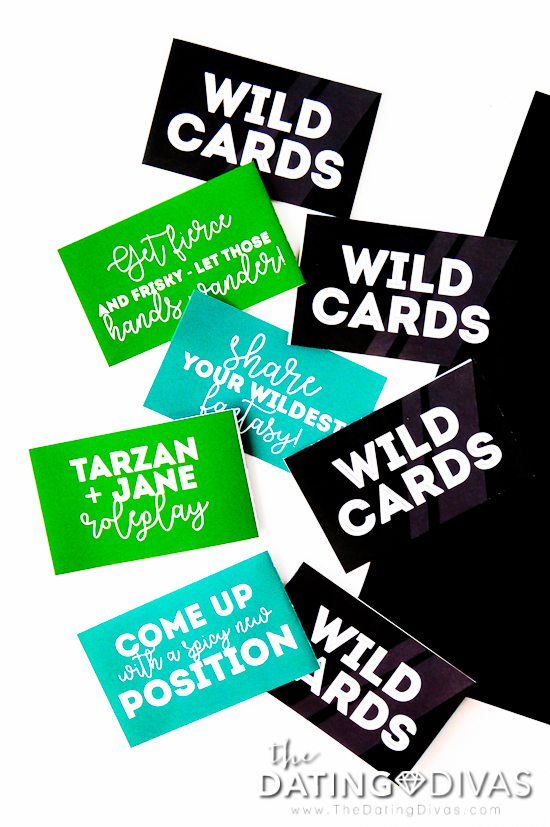 Just because your time with the animals has come to a close, that doesn't mean the fun has! This date also includes a game that you and your sweetie are sure to LOVE. Simply print, cut, and fold each of your cards to create a snazzy front/back and get ready to play. Take turns drawing each card and performing the sexy task. Does that sound wild or what?!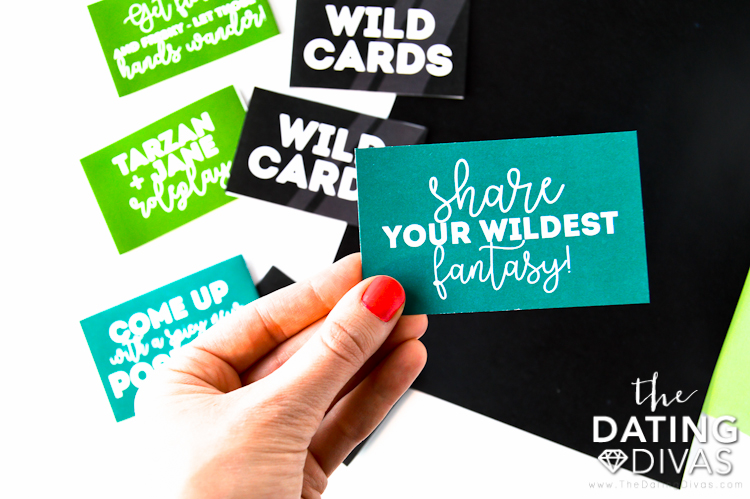 What did I tell you?! You've really never been to the zoo like this before. So grab your sweetie, get ready to check out some zoo animals, and have one wild time spending a memorable day with your sweetheart!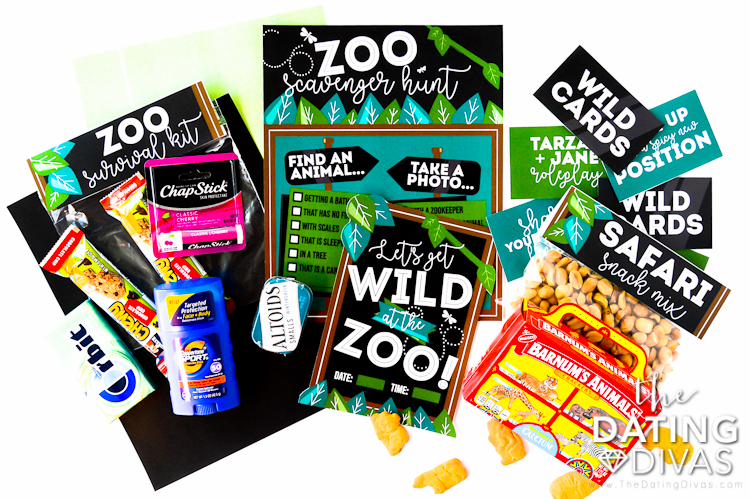 The Zoo Date
Printables Designed by Elizabeth Edwards Exclusively for The Dating Divas