Water Party Games
When the heat of the summer rolls in, all I want to do is hop in a pool to cool off… the only problem? I don't have a pool! Aw, shucks! If you're like me and can't wait to get in the water, we've created the absolutely perfect set of summer water games for parties. These water party games will help you beat the heat. So use these water games for adults with your favorite couple friends on date night or all your neighbors as you host a block party! These ideas are so universally fun, you could even do them with your kids! It's time to get wet, so throw on your swimsuit and have a blast with these water games for adults.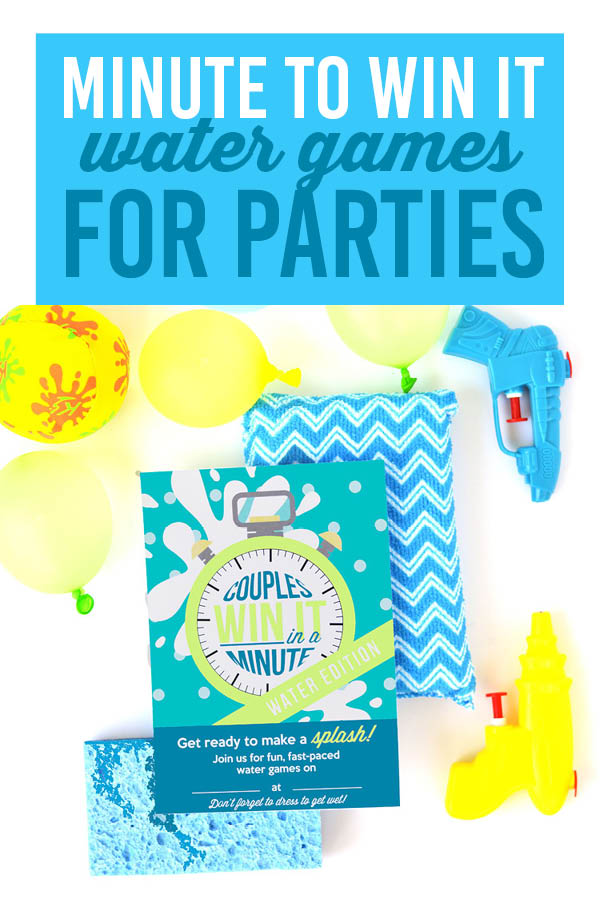 This post contains affiliate links. To learn more about 'em, click here.
Win It in a Minute: Water Games Edition
Let's call these water party ideas Win it in a Minute: Water Games Edition! You've played our other fun Win it in a Minute games, but this one is extra special because it involves fun in the sun! Leslie helped us create some cute printables so that most of the work is done for you! So print the designs and you can find the supplies you need around your house! Now tell me that isn't just what you are looking for! More fun outside, less prep inside!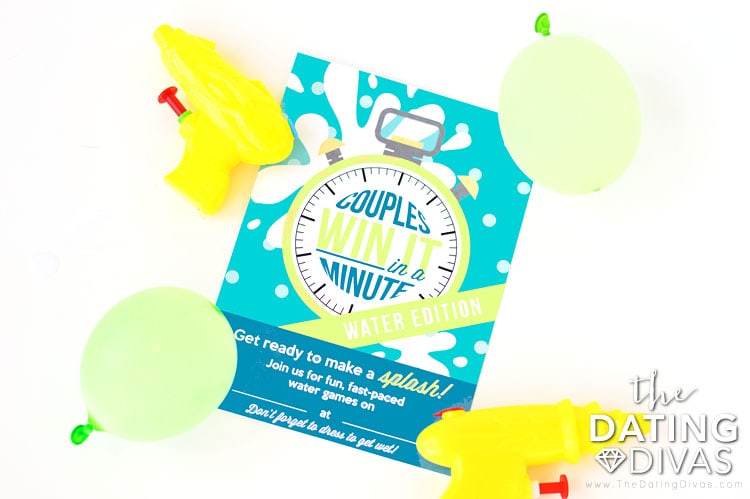 Start by simply filling out the invitation and passing it along to all your guests. Once you've chosen your guest list, start choosing your games! With so many water games for parties to choose from you can't go wrong! We will give you a rundown of several to get you inspired to start planning!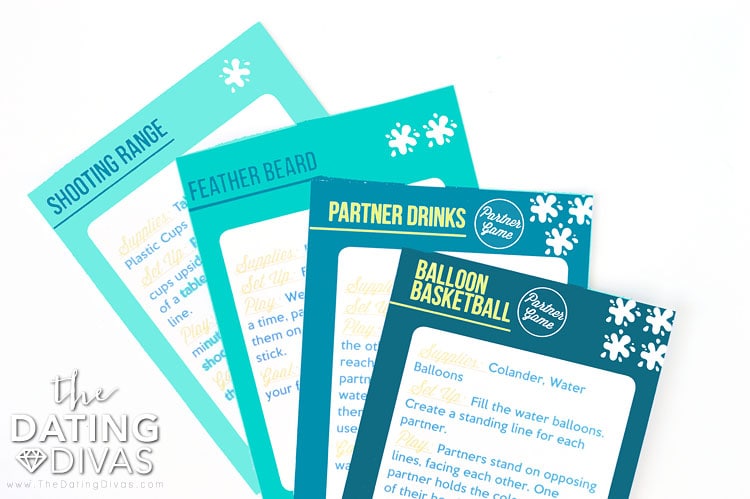 Water Party Games for Adults
We've got 16 ridiculously fun water games to choose from! They've each got a splash rating to help you pick the ones that will work best for your event. If you're feeling ambitious, you can totally do every single one! Look in the top corner of each card to know how drenched you will get by playing that game. A four splash game will leave you soaked. Meanwhile, you'll be a little wet in a one splash game. We'll give you a small sampling of our water games for adults below. But to get all of our ideas, download the printables for so many more!
The Cup Races
The Cup Races are kind of like those carnival games you've seen. You shoot a stream of water at a target to get your character to move towards the finish line. In our races though, you're shooting a plastic cup and trying to get it to move along a string to the finish line. You probably won't get too wet with this game. So just grab a few water guns and you'll be good to go!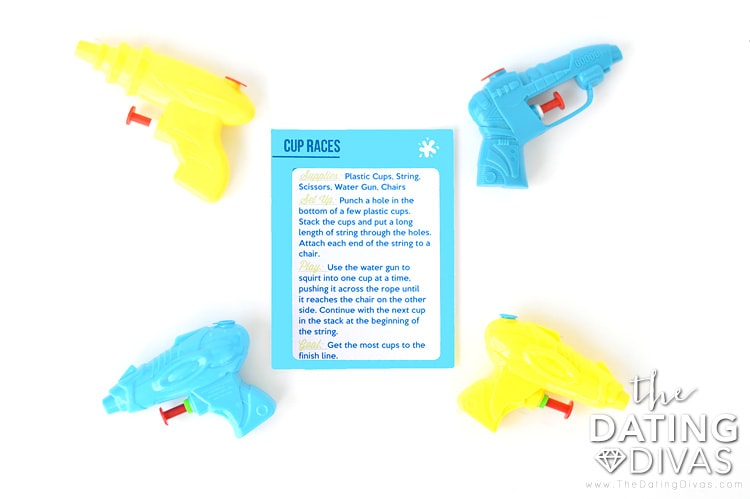 Ping Pong Water Tension
Here's a game that's more challenging than it seems. When you're collecting water games for parties, you don't want them all to be easy! It is so funny to watch grown adults jump around, passionate about winning! This game will really build anticipation and competitiveness! This could also be a science lesson for the kiddos on water tension! See how many ping pong balls you can blow off the top of the water. Be careful where you stand or you might get a splashed from the overspray!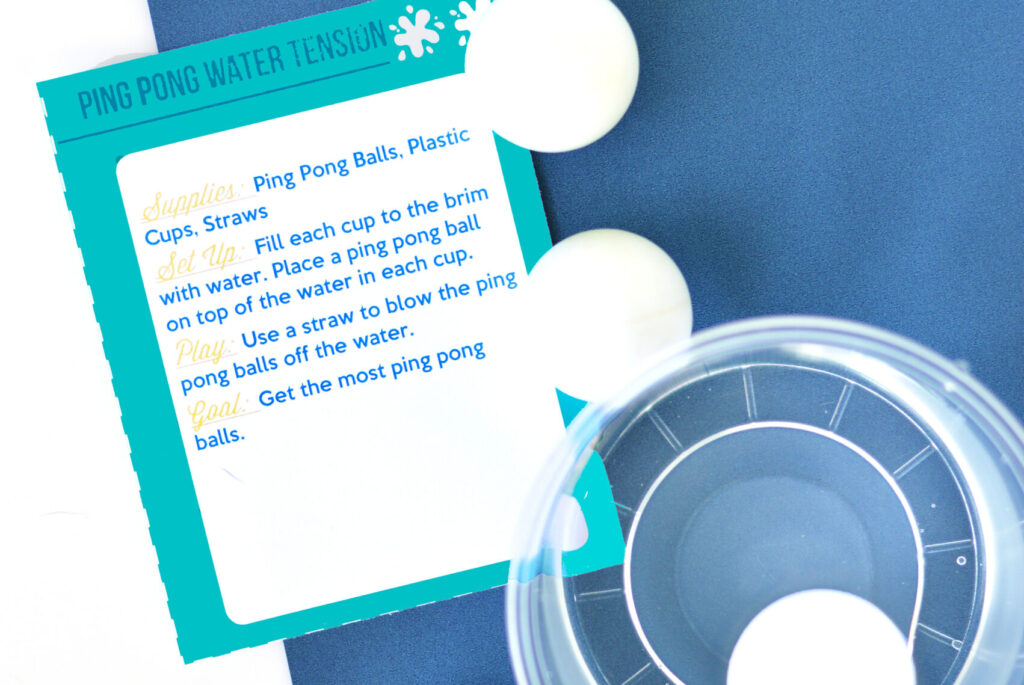 Sponge Bucket Fill Up
In the Sponge Bucket Fill Up, don't plan on staying dry! It's a simple game that only requires buckets and sponges… and tons of water, of course! Moms should really have an advantage at this water party game, considering our skills with sponges in the kitchen! Run with a sponge full of water to a second bucket. Ring it out, and run back to the first bucket to fill up the sponge again. Transfer the most water to the second bucket and you win!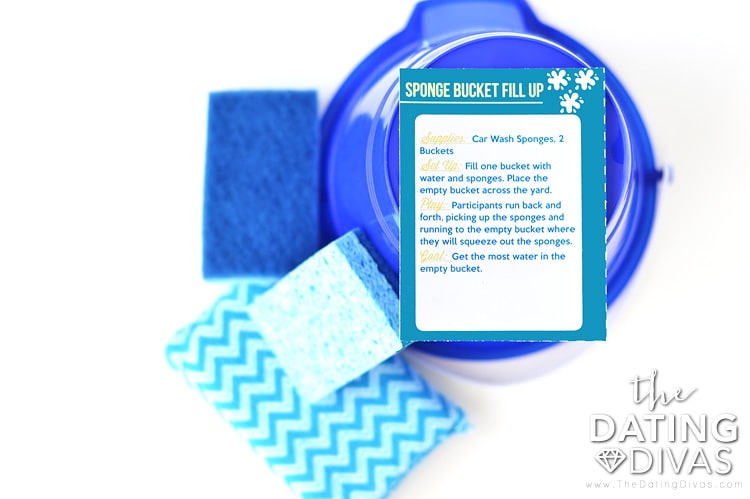 Body Popping
Get ready, these water balloon games will drench you! This is one of my favorite water games for parties. Watching everyone try to pop these balloons is absolutely hysterical! To set up, you need a bunch of water balloons, so we suggest using Bunch O Balloons to save you a ton of time. All you have to do to win is pop the most balloons without using your hands!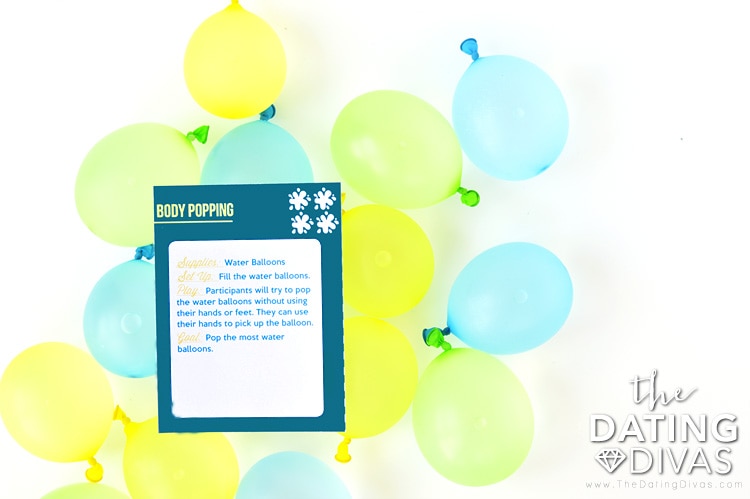 These are just a small sampling of the Win it in a Minute water games for adults we have included in our free printables! Download the rest of the water party games below. So get those hoses and water guns ready! And then grab our water games for parties printables to make for a fun day of fast-paced water games!
Are you are looking for even more great ideas to make the most of your summer with your family and friends? You can get the whole neighborhood involved with 101 Summer Boredom Busters or these 65 Outdoor Party Games.
Win It in a Minute: Water Games Edition
Printables Designed by Leslie @ Nina Bean Designs Exclusively for The Dating Divas