A Year of Dates Fully-Prepped!
I have made it a goal this year to make date night happen — no matter what! Anyone else? Sadly, I have learned from experience that if I don't plan ahead, life gets busy and what gets pushed aside? Date night. Please tell me I am not alone in this . . . Well, no more! This is the year to make date night a priority and we have made planning for date night SO SIMPLE! Seriously, it has never been easier! We have for you a WHOLE YEAR of completely planned-for-you date nights, including gorgeous printables, all together in one fabulous binder! When date night rolls around, just pull out your binder and you are set for a unique and fun date night! One afternoon of organization gives you a year's worth of date nights all ready to go — no excuses! Who is with me? Let's do this!

You might remember our original Year of Dates Binder that we put together a couple of years ago. It was such a hit with our readers that we just had to create another. And now, it is back and better than ever!  For this new Year of Dates Binder 2.0 version, we enlisted the talents of Joanna from Cutify Creative to design an all-new look and she nailed it! This new Year of Dates Binder is revamped with twelve completely new date night ideas – all in one easy-to-access binder!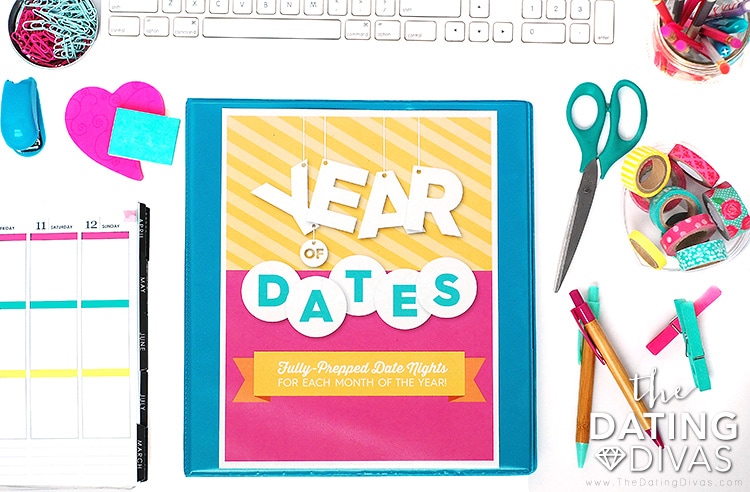 This fully updated Year of Dates Binder makes for a perfect gift for Valentine's Day, a birthday, anniversary, wedding, bridal shower — you name it! Who wouldn't love to receive this? We even had a fabulous reader make something like this and gift it to all of her married children for Christmas. So sweet! I am thinking I might make several of these and just have them on hand as gifts for the wedding season. I would have loved to receive something like this for my wedding!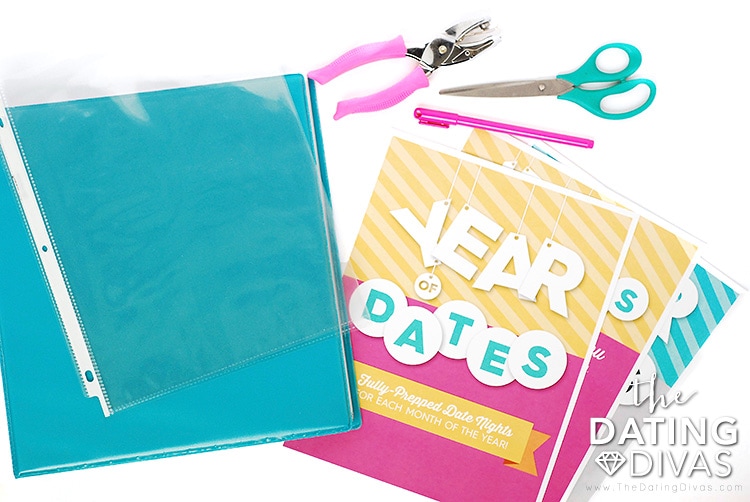 This is one of the easiest projects you could put together, and after you are done, you are set for the rest of the year! All you need is a 2″ binder, sheet protectors, a printer and some card stock.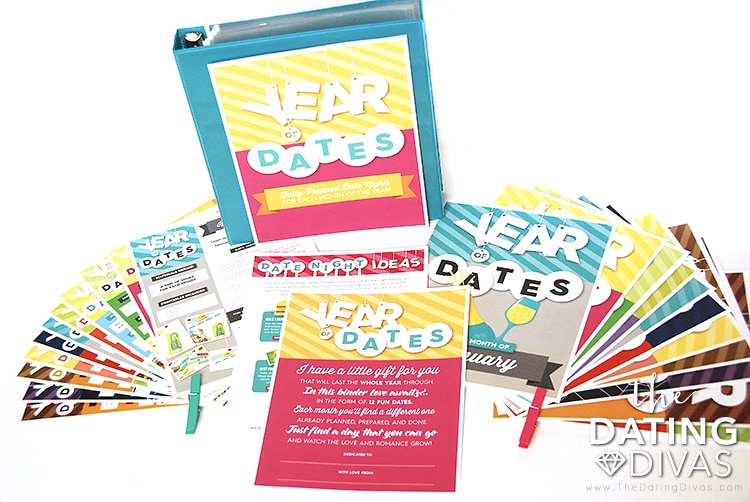 Here is what is included:
Binder Printables – Decorate the outside of a standard 2″ binder with a printable cover, spine, and back cover plus a dedicatory page for inside!
Dividers –  For each month of the year there is a unique cover page divider to help keep all of your dates organized.
Date Night Explanation Page – Each month's date includes a detailed explanation page including any additional materials you may need and instructions on how to complete the date idea.
Date Night Printables – The twelve creative and fun date night ideas all include printables that go along with the date. That makes twelve sets of date night printables — all in one place!
Bonus Date Night Ideas –  You can completely customize your date night binder by substituting any of the date night printables with one of these additional date night ideas or one of your own!
Let's take a closer look at this beauty that Joanna designed:
BINDER PRINTABLES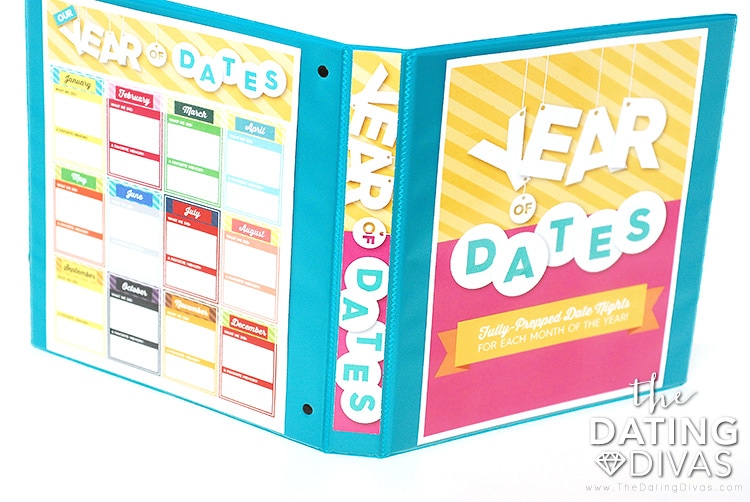 The binder pages give this gift a cute AND organized way to display your year's worth of dates. The kit includes a front cover, spine and back cover for the outside and a dedicatory page for the inside.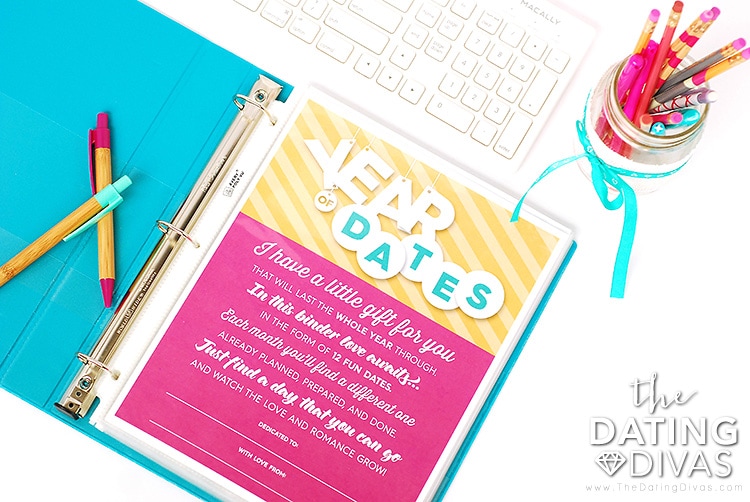 The dedication page will let your recipient know all about the fun date nights ahead of them and will give them a sneak peek as to what is included in the binder. And no worries — it is written in a way that you could easily use this for your spouse or to another couple — perfect for gifting!
MONTHLY DIVIDERS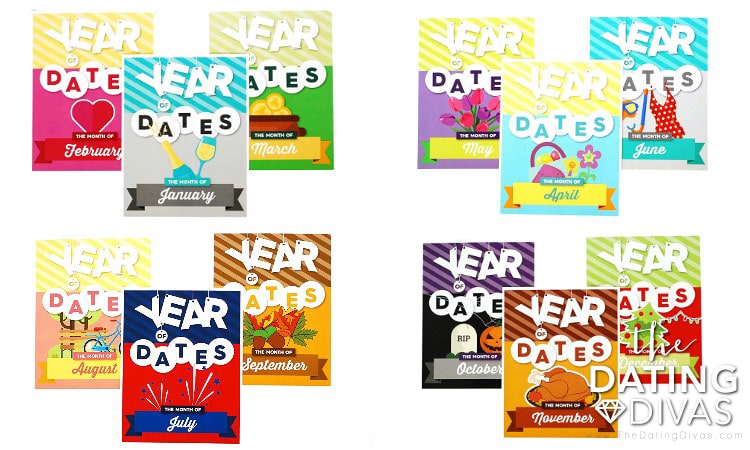 Monthly dividers will help keep all of your dates organized by month. No matter what time of year you gift this, you can move the dividers around to start in the month you give the gift!
DATE NIGHT EXPLANATION PAGE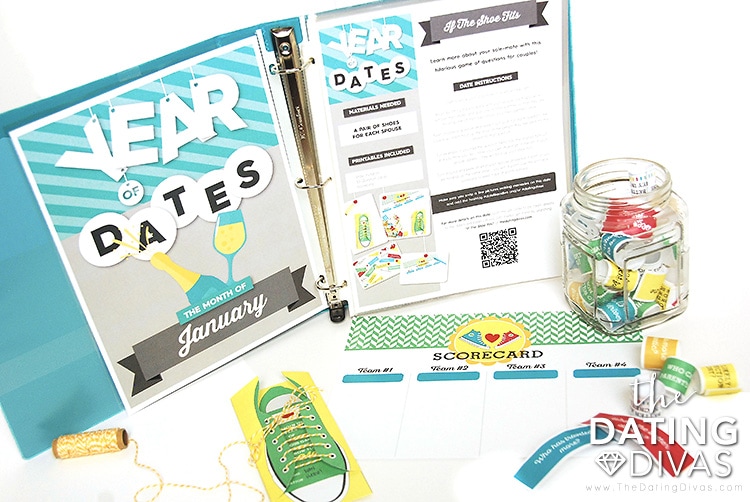 Behind each coordinating month's divider, there is a descriptive explanation page that includes all of the details for the date. If there are any additional materials needed they are listed here as well as an explanation about the date and even a link to The Dating Divas website if you need more information.
DATE NIGHT PRINTABLES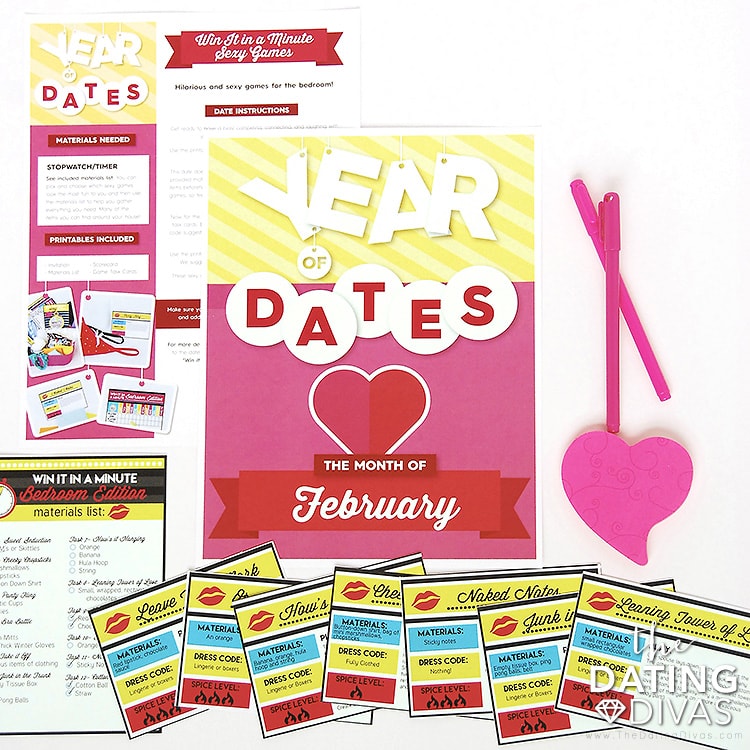 This pack includes 12 different date nights and all of the needed printables to complete each date. The date nights include a variety of at-home, inexpensive and out-on-the-town dates and most of the dates require few additional materials.
These done-for-you date nights include:
January –

If the Shoe Fits Date Night

 – Learn more about your sole-mate with this hilarious game of questions for couples.

February

–

Win it in a Minute Sexy Games

– Silly, sexy games for an evening in the bedroom!
March – Super Store Sweep –  A hilarious competition at your local supermarket!
April – Jelly Bean Date – A sweet set of games and activities centered around delicious jelly beans.
May –

Believe It or Not Date Night

– A fun at-home date night that leaves you questioning what is fact or fiction.
June –

Hiking Date

– Escape with your sweetheart to the great outdoors!
July  – Food Truck Date Night – A dinner date night on-the-go!
August – Ultimate Mini Golf Date Night – A game of golf that is guaranteed to be a HOLE lot of fun!

September

– The Library Date – A fun and free date night at your local library!
October – Haunted House Date Night – A night of fright for you and your "Boo".
November – Spouse Scattergories – A hilarious game that is all about your spouse!
December – Christmas Light Scavenger Hunt – Enjoy the sights and sounds of Christmas as you race to complete a unique scavenger hunt!
BONUS DATE NIGHTS
Your Year of Dates Binder can be completely customizable with the date nights you and your spouse will most enjoy! If you want to adjust any of the date nights included in the pack, you can simply change it out for one of the many other date night ideas we have on our site. This bonus page of ideas includes a few more of our favorites that would be perfect to add to our binder (we couldn't pick just 12!)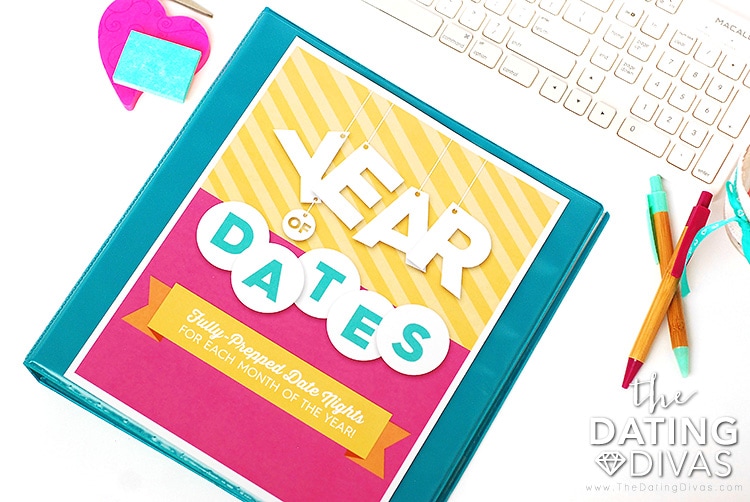 The best part of this binder? You can keep the binder for future years of date nights ahead! Just add in new and exciting dates from The Dating Divas site year after year! It is the perfect gift to last the whole year through.
Grab your
YEAR OF DATES BINDER VERSION 2.0
with 12 months of date night printables
for just
$10.99!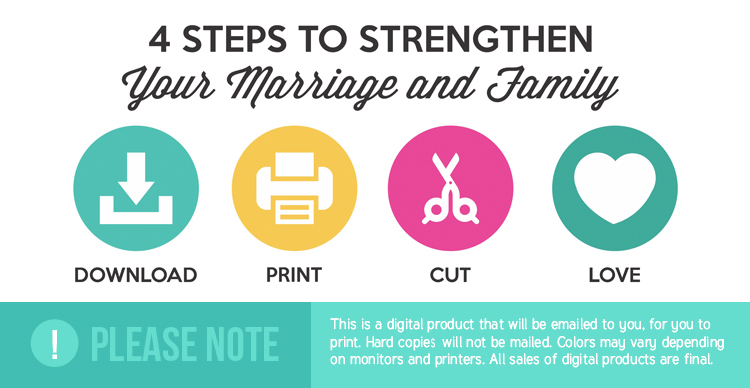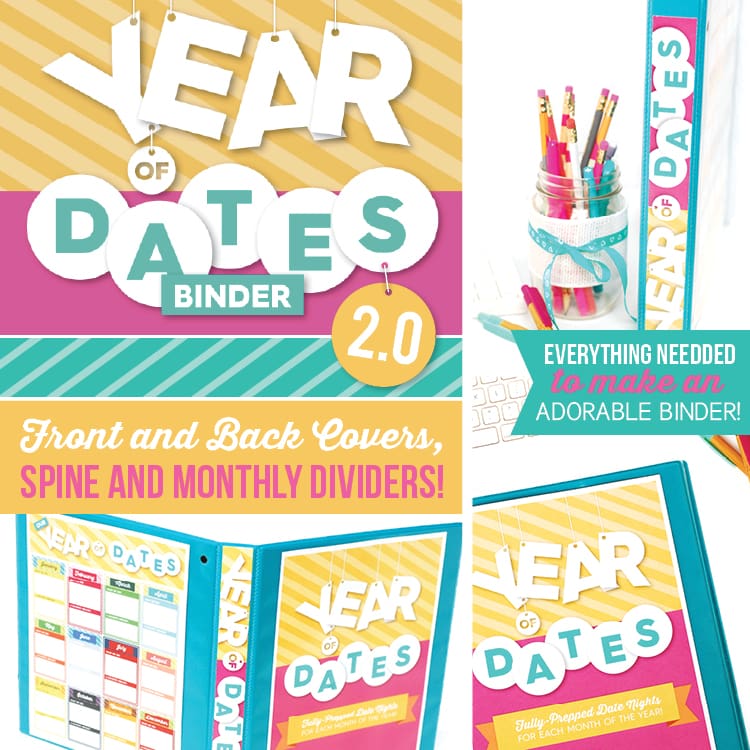 Because you can find all of the dates in this pack for FREE on our website, we wanted to also give you the option of buying JUST the binder cover, spine and back, along with the cute monthly dividers. If you want to hunt down the dates on your own, or customize the binder with different dates, this is the option for you!
Get the
BINDER SET
for only
$2.97!
If you love this, just check out our other Year of Dates products:
Year of Dates Binder (original version)
Year of Around the World Dates