You've Been Gobbled Thanksgiving Fun
I'm sure you're well aware of the classic "You've Been Booed" Halloween tradition. If not, it's a simple Halloween surprise from one neighbor to another spreading Halloween cheer with a special "boo" tag on your door. Well guess what? It exists for Thanksgiving too! You've Been Gobbled is the "You've Been Booed" of Thanksgiving and it's just as adorable and festive as it sounds! Imagine receiving a surprise basket on your door step filled with festive and fall treats. Not only is the basket cute and fun, but you get to pay the same gesture forward to another nearby neighbor! Get ready to enjoy your Thanksgiving-season even more with this adorable "You've Been Gobbled" printable set!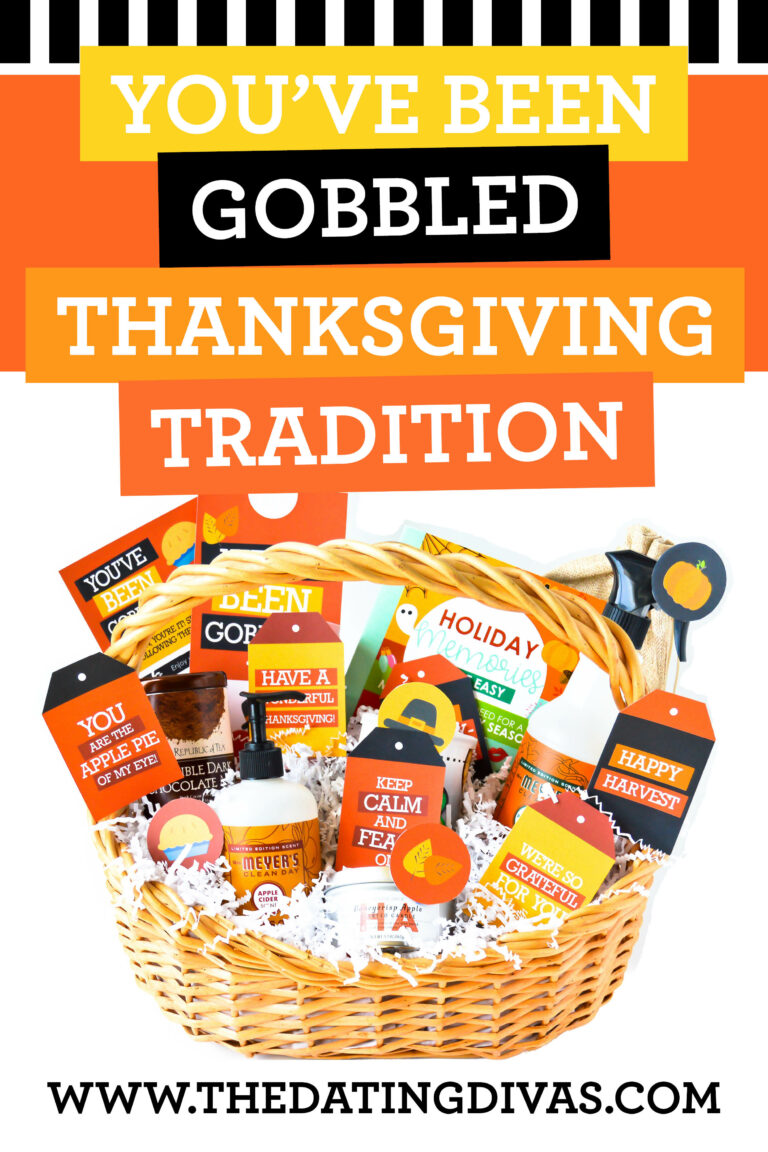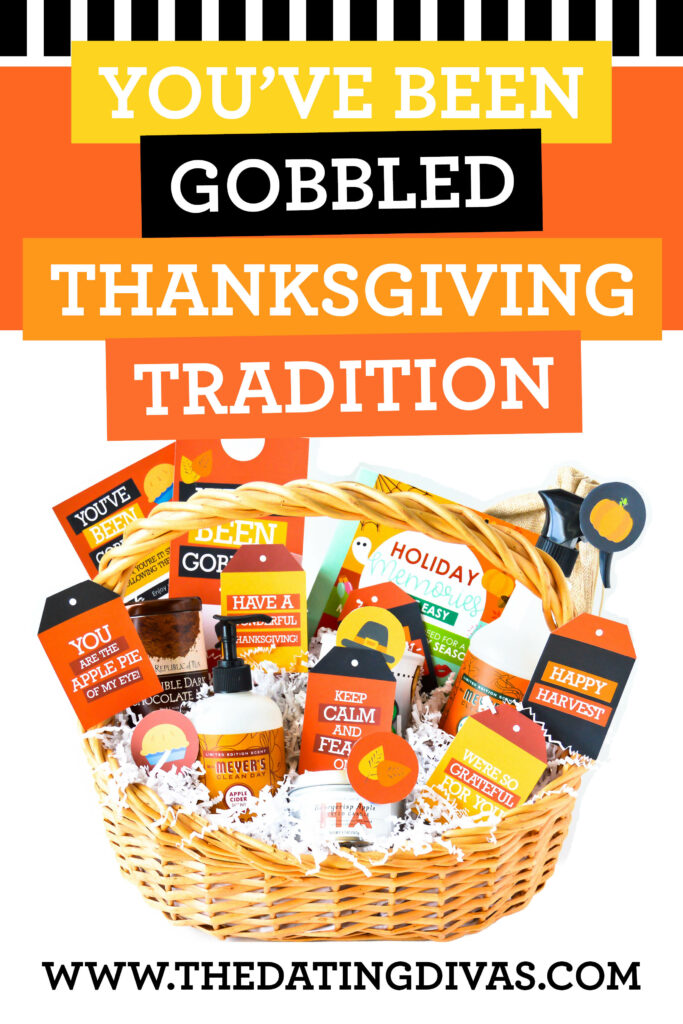 Disclaimer: This post contains affiliate links. To learn more about 'em, click here.
First off, this activity is perfect to conduct during November when Thanksgiving decor and fall products are everywhere in site. Secondly, the goal is to make a nearby neighbor or friend's day with some Thanksgiving cheer, delicious treats, and a fun activity of spreading the spirit of Thanksgiving. This can be perfectly achieved with these darling "You've Been Gobbled" Thanksgiving printables and a few other items.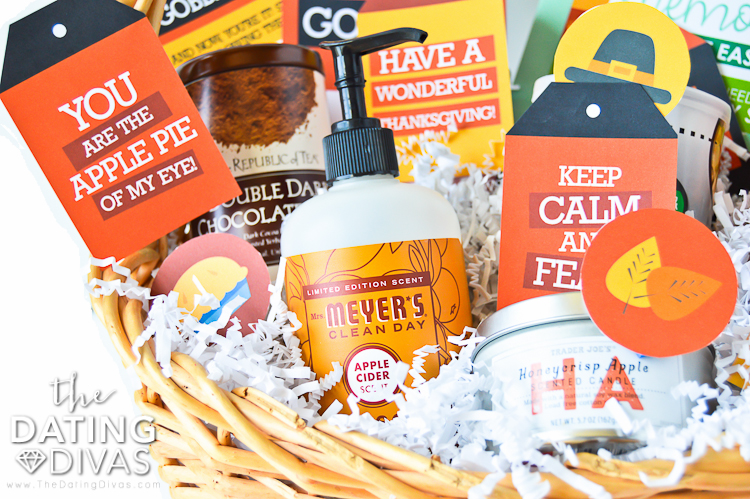 Let's start by going over the basic rules of "You've Been Gobbled"…
You've Been Gobbled Rules
Whether you've participated in a similar activity before or not, the rules are simple: If you're the one starting the activity, choose a neighbor to be the lucky recipient of a "You've Been Gobbled" basket! Then, print off the AH-dorable "You've Been Gobbled" printable set below.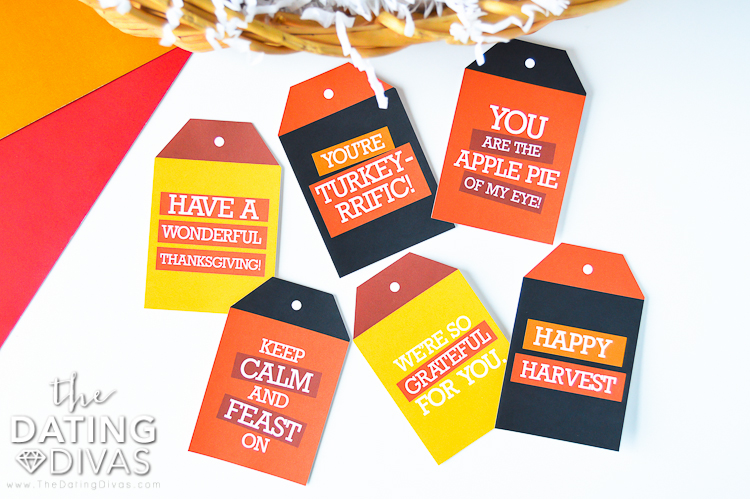 Along with the "You've Been Gobbled" printable set, you'll also need to shop for items to fill the basket with. We have several ideas for you (scroll down below!), but you can go as big or small as you like with festive and fun fall items.
When you're ready, assemble the "You've Been Gobbled" basket with your gifted items and the printable gift tags. Most importantly, don't forget the "We've Been Gobbled" door hanger! It will be used for the recipient to affix to their door, letting neighbors know they've "been gobbled."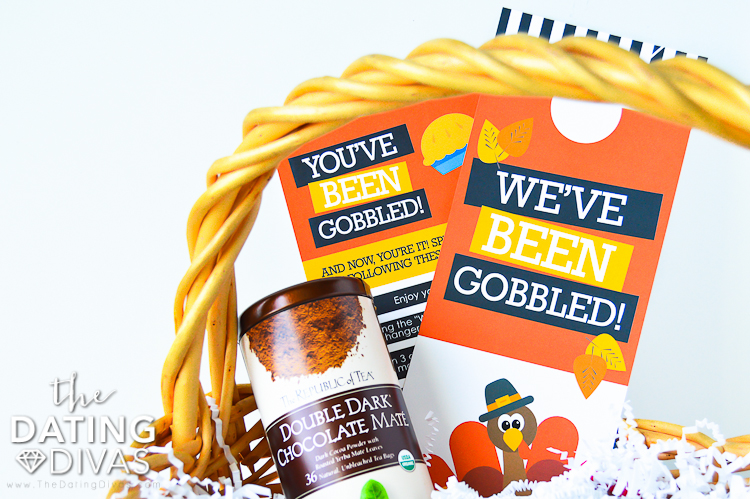 Lastly, the person you "gobble" is invited to pay it forward and "gobble" someone else! They can simple scan the QR code on their basket printable and access their own "You've Been Gobbled" printable set. How awesome is that?!
You've Been Gobbled Basket Ideas
Up next we have ideas for what to place inside your "You've Been Gobbled" Thanksgiving basket. You can obviously go with anything orange, yellow, or brown to match the holiday, BUT we have a few more ideas that are extra sweet and festive.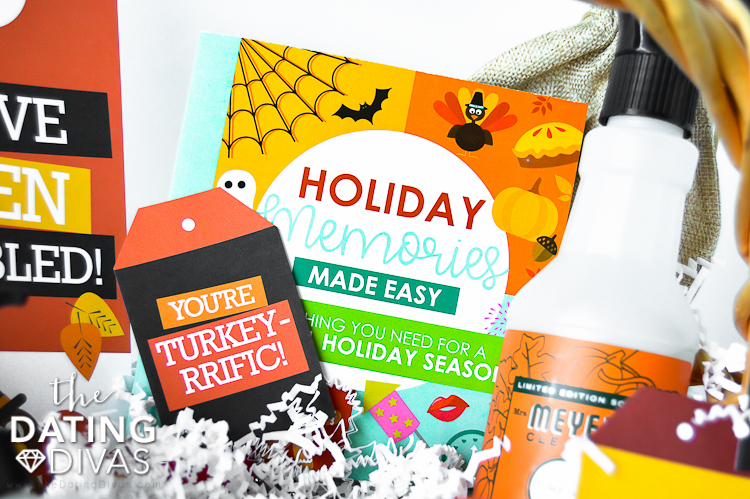 Hot Cocoa Packets – The fall weather and crispy air calls for hot chocolate on any November day!
Candy – Any candy will do, but some of our fall favorites are candy corn, Hershey's bars, Reese's, and M&M's.
Fall Scented Candle – We adore anything pumpkin spice or cinnamon!
Hand or Cleaning Soap – This would make a Mom really excited, but is extra fun for kids as well if it's seasonal or scented!
A can of pumpkin puree – You could even include your FAVORITE pumpkin recipe!
Copies of the Thanksgiving version of You've Been Gobbled printable set so they too can create their own basket for friends or neighbors!
Decorations or Activities – Head on over to The Dollar Store or the Target Dollar Spot for inexpensive but cute fall decor or activities. Some of our favorite road trip games and decorations have come from there!
BONUS TIP: Fill your basket with tissue paper, basket filler, or even newspaper for a more full look. You certainly don't have to fill your basket to the brim, but this way, your basket will look extra fancy!
Surprise Basket Delivery
The last step of this family-friendly activity is to deliver your "You've Been Gobbled" basket to the lucky family! Double check: Do you have all your basket items? Did you include the "We've Been Gobbled" door hanger? Are you wearing comfortable running shoes for a surprise drop and dash? Here's why!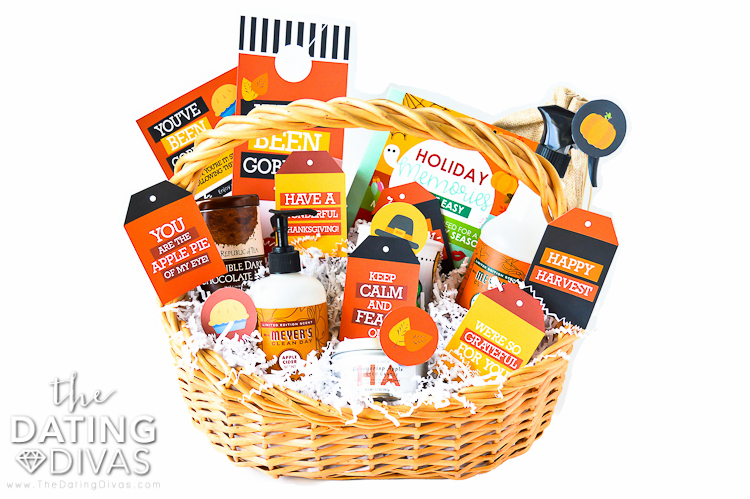 There are many options for delivering this surprise gift, but we recommend the "ding dong ditch" method. Choose someone in your family (or pick yourself!) to be in charge of dropping off the basket at the lucky family's door. Pick a time that you know they're home BUT avoid a time they could be coming and going!
When you're ready to deliver the basket, approach their door carefully and quietly. Place the basket facing the front so they'll see it right away. Then, ring the doorbell and dash away as fast as you can! (You don't want to get caught!)
This festive and unique Thanksgiving version of "You've Been Gobbled" is a perfect Thanksgiving tradition! From picking the goodies, to assembling the basket, to the "drop and dash" of the final product, your family will enjoy this experience from start to finish!
For more Thanksgiving fun with the kiddos, check out our adorable Thanksgiving Photobooth Prop printables and our Thanksgiving Bingo Game! Both are a HIT on or before Thanksgiving Day!
You've Been Gobbled Printable Pack
Printable Designed by Elizabeth Exclusively for The Dating Divas