I adore this time of year- all the twinkling lights seem to cast a romantic glow around the city.  For this date, I wanted to show my husband that he is the "LIGHT" of my life!  To set the scene, I couldn't resist trying out an idea I spied on Pinterest: making a strand of light bulbs out of fingerprints!  This fun technique became the background of a little card I set amidst a strand of lights for my hubby to find.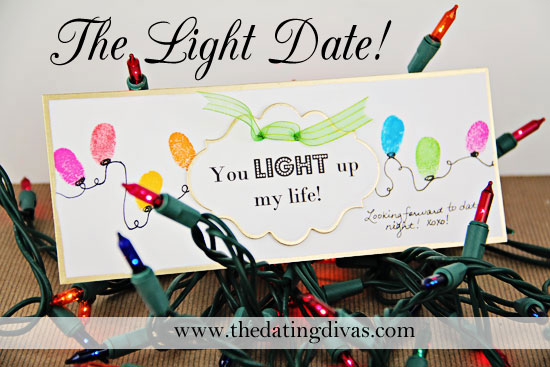 This post contains affiliate links. To learn more about 'em, click here.
For the main part of our date, we created light graffiti!  In this photography technique, you use a light source (like a flash light) to write messages or draw pictures while your camera is set to a very long exposure.  Since this was the first time either one of us had experimented with this concept, we were a little afraid it might be too complicated… it turned out to be super easy and fun!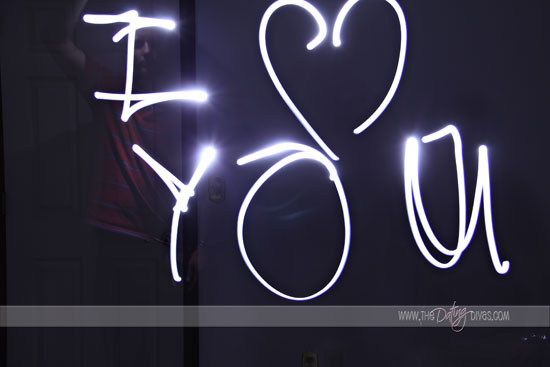 For this activity, you will need: a light source that can be turned on and off (like a flash light), a camera on which you can manipulate the settings, a tripod, and a dark room.  If you don't have a tripod, you could easily set up your camera on a bookshelf or stack of books.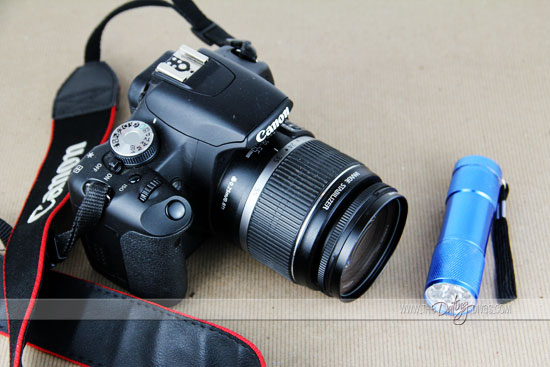 Then, watch this video for a basic tutorial on how the process works.  We followed their advice and set our ISO to 100 and the shutter speed to 25-30 seconds.  James shined the flashlight while I pressed the shutter half way down to focus the camera on where he was spatially in the room.  Then, he turned the flashlight out and I pressed the shutter button all the way down to start the exposure in all darkness.  From that point on, it was a race to see what he could write or draw in the 25-30 seconds the shutter was open!
To make a word, James turned on the flashlight, drew one letter, and then turned off the flashlight before he moved onto the next letter.  This way, the light didn't run together between letters.  Same thing with the hearts- we drew one half of a heart and then turned the light off while we re-positioned the light.  When we thought the flashlight was more or less in the right spot to complete the other half, we turned it back on and kept drawing.  It is definitely a trial and error process- the instant playback on the camera will tell you immediately what to do!  Also, remember to write your letters backwards if you are trying to write a message!
The possibilities are endless for what you could create!  Here were some of our favorite images: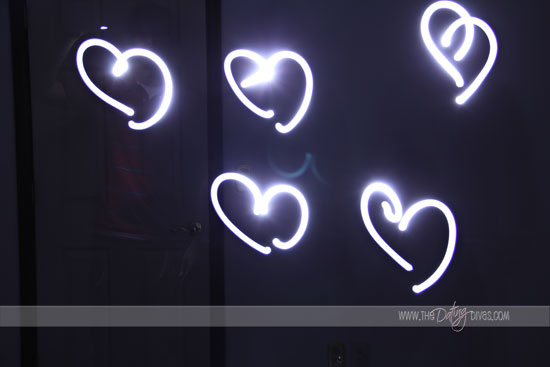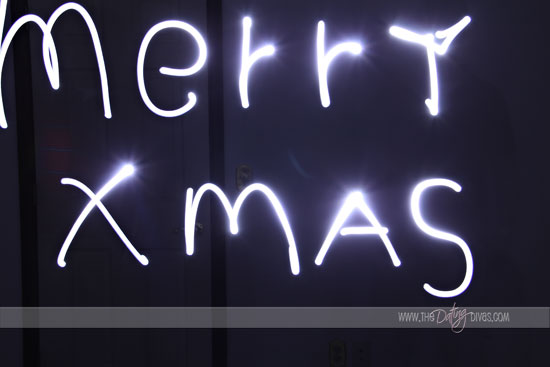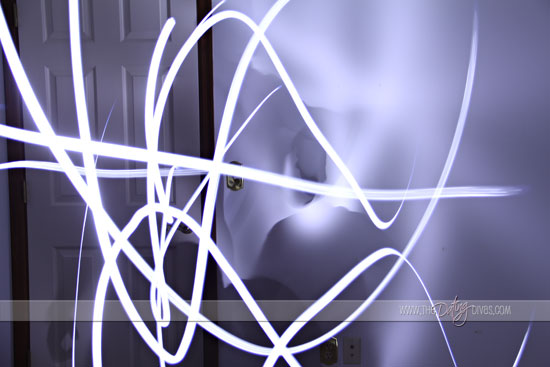 We used an older version of a Canon Rebel DSLR to take the above images.  This newer model just might be on my wishlist from Santa: Canon EOS Rebel T3i 18 MP CMOS Digital SLR Camera and DIGIC 4 Imaging with EF-S 18-55mm f/3.5-5.6 IS Lens
.
However, you don't necessarily need a fancy camera to create these types of images.  After digging out the manual for my point and shoot camera, I discovered I could manipulate the settings on it as well.
Overall, we had an absolute blast with this activity!  Be prepared to work up an appetite since you are literally racing against the camera to complete your composition.  After all the running, jumping, and laughing, we settled down by the fireplace and made up a batch of s'mores!  What could be better??!… chocolate, the soft glow of the fireplace, and time with your sweetheart!
Here are some other fun ideas for a "light" themed date:
If your husband has a sweet tooth, bake up a batch of light-bulb shaped sugar cookies!  These images from The Cookie Cutter Company and Bridget of Bake at 350 featured on the blog "We are THAT family" are definitely inspirational!
Drive through your town's local professional light display or see if the botanical gardens has a special Holiday light walk-through.
Grab your sweetheart and the kids and explore the CHRISTMAS lights in your own neighborhood.
Instead of eating at the table, set up a blanket near the fireplace and have dinner picnic-style near the warmth of the crackling fireplace light.
Pretend the electricity is out and keep the lights off for one night!  Enjoy the glow of your tree lights and other candles sprinkled throughout your house…. just don't forget to blow out the candles when you go to sleep!
Create a Christmas version of Becca's Rooftop Date!  Decorate your outdoor space with candles and twinkling lights.  Then, bundle up with your sweetheart and enjoy a cup of hot cocoa underneath the stars!
Cheers to showing your spouse that he or she is the LIGHT of your life!