Rein"dear" Games
I am SO EXCITED!  Are you ready for this!?!
You remember the awesome giveaway we recently had for the darling "Merry Christmas Deer" kit, right?  Well…. one of our AmAzInG Diva Readers (rock on, Daphne Jackson!) was inspired and came up with her own evening of how to be your man's reinDEAR this Christmas… and YES, she is sharing the love with all of us – including a FREE download!  Oh yeah, double score! …with this now and with HIM latah!  Seriously, this is perfect for any evening this week to have some sweet Christmas memory makin' after kids and in bed.  Check it out!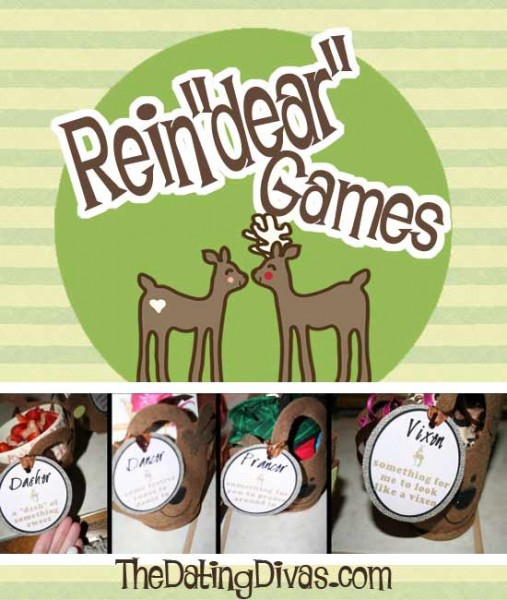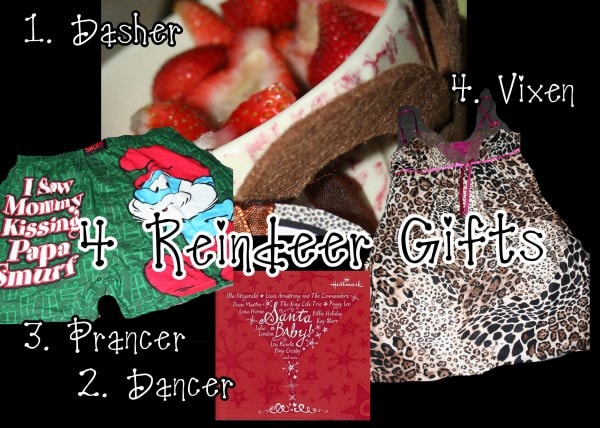 She picked up 4 felt reindeer baskets at the Target Dollar Zone and filled them each with a surprise.   The 4 reindeer "bearing gifts" are Dasher, Dancer, Prancer, & Vixen.
Dasher brings a dash of something sweet (strawberries & white chocolate fondue & sparkling white grape juice.)
Dancer offers a Christmas CD for a couple's dance (by romantic Christmas tree lights or fireplace perhaps?)
Prancer brings a pair of Christmas boxers for him to prance around in (ooh la la!)
Last and maybe most generously comes Vixen, bearing an outfit for you to look like a "Vixen" for him in!  (Daphne found a leopard-print nightie that she called "reindeer-print." Love it!)
What's your man's favorite nightie style on you?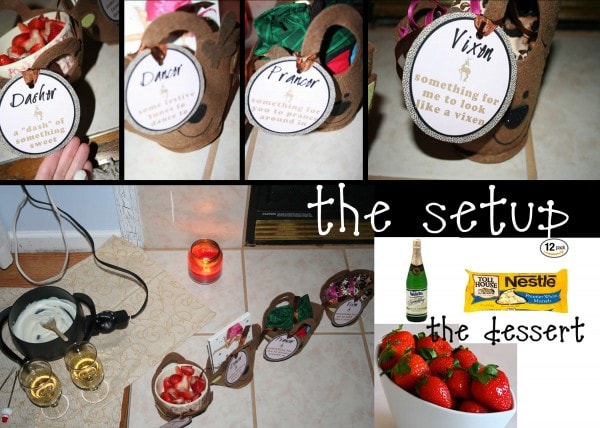 Of course your presentation as his reindear is all part of the fun!  I love how Daphne got everything ready as shown above.  She's also got an adorable invitation to hide somewhere that he'll see it on the morning of your date.  You can totally download your invitation and darling gift tags now!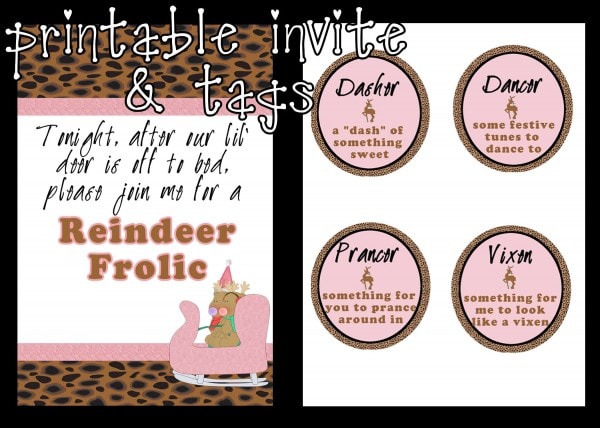 Can I just say "THANKS, Daphne!"  We can't get enough good ideas from our fellow divas! Here's a peek at this sweetheart and her Mr. Jackson.  What a good lookin' couple!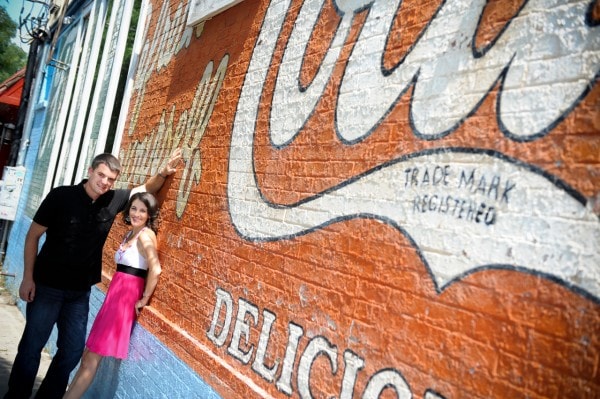 I am already planning this easy and playful evening for my own man.  I hope Target has some deer baskets left for me!  {If not….you can find ANY kind of baskets or containers around your house and "dress them up" with paper antlers & ears!}