Say hello to screen-free fun that costs next to nothing! These sidewalk chalk ideas will provide you with endless fun and some fresh air! Even if you haven't created sidewalk chalk art in years, we have ideas that are so simple even your littlest kids can join in!
PLUS, don't scroll past an adorable SIDEWALK CHALK DATE IDEA you can do with your spouse! A little artsy, flirty, outdoor fun is a great way to connect!
10 Genius Sidewalk Chalk Activities
Disclaimer: This post contains affiliate links. To learn more about 'em, click here.
Make a game board out of sidewalk chalk, and use rocks as game pieces! You could also make a target to toss rocks at, create a Twister board, or even make your own chalk-version of Chutes and Ladders!
2. Make a Creative Chalk Art Background
Sidewalk chalk art at its finest! Create a background with chalk and add your kids–or yourself–into the scene. This sweet photo (by Samantha Johnson) can provide some great inspiration!
Create a track or scene for your kids to use. This sidewalk chalk activity will put a new spin on old toys! You could even scale the track larger and make roads for them to ride their bikes.
4. Make a BIG Sidewalk Chalk Creation
My favorite thing to do as a kid was to make a huge sidewalk chalk city complete with roads and houses. Cruising around a chalk road on a bike is so much fun, and so much work to draw–but not with this gadget!
Grab your chalk–you've got work to do! Make a game board and click the link above to print a dice that pairs with your chalk game!
Put a twist on your typical sidewalk chalk ideas and use sidewalk chalk paint! You could make your own sidewalk chalk paint or buy some for convenience.
Boost someone's mood with a happy sidewalk chalk message! Use a stencil and chalk paint to create a birthday message, a love note, or a cute site for a photo op! Click the link above for a full how-to tutorial.
8. Make a Themed Chalk Art Theme
Choose a theme and create a sidewalk chalk masterpiece. You could create chalk art of space, the jungle, a pirate ship, a candy store–the possibilities are endless!
Make a simple target out of sidewalk chalk and keep score. The best part is, you can toss rocks, acorns, anything you find nearby!
10. Create a Hopscotch Obstacle Course
This is a must-try sidewalk chalk idea from Hands on as We Grow! Make an obstacle course with jumps, spins, and balance exercises.
SideWalk Chalk ARt Date
It's time to put your sidewalk chalk talents to work–it's date time! Start by prepping the popsicle invite and attaching it to a popsicle stick and a box of chalk.
Once you have your date secured, print and prep the other free printables. We have included several fun activities for your sidewalk chalk date!
Epic Chalk Contest
Kick your date off with a bang! Here's how the contest works:
Set the timer for 60 seconds for each round.
Take turns choosing a printable prompt.
Try to draw what the prompt says in 60 seconds or less.
Vote on who wins the "Best Chalk Artist" award. Whoever wins gets to choose between a high five, hug, or kiss!
The free printables have a printout of the contest rules as well as the drawing prompts. Fold each card in half and prop it up next to your masterpiece!
Chalk Art Activity
Next up is a date activity more about your connection than your artistic skill! Here's how you play, Let's CHALK About It!
Have your spouse lay down on the sidewalk.
Set the paper hearts alongside your spouse.
As you begin to trace your sweetie, read out loud each question and take turns answering.
Once you finish tracing, switch places and use the remaining questions until your masterpiece is finished!
Trace your lover and have a great conversation while you're at it! Let the hearts guide your conversation while you draw your partner with sidewalk chalk. The questions include:
If you had to do an extreme sport, what would you do?
What's another career that you think you would enjoy?
What do you want to name a pet, or your next pet?
Which game show do you think you could win?
Do you prefer looking at the sunrise or the sunset?
Do you have a motto you like to live by?
What would you like to create with your own hands?
What is the best toy every kid should have?
If you started your own restaurant, what food would you serve?
What other languages would you want to learn?
Sidewalk Chalk Act of Service
There is no better feeling than brightening someone else's day. As part of your date (or another time if needed), have you and your partner take your box of sidewalk chalk and leave a note on a loved one's walk or driveway. Don't forget to leave this darling printable note on their door handle, or attached to a box of chalk you leave them as a gift.
Enjoying writing kind notes and drawing pictures all around their house. Think about what will brighten their day and make them laugh!
Leaving a box of chalk is a fun way to give someone else a fun summer activity and a smile!
Sidewalk Chalk Ideas
With all of these sidewalk chalk ideas in your arsenal, you are locked and loaded for a fun summer night outdoors! These ideas are great for kids or couples, too! Pick and choose which chalk art activities best fit your night, or do all of them!
No matter what you do, end the night with popsicles! It's the perfect end to a fun date outside with your love.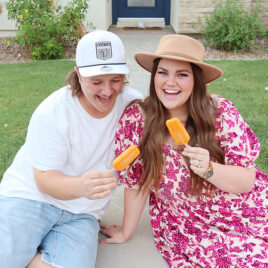 Sidewalk Chalk Date
Printables Designed by Courtney Exclusively for The Dating Divas