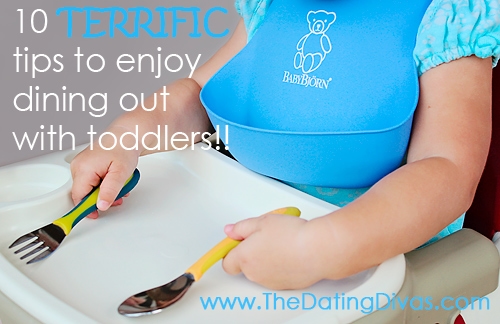 Disclaimer: This post contains affiliate links. To learn more about 'em, click here.
Eating out with a toddler or two can be daunting… unless you are well-prepared! Our little family loves going to restaurants and after a lot of trial and error we have figured out a few sure-fire ways that help make dining-out enjoyable for everyone. Check out these tips and give them a try the next time you go out to eat.
Dine Early. Plan on arriving at the restaurant a little before you normally eat. We usually eat at 5 pm so we try to go out around 4:30. This way the kids aren't starving, and usually the restaurant isn't too busy.
Know Before You Go. Choose what restaurant you are going to before you get in the car and check out the menu online. Have an idea of what you want to order so you aren't having to study the menu there, especially if it's a place you have never eaten at before. If they take reservations, give them a call ahead of time. We have been disappointed more than once when we have gone to a restaurant only to find out there is a 40 minute wait and we know our kids would not be able to wait. Fast food just doesn't cut it when you have been anticipating some tasty Olive Garden or Texas Roadhouse.
Location, Location. Choose a table that will work best for your family. Booths are sometimes better to keep a child in a booster seat contained. We will usually face our toddlers towards the busiest part of the restaurant so they are entertained by all the action, but if that would distract your child too much, have them face you.
Order Efficiently. Order your child's food when your waiter asks for your drink order, especially if they are a slow eater. If they are faster eaters, plan it so that their food comes out when your salad does so that they don't finish their meal too much faster than you.
Buckle Up. Put your child in a highchair and buckle them in. When our first child was born we invested in a Fisher-Price Healthy Care Deluxe Booster Seat that comes with its own tray attached. This is so perfect for younger ones because they have everything they need right in front of them instead of having to reach up to the table.
Pack A Sack. We have a little lunch bag that we bring along every time we go out for supper and it has been a lifesaver every time. Pack extra foods you know your child will eat in case your food is slow or they just don't like it. We put in things like pretzels, individual fruit cups, Cheerios, cheese sticks, crackers, and granola bars. While you are at it, toss in a fork and spoon your child uses at home since few restaurants offer child-sized cutlery. Some restaurants like Mimi's Cafe and Claim Jumper offer free appetizer plates for little ones to munch on while they are waiting for their food to arrive, so take advantage of it.
Keep It Clean. Make sure to bring a bib ( I LOVE the BABYBJÖRN Soft Bib) or keep disposable ones with you in your sack, and don't forget the wet-wipes.
Seat Activities. Have a few games up your sleeve. "I Spy with My Little Eye" can go for quite a while. My kids love little finger plays like "5 Little Monkeys Jumping on the Bed." If you have puzzles or games on your phone – that may keep them entertained for a bit while you finish up your meal.
Know When To Go. Ask for your bill and any boxes you may need as you are finishing up your meal, especially if your little ones are getting restless.
Share The Love. Make sure you slather on the compliments for all the good things your toddlers are doing throughout the meal. This positive reinforcement will help them learn appropriate behavior in a restaurant and make your dining experience positive for everyone.
Hopefully some of these tips will come in handy the next time you and your husband plan a family date out for dinner! For another fabulous idea to use when taking your kiddos out on the town, be sure to check out Erika's "Kid Date Box!" Bon Appetite!