Over 100 FREE Halloween Decorations
With Halloween just around the corner, it's time to start planning for those spooktacular parties, treats, and activities, as well as transforming your home with decorations galore. The thought of all that work may give you the shivers, but never fear! We've got you 100% covered with our list of 101 FREE Halloween Printables. We have included everything from printable Halloween decorations to Halloween party ideas! Your holiday is about to become easy-peasy and hauntingly perfect, just like magic. How very 'witchy' of you!

Disclaimer: This post contains affiliate links. To learn more about 'em, click here.
Get ready for all sorts of tricks and treats as we reveal the goods! We've made it super simple to find just what you're looking for by breaking things up into individual categories. Your list of 101 FREE Halloween Printables includes:
24 FREE Printable Halloween Decorations
32 FREE Printable Halloween Gifts and Treat Tags
24 FREE Printable Halloween Party Supplies
21 FREE Printable Halloween Activities
See what we mean? Halloween isn't so scary with us by your side! Let's get going!
FREE Printable Halloween Decorations
From banners and artwork to everything in between, these free Halloween printables will give guests an extra spooky surprise! You are sure to find just the Halloween decoration ideas you have been searching for!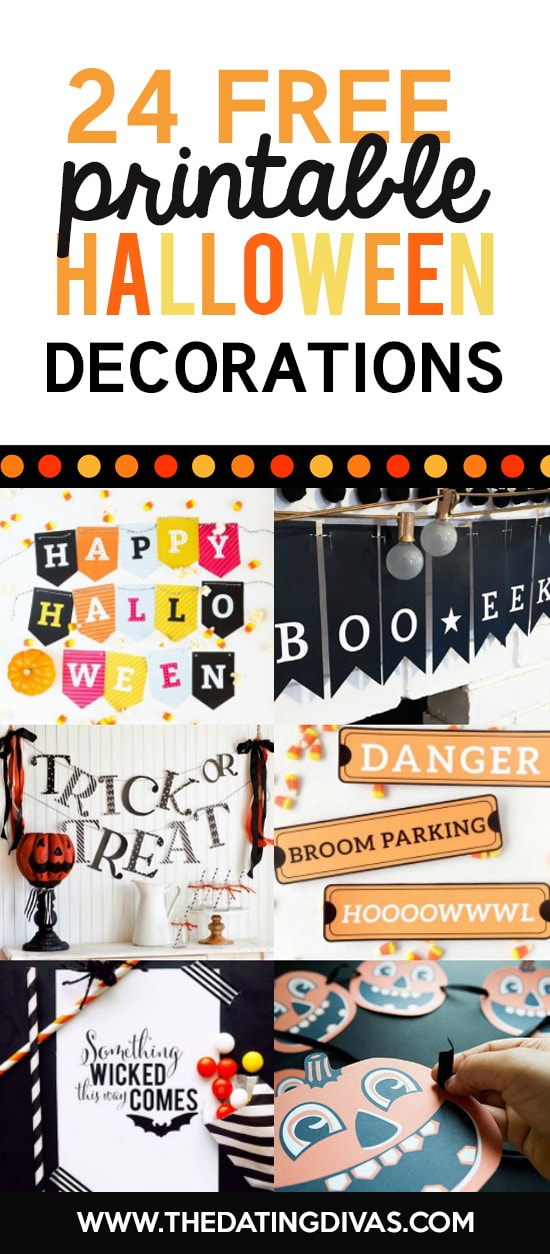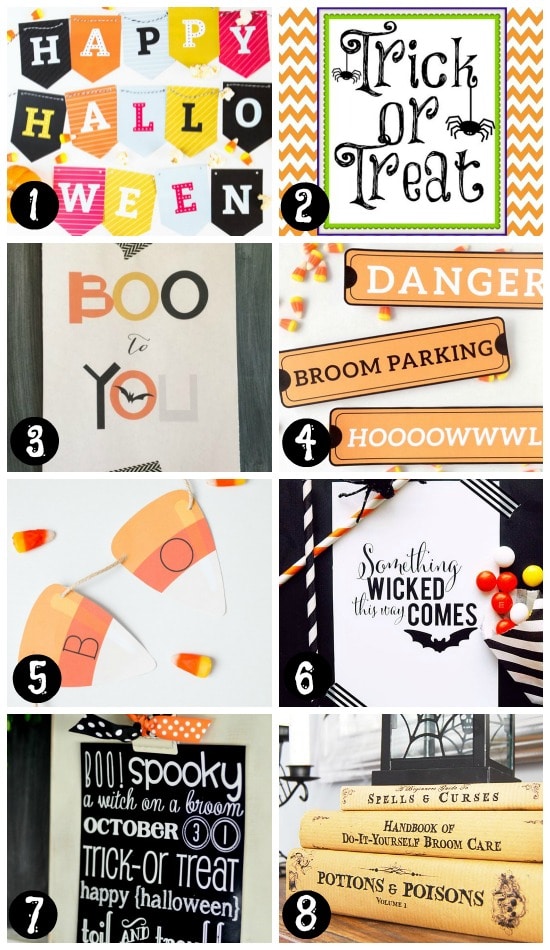 1. Happy Halloween! Banner (Design Eat Repeat) – Colorful, fun, and fabulous, this Halloween banner screams awesome!  
2. Trick or Treat Printable (Second Chance to Dream) – Just add a frame and you're ready to roll! Printable Halloween decorations for the win!
3. Boo to You (Olive Lane) – Stunningly chic, this sign makes for the perfect Halloween greeting. 
4. Trunk or Treat Car Signs (The Dating Divas) – Transform your vehicle with our car-friendly signs and be the talk of your Trunk or Treat! 
5. Boo Banner (The Beauty Dojo) – Calling all candy corn lovers! This printable banner is the perfect way to celebrate the season.
6. Something Wicked This Way Comes (Pen & Paper Flowers) – Where simple meets spooky, this is one Halloween warning sign you don't want to miss!
7. Halloween Chalkboard Art (Simply Kierste) – You'll be charmed by this chalkboard art. Frame it and flaunt it!
8. Book Covers (Little House on the Lane) – Goodbye boring and hello gorgeous! These unique book covers are absolutely bewitching.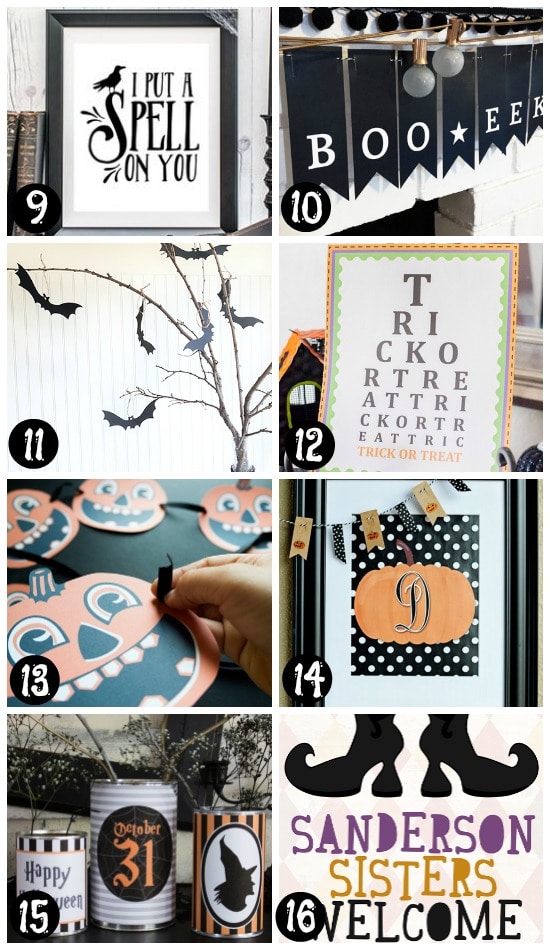 9. I Put a Spell on You (Printjoy) – Cast a curse on any who dare look at this clever design. We're certainly spellbound. For five MORE adorable options, check out  these spooky Halloween Wall Art pieces! (The original idea we had here no longer exists, so we found another option for you!)
10. BOO! EEK! Banner (Paging Supermom) – We're all about banners and this one gives us goosebumps!
11. Haunted Halloween Tree (Ella Claire) – You're "batty" if you don't create your own Halloween Tree. Give this one a go!
12. Trick or Treat Eye Chart (Capturing Joy with Kristen Duke) – Make sure to sneak a peek at this clever spin on an eye examination chart. 
13. Vintage Pumpkin Banner (Craftaholics Anonymous) – Unleash your inner retro with this vintage inspired banner – guaranteed to please.
14. Monogram Pumpkin Sign (I Should Be Mopping the Floor) – Available in every letter, these personalized pumpkins make for a great piece of Halloween art!
15. Halloween Can Wrappers (Eighteen25) – Looking for something a little out of the ordinary? These festive can wrappers are just what you need!
16. Sanderson Sisters Printable (Our Holly Days) – Fans of the film will adore this Hocus Pocus inspired artwork. We sure do!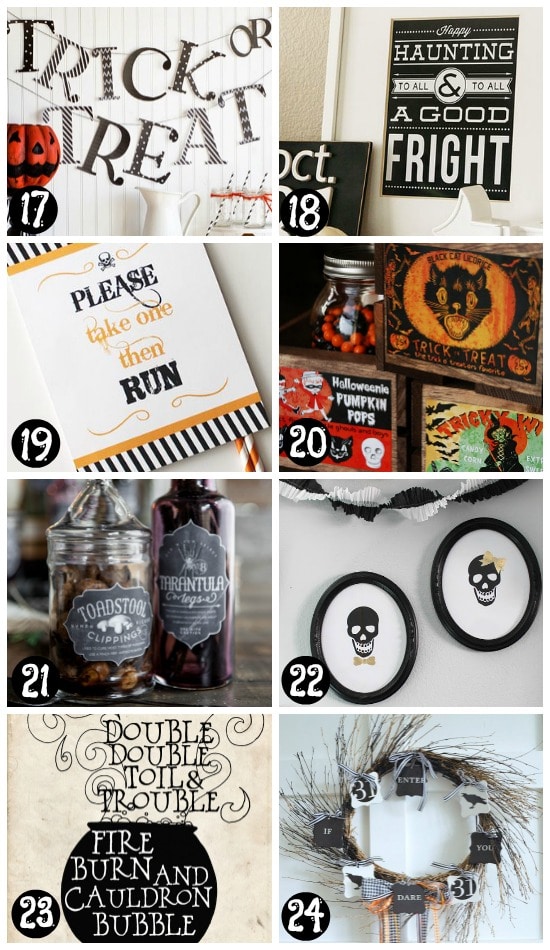 17. Trick or Treat Banner (Ella Claire) – Let everyone know what the magic words are with this hangable treat.
18. Happy Haunting (Eighteen25) – What do you get when you put a twist on a classic Christmas phrase? This fabulous printable!
19. Take One Halloween Sign (Kori Clark) – Give trick-or-treaters a friendly reminder in a cute and clever way.
20. Vintage Crate Labels (My Paper Crane) – Use these vintage inspired labels for a bit of old-timey Halloween flair.
21. Apothecary Labels (World Label) – Perfectly creepy, these Halloween themed apothecary labels are a wonderful addition to your seasonal decor!
22. Mr. and Mrs. Skull Cameo (Persia Lou) – Inspired by the ever popular silhouette pictures, these skull cameos are sure to make your wall POP!  
23. Double, Double Toil and Trouble (Ella Claire) – A classic phrase and a cauldron combine to make this darling design.
24. Halloween Wreath (Tatertots and Jello) – Affix these printables to the wreath of your choice for instant charm – it's pretty a-DOOR-able.
Free Printable Halloween Gifts and Treat Tags
Giving friends and loved ones a little Halloween cheer is not only easy but oh-so-fun with these free Halloween printables! They serve as great Halloween decoration ideas, or Halloween party ideas!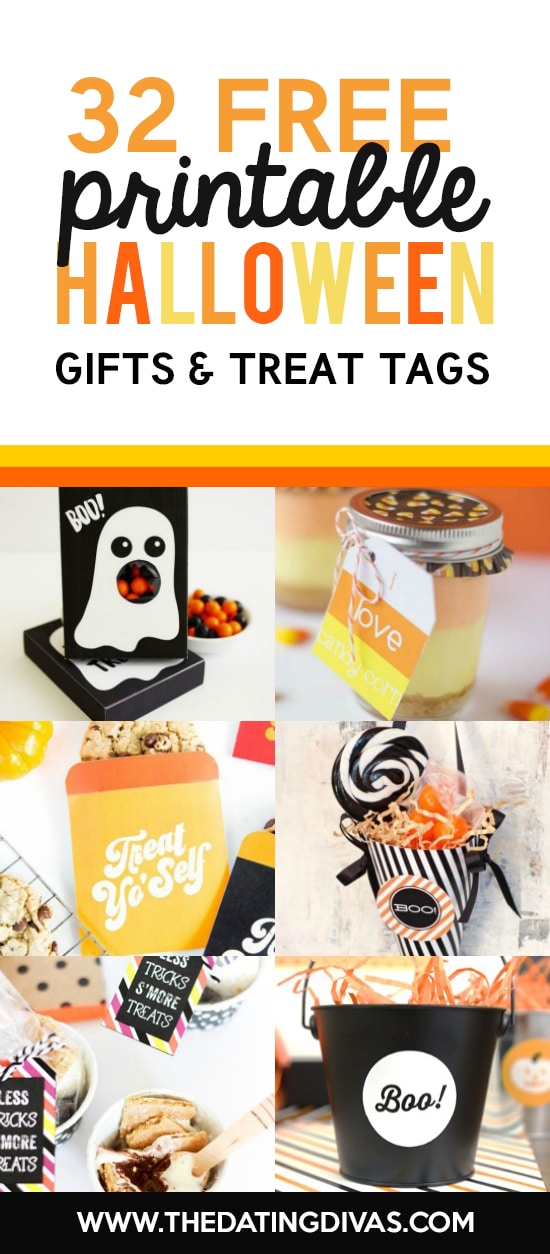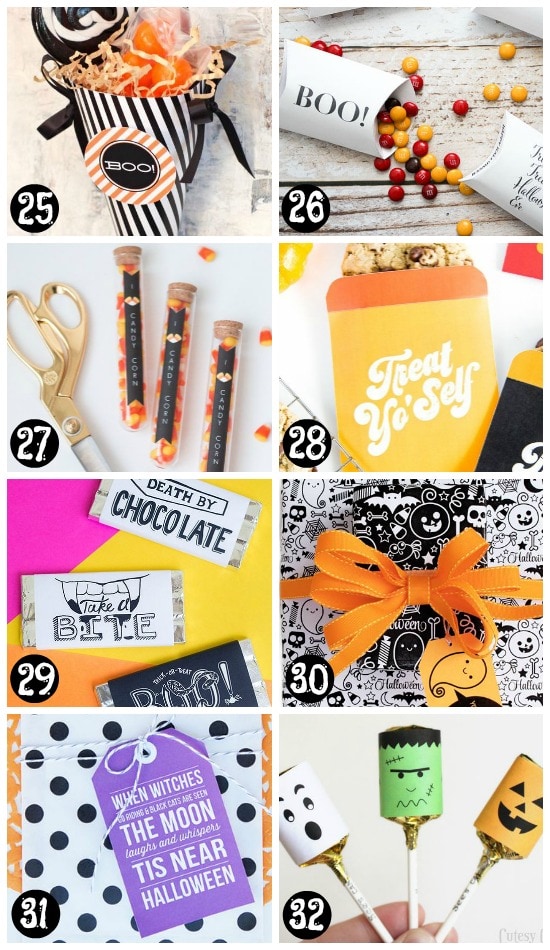 25. 

Treat Cone (HGTV) – Say goodbye to boring party favors and embrace the power of the cone!
26. 

Halloween Pillow Box (Pretty Providence) – Perfect for bite-sized candies, these boxes are absolutely BOO-tiful.
27. 

Candy Corn Test Tube Favors (All Free Holiday Crafts) – We're crazy for the super creative, and these favor tubes (using cute glass tubes like these) certainly fit that description!
28. 

Treat Yo'Self Treat Bags (Design Eat Repeat) – Parks and Rec fans will want to get their hands on these treat bags ASAP.
29. 

Chocolate Bar Wrappers (eHow) – Give your chocolate bars a little lovin' with these super snazzy wrappers!
30. 

Halloween Gift Wrap (Paper Glitter) – Get major glam points this year with this darling Halloween themed wrapping paper!
31. 

Retro Gift Tags (Simple as That) – We're practically speechless over these gorgeous gift tags. The saying alone gives us all the feels!
32. 

Lollipop Printables (Cutesy Crafts) – Transform an ordinary pop into a unique Halloween treat with these wrappers.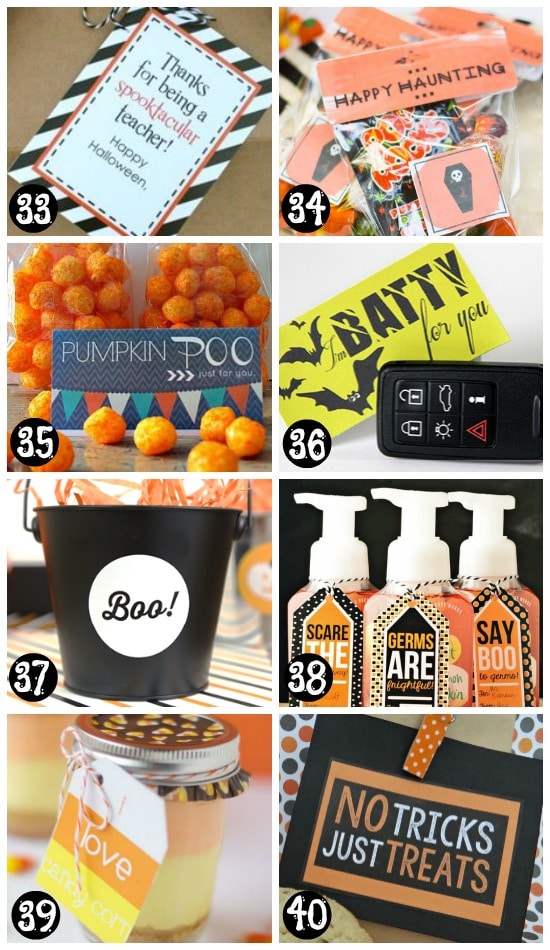 33. Spooktacular Teacher Tags (Bloom Designs) – Show the educator in your life a little love with this Halloween themed gift tag for teachers!
34. Trick-or-Treat Bag Labels (Lovely Indeed) – Glam up those boring treat bags with these "Happy Haunting" labels.
35. Pumpkin Poo (Somewhat Simple) – Great for kids and adults alike, these clever tags will liven up any lunch.
36. Halloween Love Notes (The Dating Divas) – Show your sweetie some love by slipping them one of these 'fangtastic' notes!
37. Halloween Stickers (Elegance and Enchantment) – Stick 'em here, stick 'em there, stick these stickers everywhere!
38. Soap and Sanitizer Tags (Eighteen25) – These charming soap labels make for the perfect gift.
39. Candy Corn Gift Tag (I Heart Naptime) – Affix these 'I love candy corn' tags to the treat of your choice or attach them to a jar of delicious Candy Corn Cheesecake (recipe on site)! These are the perfect free Halloween printables!
40. No Tricks, Just Treats (Written Reality) – Put your giftee's mind at ease with this special tag.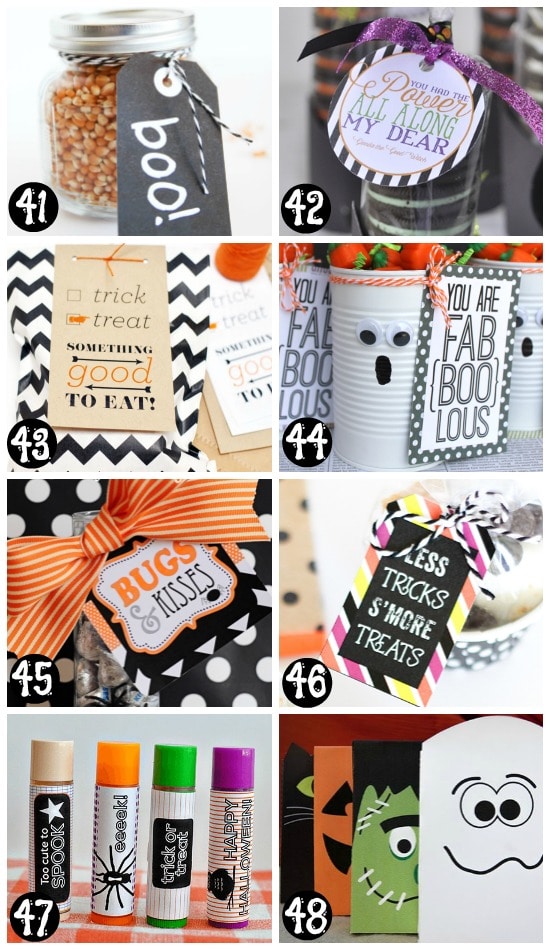 41. Boo! Eek! Gift Tags (Paging Supermom) – We love the hand-lettered look of these frightful Halloween tags!
42. Oreo Witch Shoes and Tags (Your Homebased Mom) – Remind friends about the power inside themselves with these cute and inspiring Halloween tags.
43. Trick or Treat Goodie Bag Tag (Smitten on Paper) – Attach these Halloween tags to the patterned goodie bag of your choice and spread the love!
44. You are FAB[BOO]LOUS  (Ginger Snap Crafts) – You won't want to miss this friendly tag!
45. Bugs & Kisses (Pink Peppermint Design) – Great for friends and family alike, these tags add the perfect Halloween touch.
46. S'more Treats Tags (See Vanessa Craft) – A Halloween treat and a gift idea all in one- we couldn't be 'S'more' pleased!
47. Lip Balm Labels (Thirty Handmade Days) – Wrap your favorite balms with these unique labels and pucker up!
48. Halloween Treat Bags (Press Print Party) – With four fabulous designs to choose from, these Halloween treat bags will put a smile on anyone's face!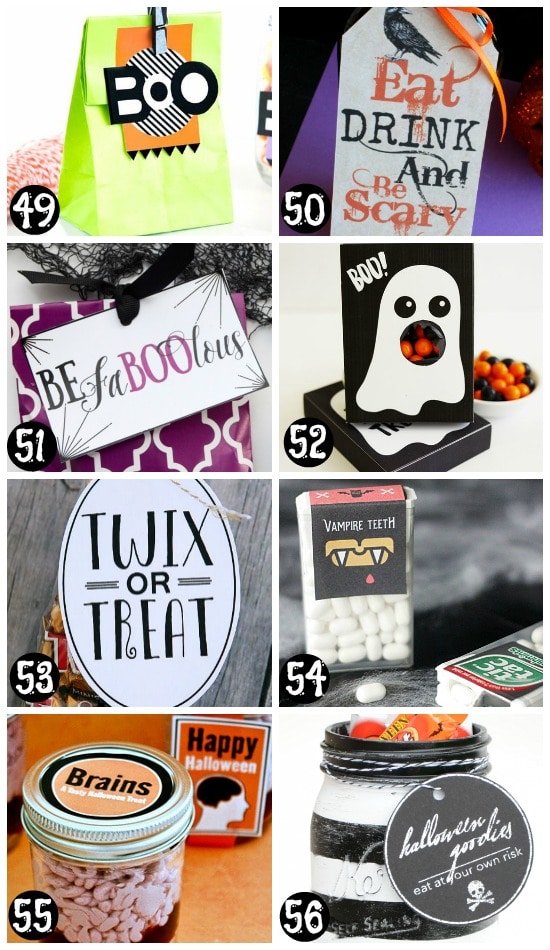 49. "BOO" Tags (Design Eat Repeat) – Fierce and fabulous, you're sure to love these colorful gift tags.
50. Eat Drink and Be Scary Bottle Tag (Oh My! Creative) – Show the host or hostess of your next Halloween soiree a little appreciation with this bottle tag.
51. Be FaBOOlous Tag (Love the Day) – Add a little glamour to your gifts with this Diva-approved message!
52. Ghost Treat Box (Oh Happy Day) – Sweet and silly, these ghostly treat boxes are a must-see.
53. Twix or Treat (Eighteen25) – The Twix lovers in your life will adore these themed  Halloween treat tags!
54. Tic Tac Labels (A Bushel and a Peck) – We're in awe over the creativity behind these bad boys! Take a look and turn a box of Tic Tacs into the perfect Halloween treat. (The original idea we had here no longer exists, so we found another option for you!)
55. Brains in a Jar (Living Locurto) – The perfect combination of awesome and icky, these brainy printables will help you create a one-of-a-kind Halloween dessert in a jar.
56. Halloween Goodies Tag (The Idea Room) – Warn recipients to eat at their own risk with these tags.
Free Printable Halloween Party Ideas and Supplies
Show little ghouls and goblins (and big ones, too!) a howling good time with these free Halloween printables – guaranteed to take your party from ordinary to extraordinary! With so many great Halloween party ideas, you can't go wrong!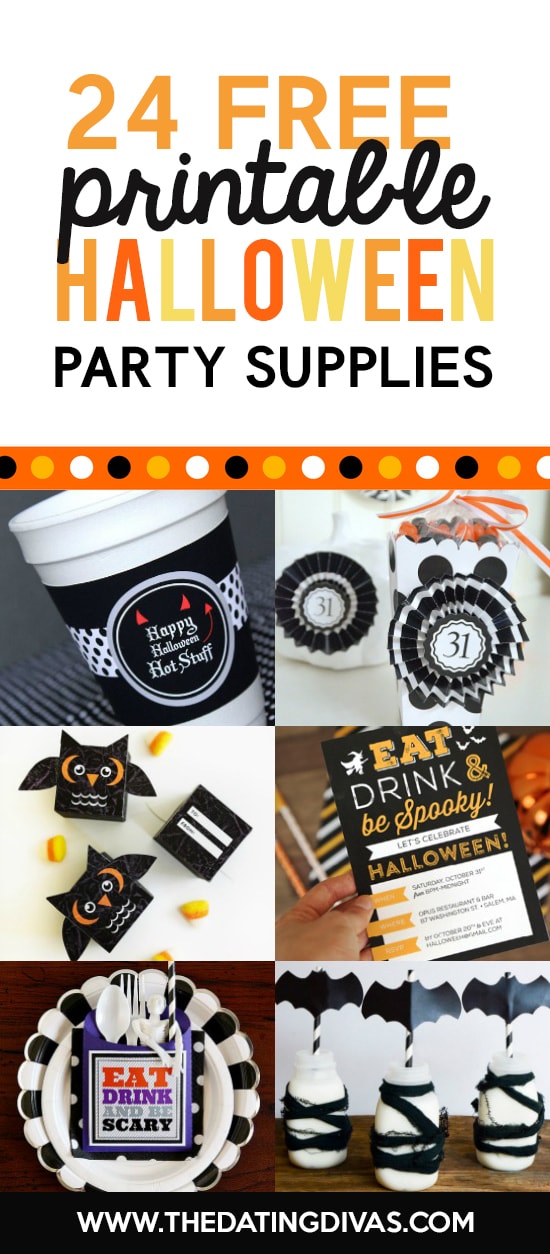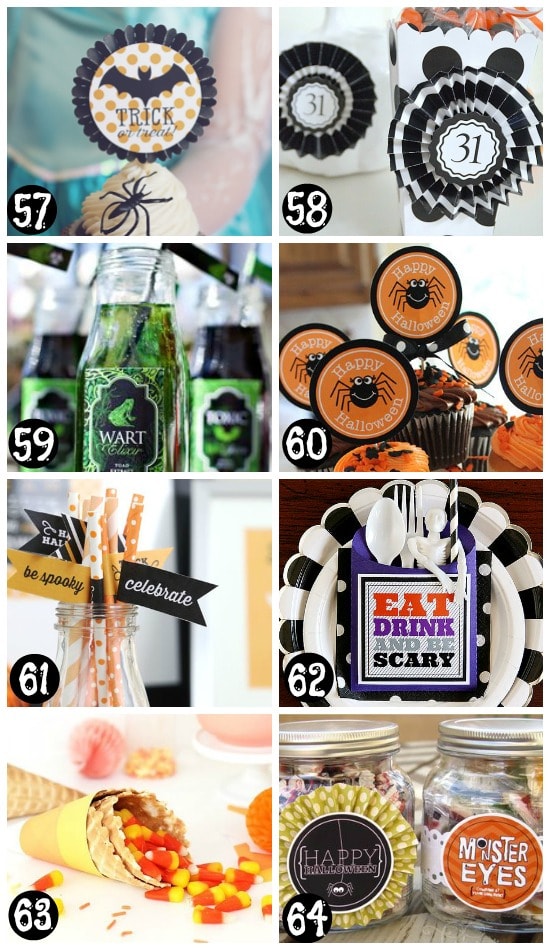 57. Cupcake Toppers (Three Little Monkeys Studio) – Turn a simple cupcake into a true Halloween treat with these toppers!
58. Popcorn Boxes (Tatertots & Jello) – Pop up some spookiness with these popcorn boxes. Glitz them out even further with printable rosettes and medallions!
59. Creepy Drinks (Hostess with the Mostess) – With clever phrases like 'Bat Juice' and 'Wart Elixir,' these drink labels are sure to scare up some fun.
60. Spider Cupcake Toppers (Living Locurto) – Friendly spiders wish partygoers a 'Happy Halloween' with these cute cupcake toppers.
61. Halloween Party Flags (Elegance and Enchantment) – These stylin' flags have so many uses, we don't even know where to start! From straw wrappers to appetizer decor, they'll definitely be put to good use.
62. Eat, Drink & Be Scary Place Setting (Eighteen25) – Even cutlery deserves a bit of Halloween spice, and this printable is the answer!
63. Candy Corn Ice Cream Wrappers (Design Eat Repeat) – We can't get over how cute these are! Simply wrap around the end of an ice cream cone and you've got yourself one sweet party treat.
64. Treat Jar Labels (Kiki Creates) – Use these labels to add a little pizzazz to candy jars. Little ghouls, especially, will love grabbing 'Rotten Witches Teeth' or 'Monster Eyes!'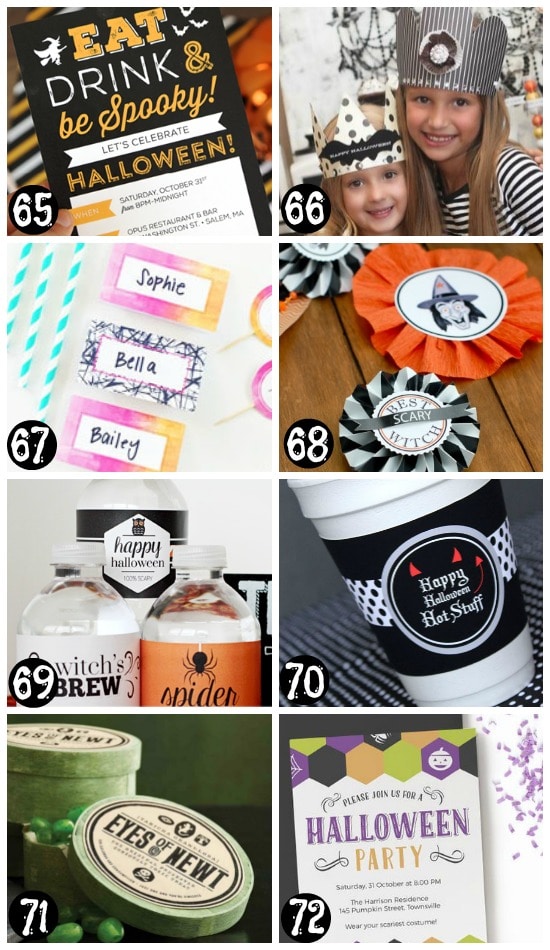 65. Eat Drink & be Spooky! Invitations (Elegance and Enchantment) – Get your guests all sorts of excited with these Halloween Invites!
66. Paper Princess Crowns (HGTV) – Little witches will love being crowned Queen or Princess!
67. Place Cards (The Blissful Bee) – These name tags, which could easily double as food tents, are a must for your Halloween get-together.
68. Witchy Awards (No Biggie) – Give winners a real prize with their very own badge of honor!
69. Halloween Printable Pack (The Dating Divas) – From water bottle labels to invitations, you'll find it here!
70. 'Hot Stuff' Cup Sleeves (Living Locurto) – Add a dash of sexy to your party with these clever cup sleeves.
71. Eyes of Newt Favor Boxes (Martha Stewart) – Use these printable labels to turn ordinary green candies into a terrifying treat!
72. Halloween Party Invite (Clementine Creative) – Summon all party-goers with these colorful invitations!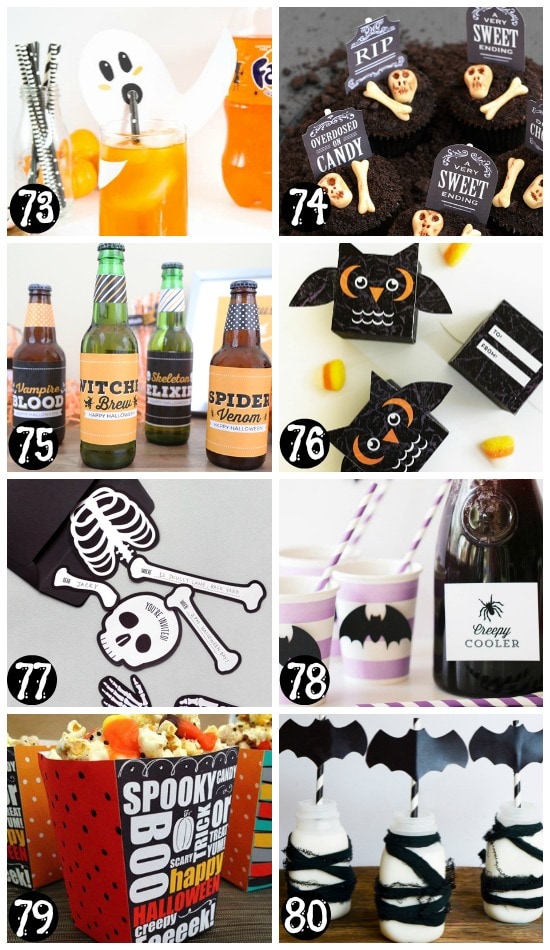 73. Ghost Straw Toppers (Design Eat Repeat) – Sipping is about to get a little more spooky with these straw toppers!
74. Graveyard Cupcake Toppers (Chickabug) – These tombstone-themed toppers will turn something sweet into a sinister treat.
75. Halloween Bottle Labels (Remodelaholic) – Give bottles a boost by wrapping them with these frightfully fabulous labels.
76. Owl Treat Box (Oh Happy Day) – We think these favor boxes are an absolute 'hoot!' Be sure to grab these free Halloween printables for yourself!
77. Bag O'Bones Invitation (Mr. Printables) – Them bones, them bones, them darling bones make for quite a creative Halloween invite!
78. Creepy Cooler Drink Label (DIY Network) – Make your party beverages more "chilling" with this label.
79. Mini Popcorn Box (100 Directions) – These fun-sized popcorn boxes will be loved by kids and adults alike!
80. Bat Straws (Love The Day) – Slip these bats over your party straws for instant Halloween flair.
Free Halloween Printables and Activities
From Cupcake Walks to Bingo boards, these free Halloween party ideas and printables will keep everybody busy!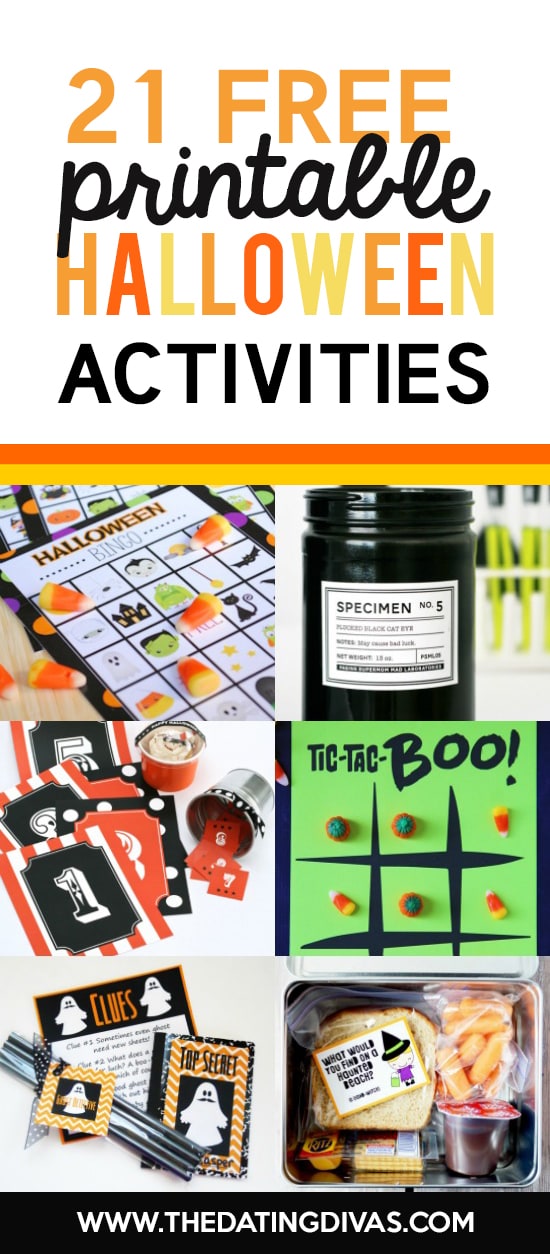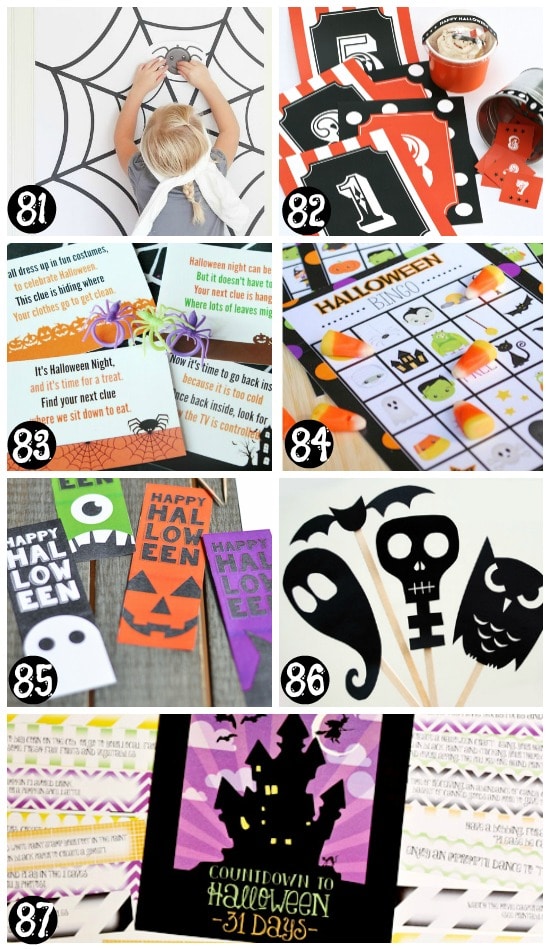 81. Pin the Spider on the Web (Ella Claire) – We can't get over how cute and creative this printable game is. It's a must-have for little ones!
82. Cupcake Walk (Paging Supermom) – Use this clever kit to host your very own Halloween Cupcake Walk!
83. Scavenger Hunt (Sugar Bee Crafts) – Send both big and little haunters on an unforgettable adventure with these printable scavenger hunt cards. For an extra dose of frightful fun, try combining these clever ideas with our Halloween Scavenger Hunt– complete with printable bags! You can never have too many cute, free Halloween printables!
84. Halloween Bingo (Crazy Little Projects) – Oh so colorful, and oh so cute, these Bingo boards make for some great entertainment! For even more great BINGO options, be sure to check out our Scary Movie Bingo!
85. Bookmarks (Balancing Home) – Inspire everyone to read more this season with these Halloween themed bookmarks.
86. Shadow Makers (Minieco) – Looking for a sure-fire way to make some memories? These shadow makers are the answer!
87. Halloween Chain Countdown (The Dating Divas) – The countdown is on. Have some fun with the whole family by completing each chain link's activity – one for each day of the month!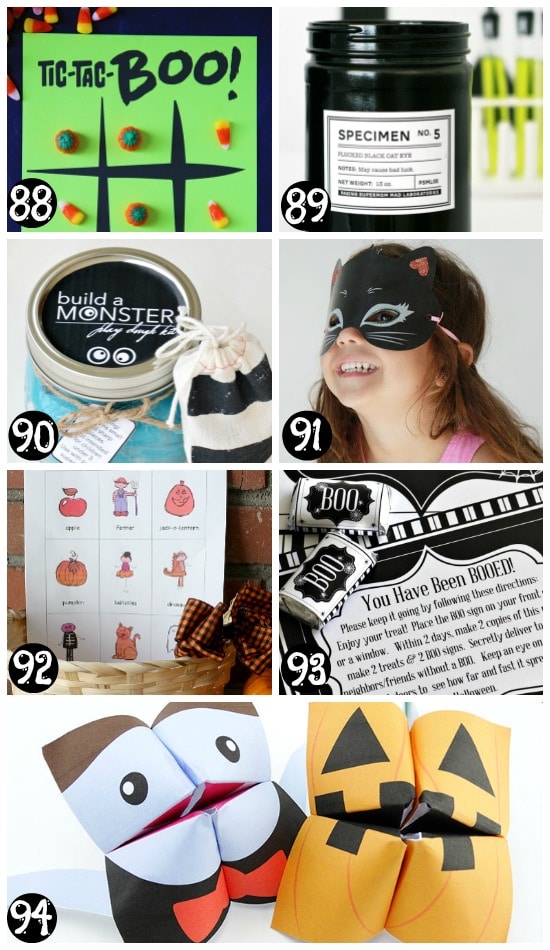 88. Tic-Tac-BOO! (Skip To My Lou) – Perfect for parties, classrooms, or individual play, these boards take the classic game of Tic-Tac-Toe to a whole new level.
89. Mad Laboratory Game (Paging Supermom) – Unleash the Mad Scientist in everyone with these super fun printables!
90. Build a Monster Kit (The Idea Room) – Add a bit of play-dough and you've got yourself a kit that will keep the kiddos happy for hours.
91. Halloween Masks (Everyday Dishes) – These printable children's masks will get everyone in the spirit of the witching season!
92. Halloween Charades (Buggy and Buddy) – With darling designs these are free Halloween printables whole family will love, this is one game you'll definitely want to get your hands on.
93. You've Been Booed Kit (Catch My Party) – Spread the holiday cheer (or should we say fear…?) with this complete kit. For even more "You've Been Boo'ed!" fun, be sure to check out our unique Halloween Service Idea!
94. Halloween Cootie Catchers (Easy Peasy and Fun) – Grab your free Vampire or Pumpkin catchers and let the fun begin!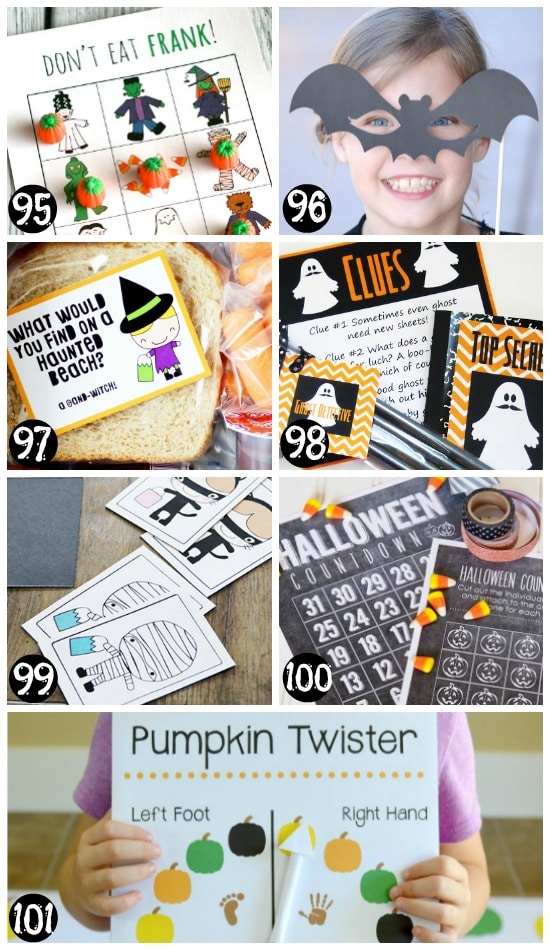 95. "Don't Eat Frank!" (My Sister's Suitcase) – A Halloween spin on "Don't Eat Pete!", this game is great for parties, classrooms, and family time. 
96. Photo Booth Printables (One Creative Mommy) – Use these printables, along with your Halloween Photo Booth, and let the smiles begin! For even MORE photo-fab printables, check out our Halloween Photo Booth Props!
97. Lunch Box Jokes (Artsy-Fartsy Mama) – These spooktacular joke cards will have everyone rolling with laughter.
98. Ghost Detective Game (Delightfully Noted) – Send the kids on a top-secret mission with this delightful DIY ghost hunt. Have you ever seen free Halloween printables that were this cute?!
99. Memory Game (The Crafting Chicks) – Test your memory skills with this Halloween version of the game!
100. Chalkboard Countdown (Yellow Bliss Road) – Little tykes will love "gluing" down the days until Trick-or-Treat time!
101. Pumpkin Twister Game (Pint-sized Treasures) – Everybody loves Twister so imagine how popular this pumpkin-ized version will be!

How's that for a Happy Halloween?! So, so many free Halloween printables! For even MORE diva-approved Halloween party ideas, and other Halloween goodness, be sure to check out our 101 Easy Halloween Gift Ideas and our 100+ Healthy Halloween Treats. Happy Haunting!