Ideas for Thanksgiving Leftovers
Thanksgiving is a time for friends, loved ones, and extraordinary amounts of food. We love it and so do you! But when the dishes have been cleared and your refrigerator is more stuffed than you are, those warm, fuzzy feelings can be hard to get back. We're here to help! With over 100 of the most tasty and creative uses for those lingering Thanksgiving leftovers, we'll help you turn post-turkey time into a delicious culinary adventure. Take a peek and let the feasting begin… again!

Disclaimer: This post contains affiliate links. To learn more about 'em, click here.
To help you locate the exact leftover item you want gone, we've organized our list into four categories:
26 Recipes for Leftover Turkey
26 Recipes for Leftover Mashed Potatoes
21 Recipes for Leftover Stuffing
28 Recipes for Leftover Cranberries
Without further adieu, we present over 100 recipes for Thanksgiving leftovers! Bon Appétit!
26 Ways to Use Your Leftover Turkey
That beautiful, center-stage taking bird makes for some GREAT leftover options! Learn how to turn those Turkey Thanksgiving leftovers into equally amazing eats!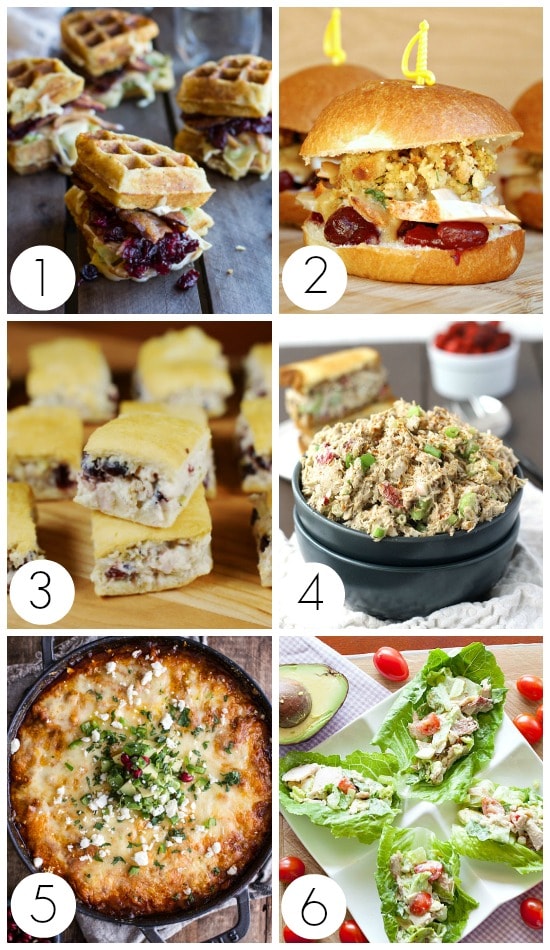 1. Turkey, Smashed Avocado, Cranberry, Brie and Mashed Potato Waffle Melts (Half Baked Harvest) – We're in awe of how chic ingredients like brie and avocado combine to make one tasty turkey treat!
2. Thanksgiving Leftovers Sliders (Will Cook for Smiles) – Stack it on up, slide it on down, and say goodbye to that turkey!
3. Turkey Crescent Bites (The Kitchen is My Playground) – Pre-made crescent rolls make this dish not only tasty but oh-so-easy!
4. Turkey and Cranberry Sauce Salad (The Healthy Maven) – Who needs tuna?! Turkey takes center stage in this clever recipe!
5. One-Pot Cheesy Turkey Tamale Pie (Half Baked Harvest) – Infuse those leftovers with a little Mexican flair for ultimate satisfaction. Arriba!
6. Turkey Cobb Salad Lettuce Wraps (Food Done Light) – Looking for something a little lighter? Health conscious individuals will love this clever concoction!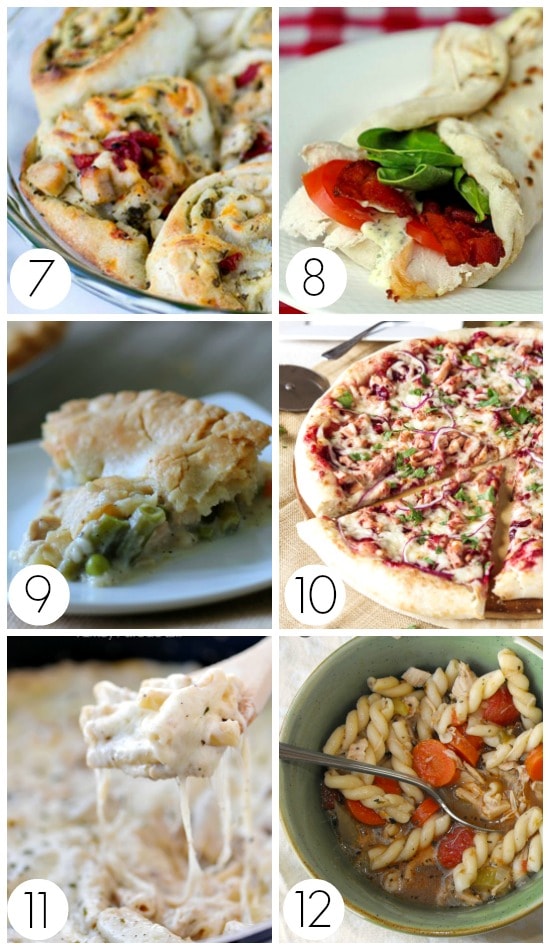 7. Turkey Pesto Roll-Ups (Pillsbury) – We're all about pesto so this recipe is a must!
8. Turkey Club Wrap on BBQ Flat Bread (Rock Recipes) – Wrap up those leftovers (literally!) once and for all!
9. Turkey Pot Pie (Pink When) – Comfort food at its absolute finest!
10. Turkey and Cranberry BBQ Sauce Pizza (Recipe Runner) – Turkey pizza might just be our new favorite thing!
11. Turkey Alfredo Ziti (The Gunny Sack) – Pasta lovers will be all over this ooey-gooey goodness.
12. Turkey Gemelli Soup (Coffee With Us 3) – Try this super soup for a quick fall pick-me-up!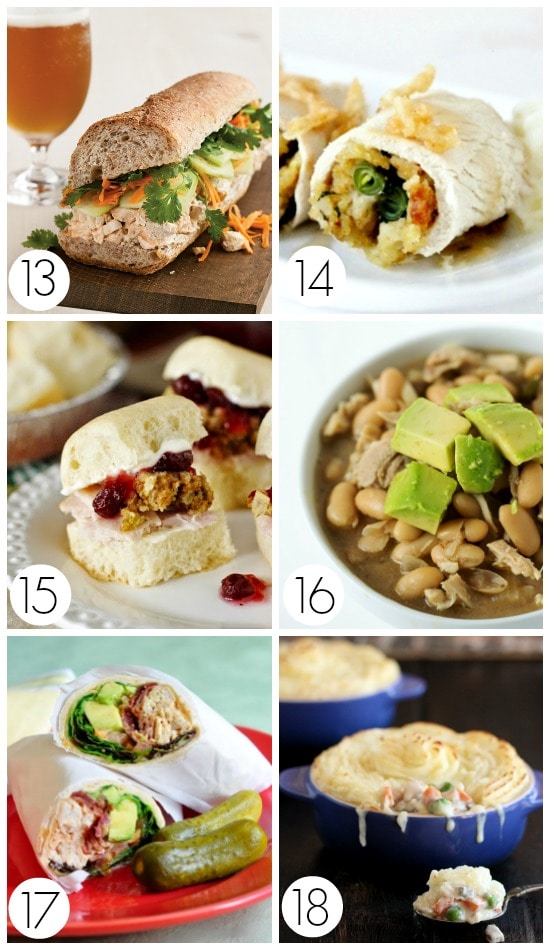 13. Turkey Banh Mi (Martha Stewart) – We say ethnic is awesome so this spin on a Vietnamese treat has us all sorts of excited!
14. Sushi-Inspired Turkey Rolls (Arts & Crackers) – Calling all sushi lovers! This is one turkey-treat you NEED to check out!
15. Turkey and Stuffing Sliders (The Kitchen is My Playground) – Keep burgers on the back burner and try some turkey sliders instead! You're in for a treat.
16. Slow Cooker White Turkey Chili (Table for Two) – Give yourself a well-earned break with this easy slow cooker meal. (Diva and Chef, Cat highly recommends this slow cooker!)
17. Avocado Turkey Club Wraps w/ Smokey Spiced Mayonnaise (Rock Recipes) – The smokey spiced mayonnaise in this dish will bump that boring turkey up a couple of notches!
18. Turkey Shepherd's Pie (All Recipes) – Give traditional shepherd's pie the boot in favor of this turkey-fied goodness!
19. Roasted Turkey, Cranberry and Brie Grilled Cheese (Heather Christo) – Turn a classic grilled cheese into a true masterpiece with this unique recipe.
20. Thanksgiving Leftovers Nachos (Girl Versus Dough) – Nacho novices and pros alike will want to try this tasty twist!
21. Leftover Thanksgiving Turkey Pizza (Baked by Rachel) – All those yummy elements combine into a slice of ultimate amazement with this munchie.
22. Turkey Enchiladas (Gimme Some Oven) – Feeling a little "been there, done that" about enchiladas? No more!
23. Leftover Thanksgiving Pizza Pull-Apart Bread (Climbing Grier Mountain) – Store bought pizza dough will transform that turkey into something truly amazing!
24. Turkey Tetrazzini (She Wears Many Hats) – Talk about yummy-in-your-tummy! This casserole is an absolute MUST.
25. Turkey Poblano Tostadas (Martha Stewart) – Pump up the spice factor with leftover turkey and tasty poblano peppers!
26. Skinny 'Leftover' Turkey Salad (The Skinny Fork) – Thanksgiving got you feeling all sorts of stuffed? Give this "skinny" turkey salad a go!
26 Ways to Use Your Leftover Mashed Potatoes
They're creamy, easy, and sometimes cheesy! Find out how to turn those Mashed Potato Thanksgiving leftovers into one-of-a-kind treats!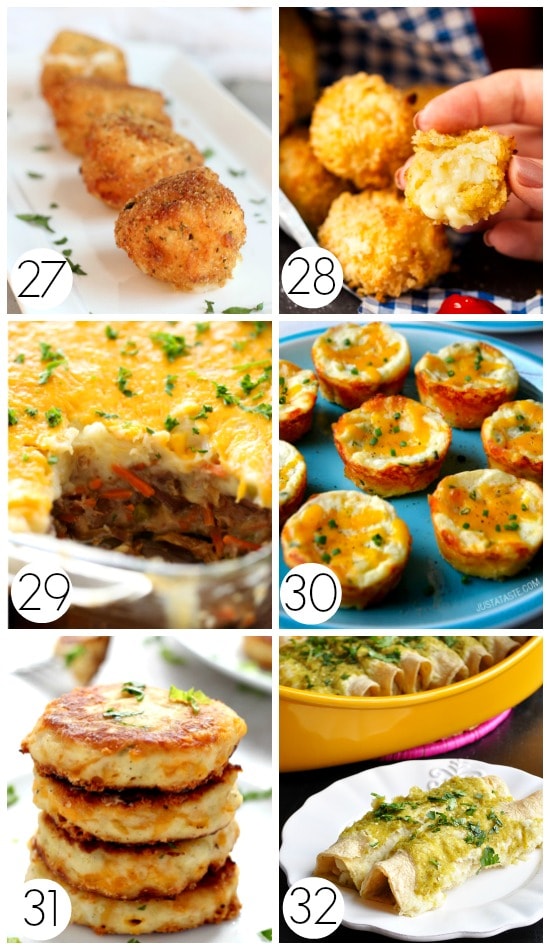 27. Fried Mashed Potato Balls (Gather for Bread) – These bite-sized balls are oh-so-easy and oh-so-yum!
28. Baked Cheesy Potato Croquettes (Kitchen Sanctuary) – These handheld goodies are bound to become a new favorite!
29. Shepherd's Pie (Chef in Training) – Those leftover potatoes make for the perfect topping in this classic dish!
30. Cheesy Leftover Mashed Potato Muffins (Just a Taste) – It just takes a muffin tin, and a few special extras, to turn those spuds into something scrumptious!
31. Leftover Mashed Potato Cheddar Ranch Cakes (Crunchy, Creamy, Sweet) – We are ALL about ranch so this is a definite winner!
32. Mashed Potato Enchiladas (Thyme and Love) – Simple, savory, and just a little bit spicy. Oh, yes.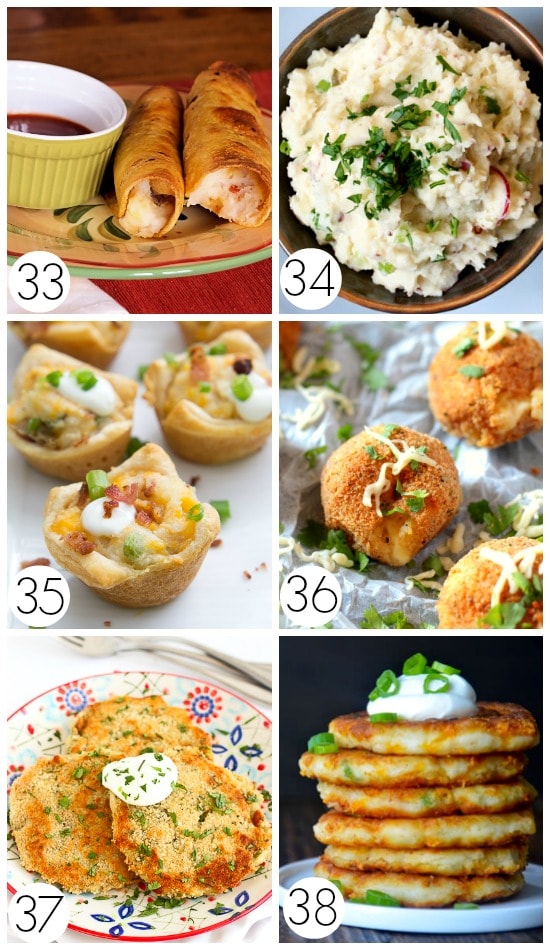 33. Potato, Bacon & Cheese Taquitos (Tramplingrose) – We can't wait to try these potato-tortilla wonders! The bacon is just a bonus.
34. Mashed Potato Salad (One Dog Woof) – Transform those (already) mashed potatoes into a cool and tasty treat.
35. Loaded Mashed Potato Cups (I Wash You Dry) – Wait 'til you get a 'load' of these bad boys!
36. Mozzarella Cheese Stuffed Mashed Potato Balls (I Knead to Eat) – Creamy mozzarella is all that is needed to turn 'old' into BOLD!
37. Cheesy Chile Leftover Mashed Potato Patties (Cookin Canuck) – Latke lovers, unite! This spin on a classic potato treat is definitely worth checking out!
38. Cheesy Leftover Mashed Potato Pancakes (Just a Taste) – Golden brown and topped with sour cream? Just dreamy…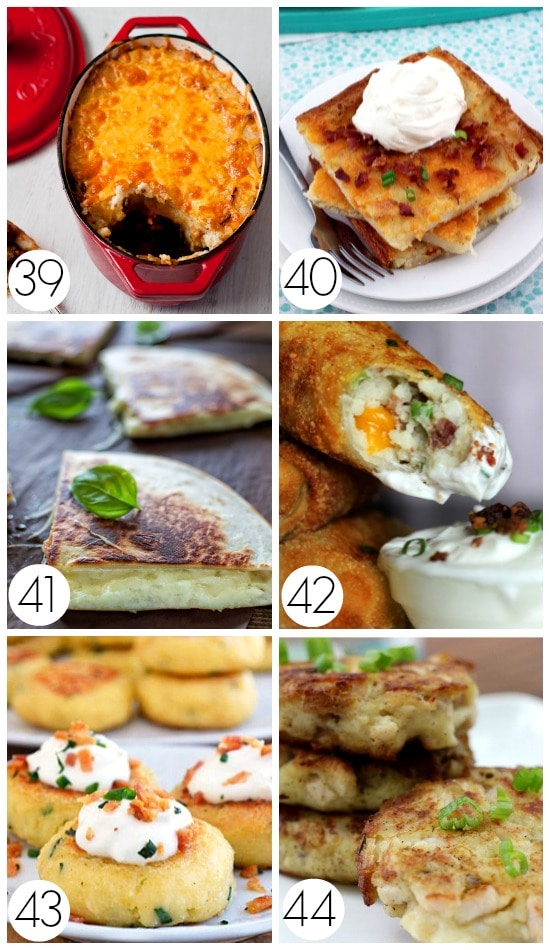 39. The Best Shepherd's Pie (Cafe Johnsonia) – We're major fans of the traditionally British Shepherd's pie, and can't wait to try this version!
40. Loaded Mashed Potato Crunch (Cinnamon Spice & Everything Nice) – Spread, bake, snack! Could this recipe be any simpler?!
41. Mashed Potato Quesadilla (Cooktoria) – Oh-so-cheesy, meet oh-so-easy.
42. Loaded Mashed Potato Egg Rolls (Spend With Pennies) – We're obsessed with the creativity behind this Asian-inspired dish!
43. Loaded Mashed Potato Cakes (Just Putzing Around the Kitchen) – Get a jump-start on this recipe with those pre-made potatoes! SO yum.
44. Mashed Potato and Stuffing Patties (Pocket Change Gourmet) – Put those leftover potatoes AND stuffing to good use with this delightful dish!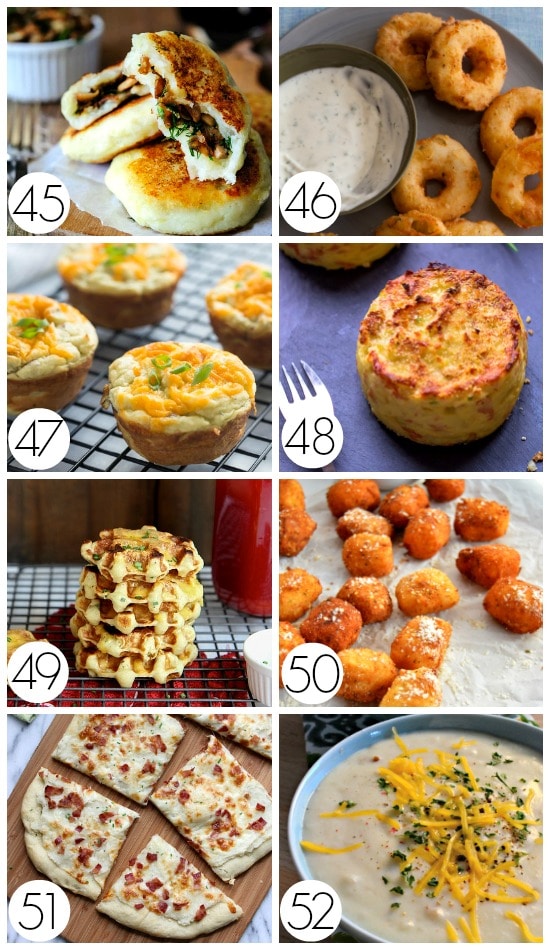 45. Vegan Potato Cakes Stuffed with Mushrooms (Imagelicious) – Even non-vegan folk will be in love with this mushroom-y goodness!
46. Potato Rings with Homemade Buttermilk Ranch (Spoon Fork Bacon) – Onion rings are so yesterday. Give potato rings a go instead!
47. Cheese Stuffed Mashed Potato Puffs (The Recipe Rebel) – We can't wait to get our hands on these potato puffs!
48. Oven Baked Mashed Potato Cakes (Eat Well 101) – Forego the frying with this oven-baked recipe!
49. Mashed Potato, Cheddar and Chive Waffles (Joy the Baker) – Breakfast is about to get a lot more exciting with these truly wild waffles!
50. Homemade Tater Tots (Cook. Craft. Love.) – Kiddos and adults alike will be all over these tasty tots!
51. Loaded Mashed Potato Pizza (Baked by Rachel) – Could pizza be any more perfect than this? We think not.
52. Mashed Potato Soup (Katie's Cucina) – Tasty and toasty, this soup makes for quick and hearty supper.
21 Ways to Use Your Leftover Stuffing
This bread-based goodness can be hard to beat! We'll show you how to turn those 'crumby' Stuffing Thanksgiving leftovers into true tastiness.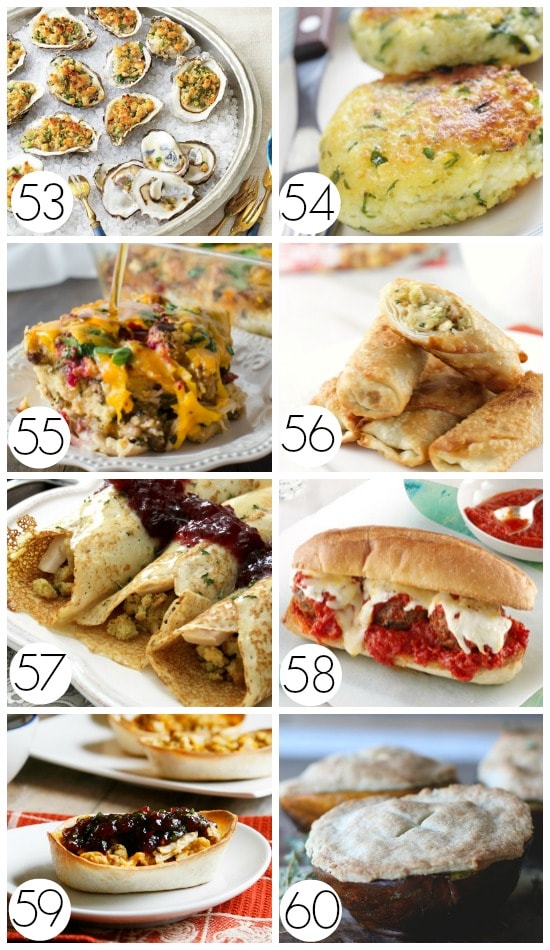 53. Leftover Stuffing Oysters (The Nautical Wheeler) – Our minds are reeling over how clever this dish is!
54. Leftover Thanksgiving Stuffing Burgers (Momtastic) – Beef is SO yesterday. Give these easy stuffing burgers a whirl!
55. Thanksgiving Leftover Savory Bread Pudding (The Flavor Bender) – Turn the savory into the sweet!
56. Leftover Stuffing Egg Rolls (Sweet as a Cookie) – Asian-inspired awesomeness strikes again with this tasty treat!
57. Savory Crepes with Thanksgiving Turkey and Stuffing (Butter with a Side of Bread) – Infuse a little French flavor into your leftovers! Oo la la!
58. Leftover Stuffing Meatball Heroes (Woman's Day) – Be the 'hero' of your home by whipping up this special dish!
59. Cheesy Turkey Stuffing Burritos (Sarah's Cucina Bella) – These stuffing stuffed burritos, paired with a spicy cranberry salsa, will make everyone smile!
60. Acorn Squash Filled with Stuffing (Gygi) – This acorn squash meal has 'autumn' written ALL over it.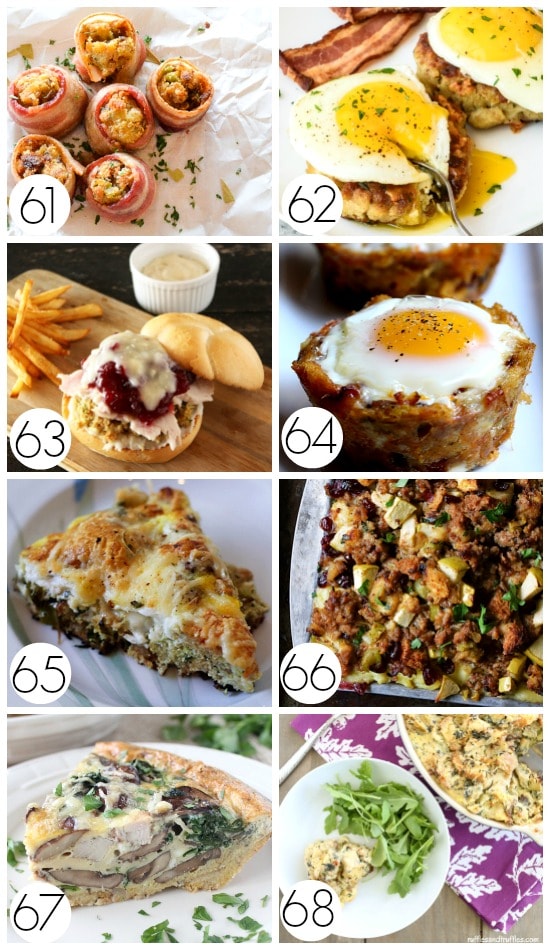 61. Bacon Wrapped Stuffing Bites (Cooking with Libby) – Everything is better with bacon and this recipe proves it!
62. Cheesy Breakfast Stuffing Cakes (Well Plated) – Topped with a perfectly fried egg and a little salt & pepper, this breakfast dish really 'takes the cake!'
63. The Ultimate Thanksgiving Leftovers Sandwich (Cake 'n Knife) – Let that leftover stuffing shine in this mile high sandwich that leaves us drooling.
64. Leftover Stuffing and Chorizo Egg Cups (Uni Homemaker) – Chorizo sausage is the secret ingredient that we're dying over in these stuffing cups!
65. Stuffing Frittata (Total Noms) – Put an American spin on an Italian-inspired dish by throwing in that leftover stuffing!
66. Leftover Thanksgiving Casserole (Life Tastes Good) – Stuffing steals the show in this after Thanksgiving casserole.
67. Mushroom Spinach Turkey Quiche with Stuffing Crust (Whitney Bond) – Use that leftover stuffing to make the perfect crust for a quiche!
68. Leftover Stuffing Breakfast Strata (Helpful Homemade) – We think this dish is perfectly egg-cellent!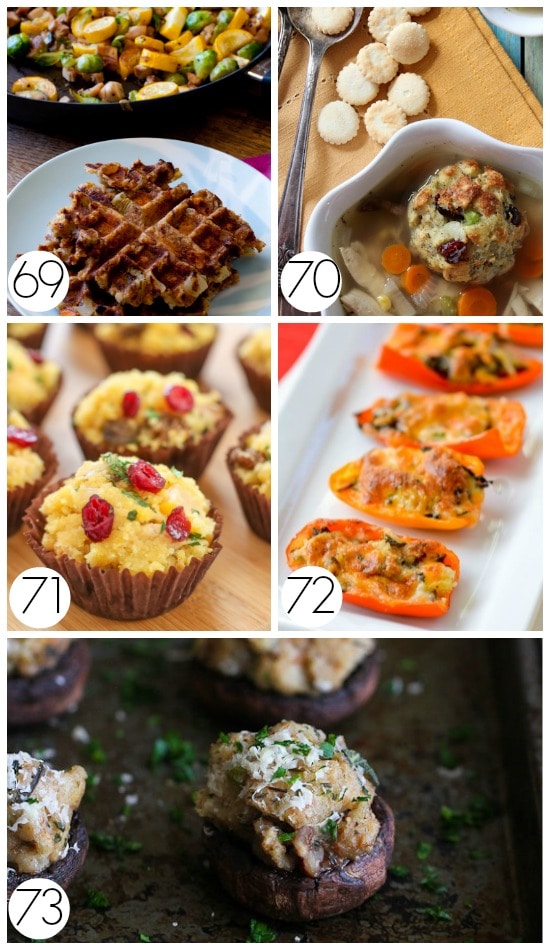 69. Leftover Stuffing Waffles and Turkey Vegetable Hash (Betsy Life) – Comfort food becomes chic with this tasty dish.
70. Slow Cooker Turkey and Stuffing Dumpling Soup (Baked by Rachel) – Easy meets yum in this slow cooker meal.
71. Leftover Thanksgiving Stuffing Muffins (Kirbie Cravings) – These muffins will make mornings a whole lot better!
72. Leftover Stuffing Stuffed Sweet Peppers (Chef de Home) – Peppers make this dish practically perfect!
73. Easy Leftover Stuffing Stuffed Mushrooms (Cookin Canuck) – Mushrooms take a starring role in this stuffing-stuffed snack!
28 Ways to Use Your Leftover Cranberries
Be they plump or pureed, spiced or sauced, this fruit is a classic holiday side dish. Keep reading and discover how to take Cranberry Thanksgiving Leftovers to a whole new level!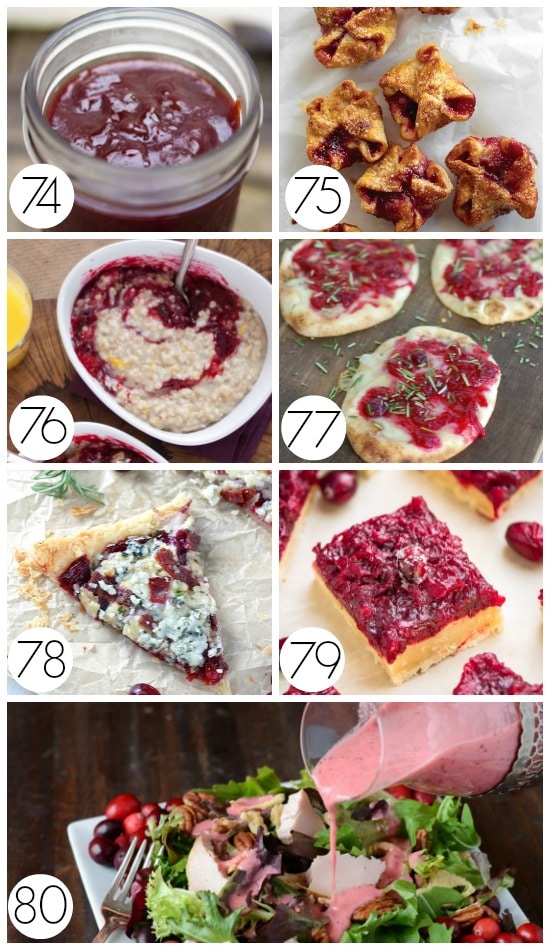 74. Cranberry Butter (The Gracious Pantry) – We're all about butter and can't wait to try this sweet version!
75. Cranberry Tartlets (Martha Stewart) – So incredibly chic, these tartlets are a perfect use for that leftover cranberry.
76. Cranberry Orange Steel Cut Oats (Cookie and Kate) – Give your breakfast (and taste buds!) a complete overhaul with this recipe.
77. Warm Brie Cranberry Naan (A Cedar Spoon) – Delectable is about to take on a whole new meaning with this Indian-inspired dish!
78. Cranberry Sauce, Bacon, and Gorgonzola Pastry Puff Pizza (Baker by Nature) – This is NOT your mother's pizza.
79. Cranberry Shortbread Bars (Life Made Sweeter) – Our Baker-gals will LOVE these Shortbread Bars!
80. Cranberry Vinaigrette (Dixie Crystals) – Salad is about to become a whole lot sweeter with this unique dressing!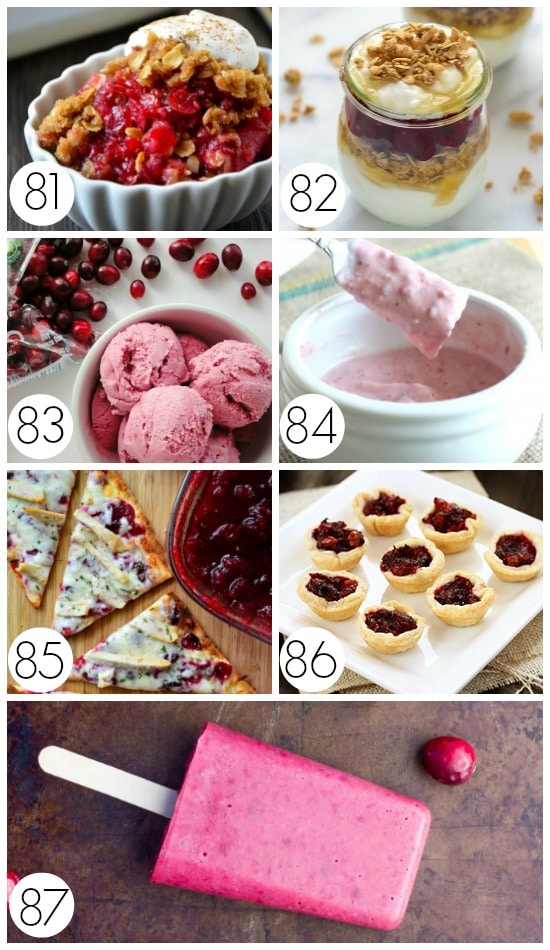 81. Leftover Cranberry Sauce and Apple Crisp (Just a Taste) – The tastes of fall combine perfectly in this delectable dessert!
82. Leftover Cranberry Sauce Parfaits (Well Plated) – Layer up these beauties and dig on in!
83. Cranberry Ice Cream (Wonky Wonderful) – Who says ice cream is just a summertime treat?! Not us!
84. Cranberry Mayonnaise (Life as a Strawberry) – You'll find a perfect sandwich companion in this yummy mayo!
85. Turkey and Cranberry Flatbread (Katie's Cucina) – We're practically drooling over this gorgeous flatbread!
86. Mini Cranberry Walnut Tarts (Good Life Eats) – A pinch of this and a pinch of that make these tarts practically too cute to eat!
87. Leftover Cranberry Sauce and Greek Yogurt Popsicles (She Likes Food) – Cool cranberry goodness at its absolute finest. Don't forget the popsicle molds!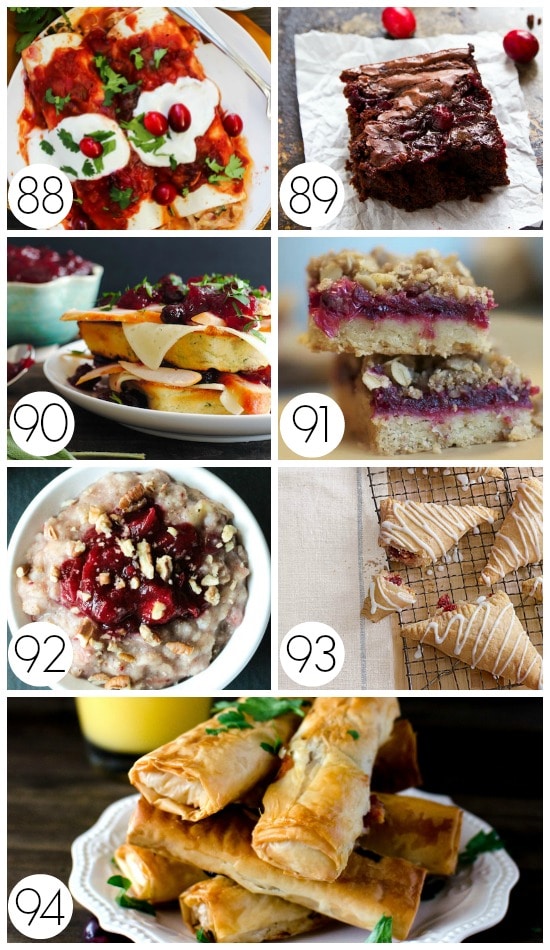 88. Cranberry Turkey Enchiladas (A Dash of Sanity) – Leftover cranberry and turkey come together in this Mexican-inspired dish!
89. Cranberry Sauce Brownies (The Brewer & The Baker) – Chocolate? Say no more.
90. Thanksgiving Leftover Waffles (Foxes Love Lemons) – Cranberry makes for the ultimate topping on this epic leftover stack!
91. Cranberry Walnut Streusel Bars (Food Republic) – These layered-looking bars make for a deliciously gooey treat!
92. Creamy Cranberry Oatmeal (Veggie Inspired Journey) – Who knew that oatmeal could be so beautiful (and tasty too)?!
93. Cranberry Turnovers (Good Housekeeping) – Puff pastry, cranberries, and powdered sugar drizzle? Yes, yes, and yes!
94. Cranberry, Cheese and Turkey Filo Rolls (The Flavor Bender) – These handheld filo rolls make for the perfect midday snack!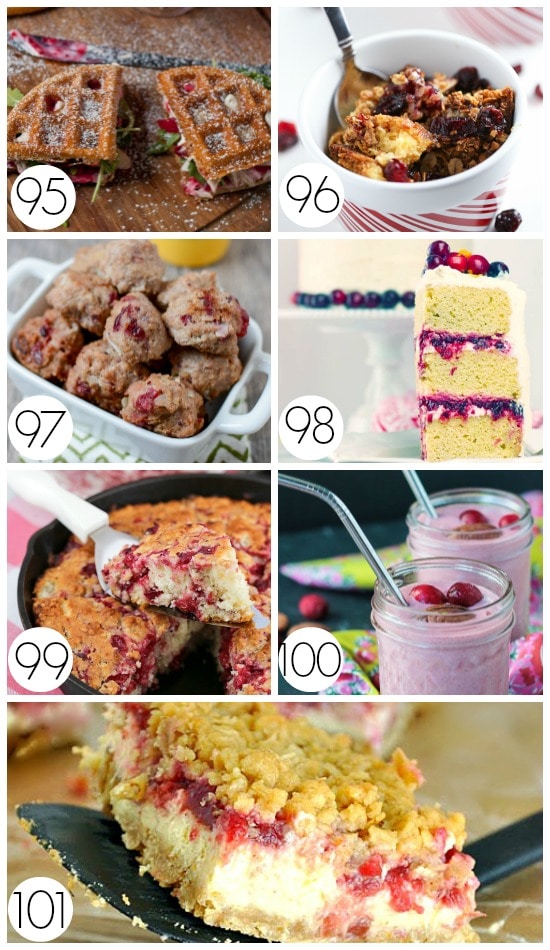 95. Waffled Cranberry Cream Cheese Turkey Sandwiches (NeighborFood) – We can't resist this sweet, sweet goodness and we don't think you can either!
96. Cranberry Cobbler Dump Cake (Simply Stacie) – A boxed yellow cake takes ordinary cranberry sauce to an EXTRAORDINARY treat in this recipe!
97. Cranberry Meatballs (The Lean Green Bean) – Sweet, savory, and a little bit sassy, these mouth-watering meatballs are to die for!
98. Leftover Cranberry Sauce Orange Cake (The Seaside Baker) – This GORGEOUS dessert looks as eye-catching as it does delicious!
99. Cranberry Sauce Skillet Scones (Rotin Rice) – Crack out that skillet and make yourself a little tea time treat!
100. Cranberry Smoothie (Veggie Inspired Journey) – Get rid of those leftover berries and sip up the good stuff!
101. Cranberry Cheesecake Streusel Bars (Peas & Crayons) – The crumbled topping makes this cranberry treat oh-so-heavenly.
Was that a list to make your mouth water, or what?! For even more edible holiday goodness, check out our 50 Fall Warm Drink Recipes or our list of 100 Christmas Cookie Recipes! Happy snacking!