Around the World Date Night
for a WHOLE YEAR!
What is it about traveling that is just so romantic? Experiencing the sights, sounds, food (lots and lots of FOOD) and the culture of a new place together has a way of bringing you closer to your love. You create new memories and enjoy an escape from real life, whether its soaking up sun at an exotic beach or walking hand in hand through a gorgeous, big city. Talk about a way to keep the spark and excitement in your relationship!!! Sadly, traveling to several different countries in one year isn't exactly budget-friendly. But we wanted to capture that romantic travel excitement in a way that's possible for everyone – right at home. So without further ado, we bring you our newest project… (drum roll please…)
The Year of Around the World Date Nights!

Disclaimer: This post contains affiliate links. To learn more about 'em, click here.
So maybe you've seen our uber-popular Passport to Love post? If not, let me fill you in! It's an adorable gift idea, presenting your spouse with everything to plan 12 travel-themed date nights throughout the year. It includes a darling card, love passport, travel itinerary, and adorable plane tickets on Romance Airlines. Super cute, right?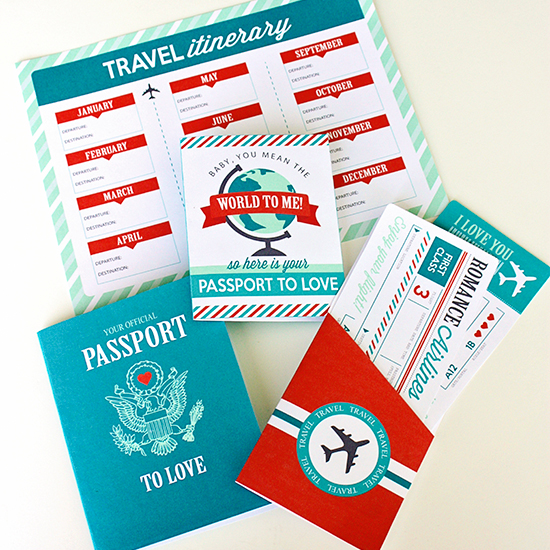 This FAB post inspired another crazy idea – what if we made 12 AMAZING dates to go along with it?! With PRINTABLES? Yes please! So we got to work. And almost a year later, we're DONE! Let's check it out: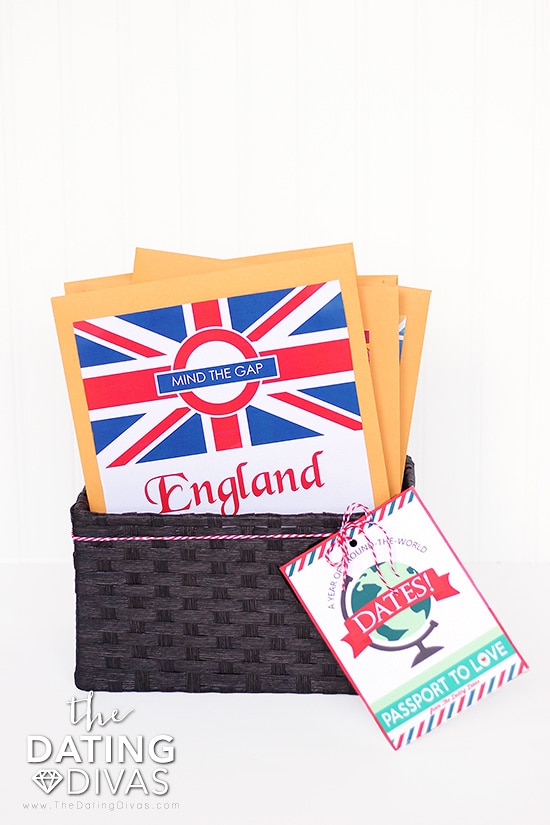 Now, we can't stop GUSHING over the gorgeous printables for this amazing pack! Our sweet Cassia from Cassia Leigh Designs is the magical artist behind all TWELVE countries' designs. And our dear Courtney, from All Things Bright & Beautiful, is the mastermind behind the original printables. These two combined are perfection! Designers for the WIN!
12 Global Getaways
With this mega pack of printables, you'll get the love passport, travel tickets, itinerary and card, AND 12 amazing international themed dates. Peeps, that's a whole year of around the world date night ideas, DONE-ZO!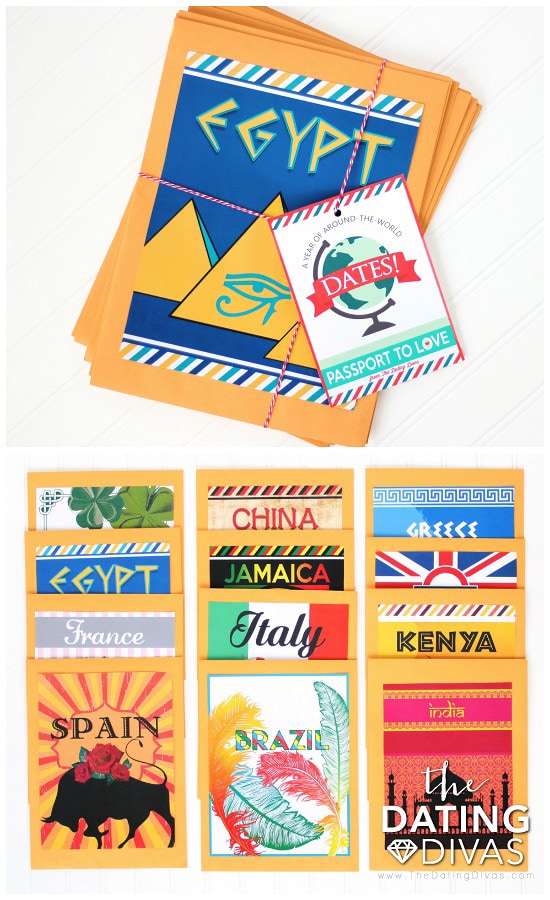 Each country has a gorgeous cover that you can slap right onto a manila envelope. Then you can throw all of the printables for that date night right into the envelope. When date night rolls around, just grab it and you're SET!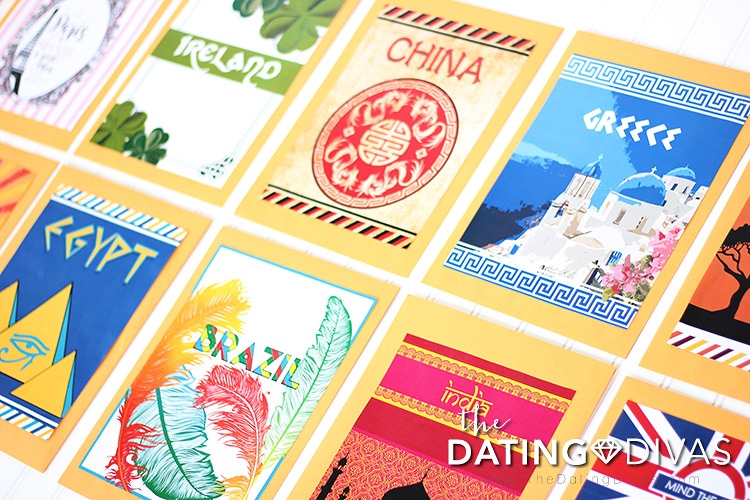 Individual Country Printables
Each country contains an invitation to the date, 2 recipe cards, a date night activity and a sexy bedroom idea! Here's a sneak peek at just ONE of them… Greece! (p.s. If you want to see more details about each country, scroll down to the bottom and read each countries' post!!)

Are you thinking what I'm thinking? Anniversary gift this year?? YES!! Or wouldn't this be a unique and creative wedding gift for a newlywed couple? Just throw all of the envelopes into a cute tub or basket, and tie on the little gift tag.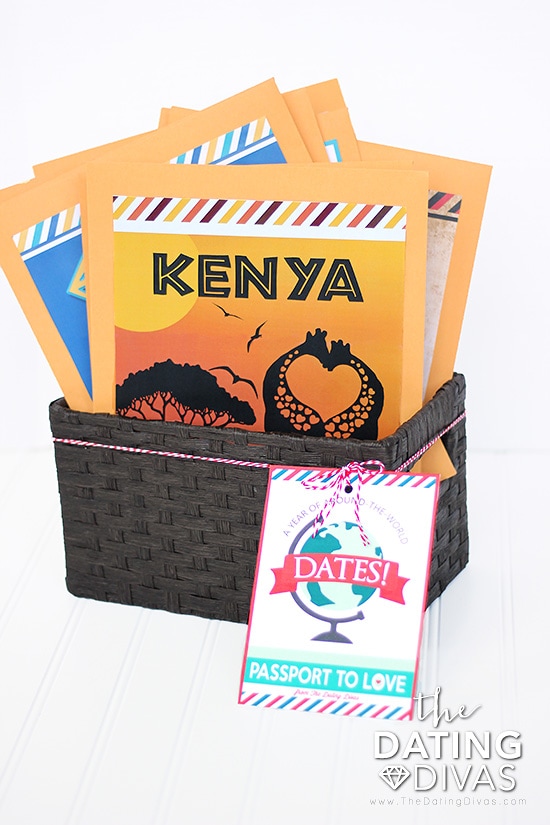 Is your jaw on the floor yet? Isn't this FUN?! (squeals of delight!) Grab your passports and your favorite travel companion (aka, your spouse!) and get started on a first class excursion to a happier marriage. And the best part is, no packing!
Around the World Date Night for a whole year!
Get the entire bundle of dates for just 
$19.99!

Each of these dates sells for $2.99, so  this whole pack has a $36 value! Buying in the bundle gives you HUGE savings. And a year of romance with your spouse – that's priceless!
For more info about each country's date check out all 12 of our
AROUND THE WORLD DATE NIGHT IDEAS…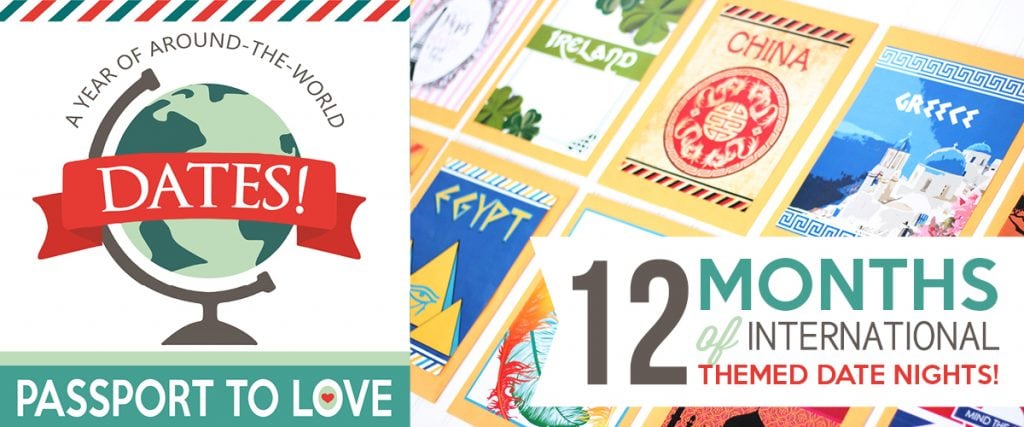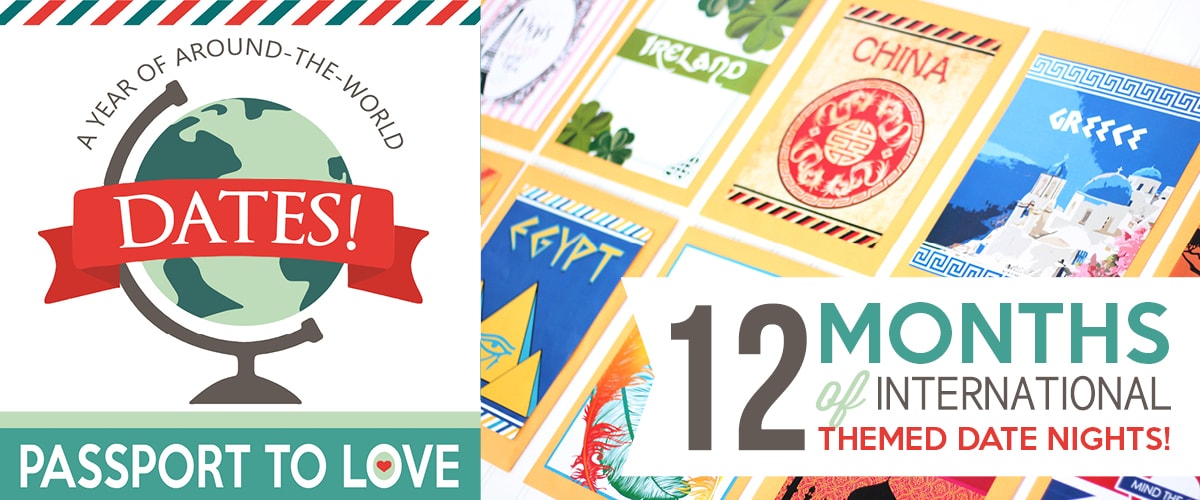 #1. CHINA
#2. INDIA
#3. IRELAND
#4. ENGLAND
#5. ITALY
#6. FRANCE
#7. SPAIN
#8. GREECE
#9. KENYA
#10. EGYPT
#11. JAMAICA
#12. BRAZIL
If you love this, you'll love our other Year of Dates products! Check 'em out: