The Best Christmas Pajamas for 2022
Family Christmas pajamas have always been a favorite Christmas tradition. So whether you want the whole family decked out in matching PJs, or you just want your kiddos to have a new pair for those adorable Christmas morning photos, we've got just the thing for you! Check out this list of our 30 favorite Christmas pajamas for 2022, and get ready to feel all the Christmas morning feels!
Keep scrolling to find the perfect Christmas pajamas for you!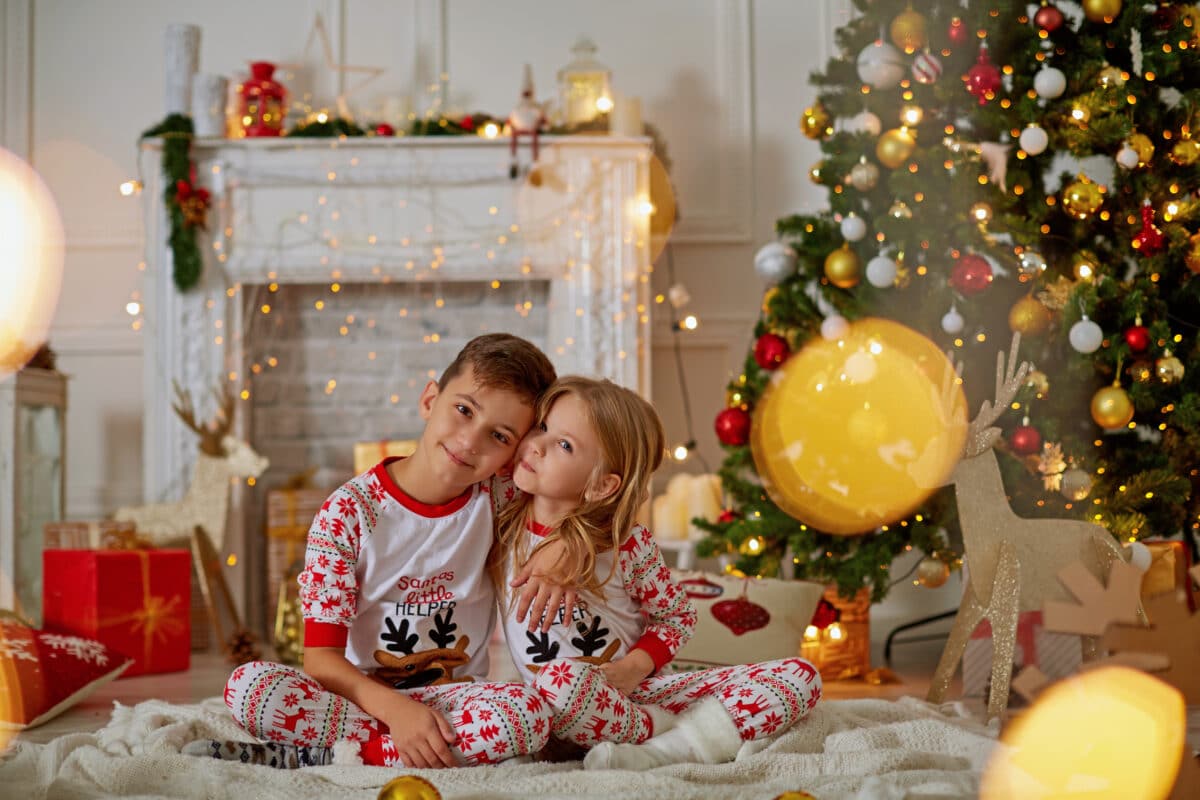 Disclaimer: This post contains affiliate links. To learn more about 'em, click here.
Table of Contents
Matching Family Christmas Pajamas
Nothing is as adorable as an entire family wearing matching pajamas on Christmas morning. So whether you want some classic Christmas prints or some funny pajamas, we've got a little bit of everything on this list! Check it out.
1. Classy Family PJs– These classy, classic matching Christmas pajamas look like a Christmas card! I think I could actually get my husband on board with these.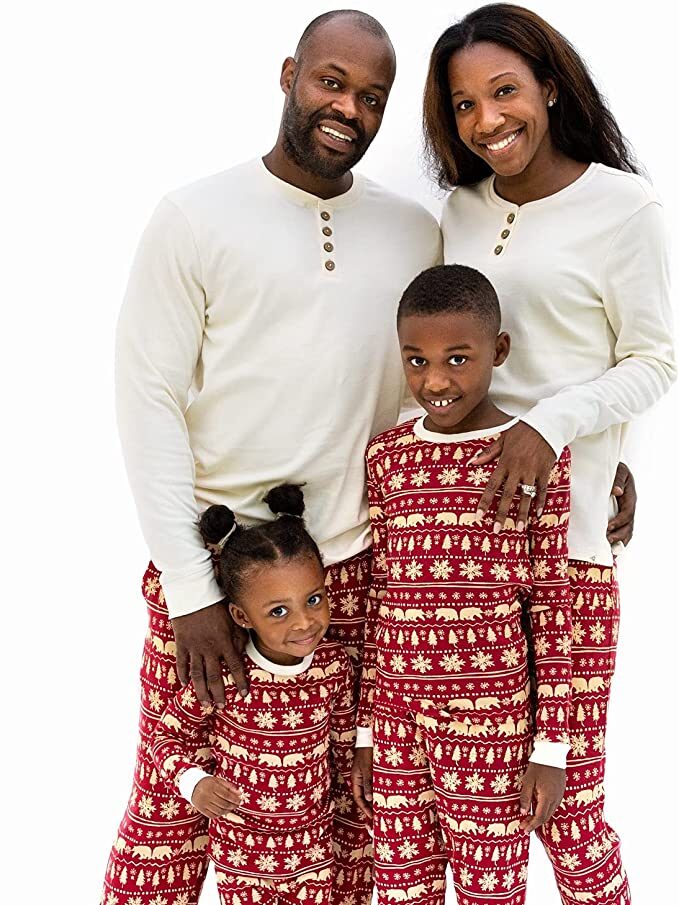 2. Grinch Family Pajamas– If you're feeling Grinchy this holiday, you might as well embrace it! Imagine gifting these cute pajamas right before your Christmas movie marathon. Newlyweds or empty nesters? These also make adorable couples' Christmas pajamas.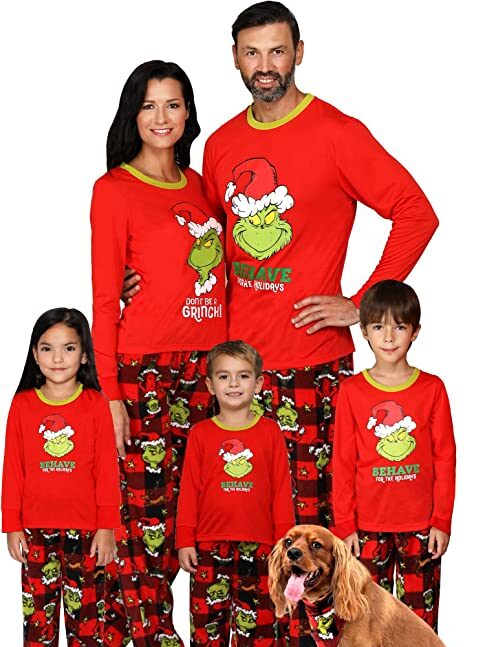 3. Christmas Light PJs– These cute and colorful pajamas will definitely put your whole family in the Christmas spirit! These are an adorable set of family Christmas pajamas.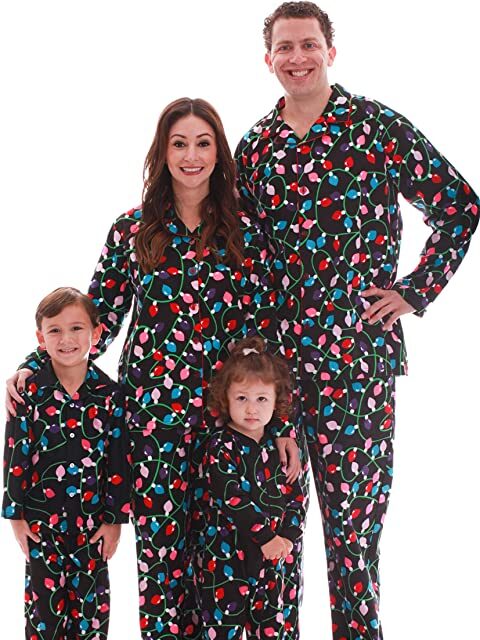 4. Flapjack Pajamas– Sometimes, you just have to embrace the entire matching family Christmas pajamas experience, all the way from a onesie to a butt flap! (I never thought I would type "butt flap" on here, but here we are!)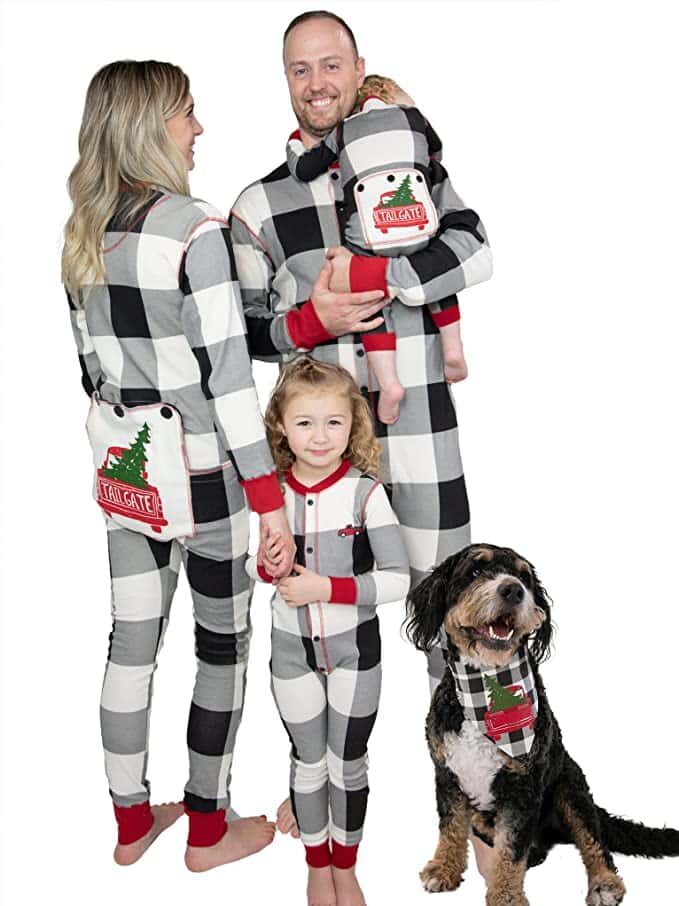 5. Elf Jammies– I know what you're thinking, and no… these don't come with the elf slippers. There are lots of elf slippers out there though! Just get ready for your home to look like the North Pole with these matching family Christmas pajamas.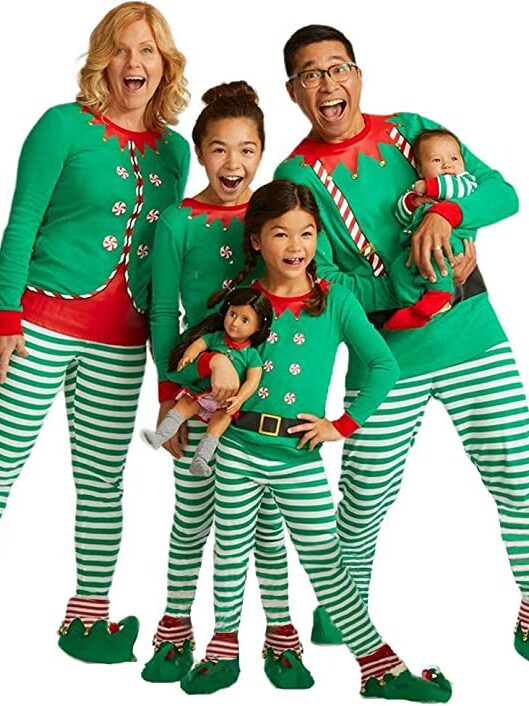 6. Bear Crew Pajamas– These simple, cute pajamas are perfect for Christmas morning and the rest of the year. What more can you ask for?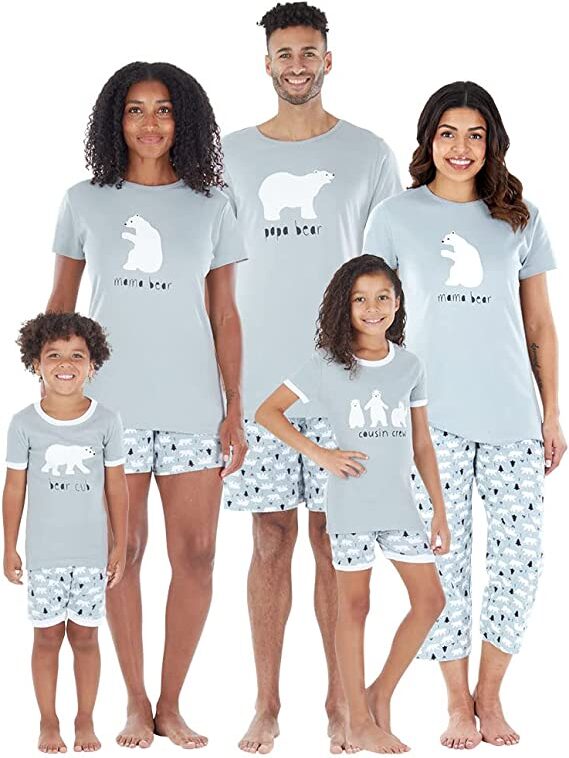 7. Santa Pajamas– No better way to get on the Big Guy's good side than some family Santa pajamas! Just look at those cute baby footie pajamas!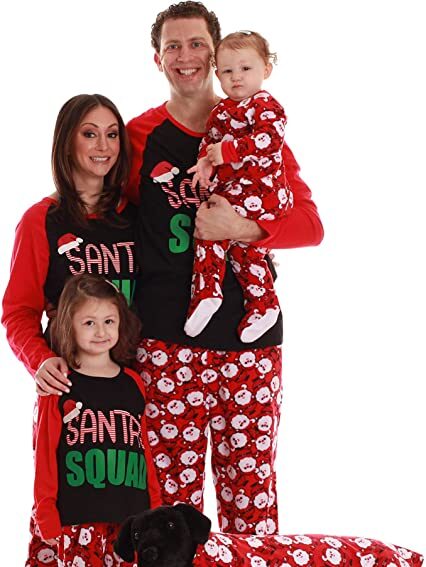 8. Snowman Pajamas– While you're taking photos this Christmas, I would like you to take your modeling duties as seriously as these parents. These are jammies that can last all winter long!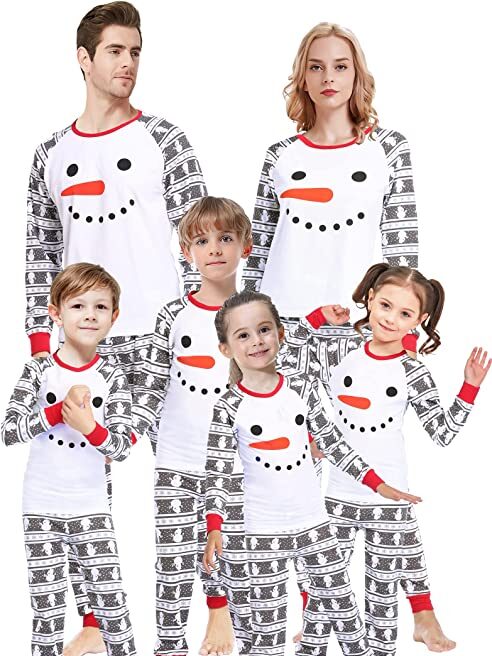 9. Funny Popcorn PJs– If you'd rather take your Christmas jammies the funny route, there is nothing better for your Christmas movie marathon than these popcorn pajamas.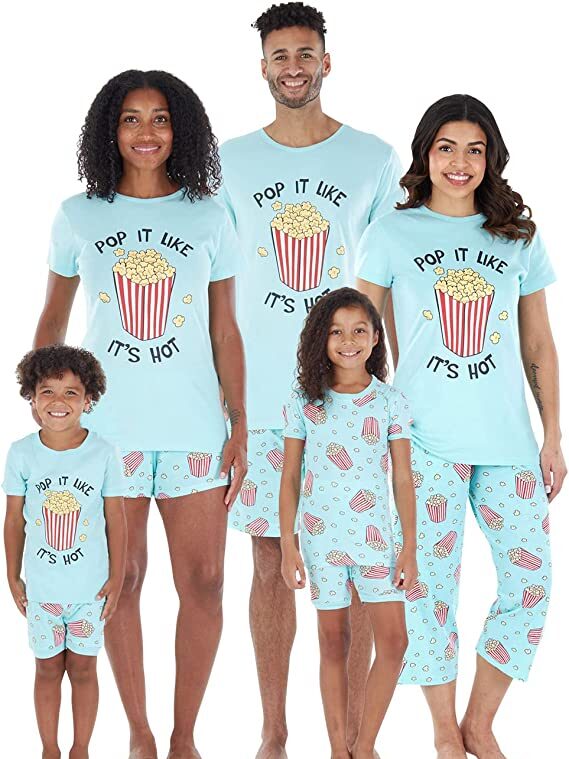 10. Wordy Christmas Tree Pajamas– The black and white make these pajamas look a little extra classy, and check out that cute neckline on the mom's set.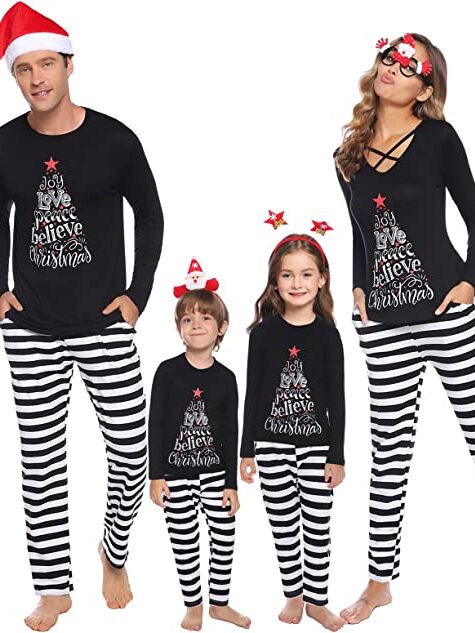 11. Polar Bear Matching Christmas Pajamas– These adorable pajamas even have a bandana option for the dog! Get the entire family in on the action with this cute set.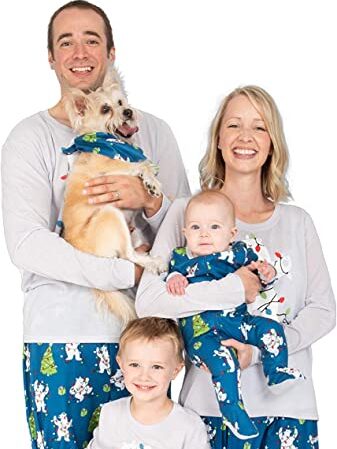 12. Let It Snow Pajamas– These are another set of pajamas that will be perfect all winter long. And just look at that cute little girl nightgown!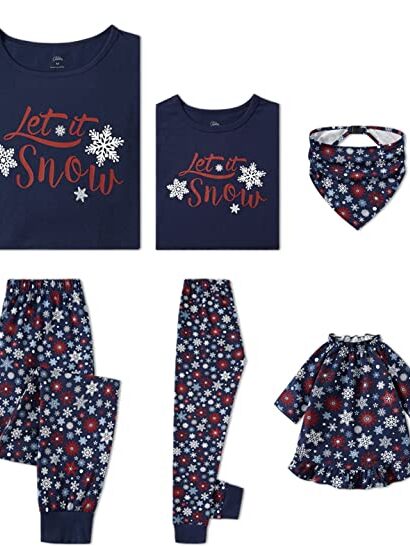 13. Classic Flannel Pajamas– Take a traditional photo in front of the tree that will never go out of style with this classic pattern! Can't you picture your kiddos waiting for Santa in these? Of course, you could also just buy the adult pair for a set of couples' Christmas pajamas.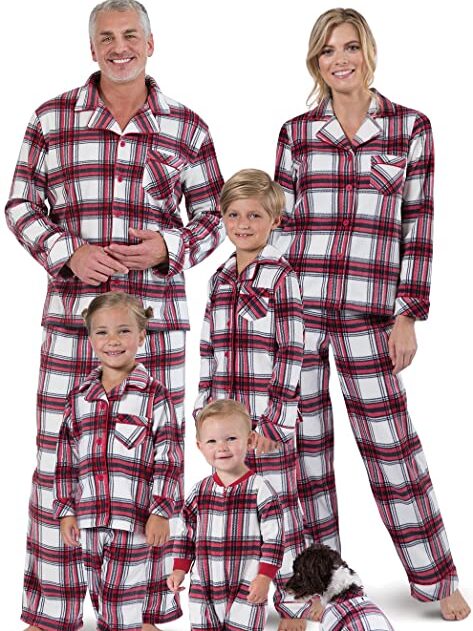 14. Colorful Tree Pajamas– These pajamas come in multiple cute designs for the whole family to love! Go with the cute, colorful trees or a more classic black buffalo plaid- you can't go wrong either way!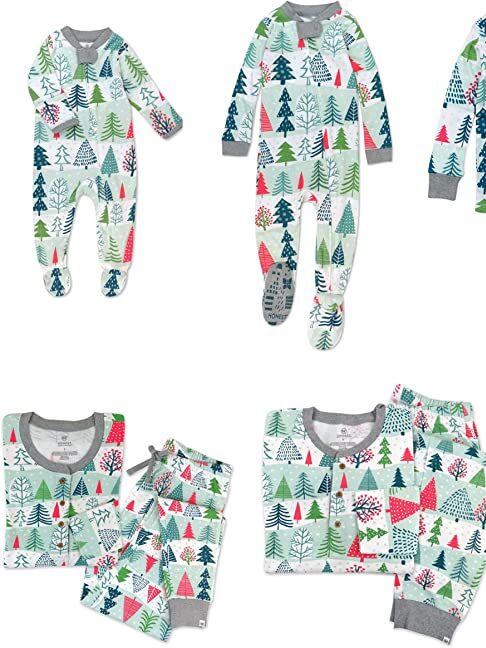 15. Reindeer Hood– Cozy up on the couch with some hot cocoa and a reindeer hood while you open gifts. There is truly nothing more Christmas-y than that.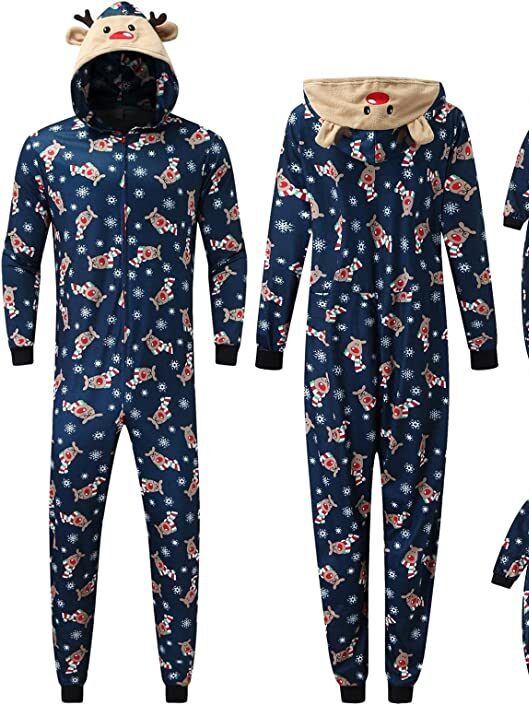 16. They're the Naughty Ones– Pass the blame in true sibling fashion with these fun pajamas. Who will get the lump of coal? Let the pajamas decide.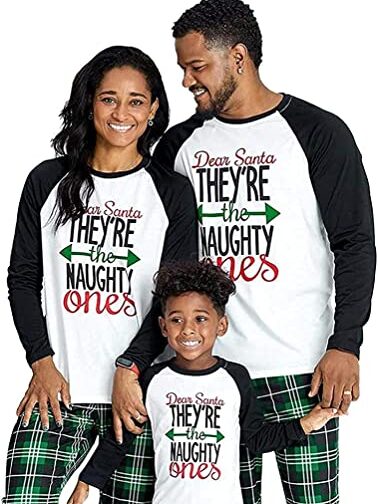 Christmas Pajamas for Kids
Nothing screams Christmas morning quite like kids in new pajamas! So whether you're looking for a Christmas Eve Box gift or just something cute for photos, your kids can't go wrong in one of these cute, cuddly pajamas!
17. Cousin Crew PJs from Grandma– How darling would all the grandkids be in these pajamas? These make a photo you will cherish forever.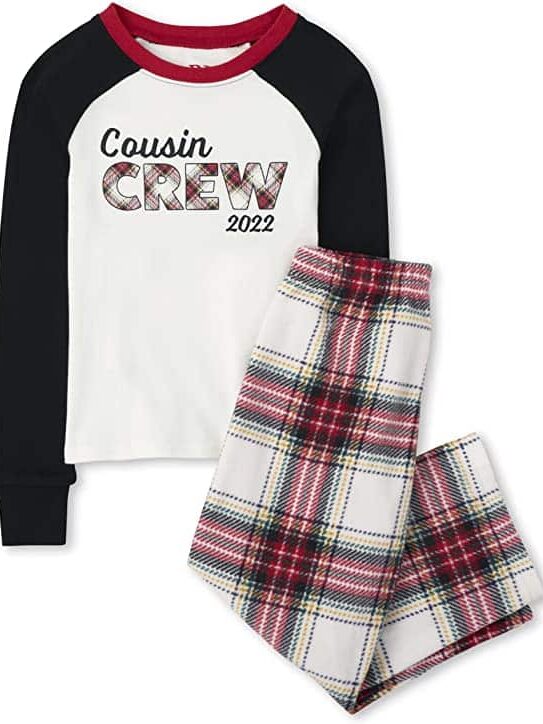 18. Red Christmas Pajamas– Maybe I watched too much of The Santa Clause growing up, but don't these just look like Christmas?!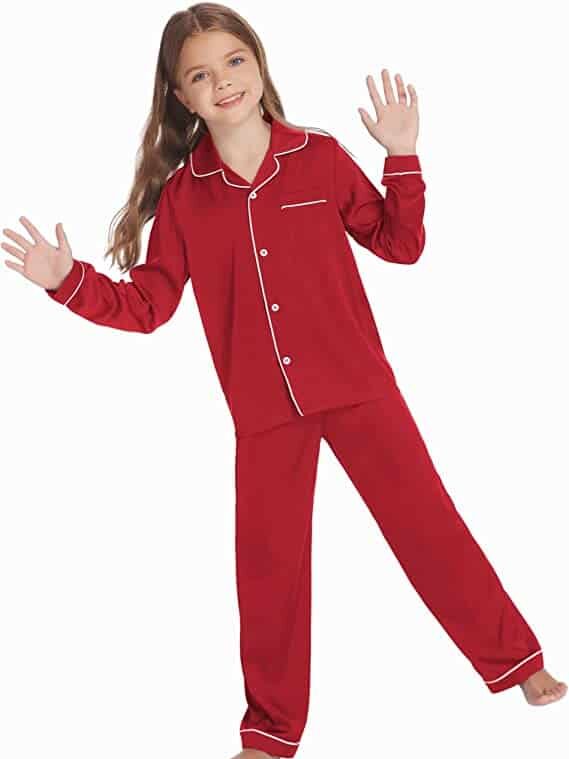 19. Santa's Helper PJ Set– These PJs give you a second option for a top, which is never not a good idea when it comes to messy toddlers and Christmas morning cinnamon rolls!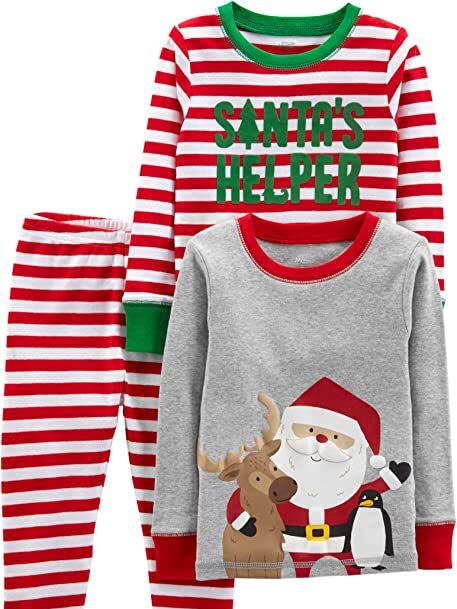 20. Nordic Moose Pajamas– This is another classic print that won't go out of style and is just perfect for Christmas! Don't they look so cozy?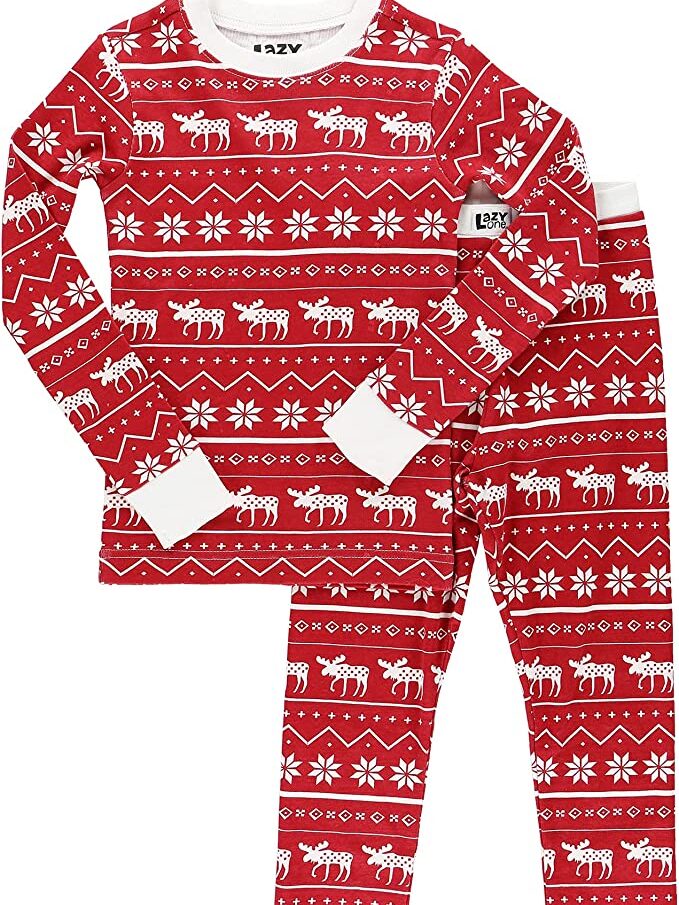 21. Snowy Storm Trooper– Have little Star Wars fans at home? Don't pass up these cute pajamas. Just imagine them unwrapping a stuffed baby Yoda in these!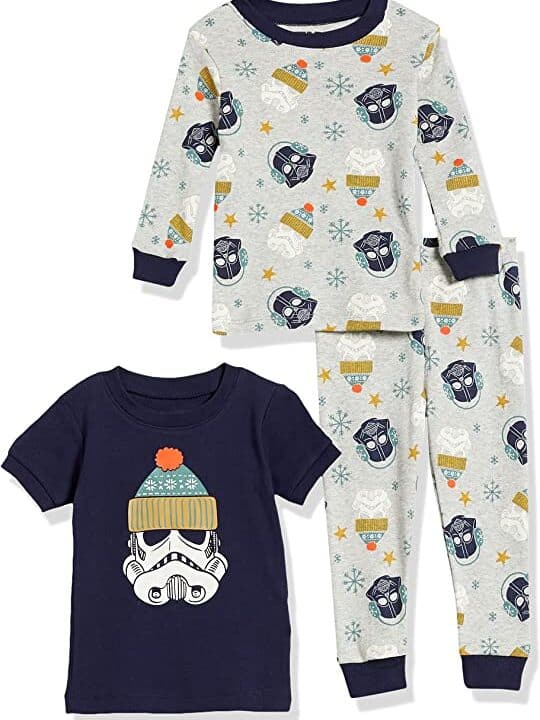 22. Reindeer Pajamas– Carter's makes some of the best kids stuff, and these pajamas are no exception! Your little one will love the Santa and reindeer print.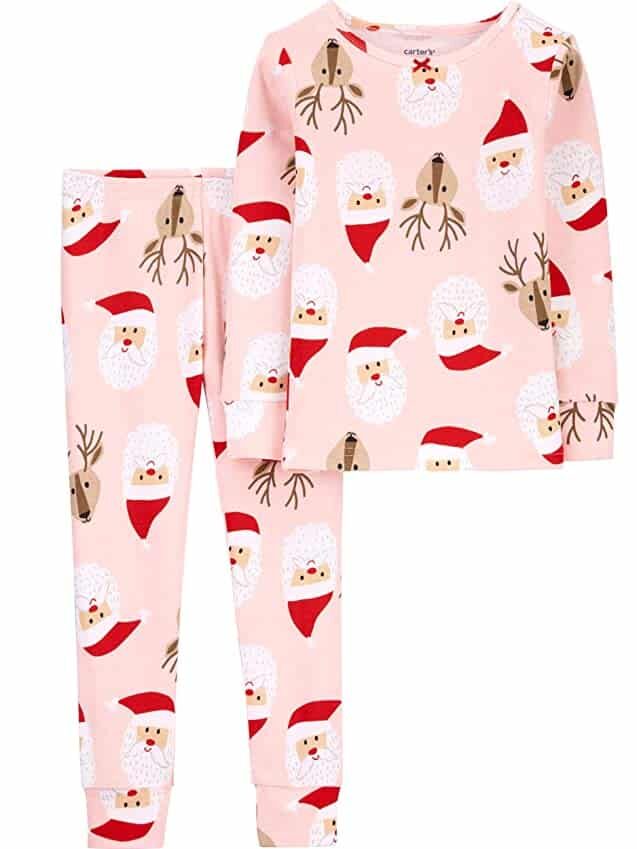 23. Penguin Lovers PJs– I've met people who don't love pizza or chocolate, but I've never met anyone who doesn't love penguins. They are adorable, and so are these cute jammies.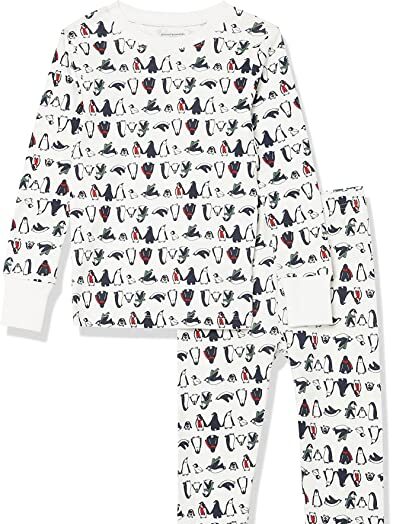 24. Christmas Tree Truck Pajamas– This old-fashioned print is perfect for Christmas and will be so cute on your little ones!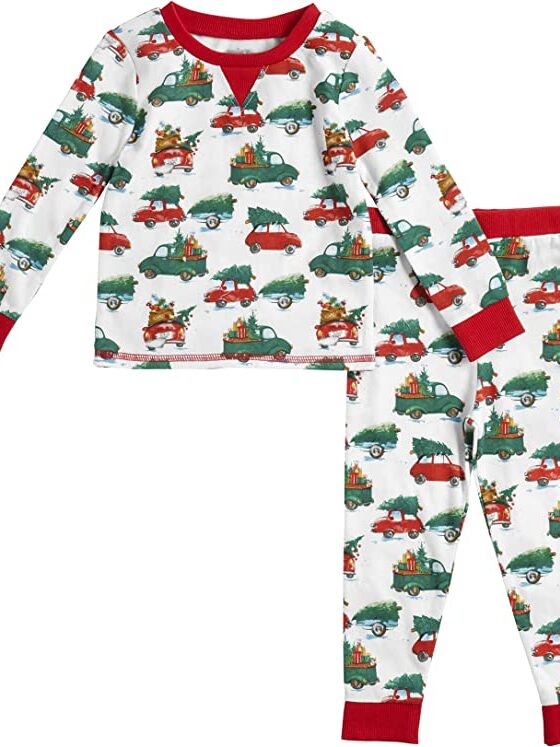 25. Charlie Brown Christmas Jammies– Are you big fans of A Charlie Brown Christmas? These pajamas will be perfect for your movie-watching party!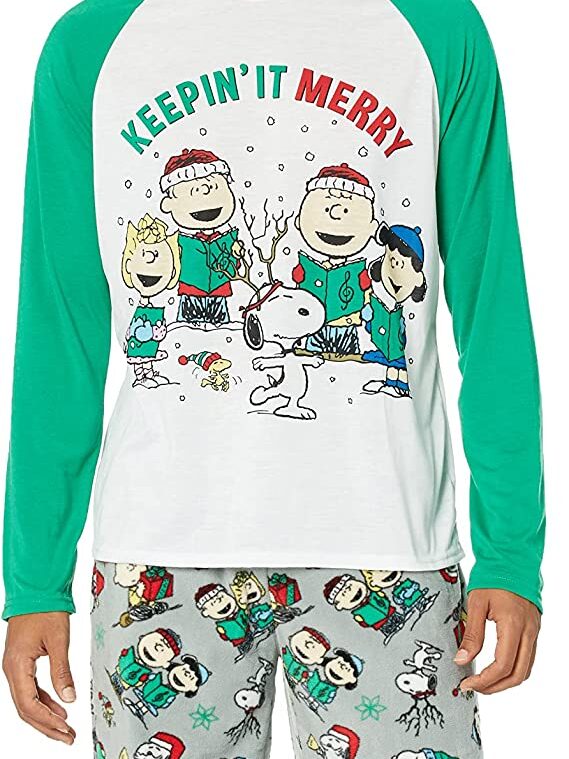 26. Mickey Mouse Pajamas– Surprising your kids on Christmas morning with a trip to Disney world? Use these pajamas as the perfect topper for that gift!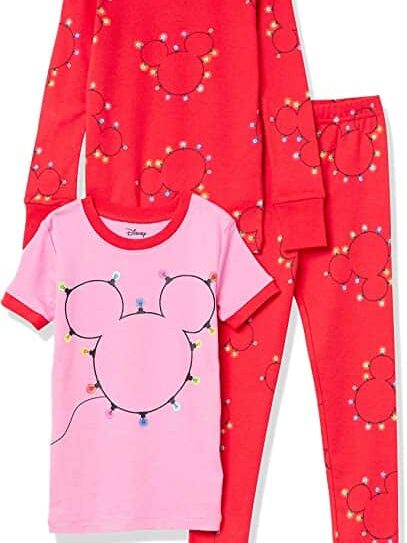 27. Calvin Klein Boys Pajama Pants– Have a boy at home who isn't into festive pajamas? These classic, comfortable pajama pants are the perfect solution!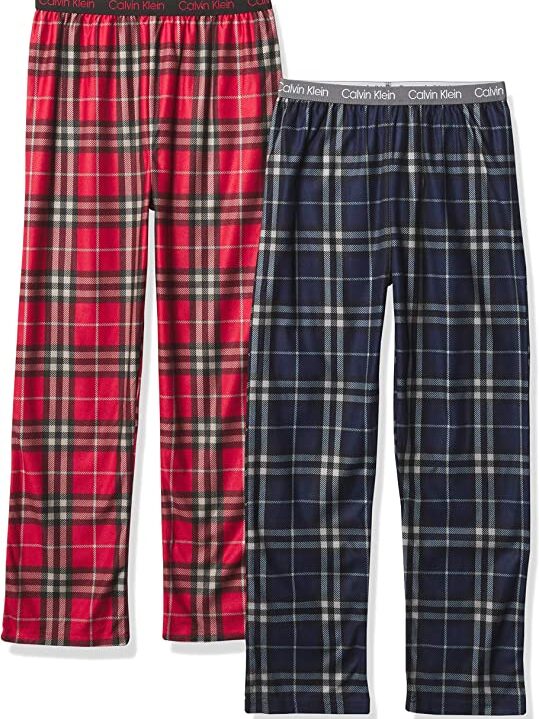 28. Santa Baby Pajamas– A cuddly baby wrapped in these onesies makes for the perfect Christmas morning! Plus, warm and cozy is absolutely perfect for the tiniest slumbers.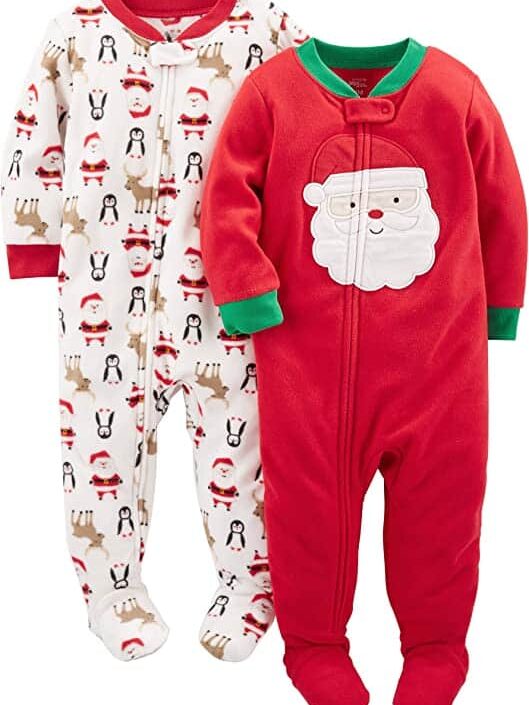 29. Christmas Nightgowns– Nightgowns are so comfortable and cute, and these winter ones could work for longer than Christmas morning! That buffalo plaid print never goes out of style.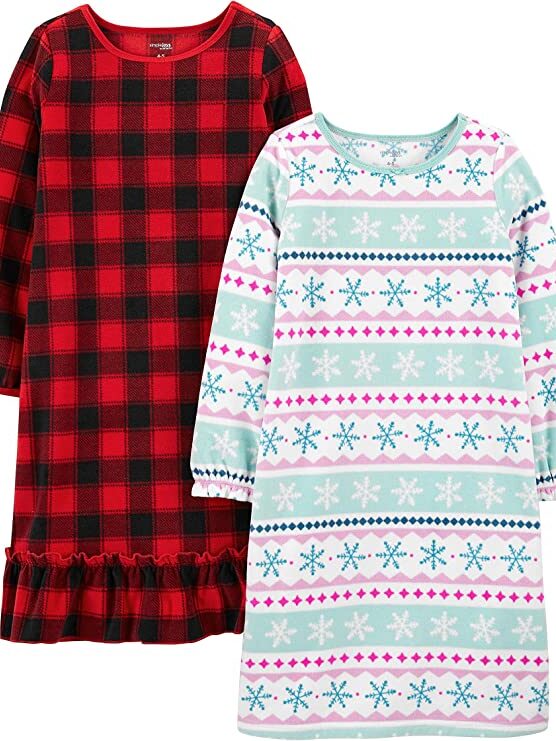 30. Santa Hat Dogs– These pajamas are perfect for dog lovers! Imagine pairing them with a stuffed dog for a gift.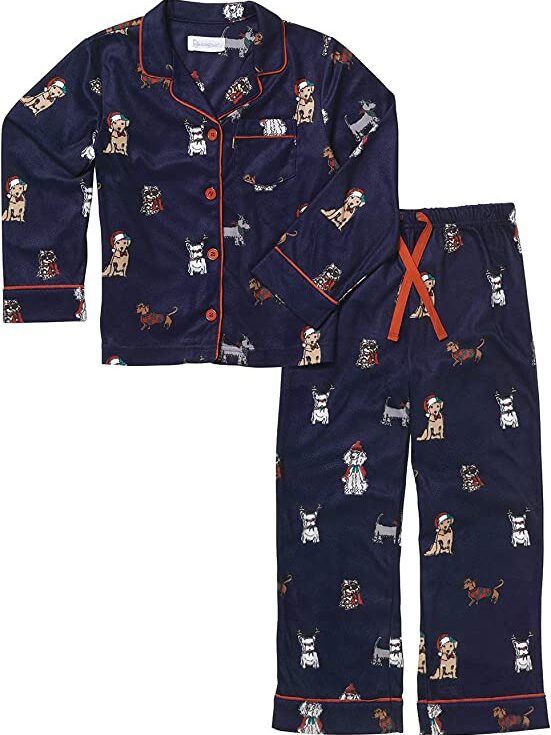 There you have it- our 30 favorite pajamas for your family for Christmas morning! You can't go wrong with any of the items on this list, but hopefully, something specific caught your eye!
If you liked this post, you should check out our 12 Dates of Christmas and our Perfect Christmas Gifts for Your Husband.