50 Easy DIY Halloween Decorations
It's the most frightful time of the year! That's right, Halloween is here—time to don the creepy costumes, buy all the boo-licious candy, and put out the terrifying decorations. After all, 'tis the season to be spooky!
However, if you feel like your usual decorations are looking a bit dreadful this year, then we've got a treat for you! We've rounded up some of the most fang-tastic DIY Halloween decorations for you to try out this year. Hold on to your hot glue guns … it's about to get hauntingly crafty up in here!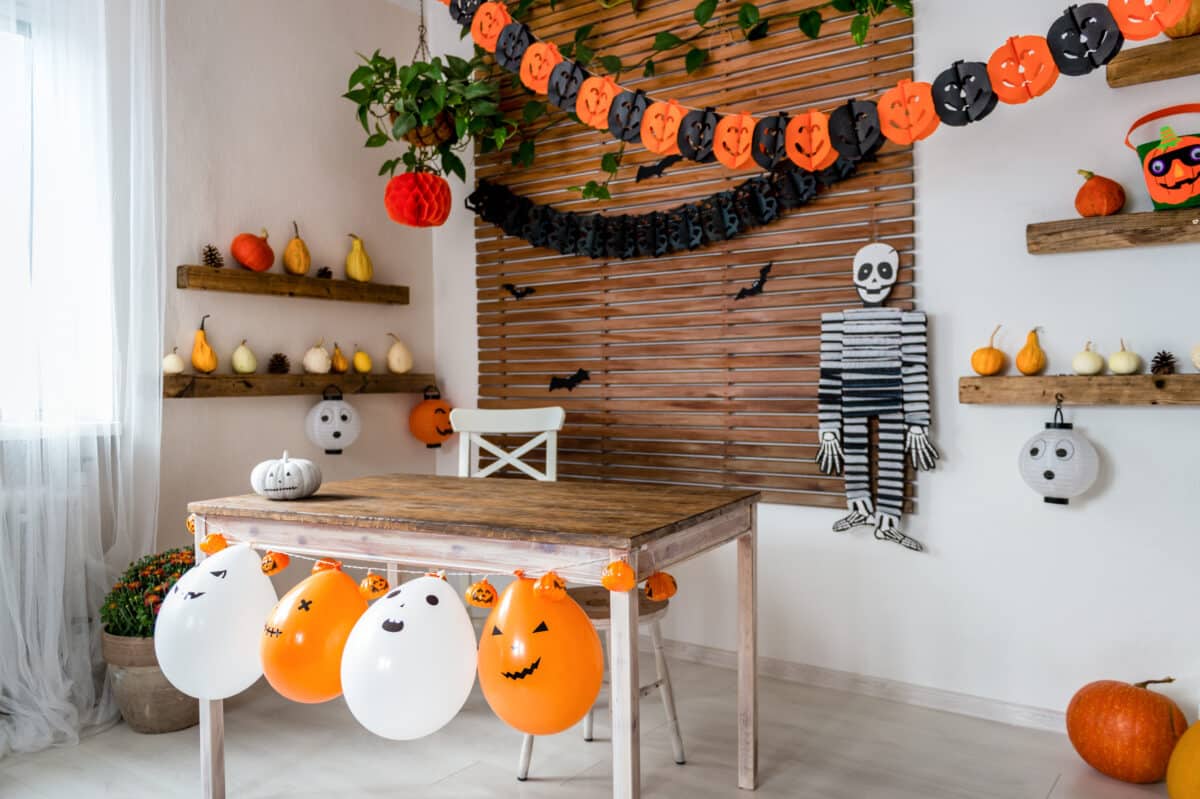 Disclaimer: This post contains affiliate links. To learn more about 'em, click here.
Whether you are looking for the best indoor DIY Halloween decorations or you are searching for wickedly cute outdoor DIY Halloween decorations, we've got you covered! We have everything from porch and door Halloween decor to candy holders, garlands, and pumpkins! Check it all out below!
Table of Contents
Outdoor DIY Halloween Decorations
1. Porch Spiders (One Good Thing) – These spooky spiders are so simple and would be a scary addition to your front steps!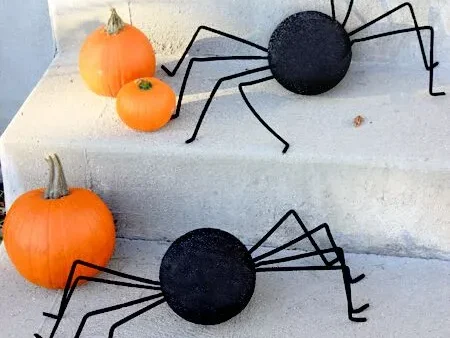 2. Witches Brooms (Tastefully Frugal) – These easy DIY outdoor Halloween decorations will make it look like the Sanderson Sisters just dropped by for a visit!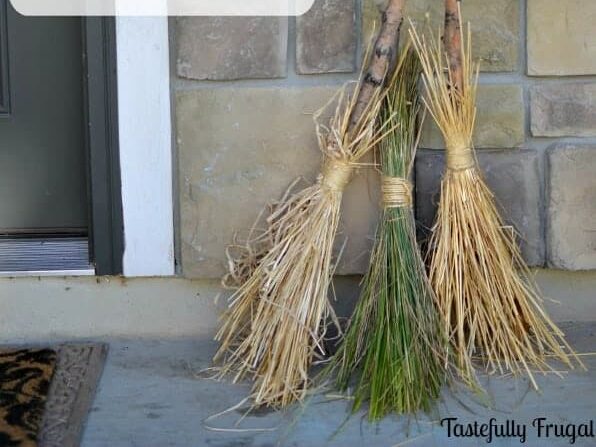 3. Stacked Pumpkin Topiary (Tatertots and Jello) – We just love the black and white pattern of these stacked pumpkins!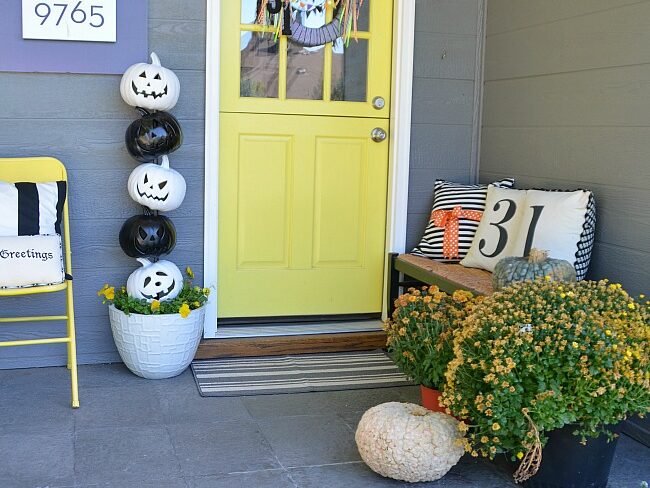 4. Giant DIY Spiders (Better Homes and Gardens) – Yikes! These giant DIY spiders would give anyone arachnophobia!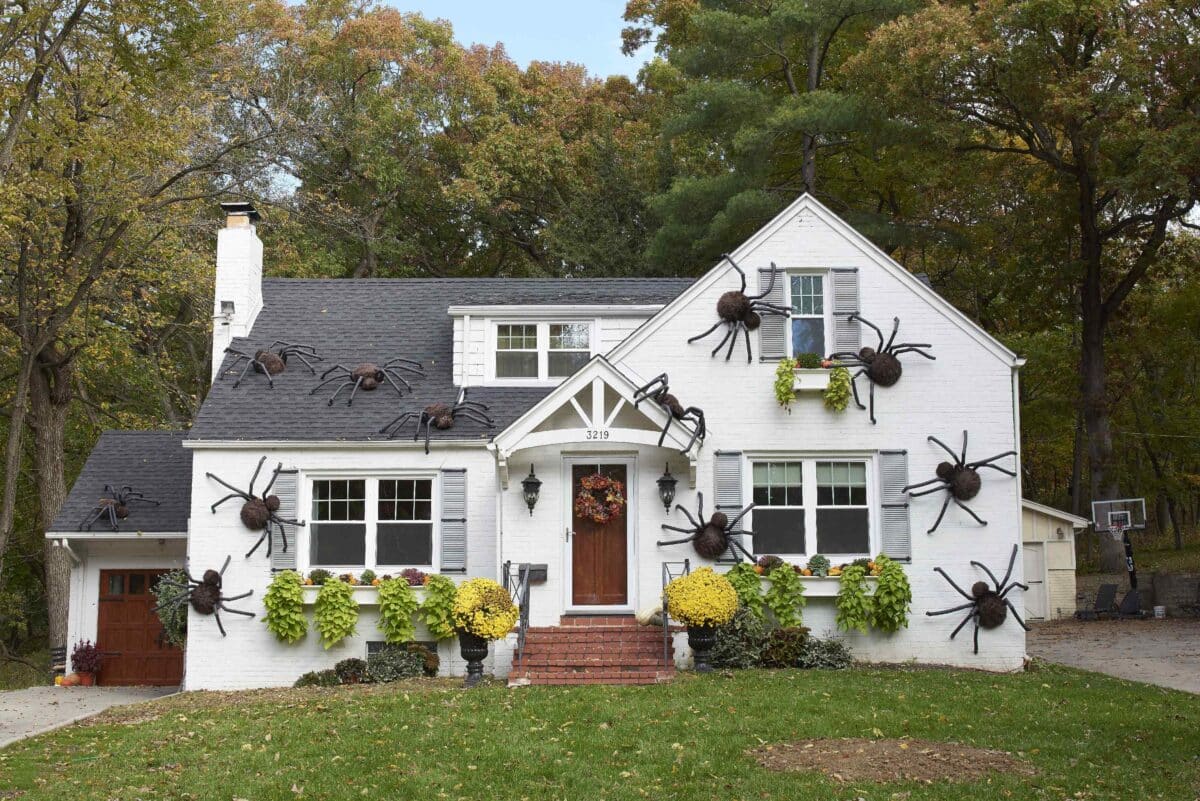 5. Halloween Ghost Lights (Thrift Diving) – These ghostly DIY Halloween decorations will make your porch look boo-tiful!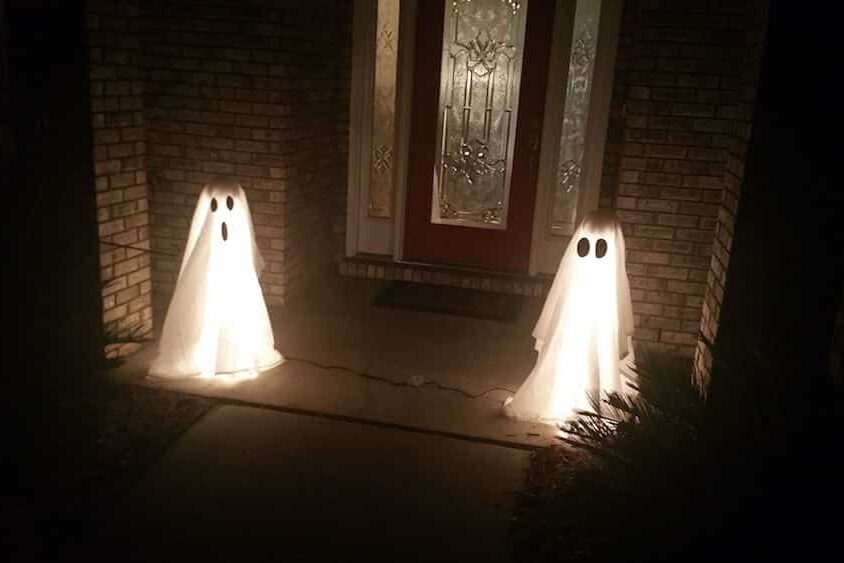 6. Hanging Cages (The Navage Patch) – Dollar store laundry baskets make these hanging cages simple and super cheap to create!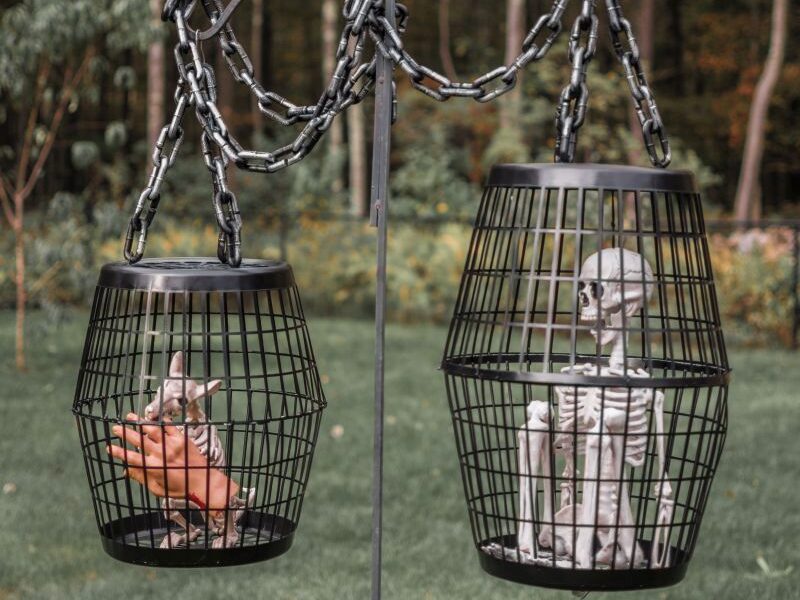 7. Spooky Bush Eyes (Kitchen Fun With My 3 Sons) – Can you believe these spooky bush eyes are made with only paint and dollar store plastic pumpkins? We think that's spooktacular!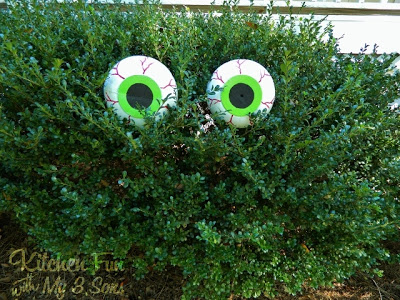 8. Witch Legs (Legally Crafty) – Witch, please! This simple decor will have everyone giggling—or cackling!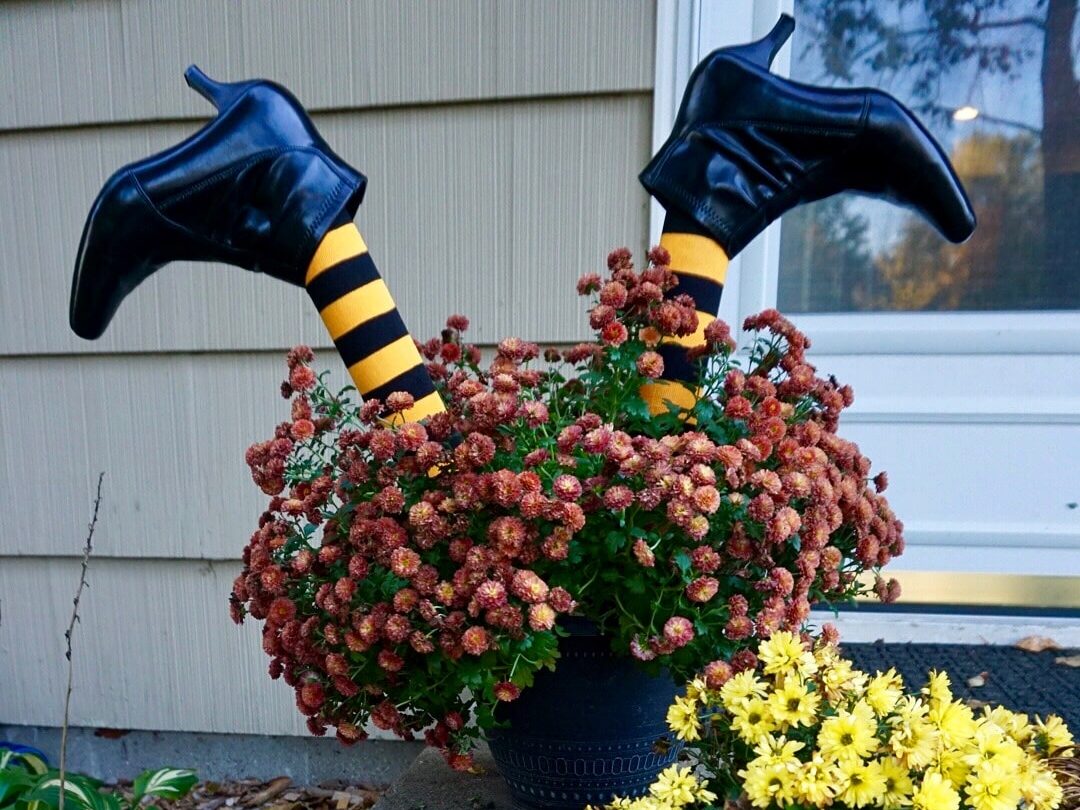 9. Hocus Pocus Witches (eHow) – Show your love for the spell-binding classic, Hocus Pocus, by setting up the three sisters in your front yard.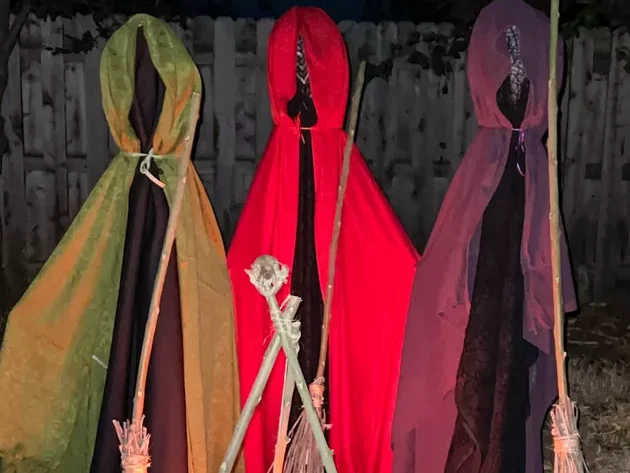 DIY Outdoor Halloween Decorations: Candy Holders
10. Venus Fly Trap (The Paper Mama) – You better snatch the candy fast, kids! We just love the look of this DIY outdoor Halloween decoration!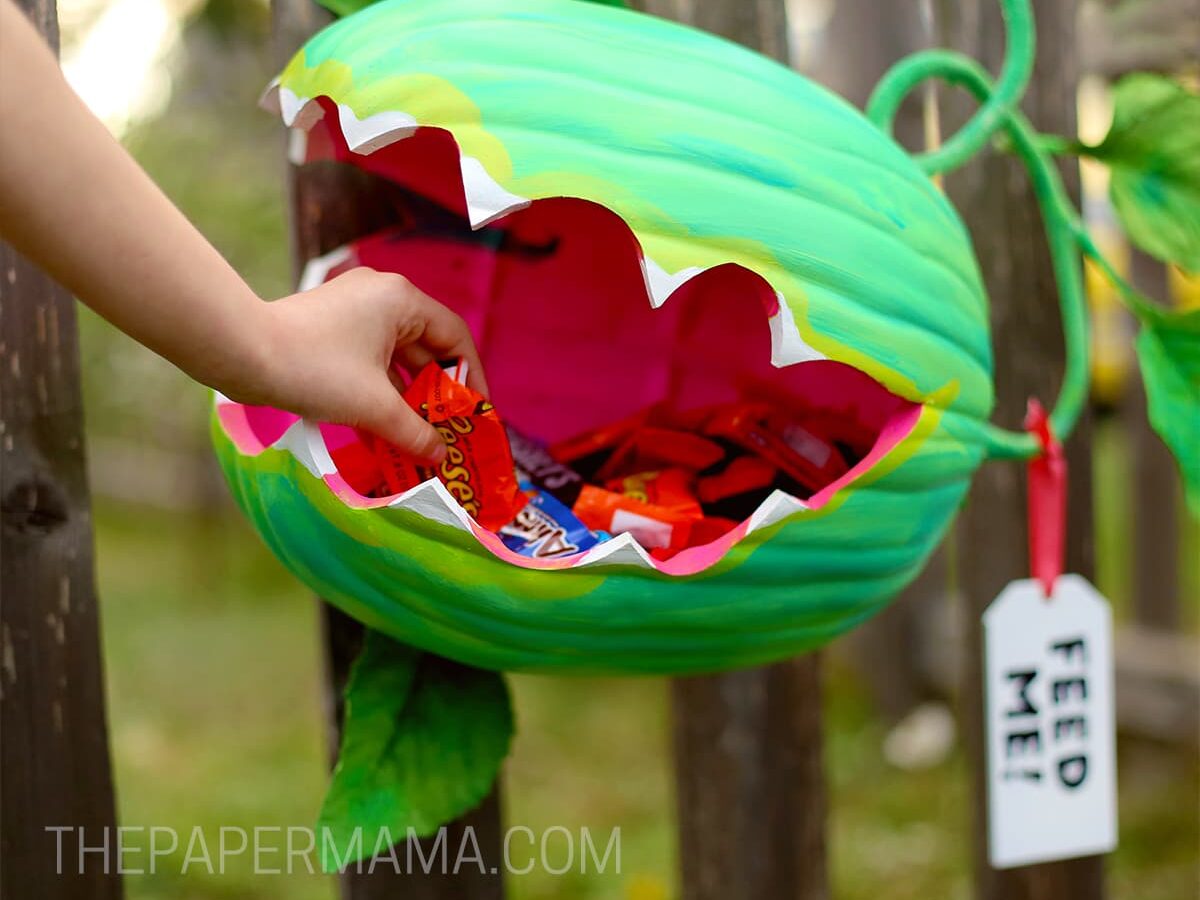 11. Pumpkin Treat Holder (A Pumpkin and a Princess) – This bright and happy pumpkin treat holder is also super easy and inexpensive to make! Score!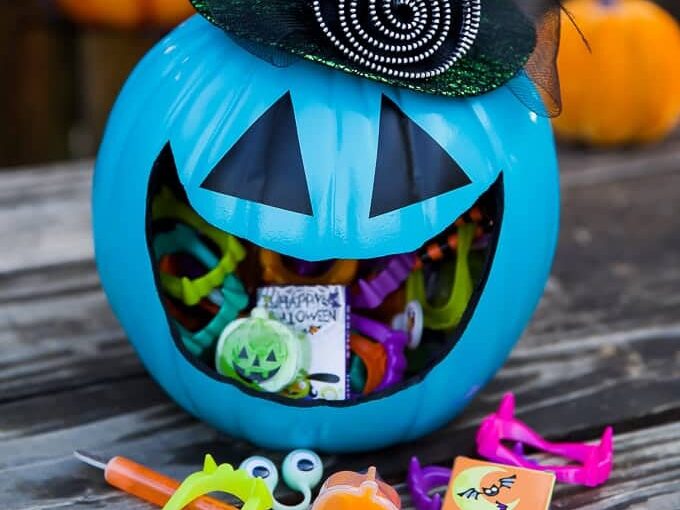 12. Boot-i-licious Candy Holder (Design Dazzle) – How bewitchingly creative is this Halloween decor? Just add witch legs to a plastic cauldron, add candy, and you're ready for trick-or-treating!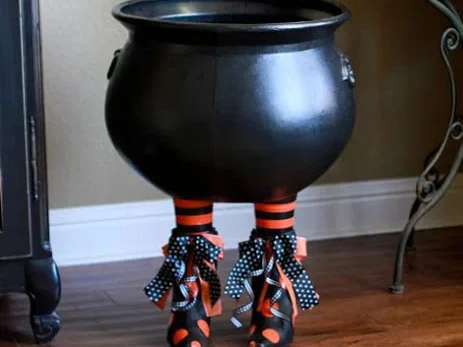 13. Frankenstein Candy Holder (Chas' Crazy Creations) – This is made by using terracotta pots. What a great way to repurpose them after summertime!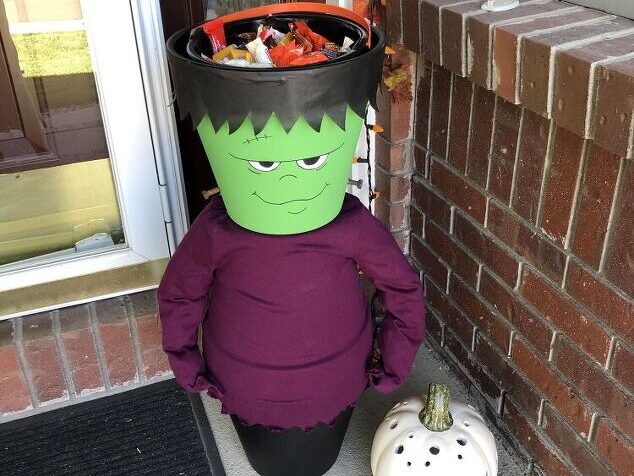 14. Ghost Candy Holder (Sadie Seasongoods) – We think this ghostly DIY treat holder will make the Halloween candy taste extra boo-licious!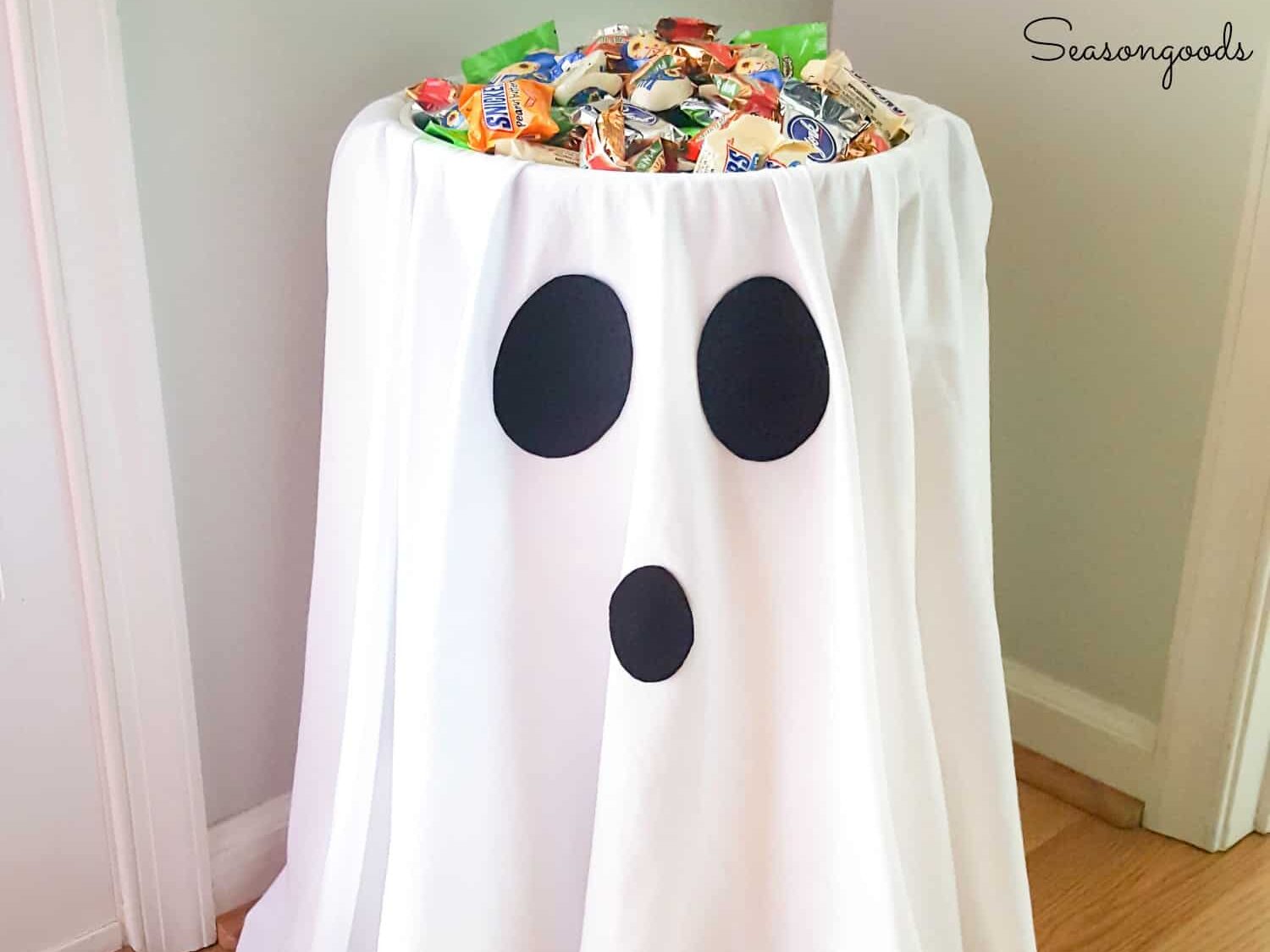 15. Mummy Pumpkin Candy Holder (Grace and Good Eats) – Cheap and simple, we just couldn't keep this cute DIY Mummy candy holder under wraps any longer!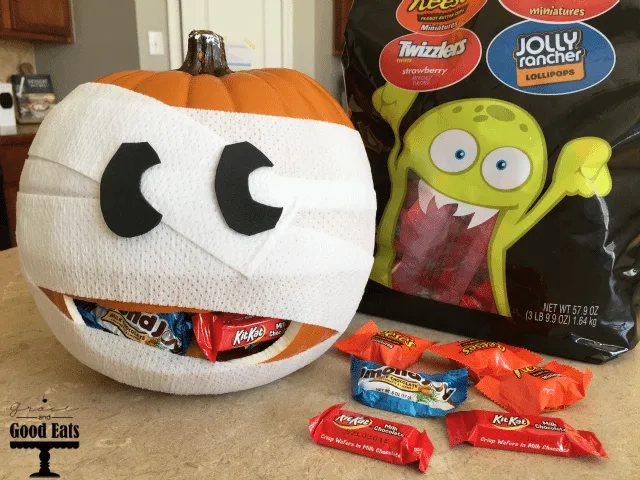 DIY Halloween Decor: Wreaths
16. Embroidery Hoop Spiderweb Wreath (My Sister's Suitcase) – Take heed—this creepy crawly wreath might just keep trick-or-treaters from knocking on your door!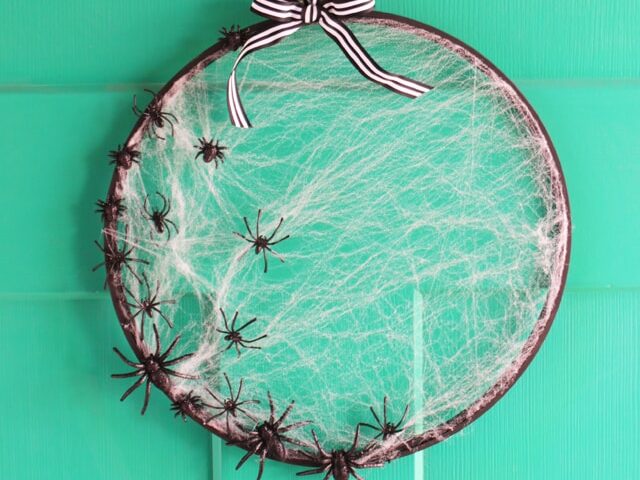 17. Black Twig Wreath (My Pinterventures) – This DIY Halloween decor has just the right mix of eerie and elegant!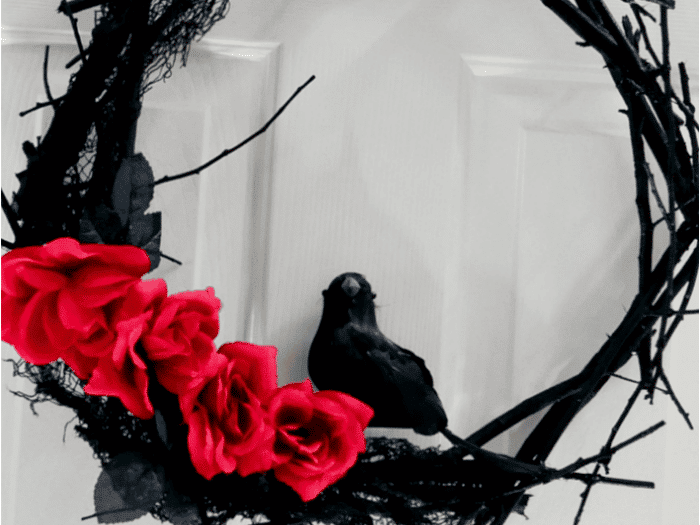 18. Halloween Fabric Wreath (Simple Sojourns) – Don't you love how cute and crafty this Halloween wreath is? Bonus points if you already have fabric scraps lying around!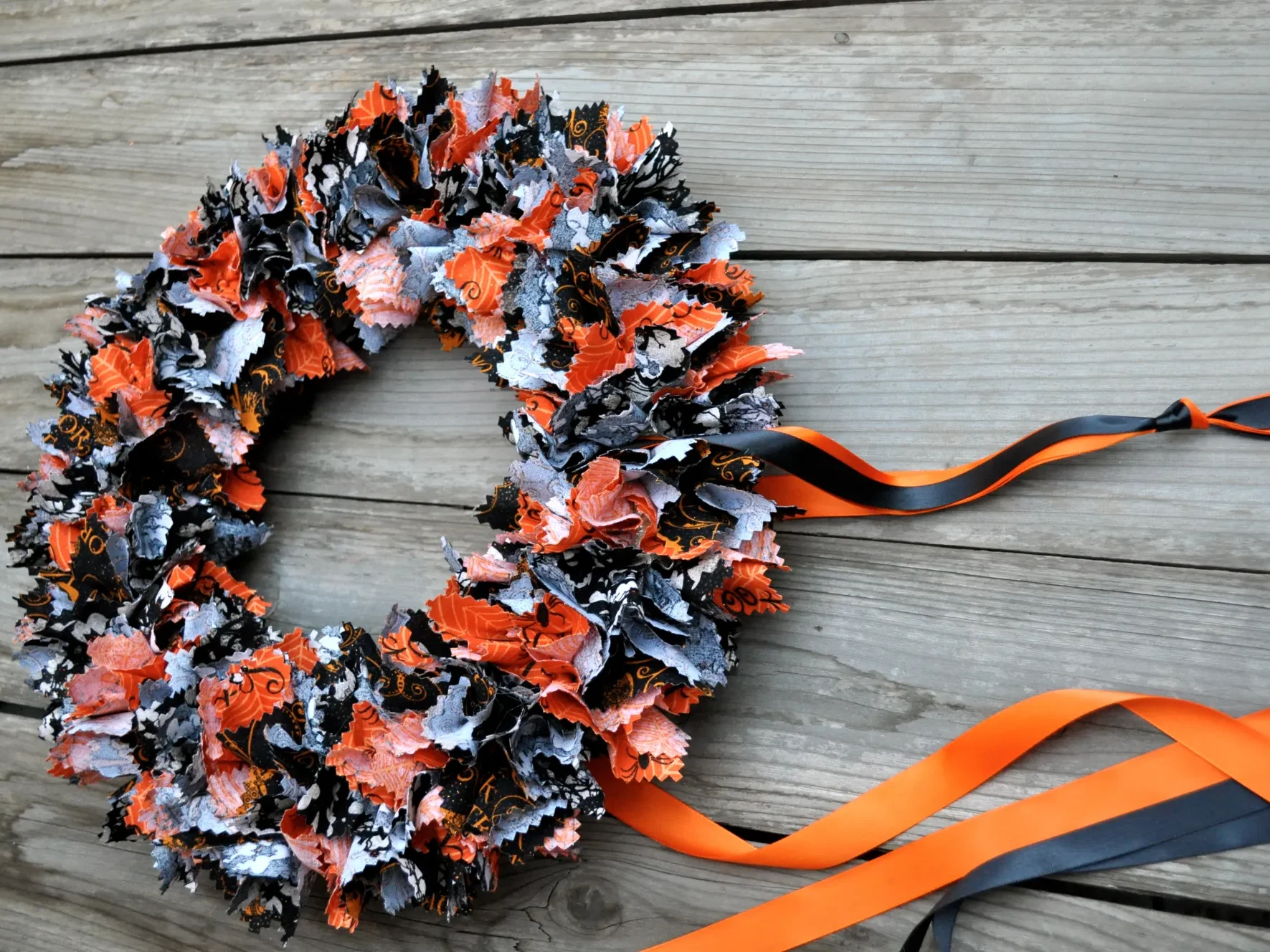 19. Monster Wreath (HGTV) – This monster wreath is so fuzzy! Can you believe it is made from car wash mitts from the dollar store? Genius!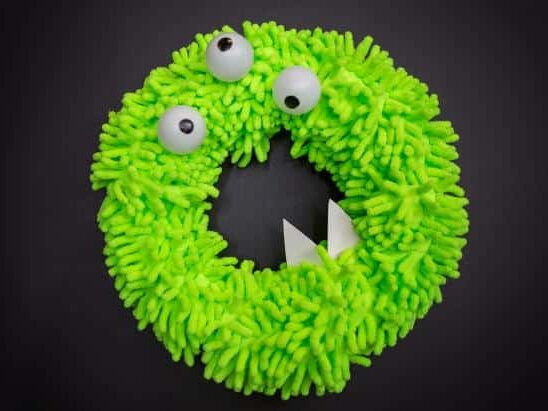 20. Google Eye Wreath (Number 2 Pencil) – This might take some time to make, but if you are looking for spine-tingling DIY Halloween decorations, then this google eye wreath is for you!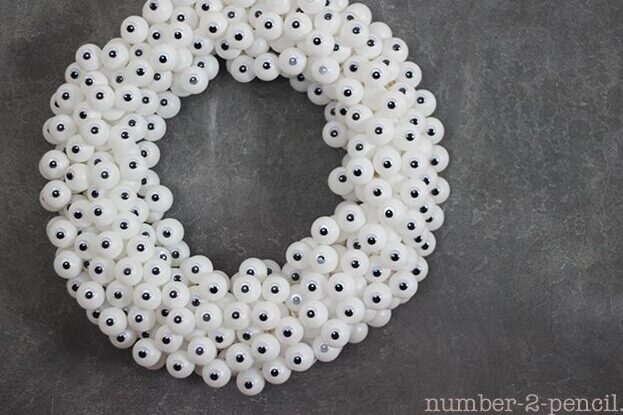 21. Ribbon Wreath (Positively Splendid) – We think this wreath is just frighteningly festive!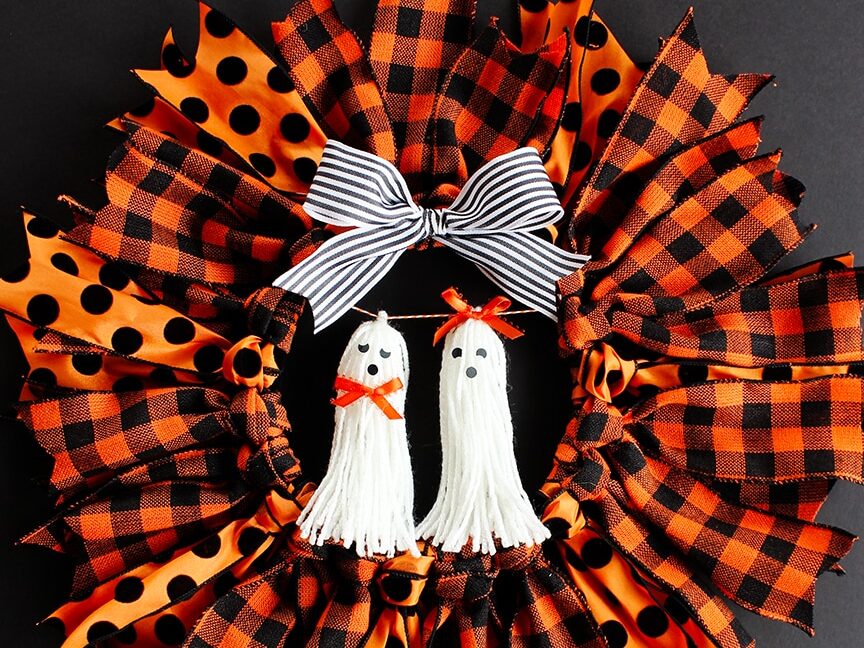 22. Spider Wreath (The Navage Patch) – Use this as an outdoor DIY Halloween decoration, or hang it inside your house!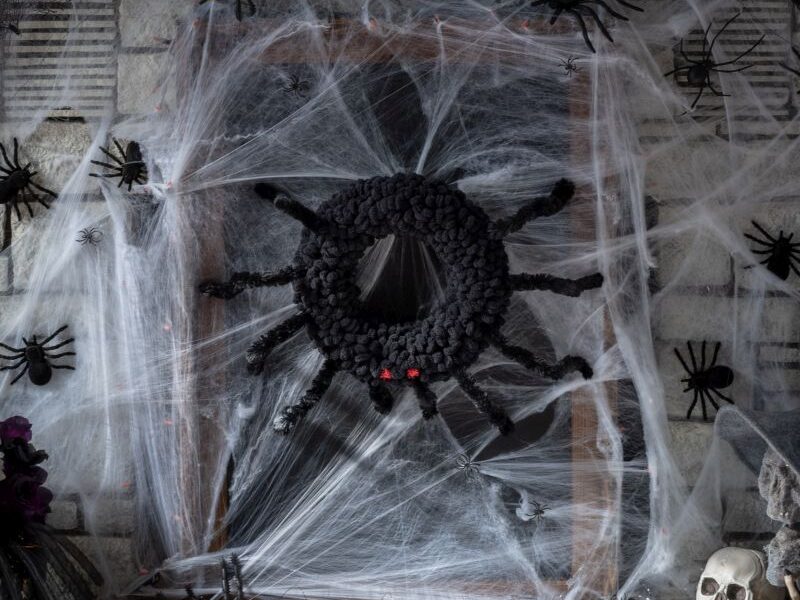 23. Candy Corn Wreath (Satsuma Designs) – We love DIY Halloween decor that is cutesy, too! This candy corn wreath is made by using a pool noodle and crepe paper!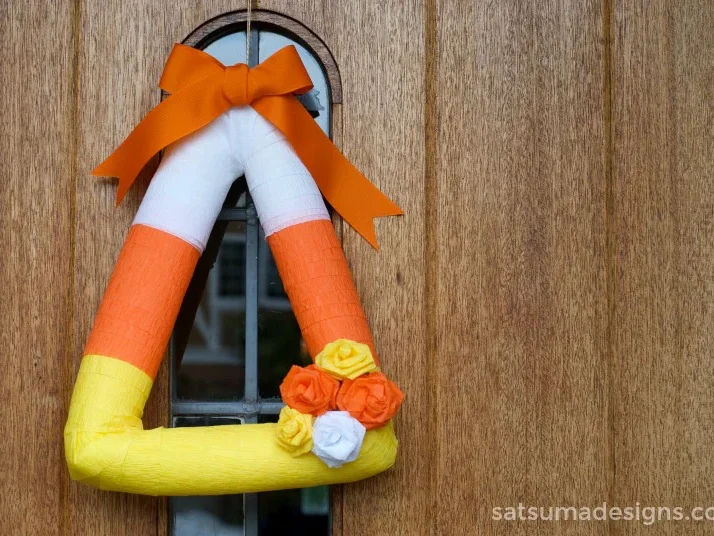 24. Halloween Gnome Door Hanger (Michelle's Party Plan-It) – Gnomes are all the rage right now, and now you can make your very own Halloween gnome using items from the dollar store!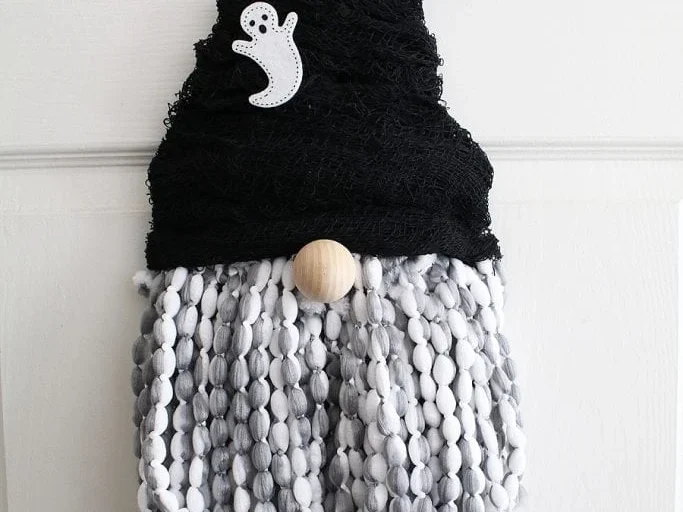 DIY Halloween Decor: Garlands
25. Fabric Candy Garland (Swoodson Says) – Who doesn't love the look of this Halloween-inspired candy garland? Yum!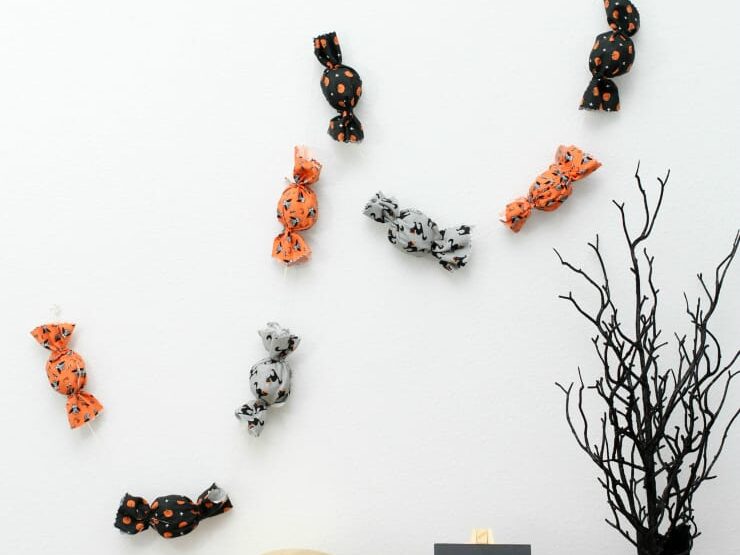 26. Neutral Ghost Garland (Mamacita Diaries) – This ghost garland is both darling and hauntingly simple to make!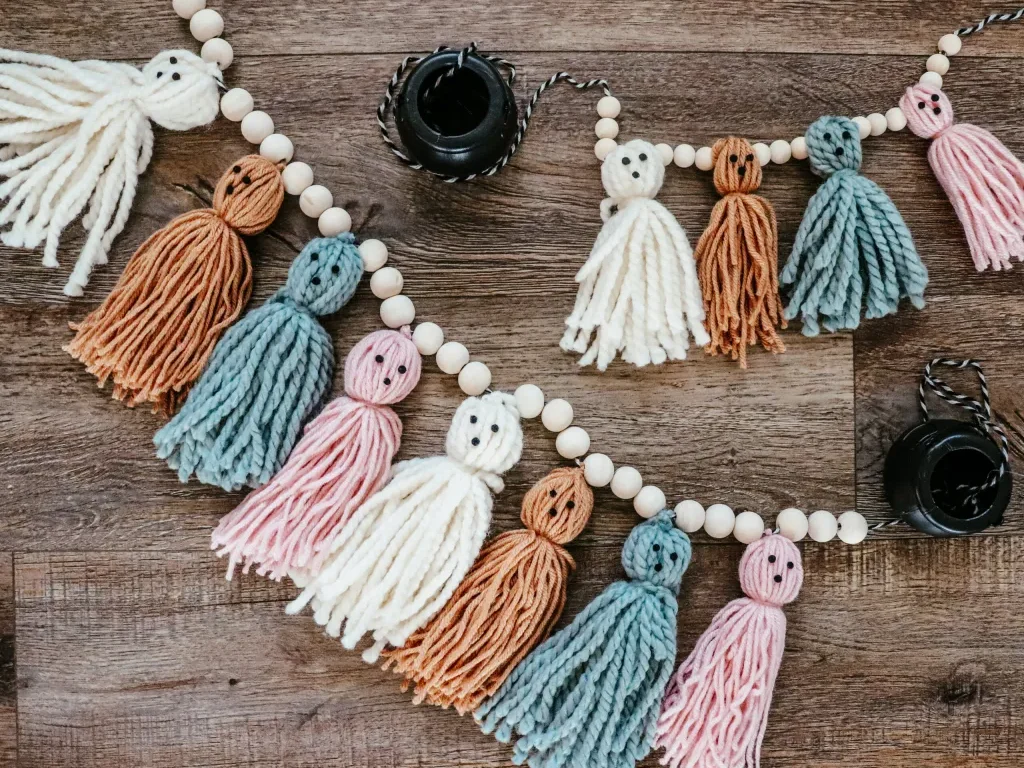 27. Yarn Pumpkin Garland (Re-Fabbed) – What's Halloween without pumpkins? These yarn pumpkins make the perfect DIY Halloween decor garland!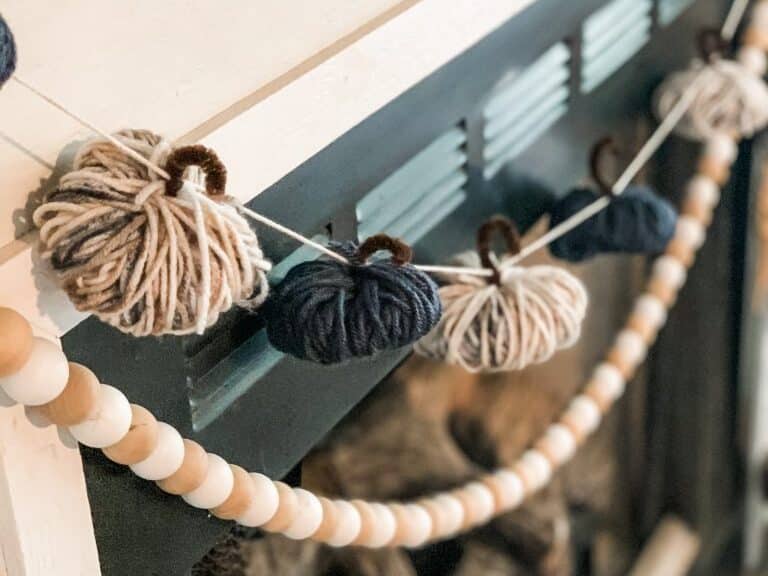 28. Book Page Ghost Garland (Thistle Key Lane) – Why does the fact that the ghosts are made out of book pages make them so much more enchanting? We're not sure, but we love it!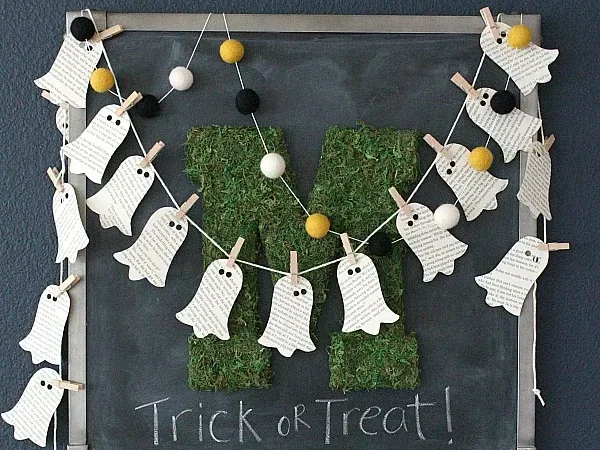 29. Pinched Felt Garland (Whole Heartily) – We just love the chunky look of this pinched felt garland!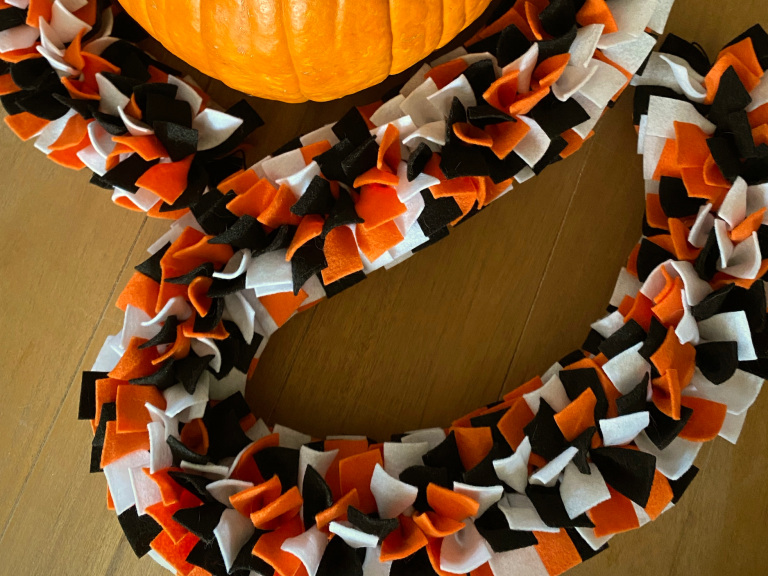 30. Mummy Banner (My Creative Days) – How cute and mysterious are the mummy eyes peeking out?! We think it's spine-chillingly cute!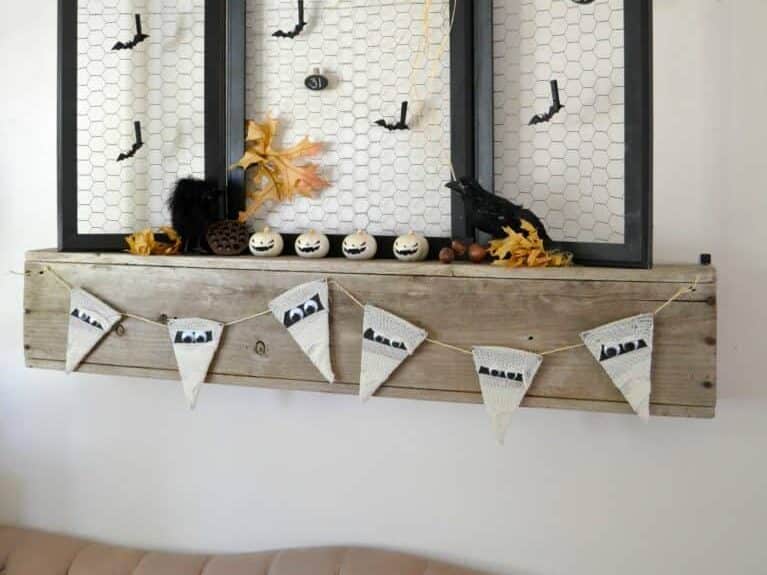 31. Spider Pom Pom Garland (Jessica Welling Interiors) – Grab the kids and have them join you in making this fun and easy spider garland using pom poms and pipe cleaners!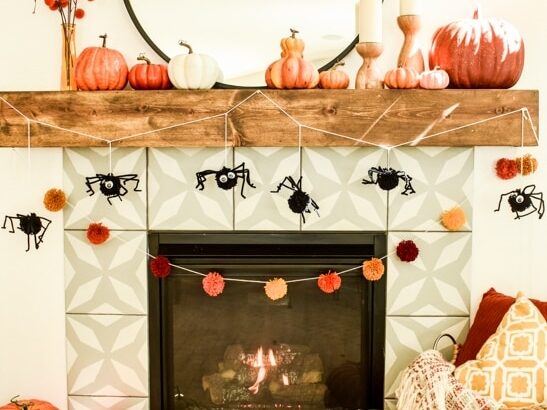 DIY Halloween Decor: Pumpkins
32. Yarn Pumpkins (Love Grace Designs) – We love the farmhouse look of these DIY Halloween decor yarn pumpkins!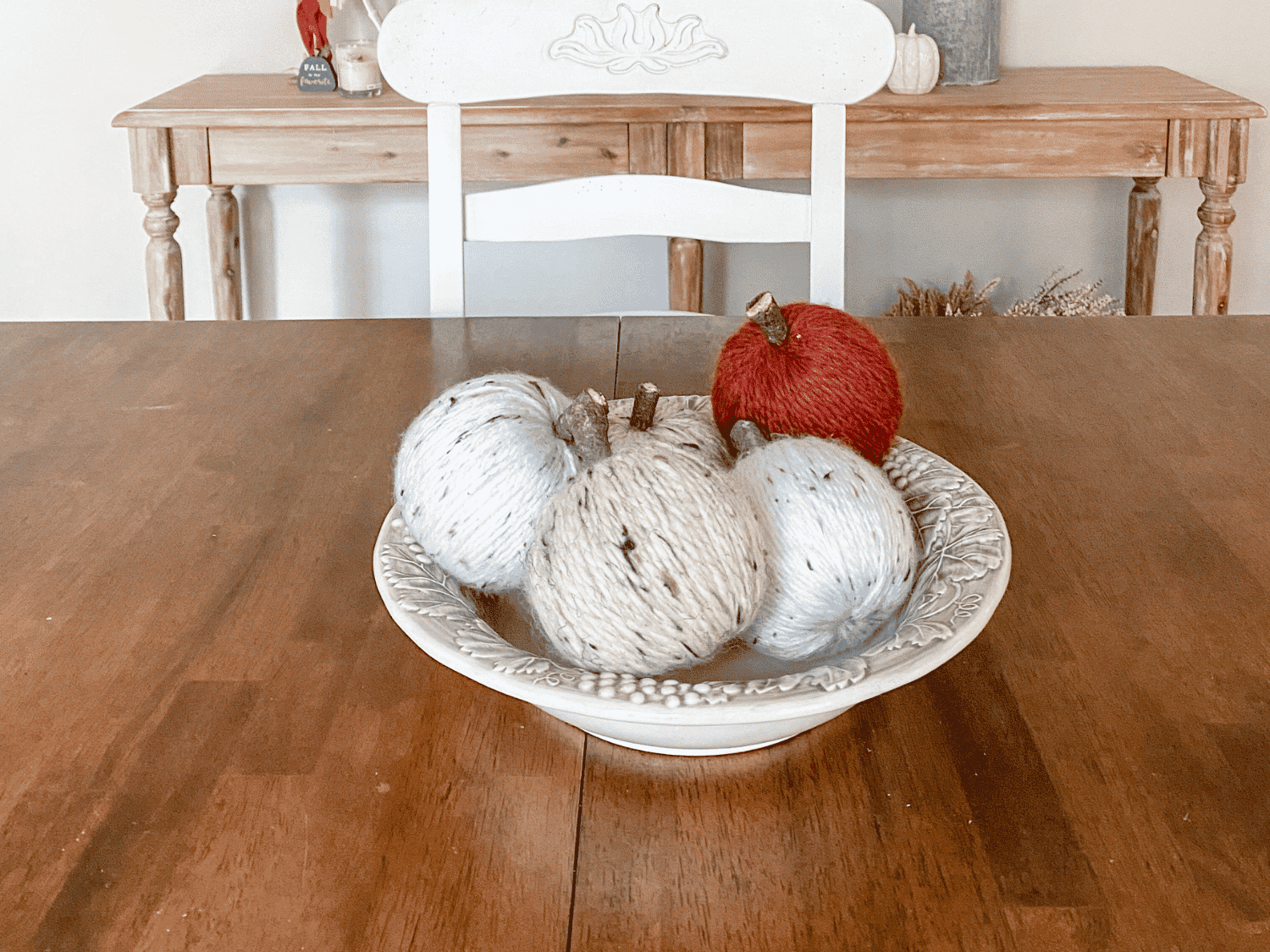 33. Drip-Painted Pumpkins (Momdot) – Time to get messy! These drip-painted pumpkins look chillingly amazing! Try different colors for more magical looks!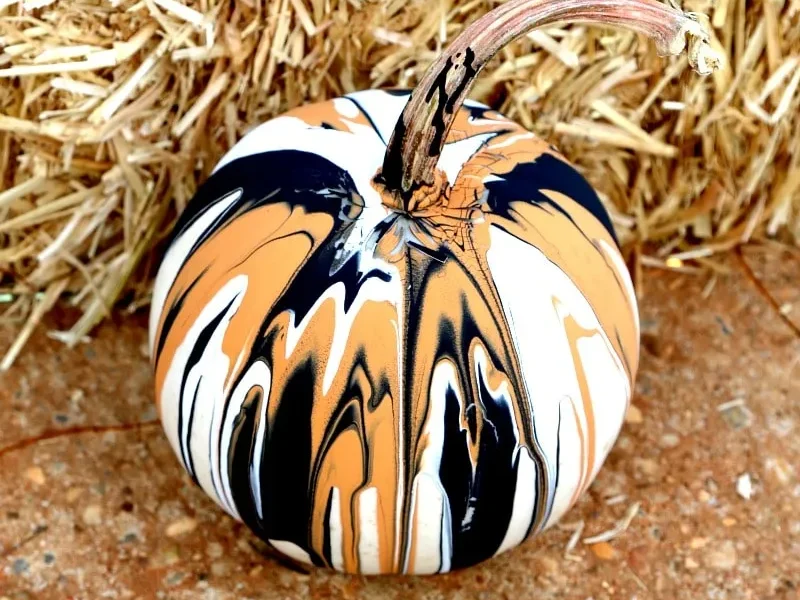 34. Book Pumpkin (H2O Bungalow) –Use an old, unused book and spray paint it to make this unique pumpkin for DIY Halloween decor!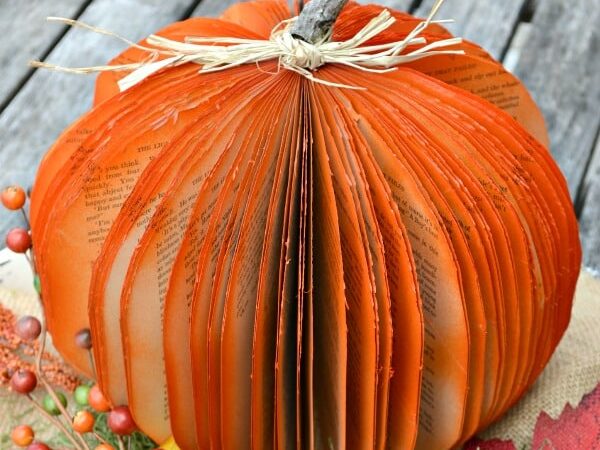 35. Concrete Pumpkins (Lolly Jane) – Who comes up with this stuff?! Using plastic treat pumpkins as molds, you can pour concrete into them for a wickedly creative porch decoration!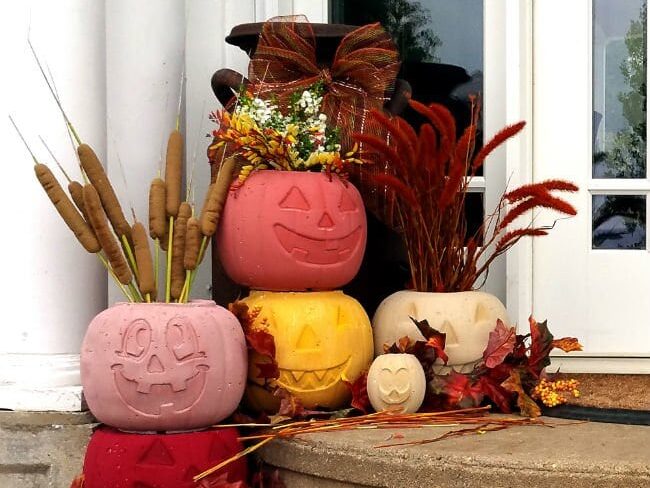 36. Toilet Paper Roll Pumpkin (Domestically Blissful) – Use toilet paper rolls to make these simple DIY Halloween decorations.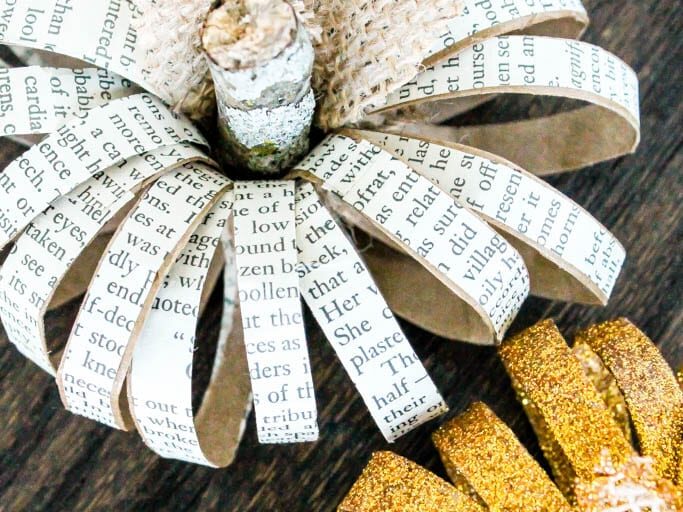 37. Bandana Pumpkins (Sadie Seasongoods) – Use black and orange bandanas to make these adorable DIY pumpkins!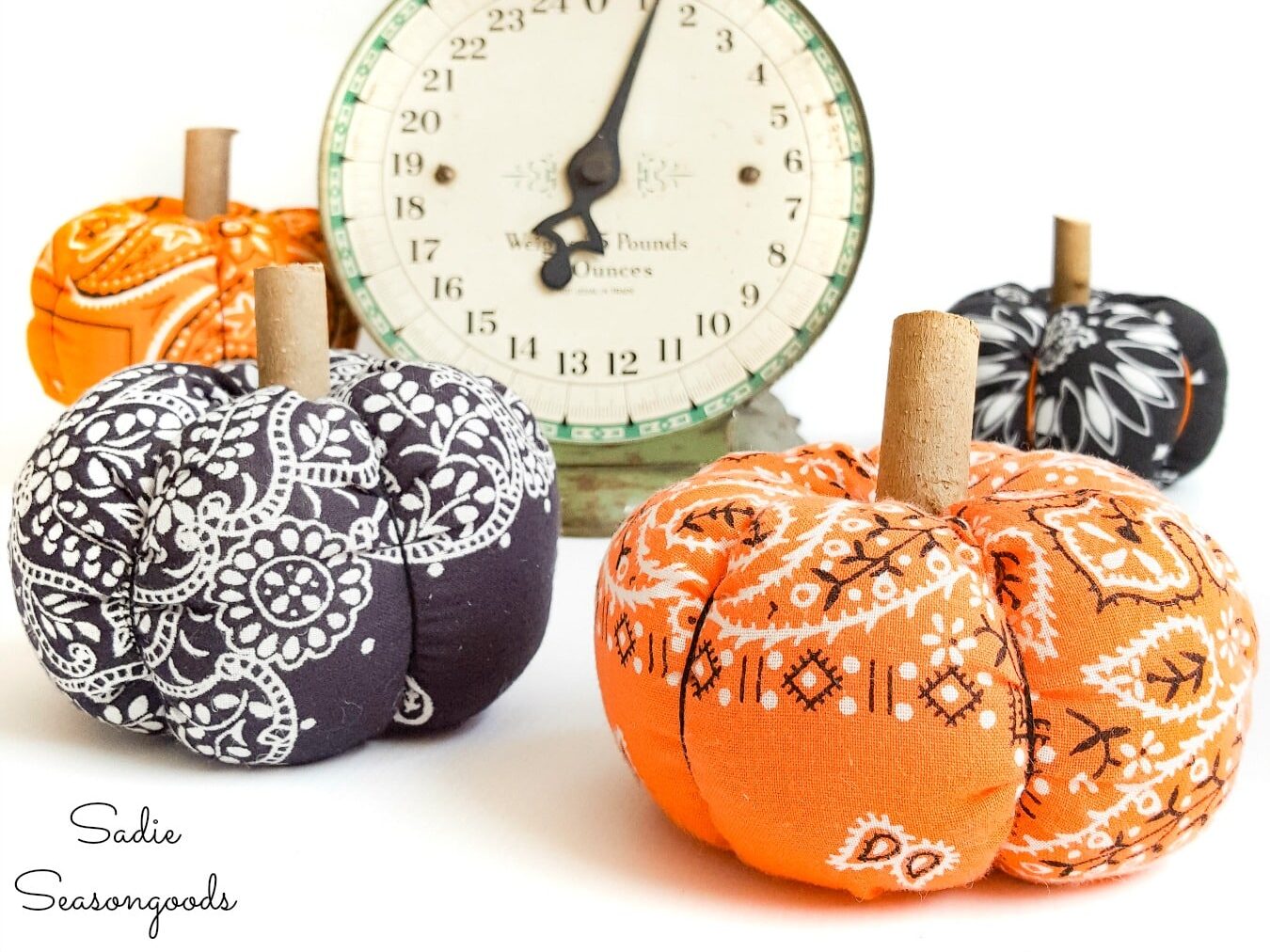 38. Wood Slice Pumpkins (The Country Chic Cottage) – Paint different jack-o-lantern faces on these farmhouse-inspired wood slicepumpkins.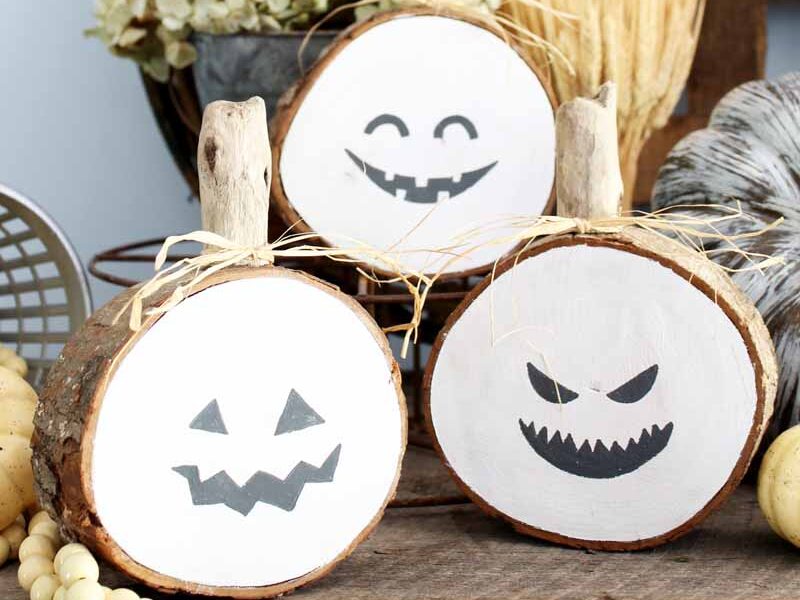 39. Paper Flower Pumpkin (Finding Zest) – If you are looking for darling rather than dreadful DIY Halloween decor, then this paper flower pumpkin is for you!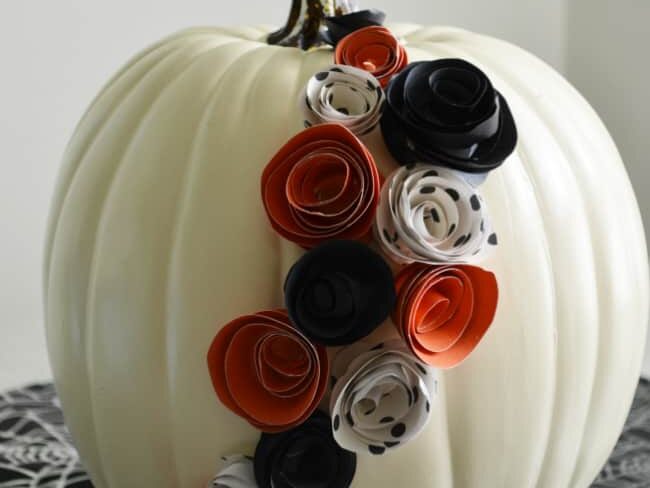 DIY Indoor Halloween Decor
40. Halloween Sock Gnome (Ruffles and Rain Boots) – We're just rollin' with our gnomies over here! These DIY gnomes are made using a sock and a few other items. It's definitely more simple than it might look!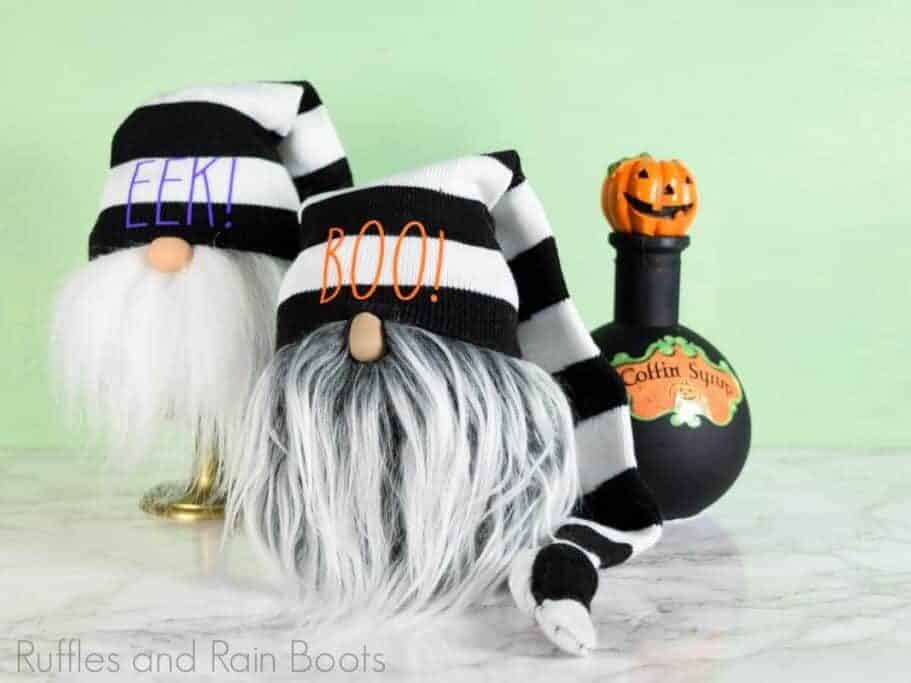 41. Yarn Candy Corn Cones (Down Home Inspiration) – These candy corn cones look spookalicious!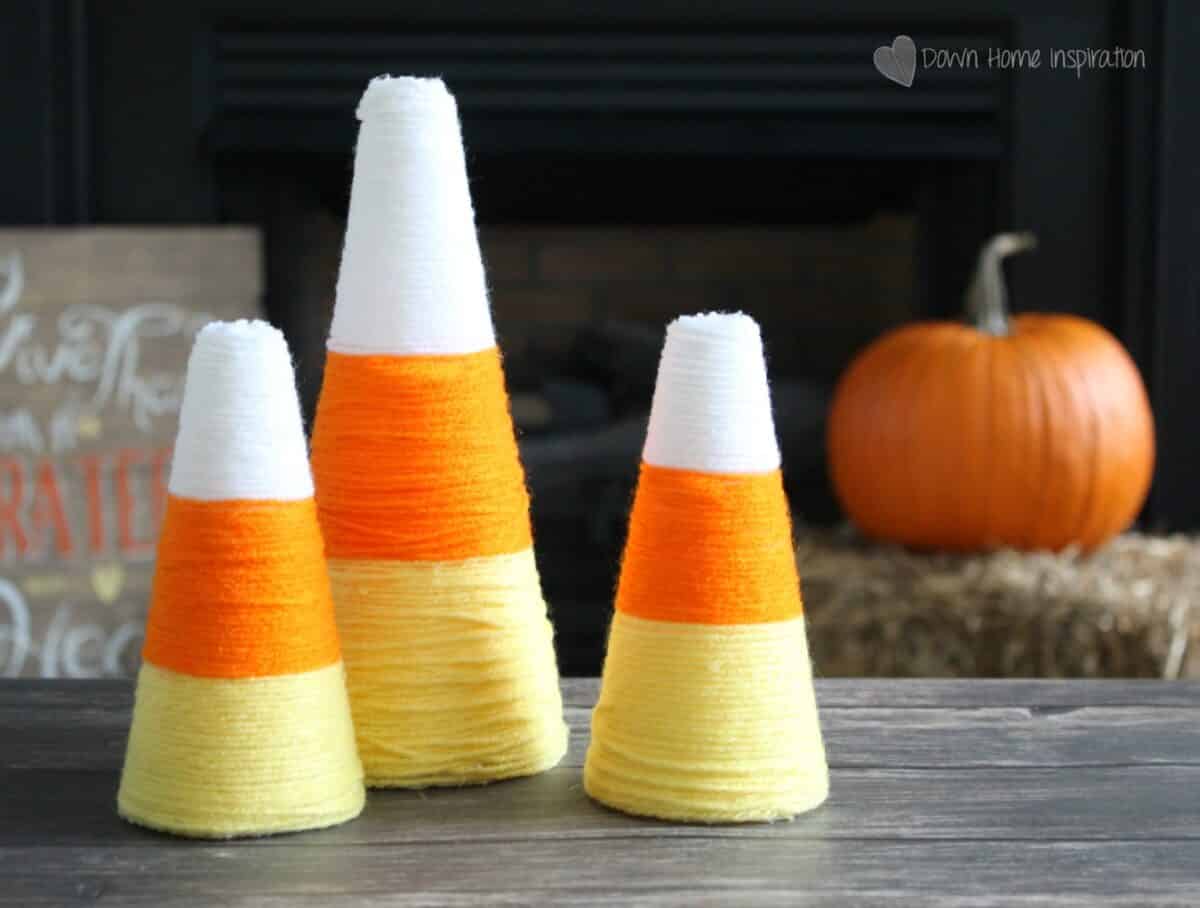 42. Stamped Book Stack (2 Bees in a Pod) – Almost anyone can make this DIY Halloween decoration! All you really need is some old books and stamps.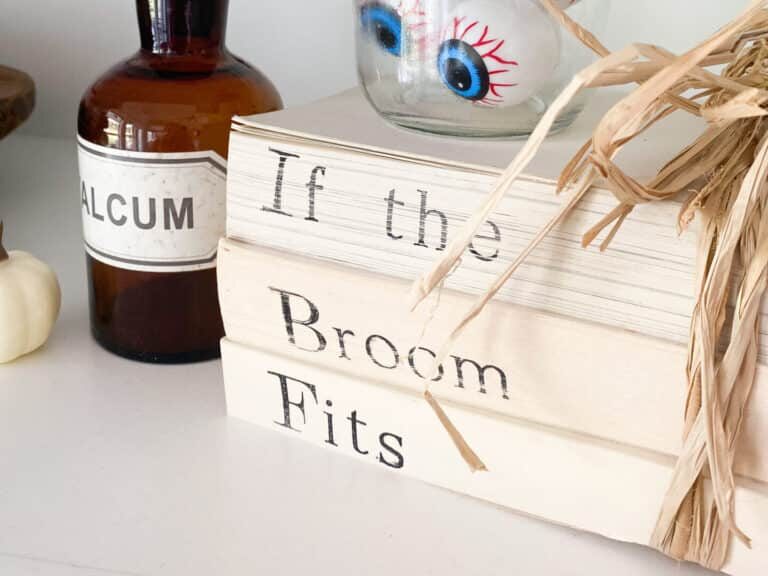 43. 2X4 Wood Candy Corn (Megan Plus Five) – Isn't candy corn the official candy of Halloween? We think so, and these candy corns made from wood would look festive in any house!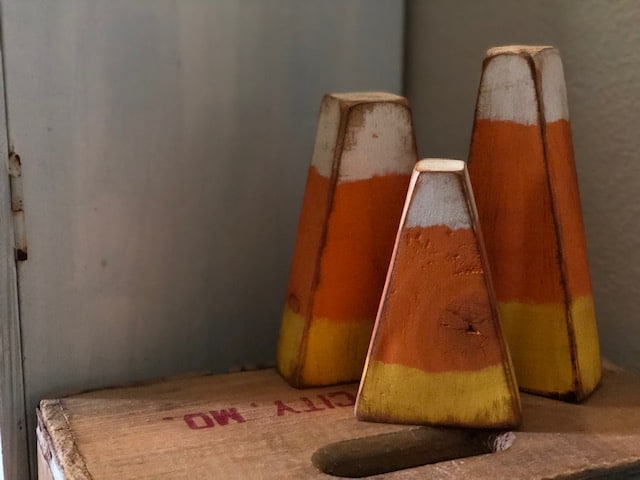 44. Apothecary Candy Jars (Creative Housewives) – Speaking of candy, we just love the look of these DIY apothecary candy jars!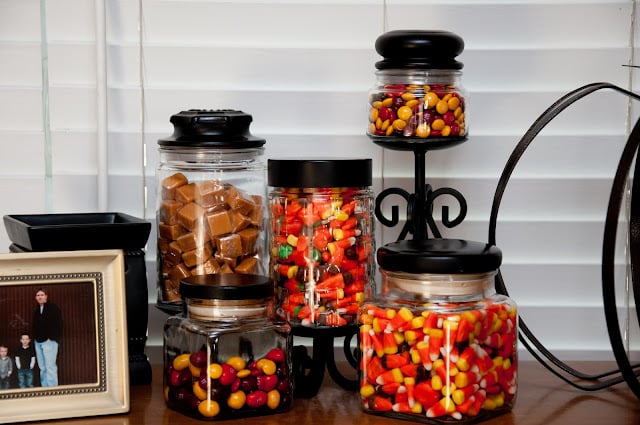 45. Cheesecloth Floating Ghosts (The SITS Girls) – BOO! These floating ghosts are the perfect DIY Halloween decorations.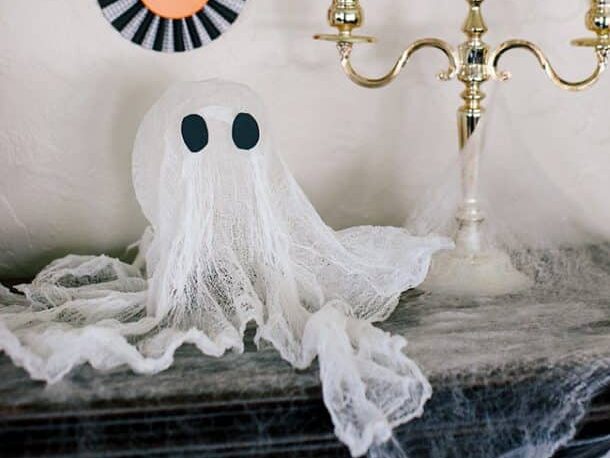 46. Potion Bottles (Hallmark Channel) – Can you believe that these are made from old medicine bottles?!
47. Bat Bouquet (Instructables) – These flapping frights of the night will look so creepy on your mantle.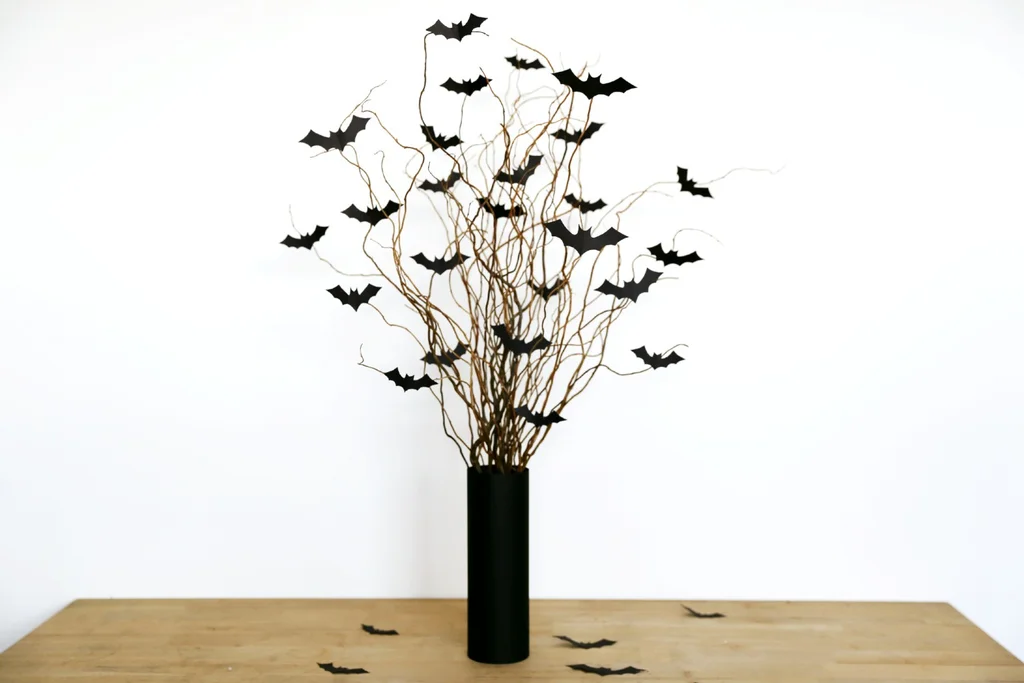 48. Pine Cone Flowers (Sustain My Craft Habit) – Make a strange bouquet of Halloween flowers using pine cones and paint.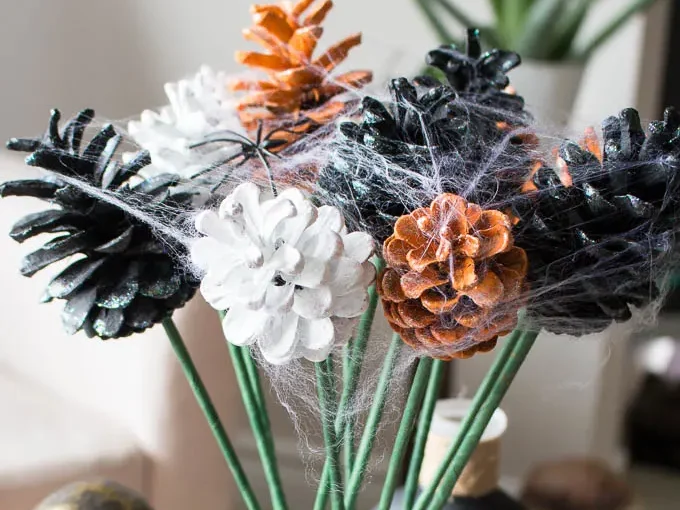 49. Crackle Chalk Paint Bottles (The Painted Hinge) – We think these look like they came straight from a haunted house!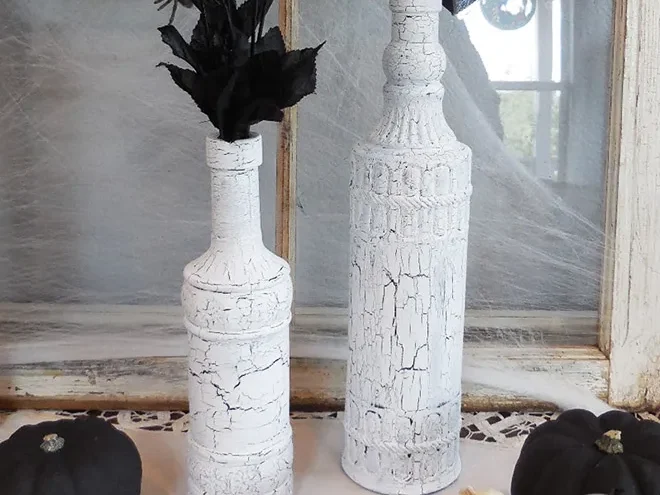 50. Paper Bats (Crazy Wonderful) – Cut out paper bats from black paper, and arrange them on your wall for an easy DIY Halloween decoration.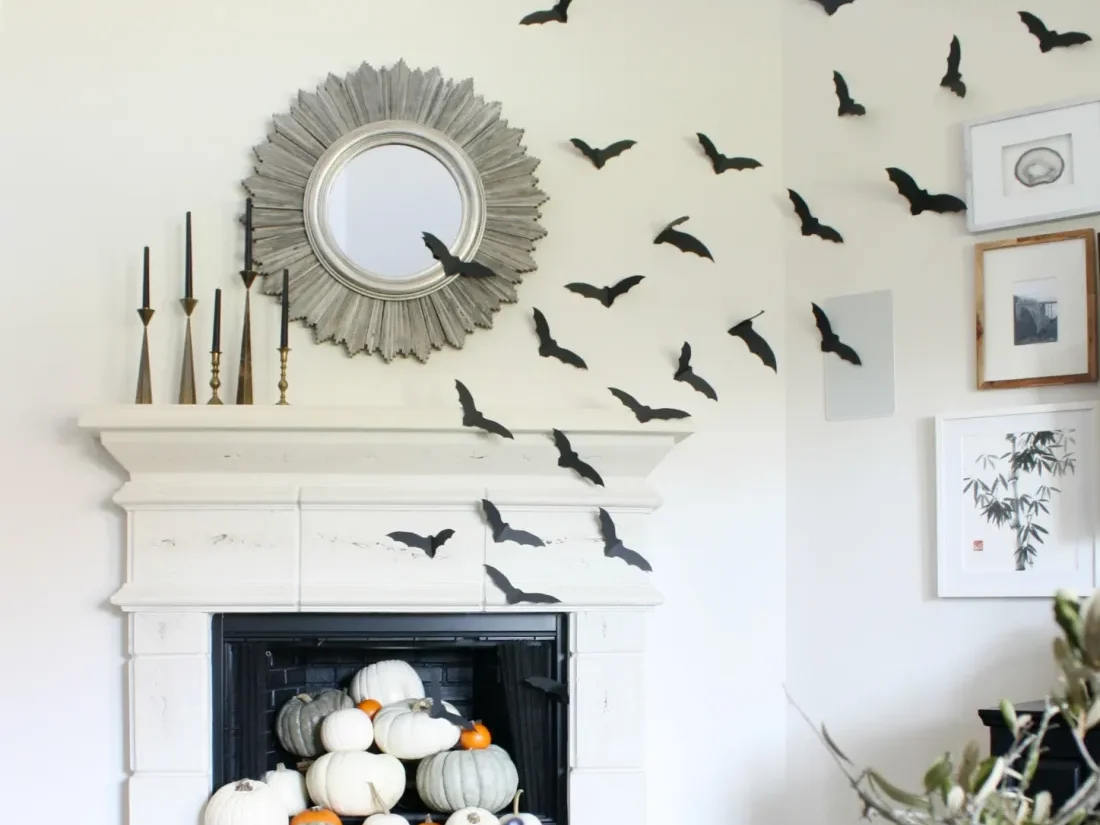 Are you thoroughly and bone-chillingly inspired now?! We sure are! We hope this list helps you find the perfect DIY Halloween decorations for your home this year.
And if you need some more inspiration and ideas, be sure to check out our 101 FREE Printable Halloween Decorations and our 10 Best DIY Halloween Decorations & Halloween Date Ideas.
Now go make some DIY Halloween decor quick because something wicked this way comes! Boo!!