Maternity Photo Ideas
Carrying and expecting a baby is a miracle that needs to be recorded. For example, I've always wondered what my mom, grandmas etc. looked like while pregnant. As a result of that lingering question, we believe in pregnancy pictures! We gathered up some of our favorite pregnancy pictures to inspire your maternity photo shoot. Get ready for some serious maternity photography inspiration! If you want a stunning maternity photo shoot, then you've come to the right place. We've gathered photoshoot ideas for maternity pictures like pose ideas, outfit ideas and more. You're pregnancy pictures just got a whole lot better!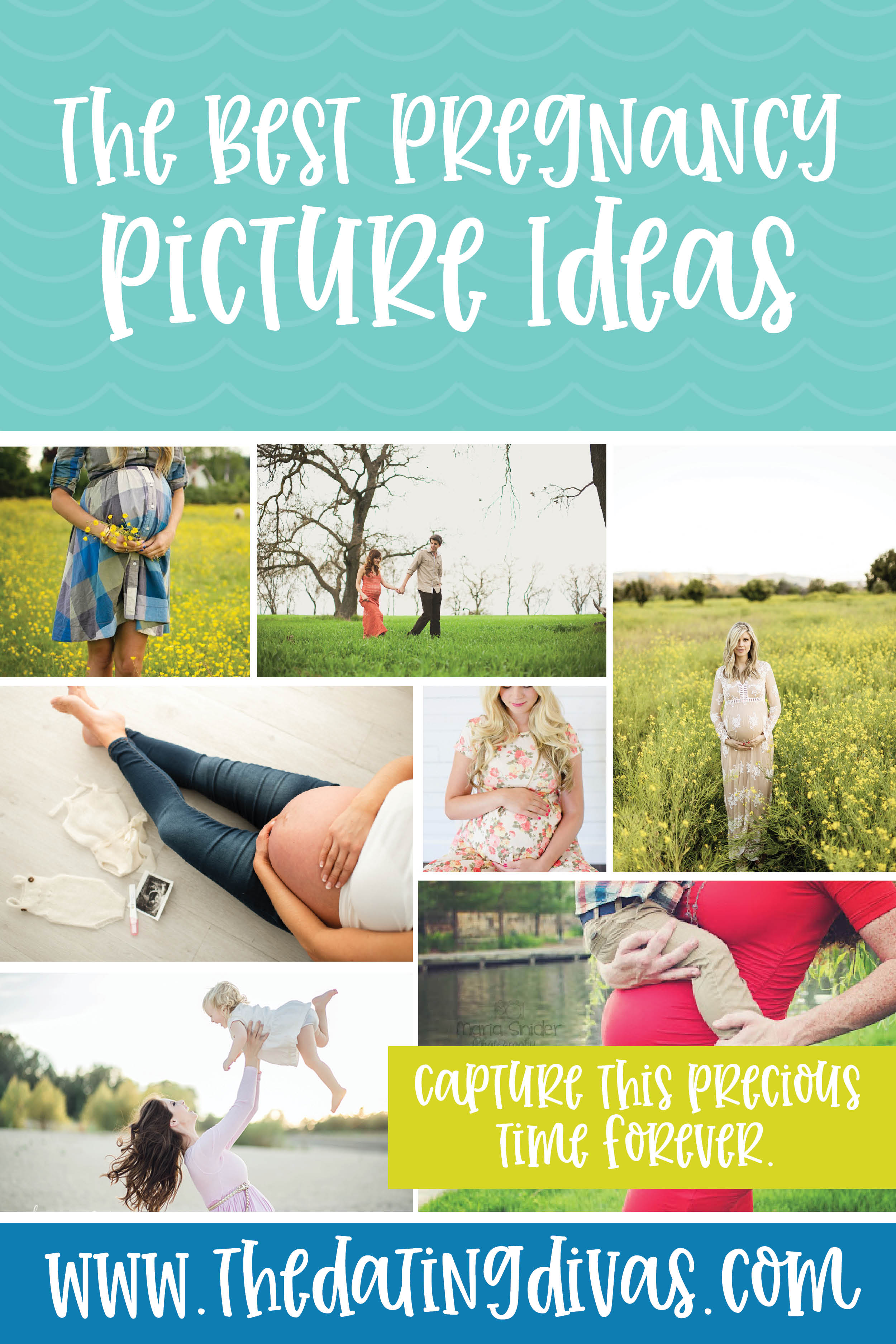 Disclaimer: This post may contain affiliate links. To learn more about 'em, click here.
Yep, you asked and we listened!  Ever since we aired our Couples Photography Tips and Ideas, All the Best Family Picture Outfit Ideas, AND Newborn Baby Pic Ideas, we've had several of you asking for MATERNITY photography inspiration.  And so, today we are delivering! Firstly, set up your maternity photoshoot appointment and wait anxiously. Meanwhile start collecting ideas. Next, pin them so you don't forget! And finally, go and have the BEST pregnancy pictures possible.
To make browsing easier for you, we've divided the post into 5 categories that you click on to go straight to the content you want!
This post is seriously PACKED with photoshoot ideas (to clarify when we say packed, we mean 50 different ideas!).   Trust me when I say, you're going to want to pin this baby right now! Your photographer is sure to have great ideas and guidance on posing, but it's a great idea to first, find some poses that you LOVE beforehand to show your photographer.  Then you're sure to get on the same page and you'll be able to capture just the kind of shots you're looking for and will treasure forever!
Okay, all pinned and ready to go?  First up is…
Maternity Picture Ideas of Mom
Because she is the one carrying the baby, she also gets to be the star of the shoot. Special times call for special pictures and your time being pregnant is something you will want to have record of. Most importantly pregnancy pictures of just the mama-to-be are a great way to keep the memory of that special time alive and passed down to family.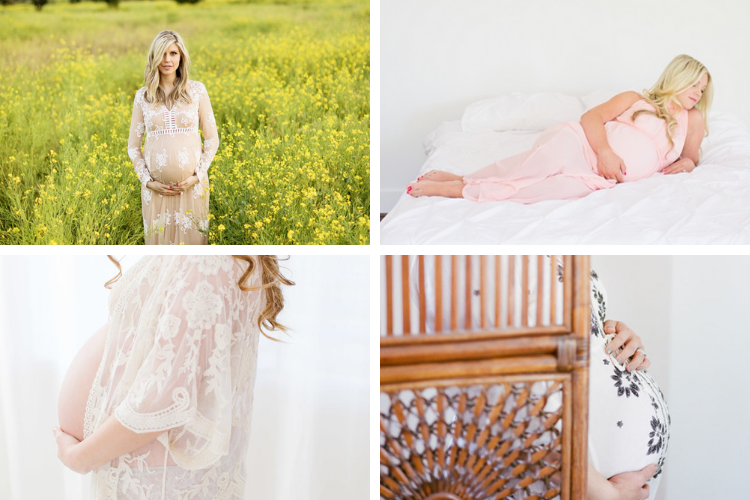 SOURCES: Chard Photographer, Kate Benson Photography, Kate Elizabeth Photography, The De Jaureguis
Front View-  Besides the classic belly profile, don't forget to take a pregnancy picture straight-on, facing the camera. You may not bee super keen to be front and center, however it creates a beautiful picture. 
Lying Down-  Lying on your back is often a very flattering pose and angle to capture during your maternity shoot.
Belly Profile-  Of course, you have to have a classic profile view to showcase your belly. No Pregnancy photoshoot would be complete without one.
Peeking-  A variation of the belly profile shot, here's a fun idea, hide behind a tree, door, or wall with just your belly and face peeking out to see how much you've grown.
Shadow- Have fun playing with shadows for a unique maternity photo. If you catch it at the right time of day your picture could be your perfectly proportioned shadow.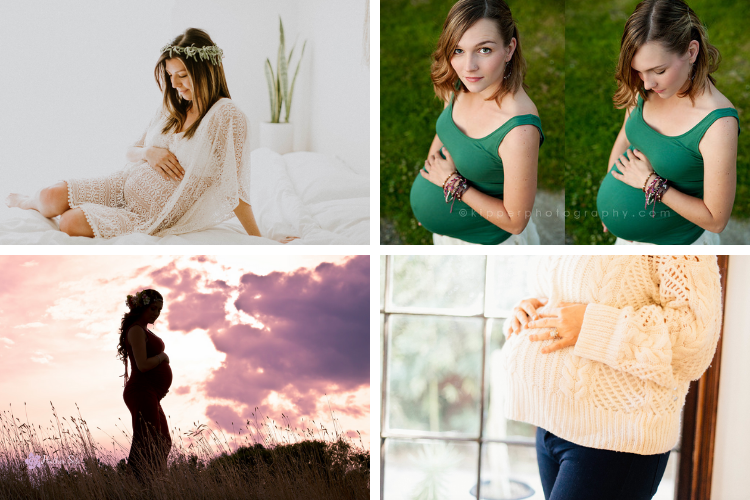 SOURCES:  Yuna Leonard Photography, Carolyn Kipper Photography, Heather Sali Photography, Yuna Leonard Photography
 Sitting- There are a variety of fun poses you can try while sitting down, and be real – you're going to need a breather. However, you're going to want to make sure you have a helper to get you back up 😉
From Above- Ask your photographer is s/he can get a shot from above for a very flattering view of your figure. It gets rid of that double chin (that only you can see!) in an instant!
Silhouette- Try capturing a silhouette for a truly stunning and timeless pregnancy picture.
All Belly –  Besides the full-body shots, make sure your maternity photo shoot includes a couple close-ups zoomed in on your cute belly.
Silly-  If you're not the serious type, feel free to get goofy and have fun with it! Be yourself, carrying a child doesn't have to change your personality. 
Pregnancy Pictures of Couples
Ok, first the maternity shoot focused on the mama, but that doesn't mean we're forgetting the daddy! Next up are pregnancy pictures of the loving couple. Make sure you get some couple shots that show the immense love that led to this little miracle in your belly. Take time with your photographer and each other to make sure everyone is comfortable during the pregnancy pictures and consequently excited for the outcome.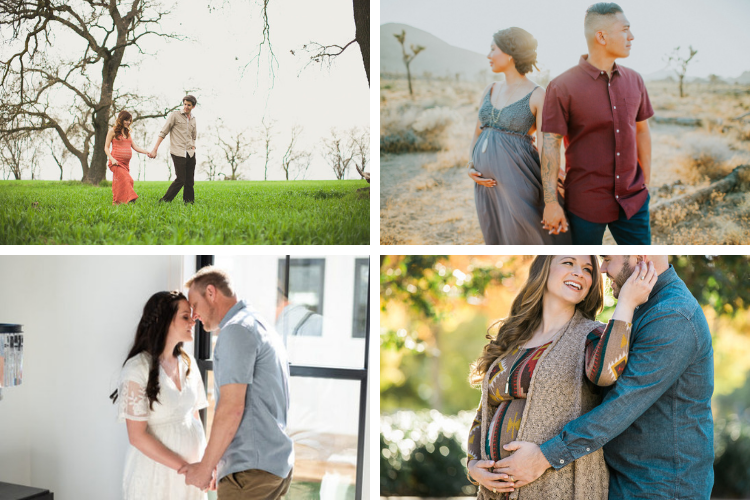 SOURCES:EP Love, Ettevy Photography, B Couture Photography, Lightly Photo
Holding Hands-  Hold hands with your sweetheart while you walk for a candid and natural looking photo. The view from the side also highlights your growing baby. 
Back to Back- Stand back to back to really show off your baby bump. Try a few variations: you looking up, holding hand, or with a sign announcing the name of the baby.
Face to Face- Lean in until your foreheads are touching for a seriously sweet pregnancy picture.
Hand on Cheek- Placing your hand on your spouse's cheek is a great way to soften up a picture.

SOURCES: Lightly Photo, Jamado Photography, Carolyn Kipper Photography, Callie Hobbs
Hug from Behind- Having your husband hug you from behind is a great pose for showing off the belly and still feeling natural during your maternity photo shoot.
Hugging- Get a picture hugging to capture sincere expressions and emotions. Yes, the belly may get in the way a bit, but that is super cute during a pregnancy photoshoot. 
Side Hug- Try facing the camera while your husband turns away for a sweet side hug.
Hug Belly- Focusing both of your hands around the belly puts the focus completely on baby!

SOURCES:  The De Jaureguis, Yuna Leonard Photography, Jamado Photography,  The De Jaureguis
Top of Head Kiss- There's nothing sweeter than a top of the head kiss, except for maybe a picture that includes a cute baby bump too.
Upside Down Kiss- This is a fun kissing pose that is great for showing off your baby belly. Find a bench or chair for mama and have the dad stand behind. 
Kissing- There's no better way to capture your love on film than with a couple kissing pictures.
Forehead Kiss- This pose is great for capturing genuine emotions.

SOURCES: Carolyn Kipper Photography, Callie Hobbs, Carolyn Kipper Photography
Personality- Don't be afraid to get a little silly together for some fun pictures that show off your personalities. Find a house you love or just have fun with each other. 
Sitting- Trying sitting in between your spouse's legs or leaning back into his chest.
Lying Down- Lying on the ground often leads to some beautiful side views or aerial views of the happy parents-to-be. 
Poses For Siblings During Pregnancy Pictures
If this isn't your first child, those older siblings need to be part of the fun! They are probably excited about the baby. Capture their excitement in your pregnancy pictures, and most importantly create a snapshot of your growing family. You will also want some photos of your little family before adding to it, this is the perfect opportunity.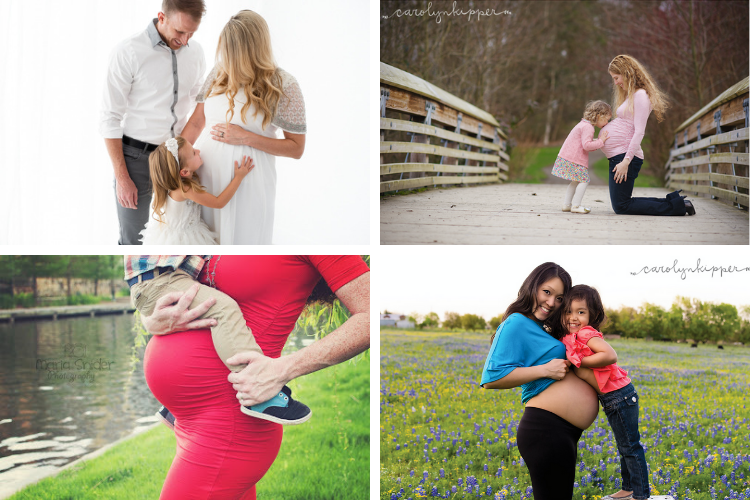 SOURCES: B Couture Photography, Carolyn Kipper Photography, Maria Snider Photography, Carolyn Kipper Photography
Hug Belly- Capture a picture of your son or daughter hugging your belly – they're the perfect height!
Kiss Belly- You don't even have to get them to look at the photographer if you ask them to kiss your tummy.
Sitting on Belly- Pregnancy pictures with a toddler sitting on the growing belly is such a darling pose. No one can deny that a baby-on-baby-bump is certainly adorable. 
 A Little Fun– Don't forget to have a little fun with your little mini during your maternity photo shoot! For example, compare bellies, let them play doctor, or have them paint your belly!
Pregnancy Pictures of The Whole Family
Bring the whole family along for pregnancy pictures that really capture your family at this moment. This is the last time that your family will ever be just as it is now, but don't be sad, get proof! This maternity shoot can double as your family photos for a bit as well – yay for double duty!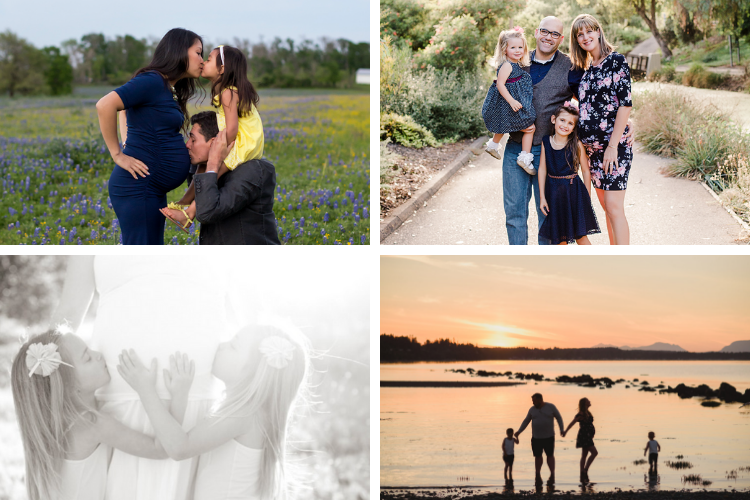 SOURCES:Carolyn Kipper, Susanne Ashby Photography, Nicole Paulson Photography, Erin Wallis Photography,
Kissing- Snap a shot of the whole family sharing some love. For example, stack the kid, belly, mom, and dad!
Hugging- Standing hugging poses are great at capturing your family's personalities and expressions, and you don't even have to have the kids look at the camera if they are shy.
Hands on Belly- Have everyone place a hand on mommy's belly to show their connection to the baby in this pregnancy picture. Another example is to have them put their hands in the shape of a heart.
Silhouette- Arrange the lighting and timing to capture a family silhouette that you'll treasure forever. 

SOURCES: Erin Wallis Photography,  Susanne Ashby Photography,  Jamado Photography, Maria Snider Photography
Holding Hands- Here's a simple pose, just line up and hold hands. You can walk down a path and have fun with it as well. Don't let the maternity shoot be so serious that no one has fun! 
Playing- Get a photo of your family playing and interacting together – after all, you are still their mama, not just the woman carrying a sibling. 
Sitting- Sitting poses allow you to interact with your family in addition to cuddling close together.
Mom in Front- Focus on mom's belly in the foreground, with the rest of the family in the background.
Pregnancy Picture Ideas With Props
Adding some fun and unique props is a great way to personalize your pictures and turn an ordinary photo shoot into an extraordinary one.  Here are lots of fun ideas to get the wheels spinning so you can have your props ready for your maternity shoot.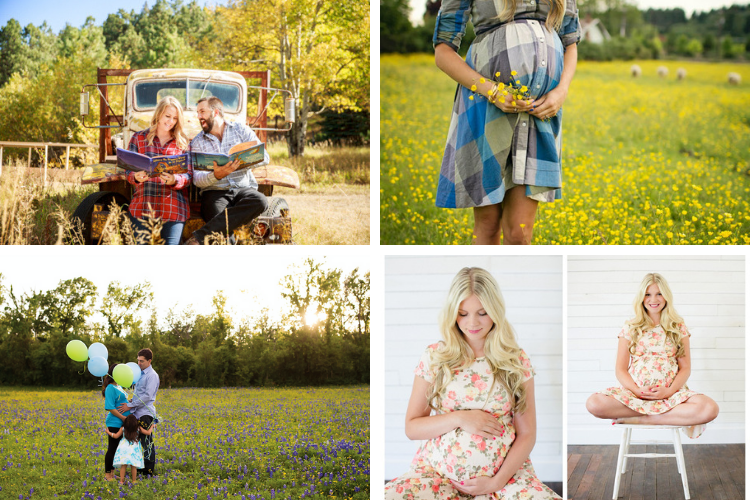 SOURCES: Jamado Photography, Bumble Alley Photography, Carolyn Kipper Photography, Kate Benson Photography
Book-  Get a picture with your favorite baby book. For instance, we love Guess How Much I Love You, Are You My Mother?, I Love You Forever, and The Very Hungry Caterpillar.
Flowers-  Flowers a great prop because they are natural in addition to adding color and interest to the photo. If you can find a field of them, simply pick a few to hold.
Balloons-  These giant, round balloons always photograph beautifully! For example, colored balloons are a great way to incorporate the baby's gender.
Chair-  Use a decorative chair for different posing options. (Then, use the same chair for the baby's pictures after they are born!)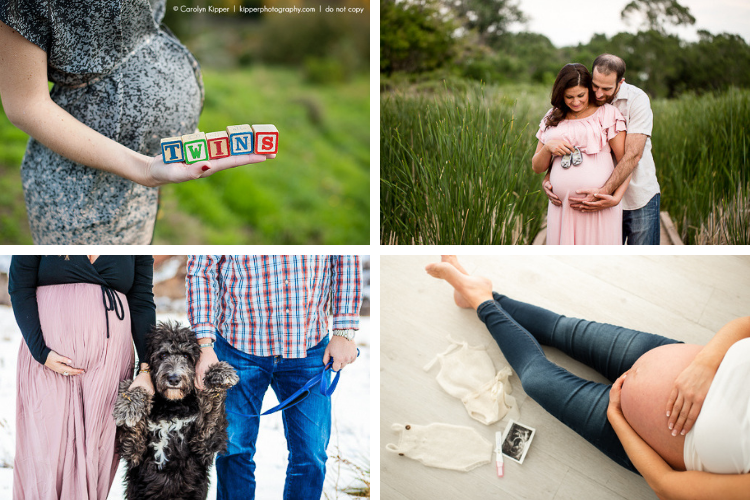 SOURCES: Carolyn Kipper Photography, Jamado Photography, B Couture Photography
Letters-  Spell out your baby's name, gender, or any message you like! Using classic wooden blocks is an adorable way to do this. 
Baby Clothes and Shoes-  Aren't baby's clothes just adorable? For example, the teensy tiny shoes always get me. Pull out a favorite outfit that reflects the gender, on the other hand if the gender is a surprise a simple white onesie is perfect.
Pet-  If you have a pet, why not bring him along to sneak into a couple of pictures? 
Sonogram- First make sure you preserve that first sonogram print out. Next, bring it along your baby's sonogram for some sweet, personalized pictures. What a fun idea to take that first pregnancy picture along for some of your lasts. 
Bump Sign-  Draw attention to your cute bump with a traffic "Bump" sign. You can usually find them by speed bumps, for example. You can also find one to purchase online!

BONUS: Adoption Photo Shoot Ideas
We just ADORE all of the fun adoption photo shoots that have been popping up on pinterest.  What a great alternative to the traditional maternity photo sessions!  No matter that the baby isn't growing in your belly, above all you LOVE them! Therefore your process should be documented as well. These are pictures you and your baby are sure to treasure forever.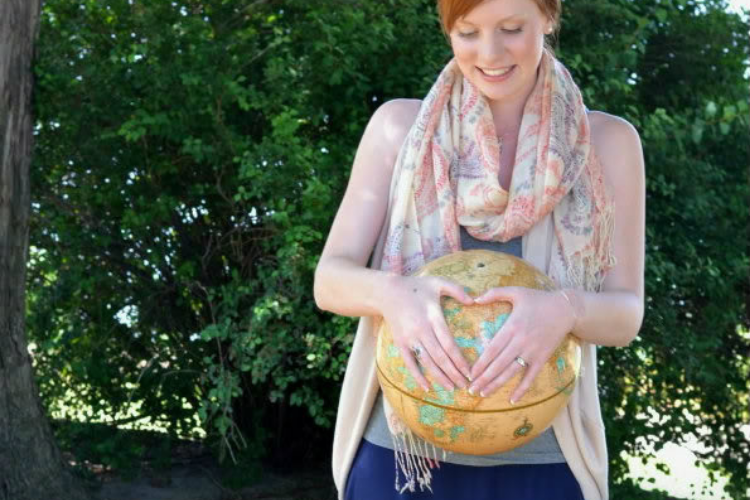 SOURCES: Jillian Burden
Globe or Map-  Use a map or globe to show what area of the world your baby is coming from. In addition to highlighting where your baby is coming from, it can mimic a pregnant belly.
Sign-  Use a sign to create your own personal and heartfelt message to your baby. For example, a simple chalkboard would work perfectly! It will be a picture your future child will keep forever. 
And there you have it!  More ideas than you'll ever know what to do with, but most importantly, a way to save these moments. However you choose to document this time, enjoy it! Above all you want to be in a positive state of mind in these last few weeks, or days, of pregnancy. 
If you enjoyed this post, then don't forget to check out our other photography round-ups. For instance, The Best Family Picture Outfits might help you make some clothing decisions for your upcoming shoot. Then, after baby is born you are going to NEED our Newborn Baby Pic Ideas. And finally, for some specific inspiration for upcoming holidays we have our Easter Photo and Spring Picture Ideas.
**We did our very best to find and link to the original sources of each photo, but if you see a photo that is not linked correctly, please let us know so we can fix it.  We definitely want to give credit where credit is due, however sometimes we might miss something.  We are so grateful for these wonderfully talented photographers who capture memories so beautifully!**